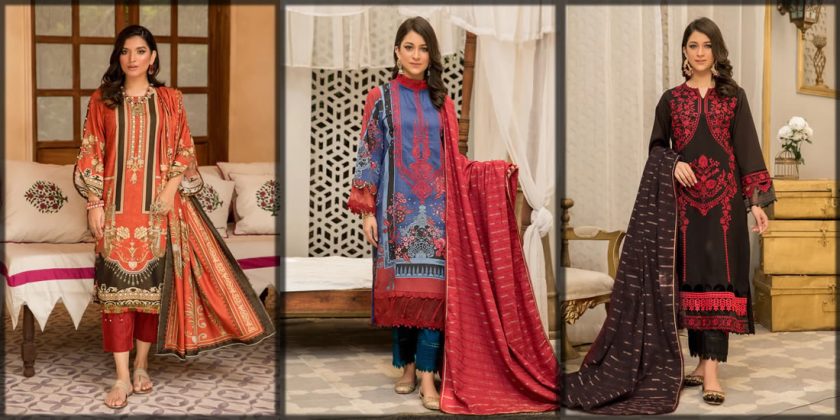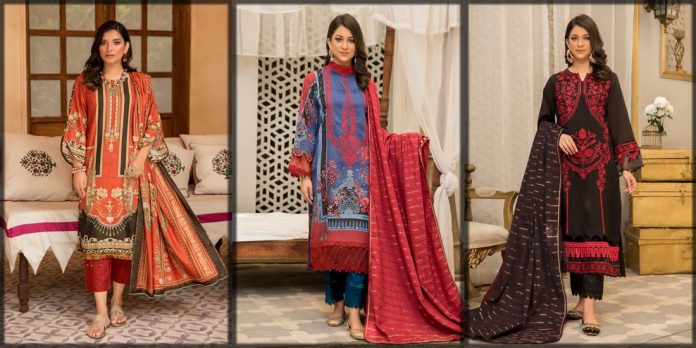 Sitara Studio is continuously working to offer high-quality products to its customers. They aspire to maintain the trust and confidence of people. Therefore, it comes up with an immense variety in every season. After its summer lawn collection, it presents you with fantastic winter dresses. So, please give it a thought and review the latest Sitara Studio winter collection below. I hope it will work well for you.
Generally, the winter season urges us to have warm and comfortable fabric. But you can explore a variety of incredible winter fabrics in this winter collection of Sitara Studio. This season Sitara used linen, khaddar, karandi, crape, slub linen, and cambric cotton textures to prepare its winter catalog. So, enjoy your season by wearing the exquisite styles below. 
The architectural designs on excellent fabric bring a smooth texture. Generally, women look for something that can bring out elegance. Therefore, we are showcasing a superb portfolio of elegant winter attires from the Sitara Studio winter collection that brings many colorful and captivating attires for women and young girls. 
About the Trademark..!!
In 1954 a new brand named "Sitara Studio" was authorized in the fashion trade of Pakistan. It only focuses on the client's needs and satisfaction. Hence, each season it offers unique and trendy crafted clothes for women of all ages. Therefore, now it is becoming the most preferred brand for ladies. Today it has many outlets in the main cities of Pakistan. It also offers an online shopping facility for the comfort of its clients.
Latest Sitara Studio Winter Collection for Women[New Designs]
The most vibrant and chic combinations look amazing to wear in winter. Plus, the high-quality material is comfortable and easygoing for mild to intense weather. Hence, the Sitara Studio winter collection grants a variety of incredible combinations for women of all ages. 
With constant and endless efforts, Sitara Studio has launched an up-to-date collection. The vibrant and attractive colors are enthusiastic for the public. So, you can purchase the recent assortment from any store. Also, get glamorous dresses from the Chinyere winter collection.
1- Sitara Studio Unstitched Winter Collection
Every brand works hard to furnish the best items for women. But no one can beat the Sitara Studio. This season offers unstitched and sewn dresses made with the comfiest yet graceful fabrics. In the unstitched section, you will get the classical two and three-piece dresses in all the warm winter stuff, like khaddar, linen, crepe, and raw silk.
You can style these attires in any style you like the most. These textures have enough fabric, so feel free and make any style you want and add an extra statement to your winter look. Moreover, check out our winter dresses catalog. Here you will get the winter collection of all notable brands of Pakistan.
Flower Cambric Collection for Young Girls

Cambric is the relaxing and most comfiest fabric that is usuauly used to manufacture pre-winter attires. All clothing brands use this material to gather a refined group for the public. Sitara Studi also functions to bring a versatile cambric collection for women of all ages.
The vibrant colors in unique styles will engage you to buy them. Look down at the single and two-piece cambric winter dresses from the latest Sitara Studio winter collection that add more charm and appeal to your look. Moreover, you can explore a variety of cambric dresses in the latest, Rang Rasiya winter collection. 
3PC Raw Silk Digital Printed Linen Collection
Usually, formal parties take place in the winter season. A wide variety of materials can be used to make formal dresses in the winter season. Sitara used the raw silk texture to prepare its formal catalog. According to our cultural norms, there is an immense variety of formal Pakistani dresses. 
The beauty of these dresses brings the ultimate grace and sophistication to your formal look. The Maria B winter collection also offers beautiful outfits with a chiffon dupatta and shawl to provide a formal vibe. 
Beauty Tips: Try to match your formal outfit with stylish beaded accessories, striking makeup, trendy hairstyle, and high heel shoes to grab a stunning yet gorgeous look.
Embroidered Dobby Linen Suits with Dyed Golden Zari Shawl- Arty Collection
Dobby linen is a delicate fabric that many youngest like to wear in winter. Therefore, we present you with a beautiful collection of dobby linen dresses with incredible designs.
Women prefer a complete outfit in every season. Moreover, do you want to bring a unique style to your personality? In the galaxy of people, lightly embroidered three-piece dobby suits will make you stand out. The incredible hand embroidery on these attires with delicate designs will turn heads on you. So, head towards the winter attires of the Sitara Studio to get the glamorous articles. Warda's winter collection is also offering classic embroidered outfits.
Exclusive Winter Suits with Printed Dobby Linen Shawl 
Clothing brands never fail to win the hearts of the public. Therefore, the designers continue launching their back-to-back collections for the audience. If you did not like any outfit from the Sidra linen, here is the Exclusive collection for you. Please take some time to review the digitally printed 2PC dobby linen dresses by Sitara Studio below.
The image gallery below is a beautiful blend of contemporary hues. The floral printed ensembles in delightful shades will enable you to retain your sparkle. Moreover, you can overshadow the presence of other odd ones in your surroundings. So get yourself a well-printed linen attire from Sitara Studios' winter collection and have a modish and refined look.
1PC Anarkali Digital Linen Shirts for Girls
In the Anarkali section of Sitara, you will get the one-piece linen shirts you can wear at any casual gathering. These shirts are beautifully furnished with digital prints and some embroidery artwork. These are the perfect dresses to wear at home to do your work easily. You can also carry these attires at formal events by pairing them with classical gemstones, high heel shoes, and loose open hair.
Linen is a soft and comfortable fabric that is very common in winter. Several clothing brands use this fabric to make warm clothes to give a smooth texture. Sitara likewise used this texture to equip its clients. 
Below is the beautiful portfolio of linen 1PC outfits for women. The outfit you are wearing will reflect your inner charm. So, create an upbeat vibe by wearing the extravagant linen shirts by the Sitara Studio winter collection. Women also prefer to get their desirable attires from the Bonanza Satrangi winter collection.
3PC Rungburry Digital Cocktail Collection 
A well-printed outfit always beautifies your looks. Especially whenever you wear a digitally printed suit, it makes you look more significant. Get the fantastic digitally printed cocktail outfits from the latest Sitara Studio winter list. 
Here you will get classy patterns for you to wear this season. The intricate styles and immense decoration of these attires will cheer you up. So, go and grab the prettifying outfits from the nearest retail outlet of this leading brand. Bareeze winter collection is also worth buying.
4PC Rungburry Crape Catalog
Winter is all about festive occasions that require decorative attire for women. Indeed, everyone desires to look glamorous. However, ambitious women will always plan their outfits before the time. You may not have an idea to explore a variety of dresses. But, detailed research and selecting the right outfit are essential to retaining grace and glam.
Now, have a look at the unique crape portfolio below. It offers vibrant dresses that can make you dominant among people. These crape dresses are paired with warm crape shawls. You can carry these fantastic dresses at any formal event to grab an incredible gaze. 
Indeed, the best color is the one that makes you look good. So, get a well-defined color palette in the galaxy of hues that can prettify your looks. Plus, the choice of selection will enhance your beauty and character. Refrain from wearing a boring and dull color that may diminish your confidence. So, have a look at the novel folder below that offers brilliant shades of attires for women of all ages. The mesmerizing outfits from the ChenOne Pareesa winter collection are likewise impressive and vivid. 
4PC Rungburry Cross Slub Linen Collection
Teen girls always want to bring colors to their lives by wearing striking colors. Probably, the Cross Stitch winter collection is famous for its vibrant colors. But you can also seek and explore the vivid rainbow outfits by the latest collection of Sitara Studio.
Below is the bright and vivid collection for teen girls in cross-slub linen stuff. Such youthful colors and patterns will make your look gorgeous. Plus, the glamour in these hues will bring a sparkle to your entire outfit. So, go and grab the elegant 4PC cross slub linen unstitched dresses from your nearest retail store of this notable brand. You can also have similar styles from Salitex's winter collection for women.
2- Queen Velvet Winter Collection for Women
Pakistan has a wide range of clothing fabrics that are available for the public to admire and purchase. Just like spring requires a lawn outfit and a wedding requires a chiffon dress, winters call for splendid velvet attire. The warmth of the fabric brings collective feelings of comfort and style. Therefore, velvet dresses are ideal for women to consume in the winter season. You can check out various styles in velvet from the Nishat Linen's winter collection.
Here we have an engaging portfolio of the Queen velvet winter collection by Sitara Studio below. The glamorous shades are available in richly embroidered techniques for a formal and refined look. You can see the fully embroidered patterns on the front, back, and sleeves of the dresses. All of the dresses came with a fully embellished velvet shawl that creates a beautiful aura. So, what are you waiting for? Go & buy your favorite velvet dresses from Sitara Studio. Combine delicate jewelry for a completely graceful and polished look.
3- Exclusive Signature Series by Sitara Studio
You might have seen splendid signature series from Sapphire's winter collection, but here is another one for you. Sitara Studio's winter collection never fails to bring all the possible outfits for women. After tremendous khaddar, linen, jacquard, and cambric dresses, here is another volume. Have a look at the exclusive Signature Series by Sitara Studio below.
Would you mind extracting a little bit of time to overview the articles below? Undoubtedly, the time will be worth it as you will be pleased with the designs. The following 4PC dresses have well-embroidered shirts that are coordinated with basic trousers. Further, the dresses are coordinated with silk, net, and jacquard dupattas for pure regal elegance and grace.
4- Stylish Stitched/Ready-to-Wear Collection for Girls
Remember one thing wearing an attractive dress will mark you as beautiful among the public. Indeed, a woman can lift her grace and class with a classic dress. Therefore, Sitara Studio brings you an impressive variety of ready-to-wear dresses. You can enjoy your beauty and elegance with the magical dresses below.
Casual Printed Kurtas for Teens
Undoubtedly, the outfit speaks for your personality. People remember you with the selection and choice of outfit and footwear. Therefore, one must go for a decent and semi-formal dress to enhance her looks. Below is a delicate and decent assortment of simple, lightweight printed shirts. You can combine contrasting trousers for a complete look.
Basic Embroidered Winter Shirts
A little decoration is always delicate and graceful. Plus, some girls try to wear intricate patterns to get elegant vibes. Below is such a tasteful assortment for women. Take a look at the enchanted light-embroidered shirts. Indeed, the mesmerizing hues will catch positive vibes only and get you a compliment.
Warm Winter Two and Three-Piece Dresses for Women
Do you want to look simple, charming, and elegant simultaneously? If so, then opt for the classy two or three-piece suit below. All these dresses have a unique fabric that can be worn casually and formally. So, head over to Sitara Studio to grab the voguish stuff below. I hope you will enjoy the flaunting suits with no regrets. Please give a thought to the following variety.
In its freshest winter collection, you will get impressive two and three-piece dresses designed with fantastic shades and patterns. Moreover, the pret section of Sitara is likewise propelled with many newest and unique styles for young girls so they can ravishingly slay the winter season. So let's look above and get all updated dresses with prices.