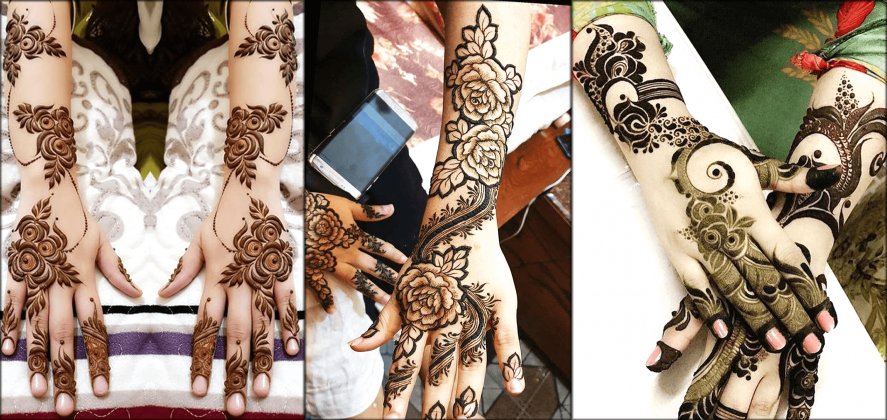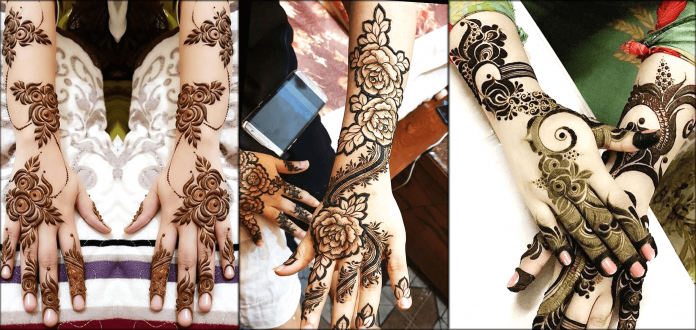 It's a wrong perception that Hina art only belongs to Pakistan, India, and Bangladesh. However, mehndi is well-known in Arabic countries and the Middle East. Many festivals are the same in the Middle East and Southeast Asia. Such as Mehndi designs are popular in both regions. Young girls and brides preferred trendy Arabic Mehndi Designs.
The name of mehndi itself suggested that this art belongs to the Arabic countries. Arabic Hina art is the mixture of floral and motif artwork along with bold designs, geometric and traditional patterns, resulting in gorgeous. Arabic patterns are less complicated, easy to apply and highly demanded by brides to be.
These features are the reason for the popularity of Arabic mehndi designs. Significant designs of Arabic mehndi comprised of leaves, birds, flowers and vines patterns and less intricate. These designs have minimalist art that can quickly dry.
Various Types of Arabic Mehndi Designs
Hina art is loved by the kids, girls, and brides at any festival or occasion. They try to show their happiness by applying Henna on their hands and feet. Indo-Arabic art is an amalgamation of Indian and straightforward patterns. Arabic designs are detailed filled Indian art with a bold outline.
Besides Arabic mehndi designs, Arabic tattoo stickers are also available with pre-design Hina art, and you can paste on your palm, arm, and feet. Its less time consuming and help you whenever you are in a hurry. Decorate your body with easy Arabic Tattoo mehndi art. There is a lot of bold finishing and sharp end designs for your palm, arm, and feet.
Modest and Easiest Arabic Henna Patterns
Arabic Henna Patterns are the blend of florals, motifs, and mandala designs that look very pretty. That minimal designs are perfect for festivals and weddings with an elegant vibe. These designs are effortless yet beautiful. They are not overbearing, and you can carry these designs with every kind of clothing and accessories. Moreover, they enhance the beauty of the hand because the remaining side is left empty and only spotlight remains on the design.
There are unique trail designs for those girls who want to decorate their hands with simplicity. A string of floral roses started from the top of the finger and ended at the wrist. The chain of flowers is one of the most popular designs. The beautiful flowers connect with bail excellently. You can apply this stunning design on your palm, backhand side, and feet.
Heart And Round Shape Hina Art
Round shapes are also known as rangoli designs that are present to welcome the feeling of the festival. You can add some more motifs and florals with this pattern. In the wedding functions, round and heart shapes have some particular importance. These wedding mehndi designs are straightforward and easy, but you can make it more complicated with the help of more spirals and motifs.
You can decorate your fingers with simple Arabic designs to complement the look. This design is very traditional, yet trendy. Your hands look very delicate and feminine with this kind of design. Try a red color mehndi to apply and create this gorgeous design with any vibrant nail paint to complement this design on your hands.
These designs have drawn with great finesse. The Floral vine runs from the top of the finger to the wrist. This is the bold design with minimal mehndi use. It's a decent trail for the modern woman. Nowadays, less is more the trend, so this design follows the same rule of less is more. However, other parts of the hands remain untouched and look unique and eye-catching. Try a black mehndi cone to apply this kind of design, and you can add some glitter to enhance the design.
Moreover, you can modify your feet with the help of minimalist Henna art. No doubt, these designs are minimal but eye-catching. You can decorate your fingers with different, chic and edgy patterns. Check the stunning finger mehndi designs here to make your hands look amazing.
Jewellery Arabic Mehndi Pattern
With jewelry Arabic Mehndi Designs, girls don't need surface embellishments. The easy motif style can make an illusion for hand and feet accessories just with the mehndi tattoo or Hina art. You can make asymmetry mehndi design for an attractive look. Fingers of Hand gracefully adorn with dots and motifs. It looks like an accessory on your hand. You can wear a three quarter sleeves; as a result, your design will be more prominent.
Indo-Arabic Mehndi Design
Dots, curves, paisleys, flowers, and swirls are heavily used in indo-Arabic Hina art. These designs are suitable for both hand sides. Beginners can apply this design easily because of its common motifs and simple Mehndi patterns. It's ideal for any occasion because it does not make your hand massive due to its less compact design.
This mehndi design is a mixture of Asian and Arabic art and suitable for traditional dresses, specially lehenga and saree. You can pair this design with any vibrant nail paint to enhance the beauty of the design and hands.
Paisley Arabic Mehndi Design
The group of Chakras and paisleys is another simple Hina art for your hands. Charming and pretty paisleys provide a stunning look to your mehndi design. The people who love the paisleys must be in love with this simple pattern. It looks simple but combinations of flowers, swirls, and dots add detailing to it. You can give a fuller look to apply Paisley Arabic art on your Kids' hand. Therefore, it is a less complicated design.
Paisley is the primary foundation of henna. It commonly designed in the center of palm with the help of motifs and flowers. In Arabic patterns, paisley patterns are the most popular among Indian women.
Floral Chakra In Central Palm
The first part of the pattern is a central floral chakra in your palm. That covers your palm completely and balance it with dots and circles. The number of lines join together to form a blooming flower and add freshness in your art. It is one of the stunning and easily applicable floral tikki mehndi design for kids. You can add a string of chakra, motifs and floral for enhancing your design. Floral gets quickly dry without smudging everywhere.
It's one of my favorite styles that makes me happy and satisfied because the floral design is always a source of personal inspiration. The mixture of flowers, lotus, motifs, curve line, and swirls are fantastic. Thicker motif pattern all over the hands is attractive yet modest. This design is very outstanding and different from usual mehndi designs. This design can outshine you in the event, and everyone will be attracted to your hands.
These designs are easy to apply even you don't need any professional artists for these designs. You can use such type of designs easily on any occasion. Simple mehndi designs don't need intricate work mostly on Eid. Women love to carry simple mehndi designs on Eid.
Every Modish woman prefers to apply this design on both sides of the hand. Simple patterns modified with flowers and motifs. Modest yet modern mehndi designs are very much preferable nowadays as they are easy to apply and gets dry very quickly. Moreover, these designs look very beautiful rather than looking overbearing and smudged.
Arabic Bridal Mehndi Designs
Asian Bride loves Arabic mehndi designs. It starts with massive rolling fingers then moves toward the palm and arm. Heavy lines and motifs on the fingers give a stunning look. Indian brides prefer this type of pattern because it makes their hand fuller and traditional. The combination of black and brown mehndi can enhance the delicacy of the design. With this beautiful design, paint your nail red, and hence, it will complement the bride's whole look.
Arabic Henna Patterns are still less bulky designs. When Arabic art comes to Asia, it becomes heavy with the touch of Indian mehndi designs. Usually, these designs start from the forearm and continue towards hands and fingers. Bridal mehndi designs usually follow the twin's modification for the hands and feet.
Arabic Mehndi Designs are different due to so many reasons. It's applied with bolder strokes and makes the design prominent than other types of mehndi art. Artists can modify the patterns by just changing the position of motif and florals.
There are numerous ways to apply the Henna for decoration of your body. If you are looking at the modern Arabic art of hands, arm, and feet, then come with us and enjoy your favorite design. Moreover, Henna art is a unique way to alter and decorate yourself. Enjoy your festivals and special occasion with great happiness and satisfaction.