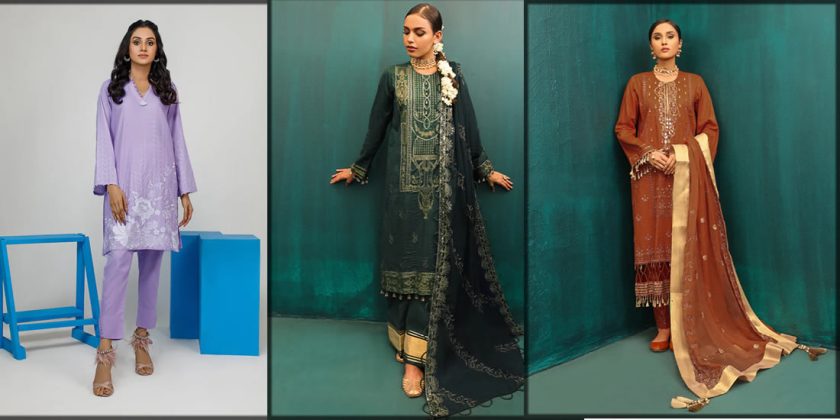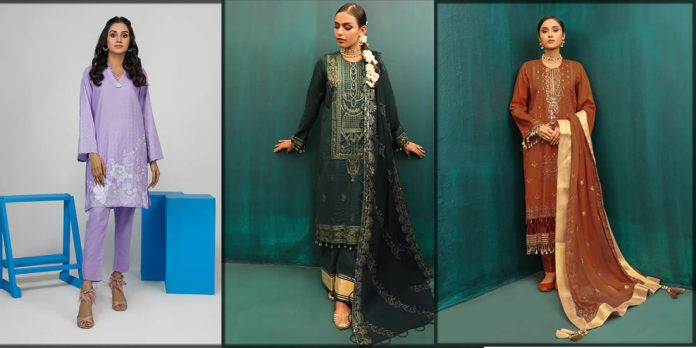 People associate winters with holidays and turn themselves into vacation mode. Undoubtedly, a vacation requires comfortable and stylish dresses. With harsh and bitter temperatures, people enjoy their snow and begin the countdown. Indeed, a colorful and easy-breezy outfit will make your vacation memorable and enjoyable beyond infinity. So, stop wasting your time and give a thought to Salitex winter collection below. Indeed, you will love the artistic winter ensembles.
A woman either knows how to style up or not. There is no in-between. A woman needs to be conscious and careful about her wardrobe and footwear. Indeed, seasonal changes require the replacement of clothes and shoes according to the nature of the season. Since spring begins, the clothing brands aim to bring the fall collection soon. Meanwhile, people start searching for pre-winter stuff to wear for a perfect look. Salitex winter collection has been launched to pick the easy-breezy winter outfits in cambric, jacquard, and linen fabric.
The actual proof of the elegance of the woman is the selection of her clothes. It is not tricky to find a good piece of cloth as we are here for your support. We will guide you through specific tips and tricks for winter. Indeed, the dry season can be turned colorful with the appropriate choice of clothes. In the following blog, we bring you the actual post-spring colors that bring glam to your personality. Would you mind taking a look at the breathtaking collection of Salitex below? Please give it a thought to have a blissful season.
About the Designer and Brand History
In the modern world of trends and traditions, Salitex emerged as a new clothing brand in Pakistan. Recently, the brand targeted high-profile celebrities, including Ayeza Khan, Hira Mani, Neelum Munir, and many more for its debut. Currently, the brand has been recognized as one of the finest clothing brands in the fashion industry of Pakistan.
You can spot your favorite celebrities in the Salitex summer collection for women. The brand is currently facilitating the audience with an online shopping facility. Therefore, you can easily shop your favorites from their website. The following blog will go through the beautiful prints and color palettes fused to make magical outfits. Please give it a thought!
1- Salitex Unstitched Winter Collection in Cambric, Jacquard, Khaddar,  Linen
Every season has its charm and love. People love winter as it allows them to bring specific fashion trends into practice. Luckily, you are in the place where you will get every bit of fashion and elegance along with the product details.
Undoubtedly, a spring never skips its turn to come and bring joy. Similarly, winter is yet to come when spring completes its tenure. Despite the lovely weather and warm cups of tea and coffee, one must fill their closets with winter stuff. Great things and collections are on their way to impress you. Would you mind exploring a few dresses by Salitex here?
If you are ready for it, I have good news for you. With the arrival of fall, people assume to see colors around. However, the dry season is yet colorful with mesmerizing and delightful attires. Salitex winter collection brings you a rainbow of essential attires to make your season comfortable. So please take a while to explore the glamorous yet comfortable dresses below, along with their prices.
Unstitched Cambric Collection (Three-Piece Suits)
People are always ready to notice the tiniest change in the weather and get ready to change their closets. Till the spring prevails, the closets are filled with lawn and cotton attires. But, once you feel the cool breeze after the monsoon ends, it acts as an alarm to welcome the winter. However, the pre-winter season requires some blended & comfortable stuff to wear. Hence, cambric is known as the pre-winter stuff to wear after the monsoon.
A lot of clothing brands bring textured stuff for women to wear after the monsoon. For instance, you can explore the Limelight winter collection to see the digitally printed cambric dresses. However, Salitex brings you comprehensive yet delightful unstitched three-piece cambric suits. The outfits are coordinated with cambric dupattas and plain trousers. So please have a look at the image gallery below to seek the modest and chic winter attires.
Essential Viscose Jacquard Winter Dresses
A true fashion lover always aims at bringing colors to their looks and personality. Undoubtedly, a timeless and chic ensemble can aid you in getting the desired look. However, every human has different shades for each season according to the seasonal requirements. Indeed, winter is a cozy and dry season for which people look for colorful attires. A glossy and delightful hue with some strangeness in proportion will bring you the full glam. So, do you want to look glamorous and pleasant in the dry and breezy winter season this year?
If so, then you are in the correct place. Salitex winter collection brings you the utmost pleasant dresses for your perfect look. It would help if you had an appropriate outfit to add dazzle and sparkle to your personality. The following viscose jacquard dresses are ready to hit you differently. Just look at the sleeking combinations that are perfectly ideal for your winter wardrobe. Pick the most contemporary viscose jacquard dress from the engaging portfolio below. I hope you will love the energetic and intriguing patterns and dazzling combinations. Moreover, you can explore the Bareeze winter collection for beautiful fall attires for women.
Digital Linen Collection – Printed Three-Piece Suits
A casual evening always requires a graceful yet decent outfit. To amplify one's beauty, you must think about your color choices and priorities. It is not always you pick up a wise dress. Sometimes, people are at wrong while deciding an outfit for themselves to wear.
Here is an exclusive collection of daily wear printed linen dresses are an ideal choice to wear at casual winter es below. The digitally printed linen attires are an ideal choice to wear at casual winter eves. Opt for the delightful winter hues and rock your season with joy.
Digitally Printed Linen Volume 2
Just in case if you didn't like any of the dresses from the winter volumes above, here is another beautiful volume for you. Salitex winter collection brings you an extensive variety of digitally printed graceful linen dresses for casual wear. I hope so that you will fall in love with the beauty of artistically created attires below that are full of colors and styles.
Cotton Silk Embroidered 3PC Suits with Tissue Silk Dupatta

There are always people who search for silk dresses in winters for a modest and chic look. Indeed, stylish outerwear can bring you the right amount of glamour and grace. Here we have a unique yet dignified portfolio of cotton silk embroidered winter dresses below.
Please have a look at the image gallery below to discover the chic styles. The cotton silk shirts have an embroidered front, back, and sleeves with plain trousers. However, the tissue silk dupatta brings a refined finishing look to the dress. Please give it a thought!!
2- Salitex Mehr-e-Gul Collection 
Women always want to keep their standards and head high, therefore they take too much to get the perfect outfit. Because the outfit is the fundamental item that reflet our personality and adds extra charm to it. So for your comfort here we have gathered some incredible attires for women of all ages. Revisit the latest Mehr-e-Gul collection by Salitex that is recently launched.
Here you will get the superior jacquard, organza & Khaddi net clothes matched with the organza and Khaadi net dupattas. These ethnic dresses are furnished with delicate mirror, sequins and thread embroidery & embellishments. You can carry these classical attires at any formal and social events to make all of your engaging and pretty gazes. Look down at the image portfolio below and explore the latest formal dresses by Salitex and choose the fittest one for yourself. You can also wear these attires at any seasonal wedding by pairing them with heavy gemstones and bold makeup.
3- Cottel Linen Unstitched Winter Collection
Winter is all about bringing colors to life with a variety of styles. The clothing brands are always ready to make your dreams come true. Therefore, you need a mindset to fulfill your dreams in the best possible way. Salitex offers dreamy cottel linen dresses for you below.
Please take a look at the image gallery below. You will spot vibrant and loud styles that have a fully embroidered front and sleeves. If you want to wear a simple and basic dress, you can pick the one from So Kamal's winter collection. Indeed, it will work for you.
4. Oznur Mukesh Linen Winter Collection
The fall season is incomplete without a well-decorative and mesmerizing outfit. Since a lot of people have been searching for fancy outfits, Salitex has a special surprise for them. This year, you can adorn yourself in the beautiful Mukesh embroidered dresses by Salitex.
The creative makers had put a lot of effort to create magical styles for you. Before this, you might have seen similar exclusive styles in Taana Baana's winter collection. Here you will spot delicate colors that are coordinated with shawls for a complete winter vibe.
5- Winter Festive Three-Piece Embroidered Dresses
Life gives you many chances to wrap yourself in your favorite outfits. Did you ever try to find and reveal your real beauty? Well, true beauty comes when you believe in yourself the way you are and accept your style and personality. But, the clothing brands help you get a modified and smart look with various striking and gracious seasonal dresses.
For instance, the Salitex winter collection has some sequins, tilla, and thread-embroidered three-piece dresses for you. Please take a tour of the following image gallery to overview the delightful winter ensembles. Undoubtedly, you can get a gorgeous look if you opt for any of the following dresses. Khaadi winter collection has similar dresses.
6- Stitched & Unstitched Khaddar Collection
Khaddar is a stylish fabric that enhances every kind of designs. You can wear these dresses in the winter for a elegant outlook. You can fill up your wardrobe with many kinds of fabrics but do not forget khaddar pieces. So, we have gathered all the finest quality khaddar stitched and unstitched dresses from Salitex with unique designs.
Digital Printed Khaddar Kurti Collection for Teens
Kurti is always the top priority of teens to wear at every time of the year. Since there are a couple of clothing brands that brings exceptional shirts collection for girls. You can get a couple of dazzling printed Kurtis and shirts from the Ittehad Textiles winter collection as well. Here is a portfolio from Salitex's recently launched winter collection for women.
Please have a glance at the following image gallery of Khaddar Kurtis. The intensely warm and comfortable fabric will protect you from intense cold outfits. Plus, you can combine easy-breezy jeans with the shirts for a whole look. Also, you can opt for classy Khaki pants and matching scarves from your favorite brand to get an entire polished and stylish look.
Digital Printed Three-Piece Khaddar Dresses
What can a woman do in winter without a warm khaddar dress? Well, it is not always necessary to buy a khaddar dress to obscure from the intense cold. Instead, you can buy a comfortable sweater from Bonanza Satrangi winter collection as well. Here is a portfolio of digital printed three-piece khaddar dresses by Salitex winter collection for you below.
Please have a look at the following dress. The prettifying designs and fine prints will propel you to opt for any of the dresses below. Plus, you must look for a contrasting pair of winter shoes for an upgraded look. A simple yet graceful hairstyle will amplify your entire look. Get yourself a graceful khaddar dress from Salitex's winter collection and have bliss.
Casual Khaddar Winter Shirts for Teens
A girl with an impeccable personality has the most charisma and grace. Luckily, you are rightly in a place where you will get certain beauty tips for beauty and elegance. Salitex winter collection has some casual outerwear for college-going teens and young girls. Indeed, the youthful and basic pret will upgrade your casual looks to make you look beautiful.
Please extract a little time to review the graceful yet basic pret by Salitex winter collection below. You need to combine youthful and elegant jeans or flared pants with shirts to bring a complete look. Plus, opt for self-printed scarves or contrasting dupattas to complete your look. Orient Textiles' winter collection has likewise basic casual pret shirts for teens.
7- Stitched Ready-To-Wear Collection for Women
A woman shall never compromise on her looks and personality. Also, everyone should prioritize wearing a dress that makes you look fantastic. Undoubtedly, unique and stylish outerwear will enable you to challenge your individuality. In a world of chaos, be a human with a warm heart and a cozy outfit. Salitex winter collection brings you a bundle of joy with elegant attires. The pret collection is chic, like the unstitched dresses. You can explore the Sapphire winter collection to get more chic pret dresses for winter too.
The most important thing to remember while you are being dressed up for any event is to consider the quality of the dress. Indeed, the premium quality outfit will bring you pure glamour and grace. So let's unfold the winters with the lustrously decorated and appropriately embroidered pret dresses below. Stop giving a damn and prepare yourself to don classy and delightful ready-to-wear dresses from the latest Salitex winter collection for women. You will get a lot of seasonal variation from the breathtaking and engaging portfolio below.
Exclusive Winter Suits for Teens
Teens always prefer to wear basic pret suits in casual wear. You can get casual suits from the Beechtree winter collection, as it offers pretty and chic styles for teens. Additionally, there are a lot of top women's clothing brands that are offering casual wear shirts and suits. However, those who are looking forward to a luxury and chic ensemble shall take a pause here. The following portfolio presents you with energetic and lustrously decorated yarn-dyed and jacquard embroidered and embellished suits that indeed append more charm to your winter look. 
Fashion has always been a repetition of outfit ideas and colors. Depending on your choice, there is a need to bring a little or a considerable change in your looks. But, it is essential to be very conscious and picky while you are selecting something for yourself. Please have a look at the well-decorative suits for women below. Salitex creatively constructed a luxury collection that is ideal for teens to wear at parties. However, you can also explore more variety from the Maria B winter collection.
Winter is not just about having a cup of coffee and enjoying street sidewalks. Instead, it is a feeling of warmth and delight when people want lovely weather with a nice outfit. Luckily, the clothing brands start launching their winter collections by the end of the monsoon. So, the Salitex winter collection has been launched in stores and online for you. Let's look above and get warm winter dresses at affordable prices.