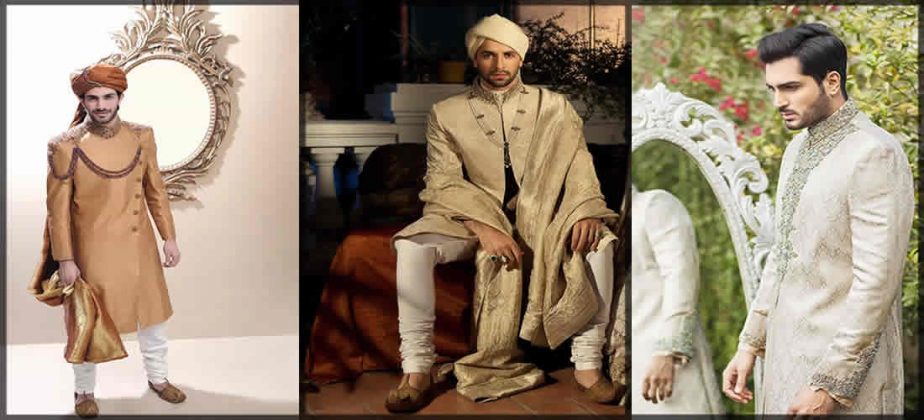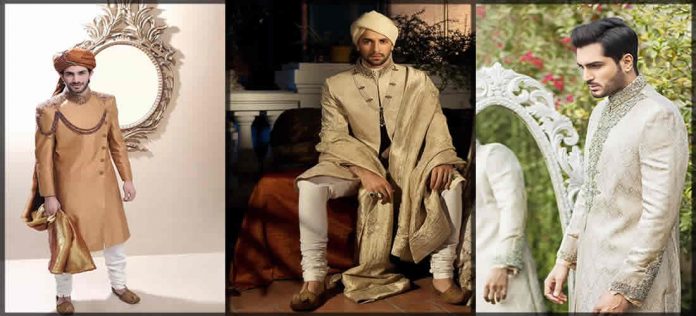 It is the time to remind you all that a graceful outfit is equally important for men as it is for women. Therefore, no one shall compromise on his personality for a few pennies. Instead, make your wedding day memorable enough with a classy and graceful attire. Indeed, Nilofer Shahid menswear collection will get you plenty of outfit ideas for your big day.
Everyone desires to uplift and elevate their looks. But, everything requires a bit of struggle and effort. Indeed, you can look graceful beyond infinity, if you are wise enough. Picking the right kind of dress is the first step towards elegance and grace. So, let's extract some time to explore the dignified and statement styles by Nilofer Shahid menswear collection below.
Lit up your styles physically and emotionally with intricately created ensembles below. Plus, combine a perfect pair of shoes to enhance your looks. You will get several tips and tricks with the dress details below to achieve grace and glam. Let's give a big shout-out to the creative designer Nilofer Shahid for creating such youthful and attractive outfits for men.
About the Creative Designer and Brand History
If you want to discover true regal elegance, always consider the outfits by Nilofer Shahid. She is the famous and finest designer in the fashion industry of Pakistan. People admire the creative and attractive ensembles by Nilofer Shahid. Also, you may see several celebrities spotted wearing glam outfits by the truly Nilofer Shahid. For instance, you can explore the Nilofer Shahid summer collection to see the gorgeous Sara Khan and Noor Zafar Khan.
Undoubtedly, the creative designer puts lots of effort to create magical and deliberating styles for both men and women. Also, the fashion artist never hurt the sentiments of the public. Instead, she always won the hearts of the public by bringing lavish and luxurious seasonal assortment for people. Let's give a shout-out to this creative woman in the industry.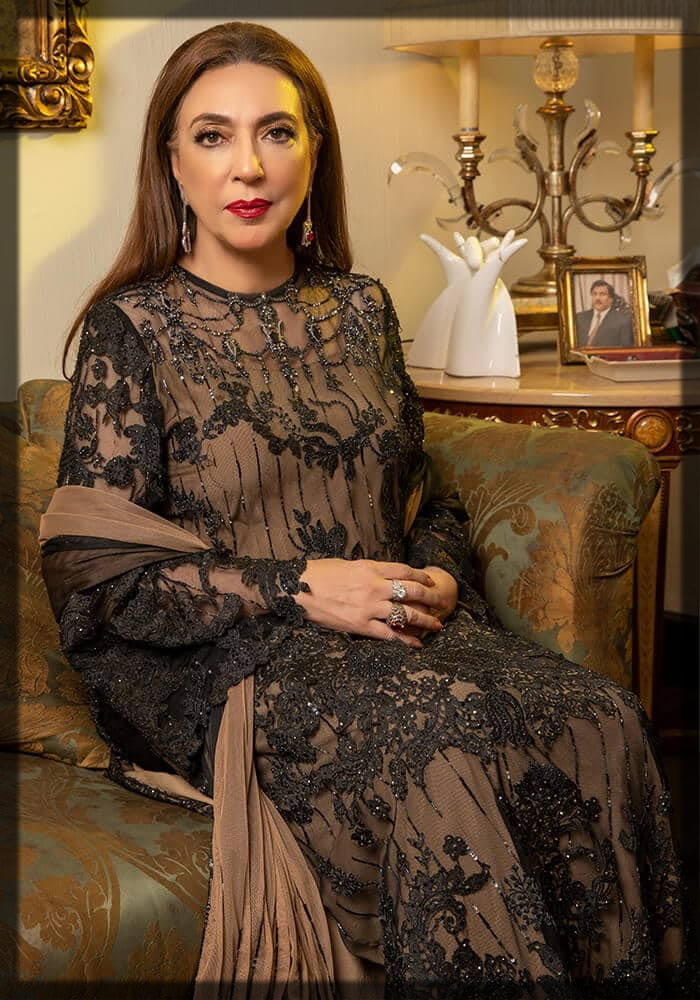 Dignified Nilofer Shahid Grooms
Collection
Following the trends and traditions is a smart choice but individuality is more important. Therefore, men who focus on individuality more than trends always stand out dominantly. Here is a style perfect for you by Nilofer Shahid that will aid you in looking different. Whatever your age is, it defines your choices and taste. One must possess a good dressing taste to impress the audience with love and energy.
Therefore, we are bringing you some energetic groom dresses by Nilofer Shahid below. Undoubtedly, the impressive attires with tasteful designs will catch the positive vibes. A groom stays in the spotlight of the wedding along with the bride. Therefore, it is crucial for a man to dress shabbily for a progressively graceful look. Nilofer Shahid groom's collection will provide you with essential wedding dresses for men. So, let's have a quick look below.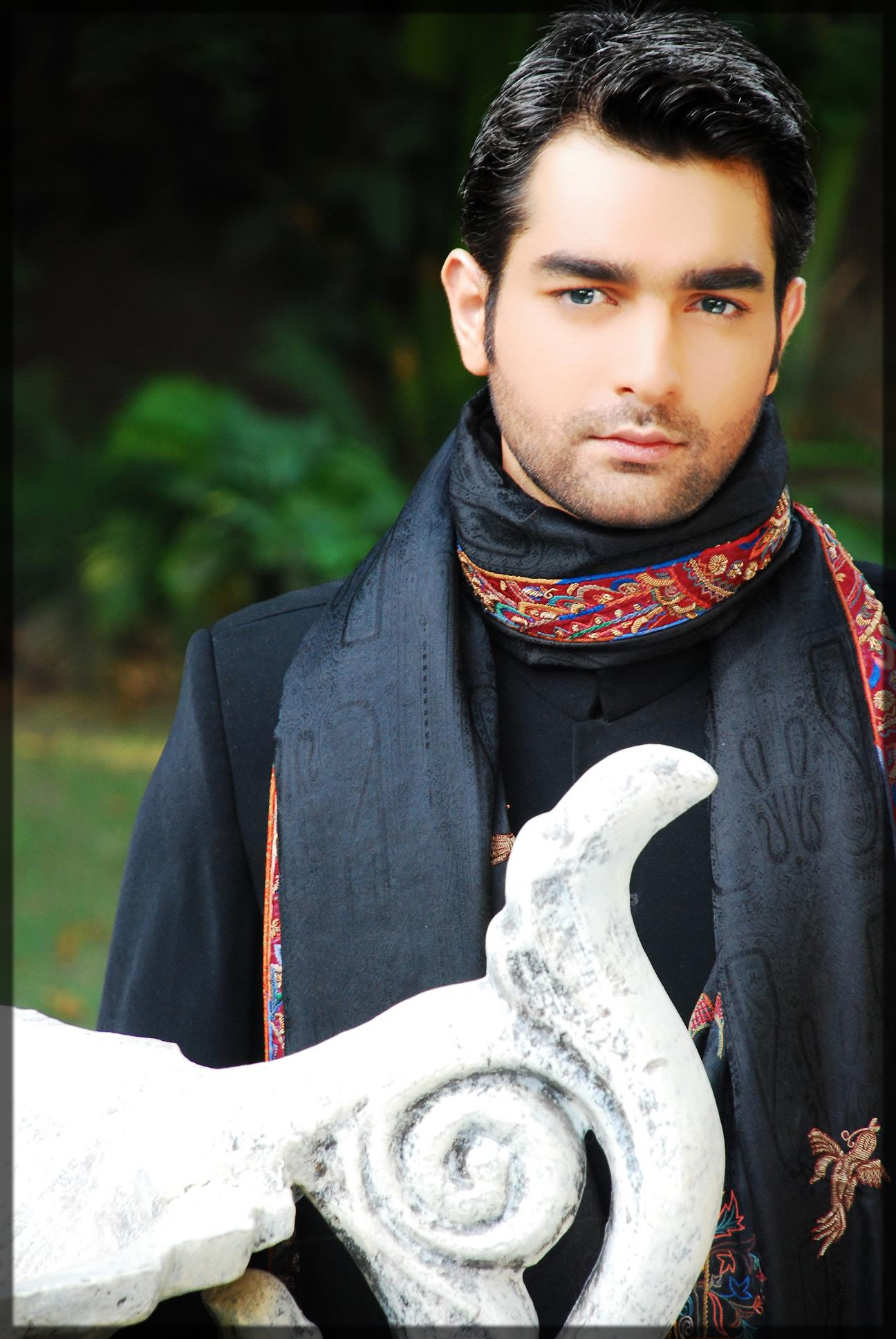 Royal Kurta Pajama with Waistcoat and Shawl
The creative designer Nilofer Shahid always feels the pride to protect and revive the cultural heritage of the country. People who show immense love for the traditions of Pakistan look for a traditional outfit. Therefore, the designer has an inspirational yet royal sherwani for grooms below. Please have a look at the sophisticated yet traditional ensemble below.
Undoubtedly, the following outfit meets the demands of our men. The graceful mustard kurta comes with an embellished velvet blue shawl. Moreover, the bejeweled shawl has tila and zardozi artwork that makes it graceful. Indeed, the exuberant masterpiece completes the contemporary looks of the groom. Please give it a thought for your big day and have fun!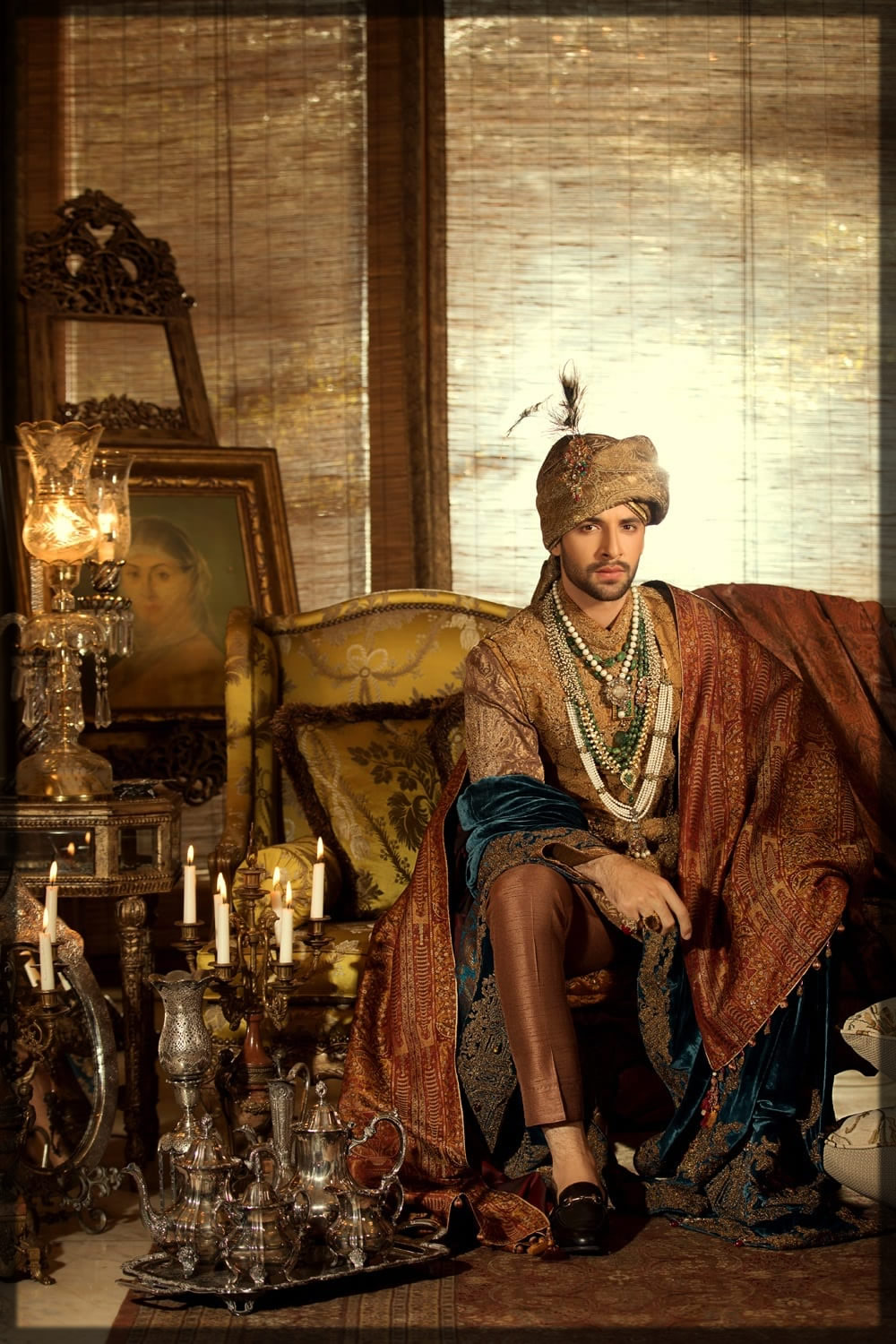 Royal Golden Sherwani with Shawl
Do you want to construct a debonair look on your big day? If so, then you must try a style that is a brilliant blend of eastern and western tradition. Luckily, you are in a place where you will get everything that you desire. So, enjoy the moment of blessing and bliss with the graceful royal golden sherwani as your barat day dress. Indeed, you will love the impactful design and style.
The following off-white cream sherwani has a touch of both eastern and western culture. Moreover, it has rich embellishments of sequins and zardozi artwork on sleeves and cuffs. Further, it has a white churidar pajama for a complete look. The royal ensemble is accessorized with a pure silk turban and gold shawl for a whole noble and charming look.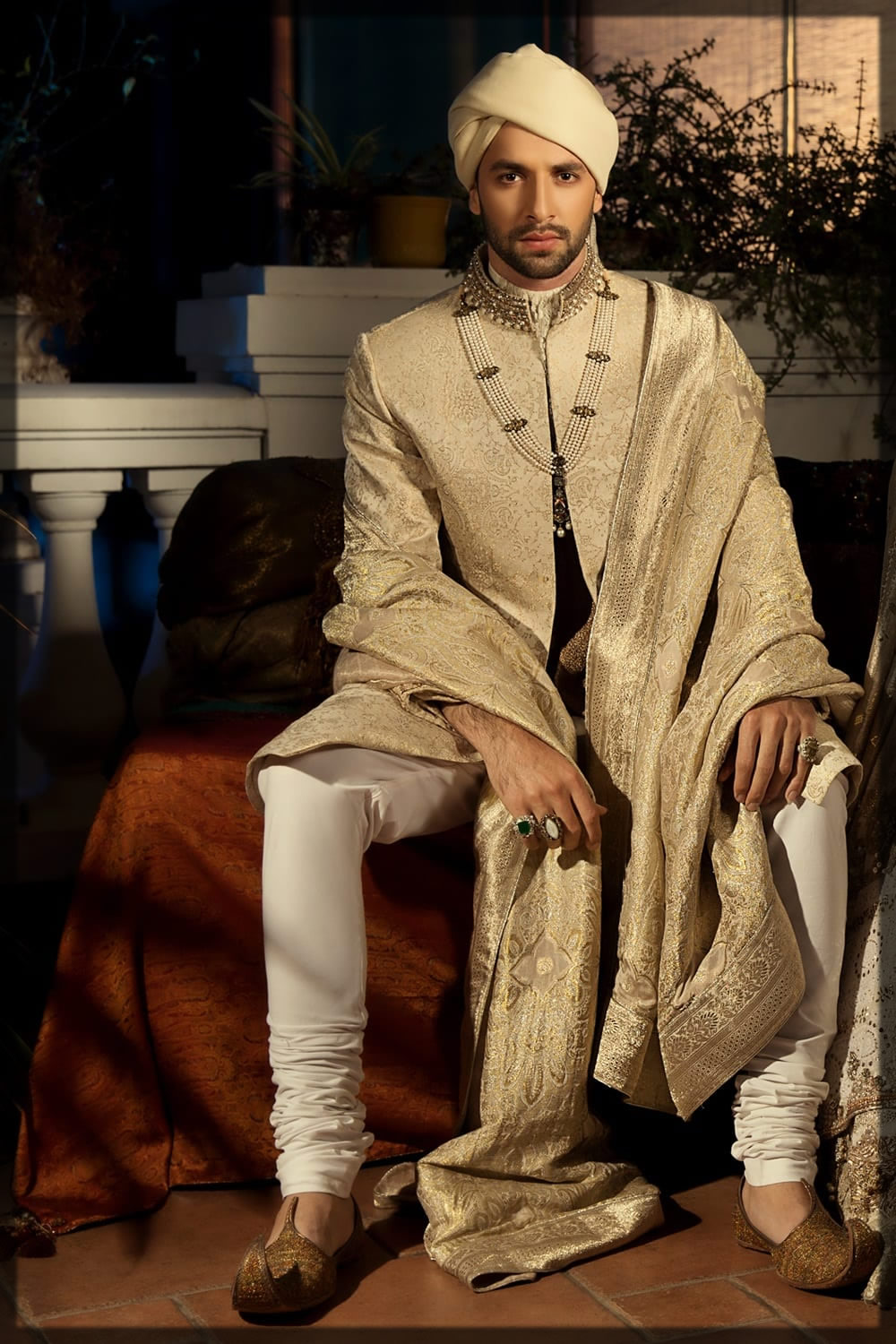 Yellow Radiant Jamawar Sherwani
Do you want to amplify your mehndi day sherwani? If so, then you must keep a magnifying mirror with yourself in the event. Does it seem funny? But I am pretty serious about it as it will show you the actual and real look. Also, you must wear a dress that is a pure symbol of class, grace, and elegance. So, exude charm with the dignified yellow glowy sherwani below.
The radiant sherwani is created from pure jamawar fabric that is a symbol of class and grace. Indeed, you can glow differently if you opt for such modest fabric and style. The fantastic sherwani is decorated with detailed embellishments around the neckline and collar. Further, it has a contrasting orange shawl with gold patterns for a whole rich wedding look.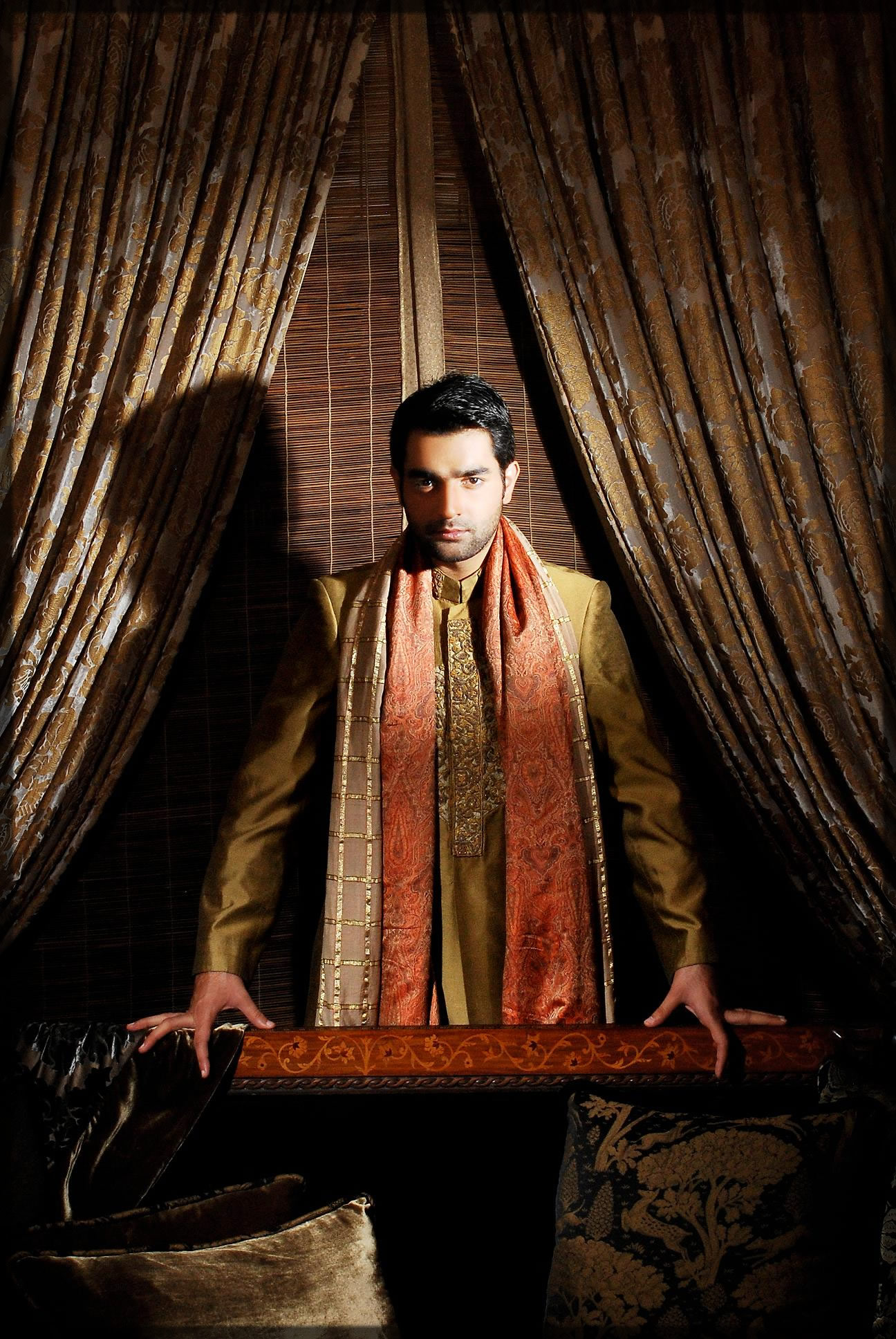 Silver Grey Royal Sherwani for Men
Sometimes, men are looking for a simple yet graceful dress. Not every time an embellished dress can bring you charm and grace. Instead, a simple dress can do a better job instead of a heavily decorated dress. Here we have such an ideal ensemble for you to wear as your walima dress.
The following shiny grey royal sherwani has no artistic embellishments over it. Instead, it is a simple self-printed sherwani that is created from plain jamawar fabric. It is adorned with silver buttons to give it a wedding look. Traditional white pajama completes the look of the dress.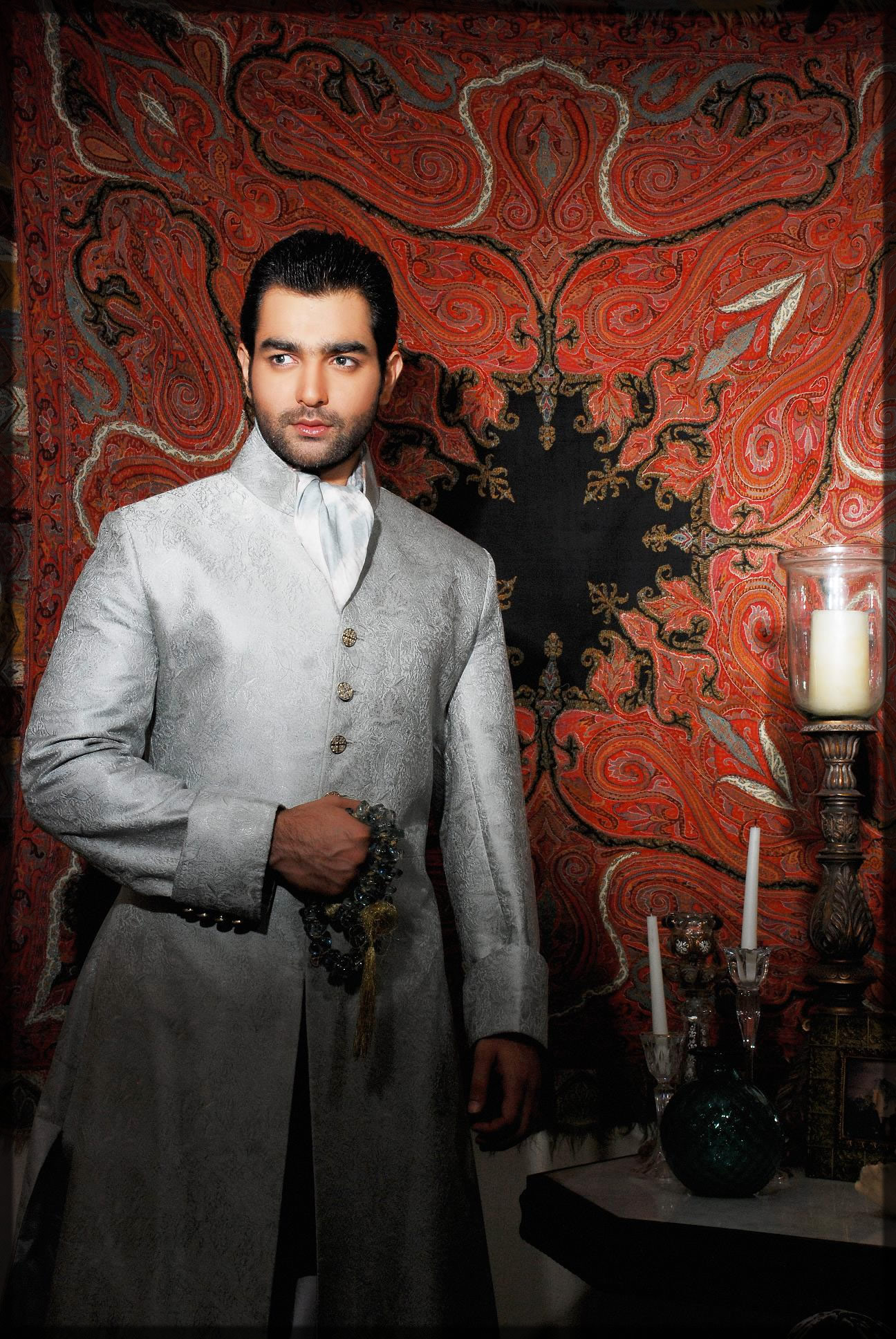 Embellished Ivory Sherwani for Men
It is human nature to stare at something that attracts your eyes. Undoubtedly, people will always notice and stare at the people who look different and classy. So, it is your duty to make it worth your while by wearing a dignified dress. Undoubtedly, a graceful ensemble will bring you captivating looks that will attract the positive and negative eyes around you.
Here is such decorative nikkah sherwani for the groom. Admittedly, the contemporary style will redefine your wedding look beyond infinity. The graceful ivory sherwani has embellishments of zardozi on sleeves, front, and around the neckline. Plus, it is coordinated with a plain matte-gold traditional shalwar for a whole vibe. Please give it a chance to bring elegance to your looks.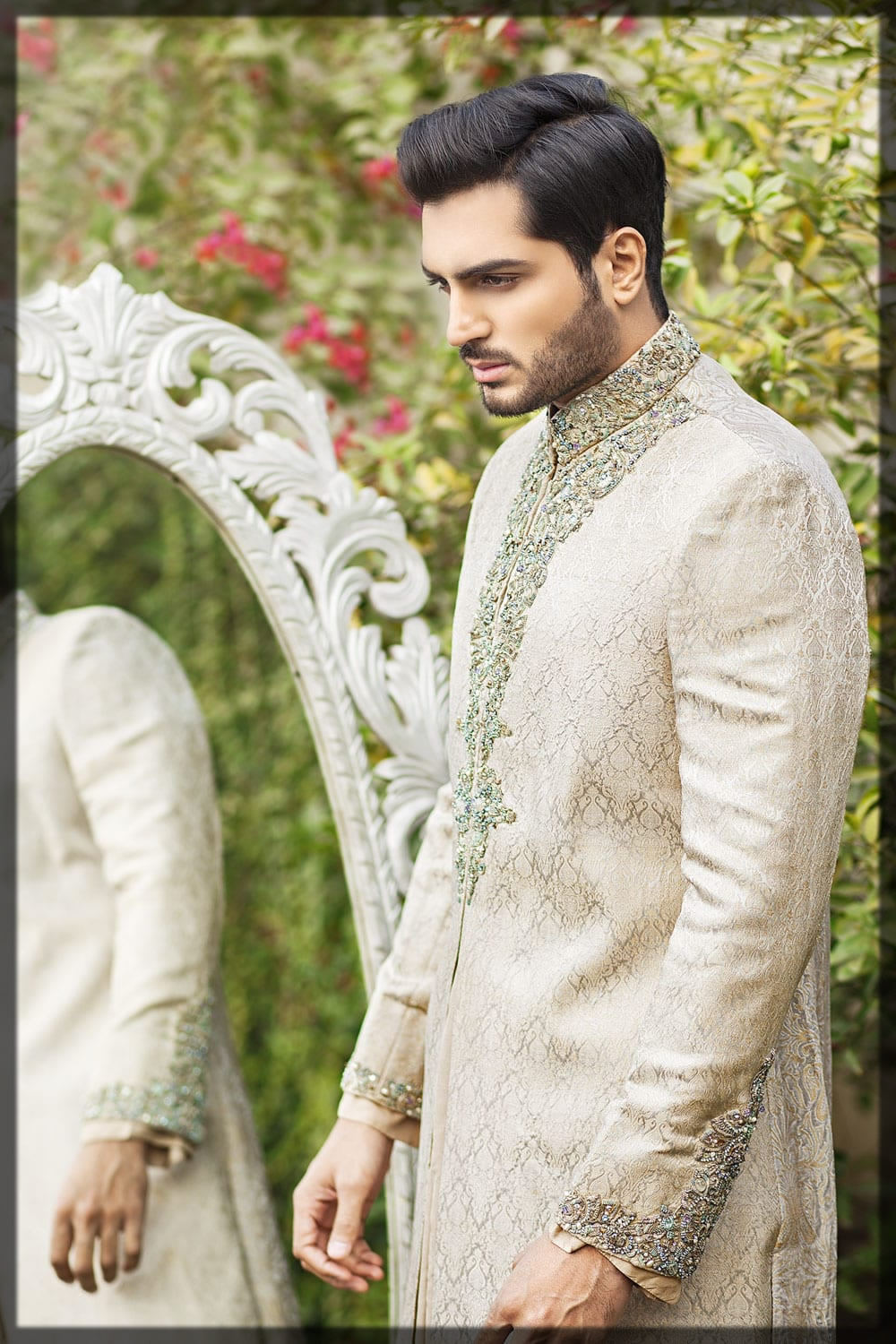 Plain Rust Traditional Sherwani for Men
Nilofer Shahid menswear collection not only brings you decorative dresses but also simple ones. The mindsets vary from person to person. Therefore, Pakistani fashion designers tend to follow the segmentation rule to satisfy the target audience. So, people who do not love to wear modest styles can opt for the following simple yet graceful plain rusty sherwani.
You can see the sharp details on a few areas of the dress. The shoulders of the sherwani are embellished with zardozi work. Further, a small area of the neckline also has tiny embellishments of antique zardozi work. Plus, the style is accessorized by a beaded maala on the front gives it a regal look. Plain white pants complete the whole look of the dress.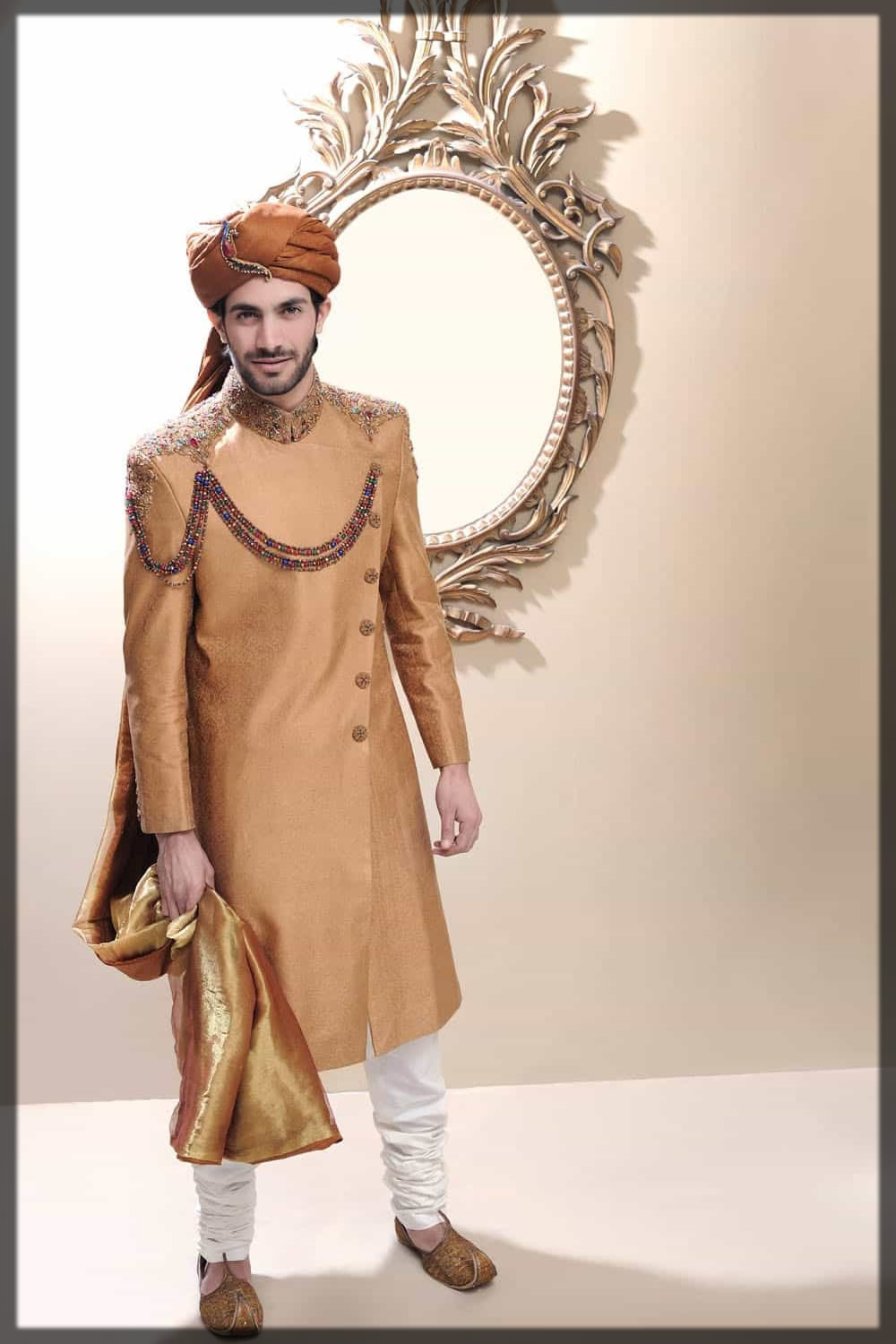 Straight-Cut Coral Raw Silk Sherwani
Well, it is important to incorporate traditional values whenever you are up for an event. Fortunately, a wedding is a great chance to revive your cultural heritage with love and respect. Therefore, the designers take care of the sentiments of the public and bring the desired styles. Here is another exclusive choice for the grooms to wear at weddings.
Please have a glance at the following red bloom cut sherwani. The straight-cut coral raw silk sherwani has tiny embellishments on the shoulders and neckline. The parts are decorated with a lighter tone of embroidery and sequins. Further, it has a splendid contrasting green shawl with maysuri work to elevate the entire grace and glam of the groom's look.
Also Explore: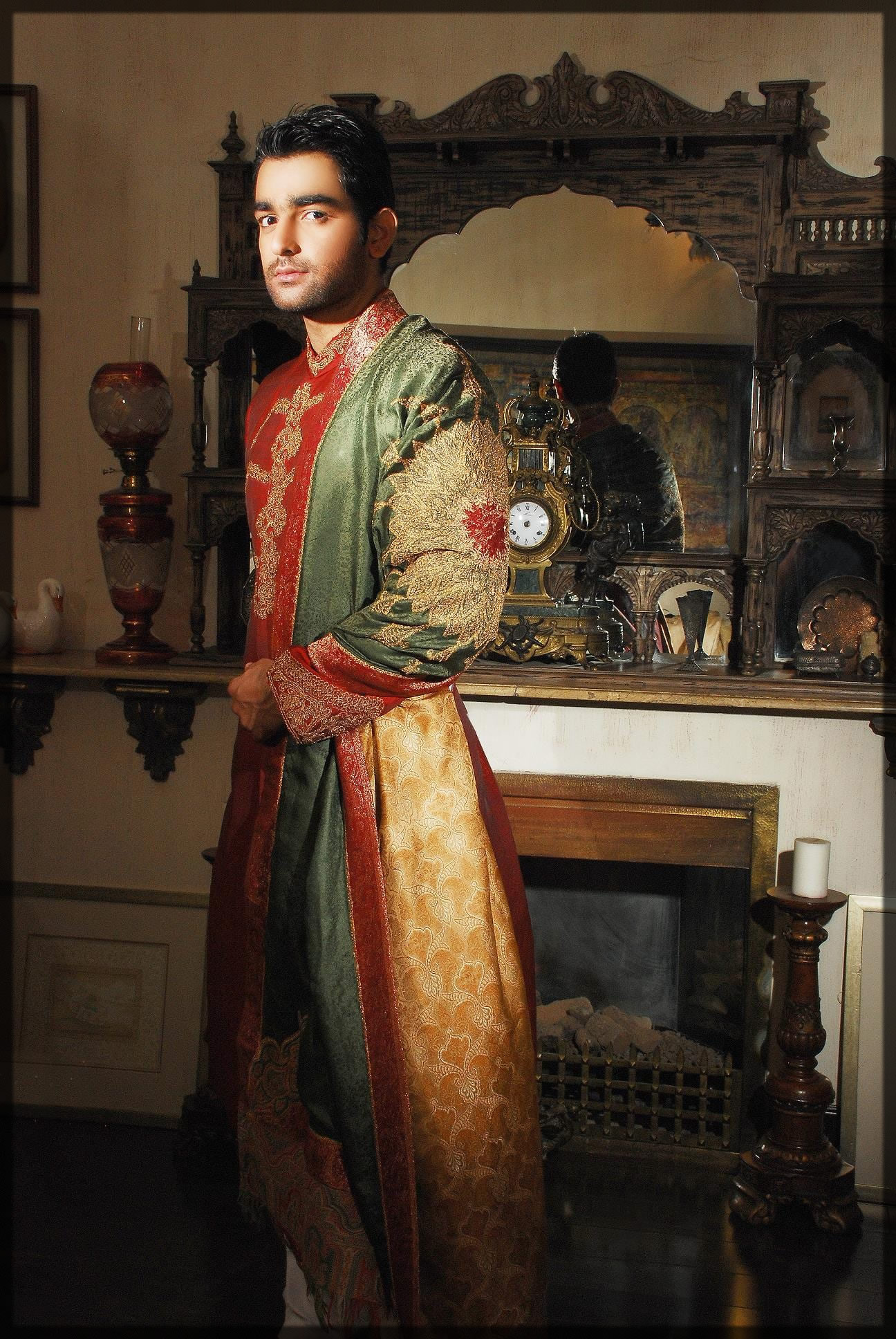 Bronze Sherwani with Shawl
A man can look unique and graceful if he constructs his own visual style. Indeed, the style will be unique for yourself and much identifiable for the people around you. Strive hard to get noticed by the public at large with your individuality. Here we have a perfect outfit for you that will challenge your looks. Please give it a thought once and have a charming look.
The following bronze sherwani is a true definition of culture and traditions. It is created from rich kimkhab fabric for a dramatic look. Further, it is enhanced with tassels to bring ultimate sophistication to the dress. Additionally, it has a contrasting pure red jamawar shawl to wrap around for an exquisite look. Delve into yourself with the bronze sherwani below.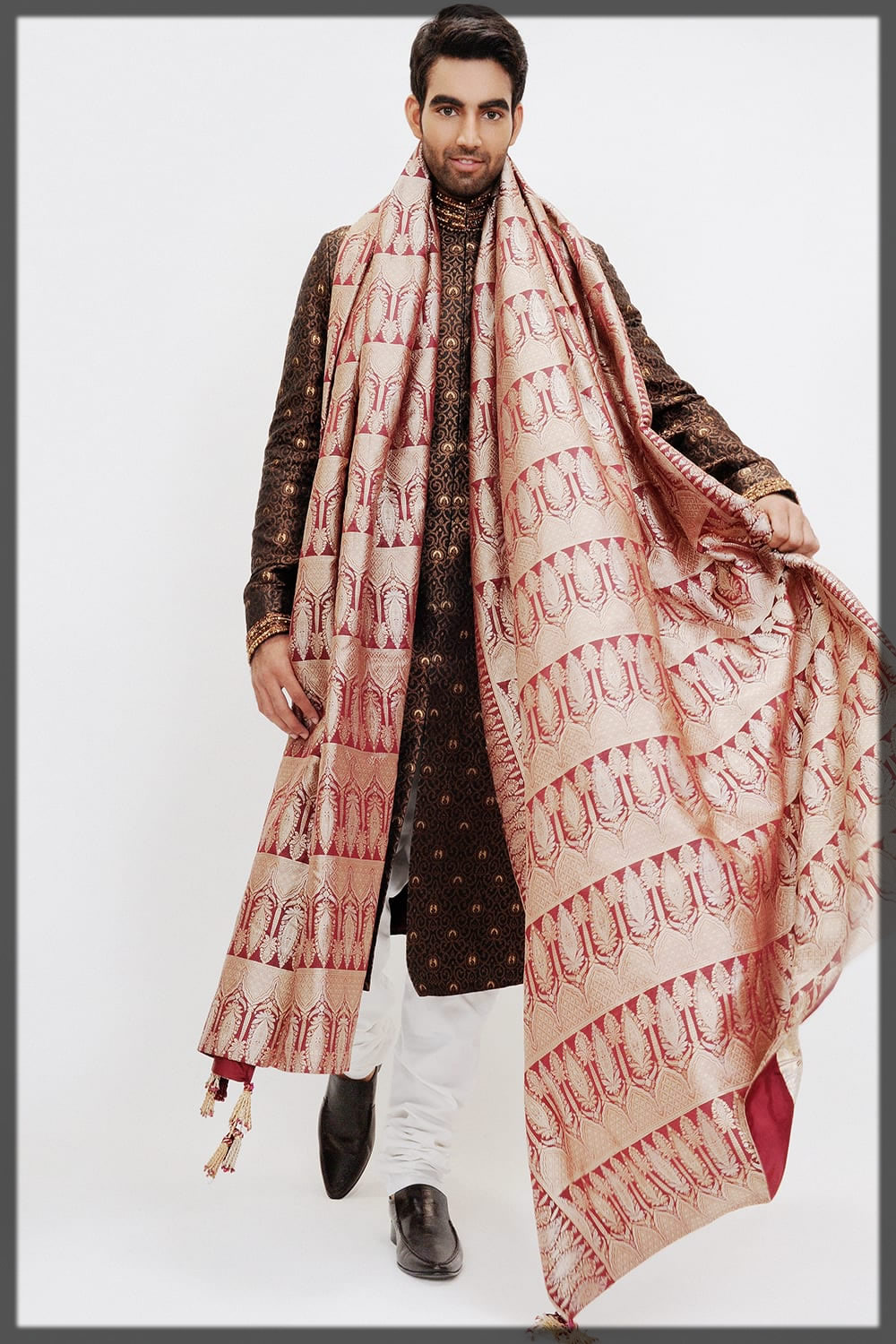 Cream Sherwani with Pajama and Shawl
Nothing can beat the grace and love of cream color. Men are equally in love with this natural shade like women. Therefore, Nilofer Shahid menswear collection offers this exquisite shade for grooms below. In terms of grooming and style, the following ensemble will be an ideal choice for men to wear on their big day. Let's have a quick look at the graceful ensemble below.
As simple as it gets, the modest ensemble is created in a traditional way. Bringing a pure summer vibe, the graceful outfit has embellishments on the front. You can see the hand-embroidered embellishments and Kashmiri motifs on the sherwani. Further, it is coordinated with an embellished and contrasting green shawl for a whole dignified look.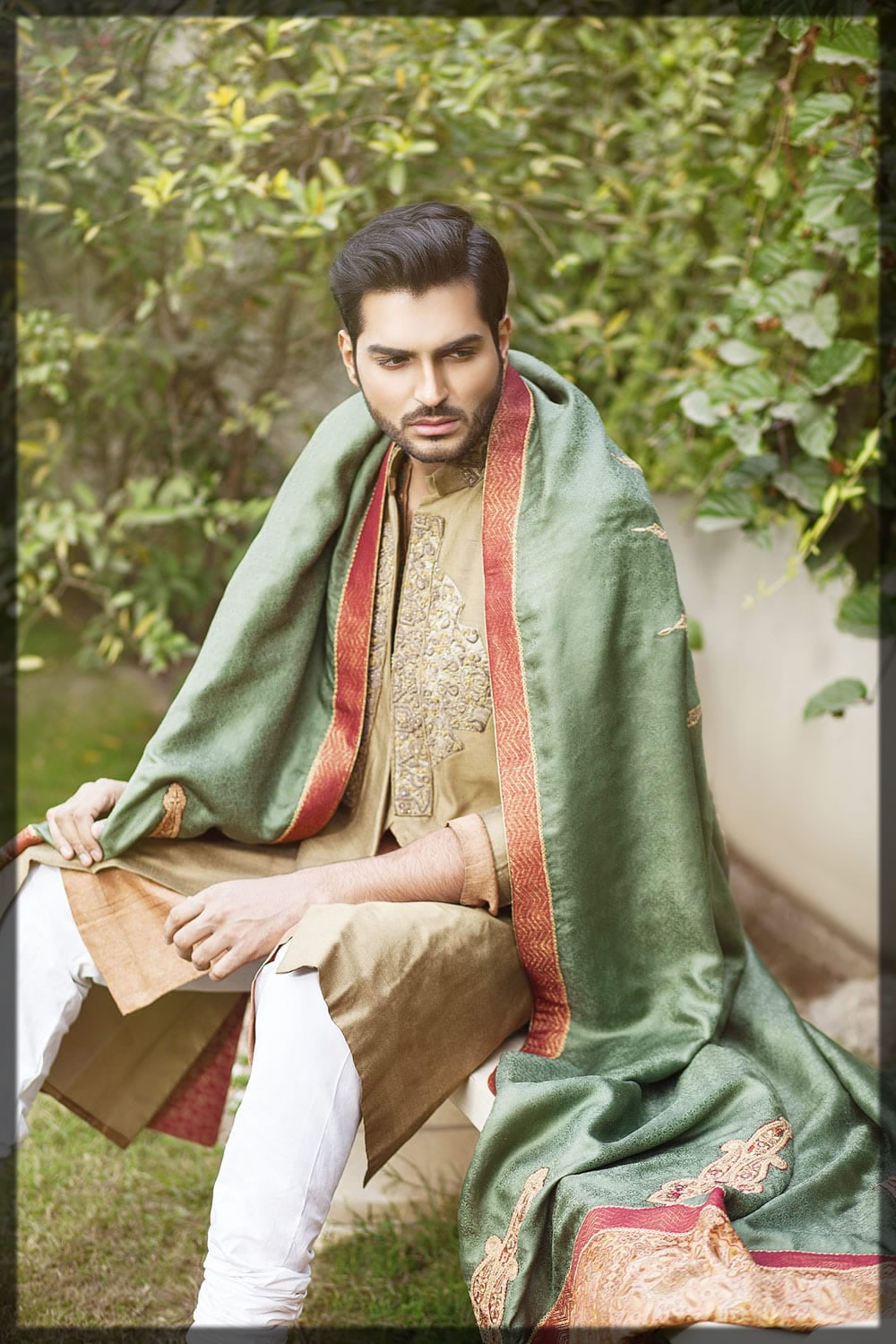 So, what are you waiting for? The timeless and chic groom dresses are on your way to grab soon. Give a big shout-out to Nilofer Shahid for bringing such youthful and traditional dresses for you. Also, follow the fashion tips and tricks to look as graceful as the models above. I hope you will love the statement style. It will be your ideal choice if you opt for an outfit from Nilofer Shahid menswear collection for your big day. Looking forward to your feedback!!