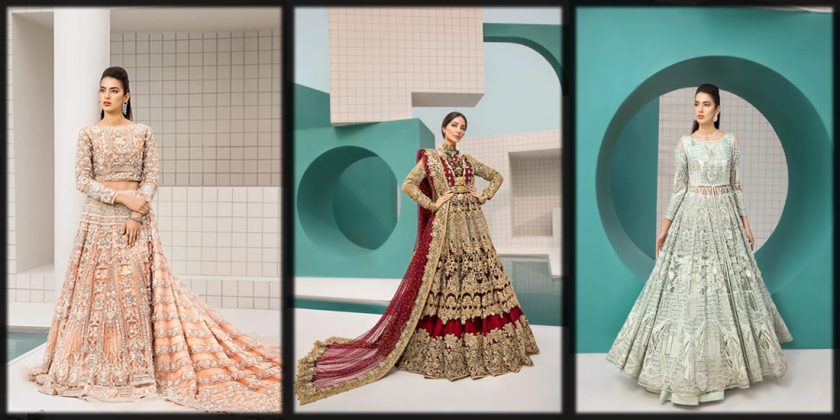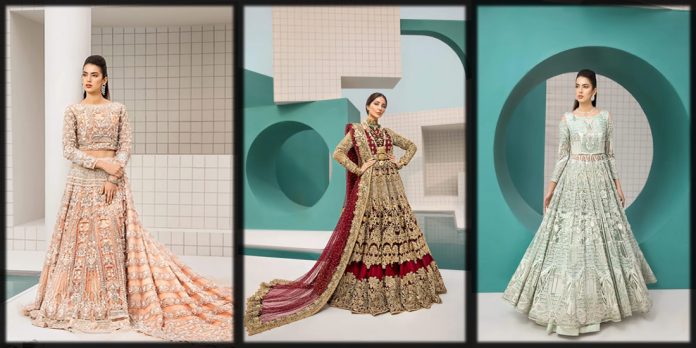 A wedding is one of the most memorable and prestigious moments for the bride and the groom. On this day, two people tie a knot to stand by each other in every situation of life. Such a commitment ceremony is known as a marriage that requires an appropriate outfit for a bride. Erum Khan bridal collection facilitates the public with her attractive bridal dresses.
Life gives you a couple of chances to sparkle and stay confident. Well, it is all about a person's likeness or dislikeness about fascination and charm. A wedding is an event that every woman desires to make memorable. Therefore, every upcoming bride needs an exclusive bridal dress for her big day. Do you want to leave a sparkle behind on your bid day?
If so, then get ready to explore the most pleasant bridal portfolio of the season below. Erum Khan's couture is all set to grace your looks with dignified and embellished styles. It is the time to take a deep breath and enjoy all the bliss of life with mesmerizing dresses. Please take a while to explore the following decorative and well-embellished bridal dresses.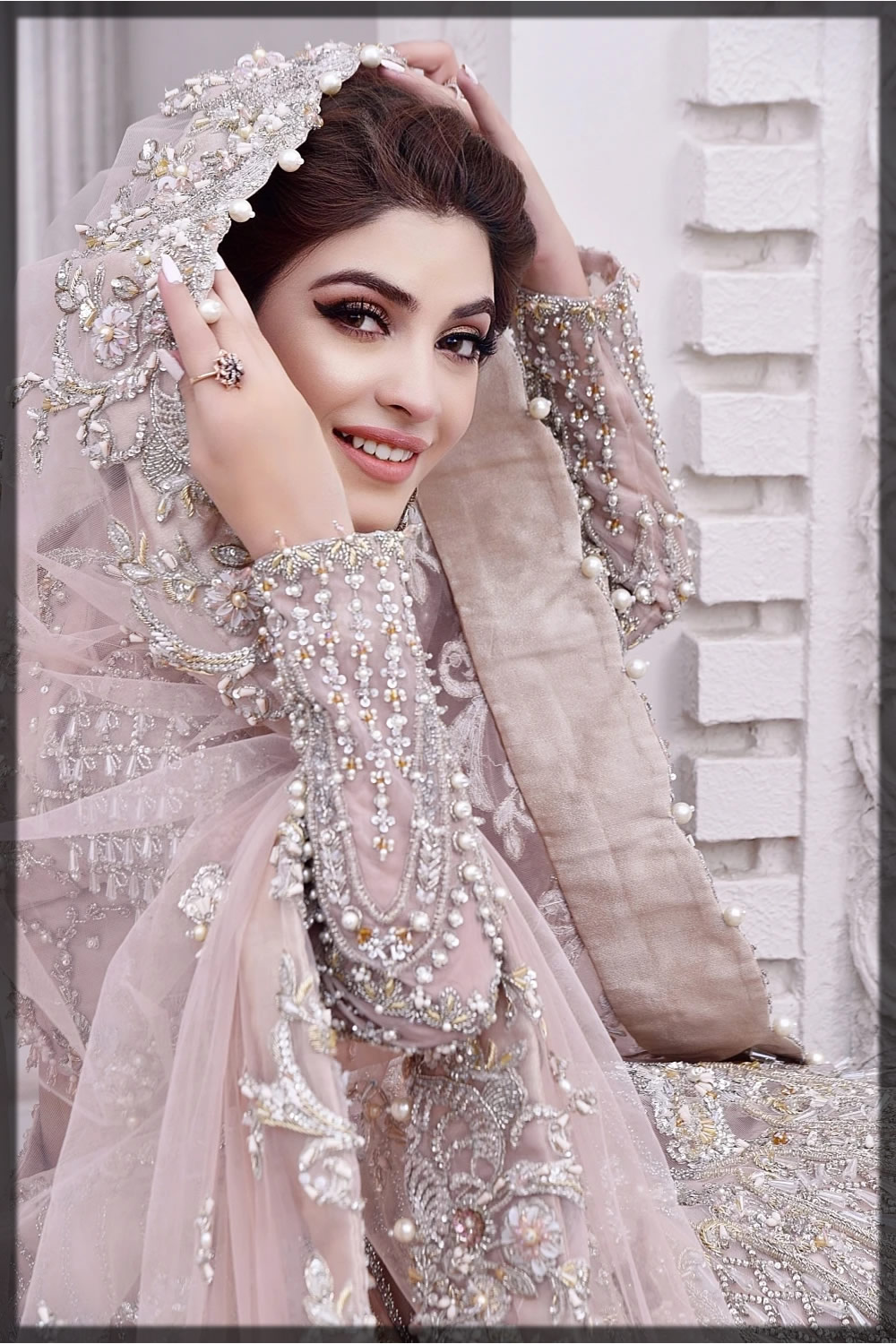 Erum Khan Latest Bridal Collection for Wedding Day

If you are looking for a wide collection of bridal wear, you are in the right place. Erum Khan never fails to impress her lovely customers with breathtaking styles. For instance, we have a creative, energetic, and versatile portfolio below. Indeed, you will love the dynamic dresses. The creative designer puts a lot of passion and trust to built quality clothing styles.
There are a lot of Pakistani fashion designers who are famous for making attractive bridal dresses for women. But, I am glad to say that you will find the most effortlessly chic ensembles by Erum Khan here. The magical designs empowered the wearer and created illuminating looks. Please give a huge shout-out to the powerful and ambitious women for bringing the portfolio below.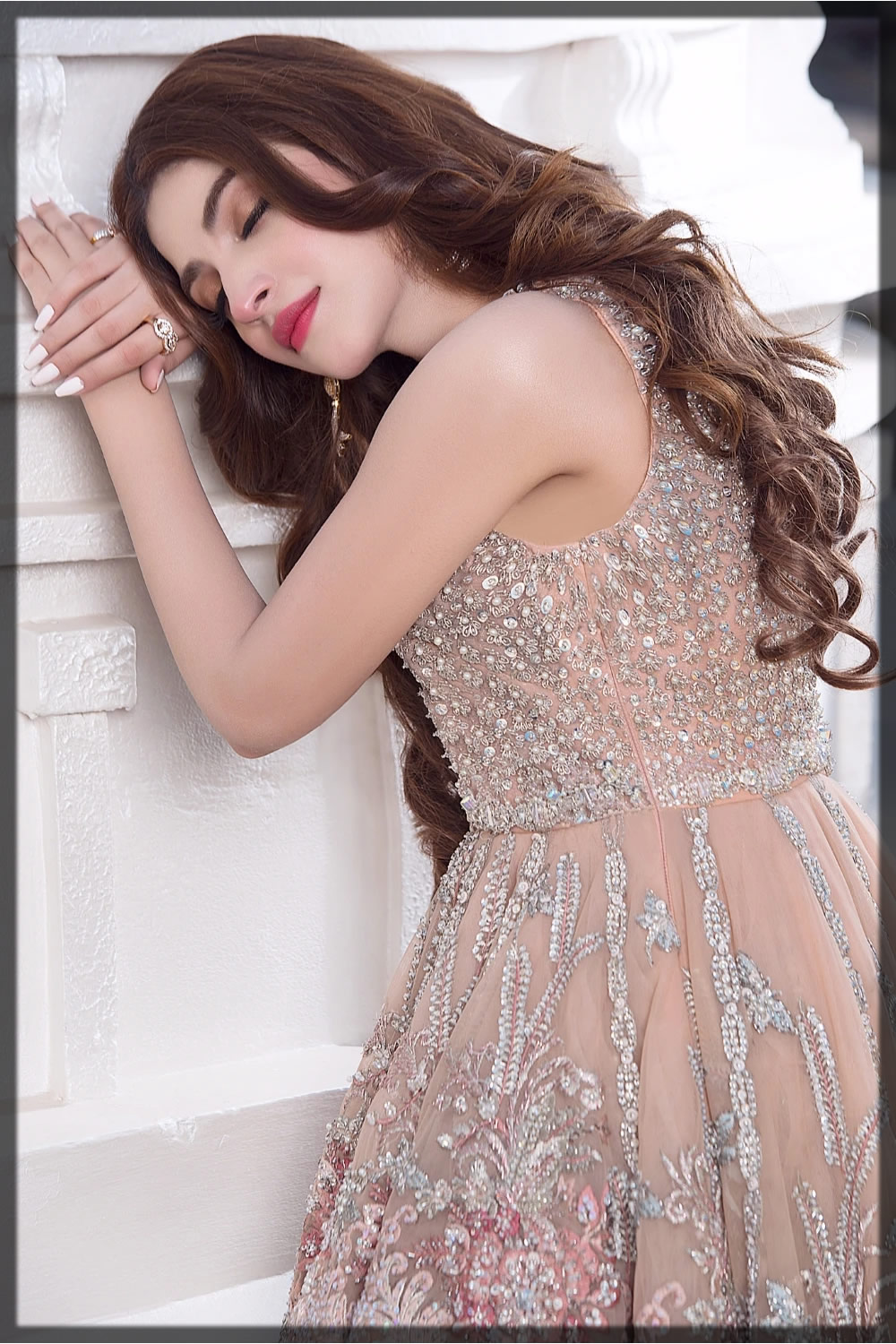 About the Creative Designer and Brand History
If you want to pick up fairytale dresses with a little bit of magic, go for the concise variety of Erum Khan. The beautiful designer is famous for her exquisite details for both formal and bridal wear dresses. Also, you will see a visible fusion of vintage and modest clothing styles in her brand's collection. The passionate designer started her career in the clothing industry in 2011. Indeed, many people remember her for the mesmerizing clothes with intricate designs.
The powerhouse of fashion caters to the attention of the target audience through her creative artwork. Undoubtedly, you will experience more than usual artistic and creativity in the clothes by Erum Khan. Her bridal collection is famous under the label of Erum Khan couture. However, you can explore versatile lawn dresses by Erum Khan's summer collection too. Please have a look at the following essential bridal campaigns by the creative designer.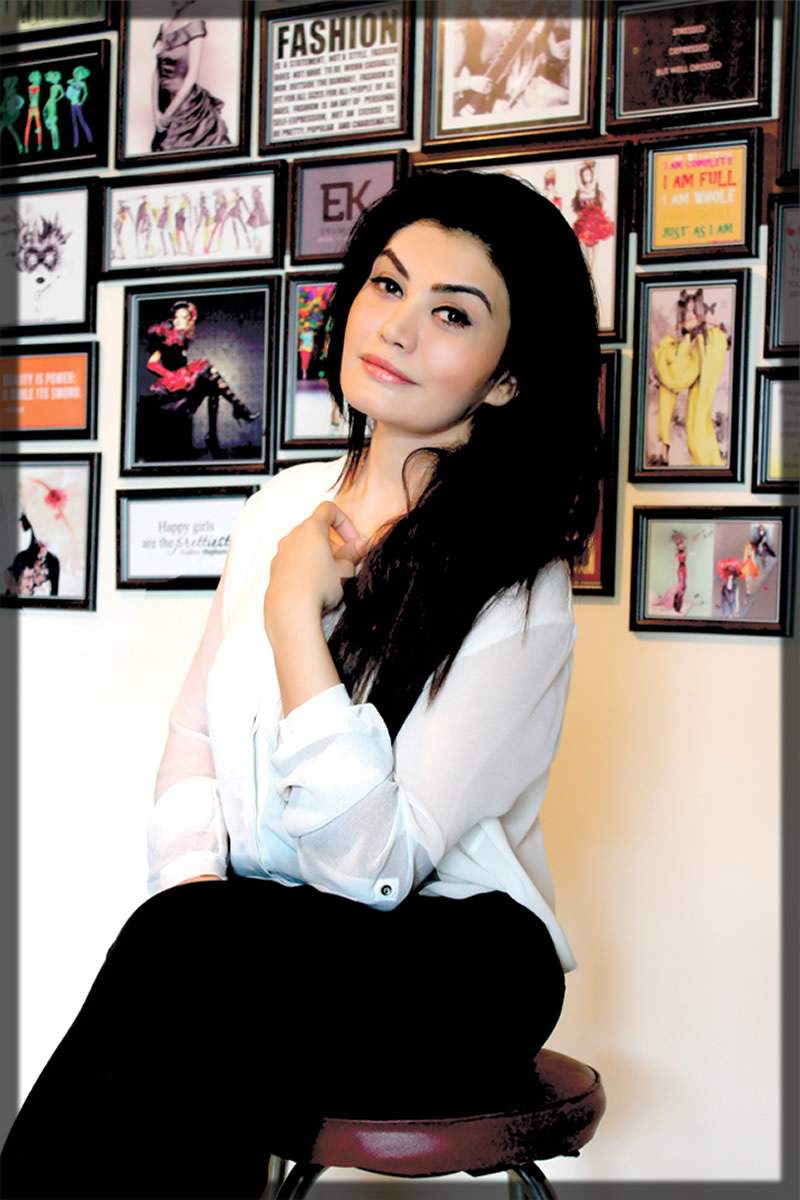 Selina Collection X Kinza Hashmi
Kinza Hashmi stands among the most gorgeous, versatile, and talented actresses in Pakistan's showbiz industry. The pretty actress started her acting debut from the drama serial "Ishq Tamasha" across Aiman Khan and Junaid Khan. Also, she received the award for this drama as the best actress's new emerging talent. This was her breakthrough project.
Currently, you will be seeing her in popular dramas like "Mohlat" and "Aazmaish." Also, she came across massive trolls after her acting debut in the drama serial Uraan across Adeel Chaudhary. The iconic actress is a smart model too. Therefore, you will see her in several brand's catalogs too. Here is the Selina bridal collection of Erum Khan featuring Kinza Hashmi.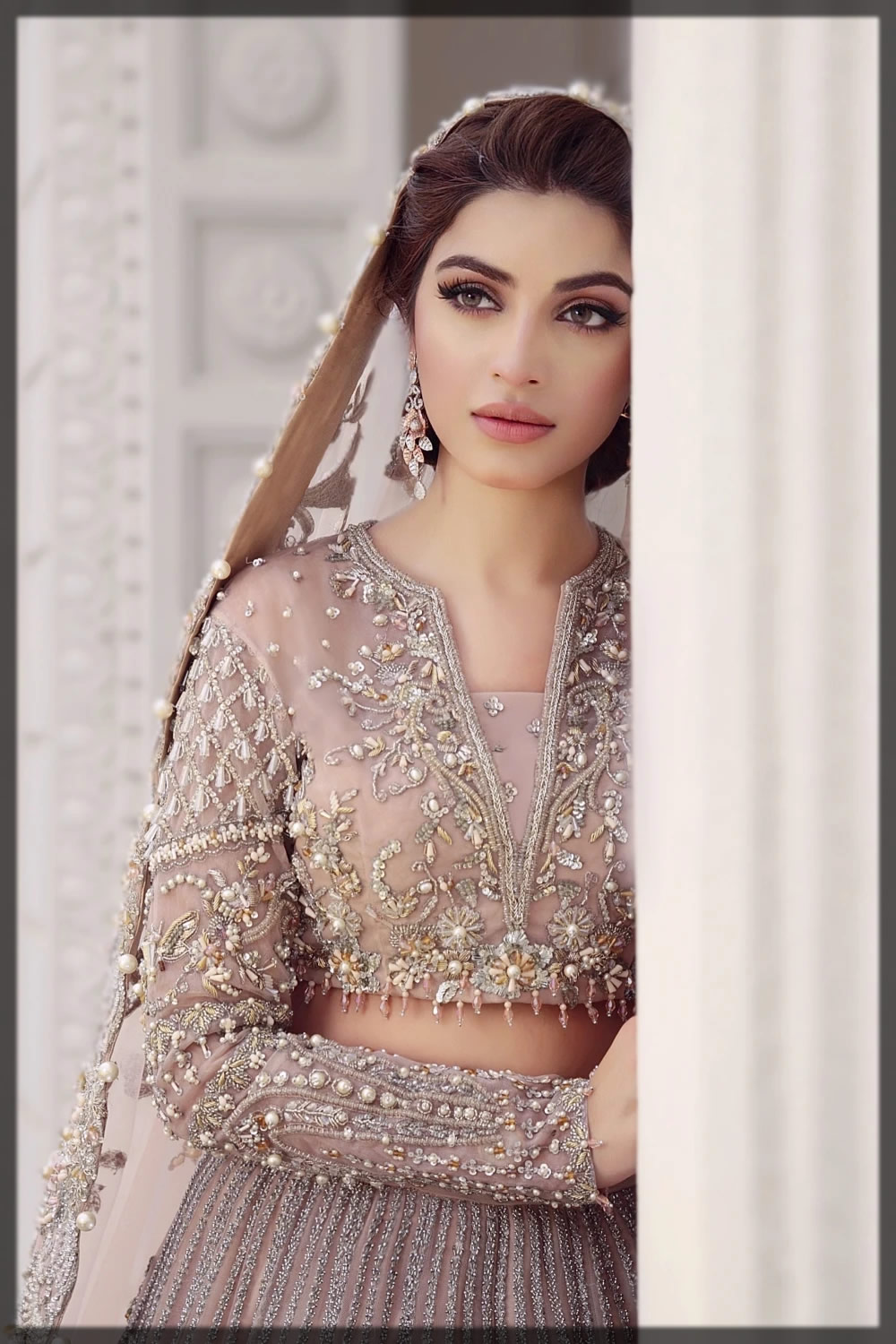 Golden Zari Embellished Peshwas Gown

You may found some people around who are born with glitter in their veins. But, it is never too late or less fortunate if you don't have a sparkle by birth. Life gives you many chances to build up your own shine. Indeed, a wedding is a precious moment to be filled with grace, charm, and glitter. For instance, please give a thought to the following golden peshwas.
Look how glamorous Kinza Hashmi dons a glorious golden zari embellished gown. I will not be wrong if I say that the iconic actress is a vision to behold in this ensemble. Indeed, the following style is the most appropriate and ideal one to cater to the attention of the audience.  You can explore designs likewise from Asim Jofa bridal collection too.
Enchanting Tea Pink Bridal Ensemble

A woman shall be like a diamond that is precious and beautiful to see but hard to buy. No one shall copy your style and shine. That is the blessed power of yourself. Adorn yourself with prestigious clothing styles to make a statement look with abundant shine and grace. For instance, give a thought to the following tea pink bridal crop-top lehenga choli.
The pleasant shade is an appropriate choice to wear on walima. Also, you can wear the classic ensemble on your engagement too. There are many engagement dresses for brides, but the following can be the best. First, wrap up yourself in the heavily embellished and pearl-embroidered tea pink lehenga choli below. Indeed, you will love the combination.
The world is a runway, and humans need to leave a little shine everywhere they go. Indeed, every human has a right to shine brightly and appropriately. If you think about your personality more closely, you will learn how to glow differently. Therefore, observe yourselves and decorate your outlooks with glorious and ambitious clothing designs.
If you want to be as beautiful as Kinza Hashmi on your big day, try the following voguish red embellished bridal dress. You can see the heavy embellishments in silver and gold all over the dress. Hence, they are making the outfit ideal for the upcoming brides. Get yourself a couple of tremendous designs likewise from Tena Durrani bridal collection and have bliss.
Peach Embellished Peplum Style Bridal Outfit
Peach on the mind is always an obsession, and it is not a sin to be curious about your looks. Instead, self-love and self-obsession make you more confident and beautiful. So, if you want to wear a glorious dress with a bundle of confidence, choose a right and nice dress. Here is an enchanting and delightful peach glow peplum style bridal dress for you by Erum Khan.
Kinza Hashmi never fails to impress us with her slaying looks. Here she dons a fully embellished peplum with lehenga to exude elegance and grace. The heavily embellished lehenga comes with an organza border at the edges for a purely unique look. Get similar designs from the Zainab Chottani bridal collection and make a perfect wedding look.
Amour Sans Fin Bridal Collection by Erum Khan
If you want to unleash your inner beauty, then Erum Khan's bridal collection will be the best to wear on your big day. I can assure you that you will not be able to distract yourself from the flaunting dresses below. Each bridal outfit has an exquisite elegance with some grace and glam in proportion. Luckily, you can explore a wide variety in the portfolio of the Amour Sans Fin collection. HSY bridal collection has attractive styles for women likewise as well.
Magnificent Garden of Eden Collection by Erum Khan
Erum Khan is serving us with splendid bridal outfits to make an effortlessly chic wedding look. The magnificent Garden of Eden collection by Erum Khan brings you dynamic ensembles for your big day. Take some time to overview the concise portfolio of embellished dresses below.
Golden Embellished Peplum Style Bridal Outfit
Peplum-style dresses never go out of fashion and look much magnificent if a bride wears them perfectly. Therefore, Erum Khan's collection will grace your eyes with intriguing designs and embellishments. Take a look at the heavily embellished lehenga with peplum below. You can create an illusion in your wedding look if you opt for the glorious dress below. Also, you can explore Deepak Perwani bridal collection for more anticipating and glamorous styles.
Mint Green Crop-Top Bridal Dress
Nowadays, crop-top bridal dresses are in trend. Therefore, Erum Khan brings you a stunning flowy lehenga with crop-top choli. You can see the tiny embellishments floating on the surface of the entire dress. So, please give a chance to the glorious outfit for your big day and have a blast. I hope it will make people turn heads on you for praise and love.
Stunning Ash-Grey Tail Maxi

Are you looking for a bridal tail maxi? If so, then you are in the right place. The following well-embellished dress will be the ideal option for you to wear on walima. Indeed, the exquisite and tiny details will bring delicate and pleasant looks to your personality. So, please give a thought to the following elaborated tail-maxi dress and have a memorable event.
Classy Walima Dresses for Brides
Here are some classy and savage walima dresses for brides by yours truly Erum Khan. Grace, your look with the incredible and heavily embellished dresses below. You will find magnificent tail maxi styles and many more in the image gallery below. I hope you will love the well-decorative and preciously designed accurate dresses by Erum Khan here.
Ada E Husn Bridal Barat Dresses
Erum Khan has a distinction in embellishment techniques and decorations. Undoubtedly, you will receive glorious and effervescent styles from her apparel. There are a couple of clothing brands and fashion designers who create yearly assortments for the upcoming brides. But here is the most flaunting collection of bridal barat dresses for you by Erum Khan below.
If you are looking for a wise, stylish, and contemporary style, opt from the following voguish portfolio. The gallery is full of glamour and grace to bring you the desired sparkle. All that you need is to think several times about color and style that can suit your personality. Enhance your looks with appropriate bridal makeup and jewelry to make a perfect and ideal look.
Exclusive The Runway Bride Collection by Erum Khan
Undoubtedly, women looking for a pretty and well-embellished bridal outfit for their big day to radiate glamour. Indeed, embellishment techniques are intended to bring pleasure to the brides. None can deny the fact that happy brides are the prettiest brides. To bring a delightful smile to the bride's face, the designers put their efforts into making gracious ensembles for them. Erum Khan's exclusive "The Runway Bride" collection has some magical designs for you. Would you mind taking a look at the embellished dresses below?
I would like to appreciate the efforts of the creative designer for bringing the delightful assortment below. Also, I like the thought process of women who accept that they are on earth to embrace the embellished dresses. The Runway Bride collection has pretty and vigorous outfits for the upcoming brides. Please take a while to explore the essential net, raw silk, and chiffon dresses in the following image gallery. Plus, explore the latest and extraordinarily chic and magnificent dresses by the Mirusah Bridal collection for women.
Sprinkle your style everywhere with Erum Khan's bridal collection. The awe-inspiring hues and embellishment techniques will make everybody's head turn on you. For sure, you will be able to steal the show with your powerful styling techniques and inspirational hues. Have a blessed moment of bliss to make your big day memorable. I hope you will love the glorious dresses.