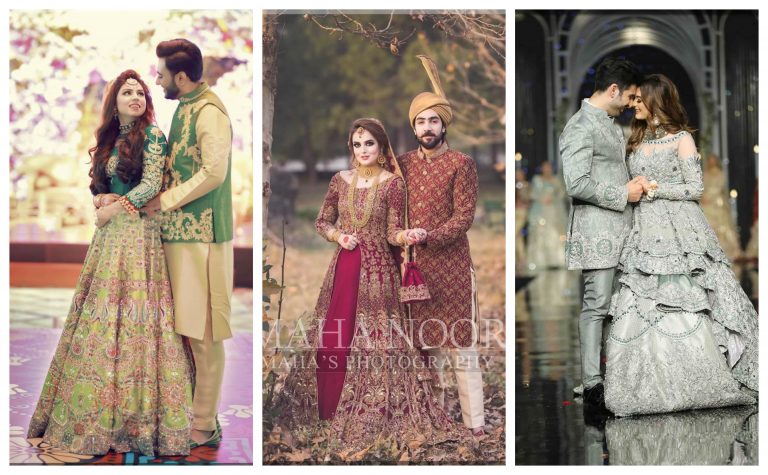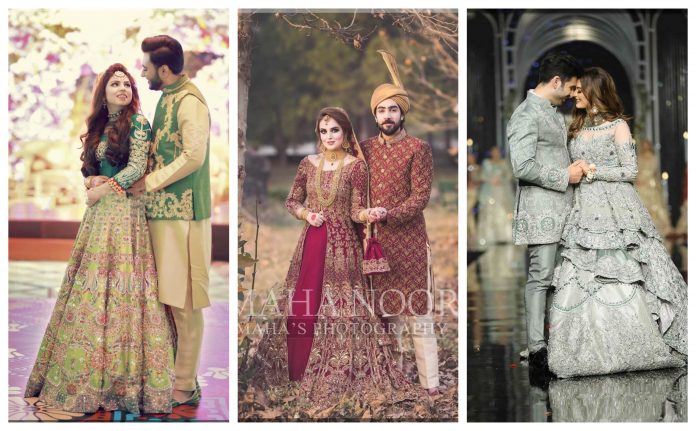 Bride and Groom Wedding Dresses are an essential part of the wedding events. Everyone focuses on the dresses and getup of the couple. Somehow, the old trends are going now. Today, the couples who have a mutual understanding, prefer matching wedding dresses. That is quite a thing nowadays.
Culture also involves the groom and bridal wedding dresses. The bridal outfit of mehndi and walima mostly bought by the groom's family. However, some families also buy barat dresses for the bride. These are our rituals, and we can't deny them.
A wedding is a social event. To sum up, in this ceremony, two people are united together in a relationship. The families of the couple are always looking forward to the selection of their dresses. As a result, there are many wedding styles according to customs and cultures.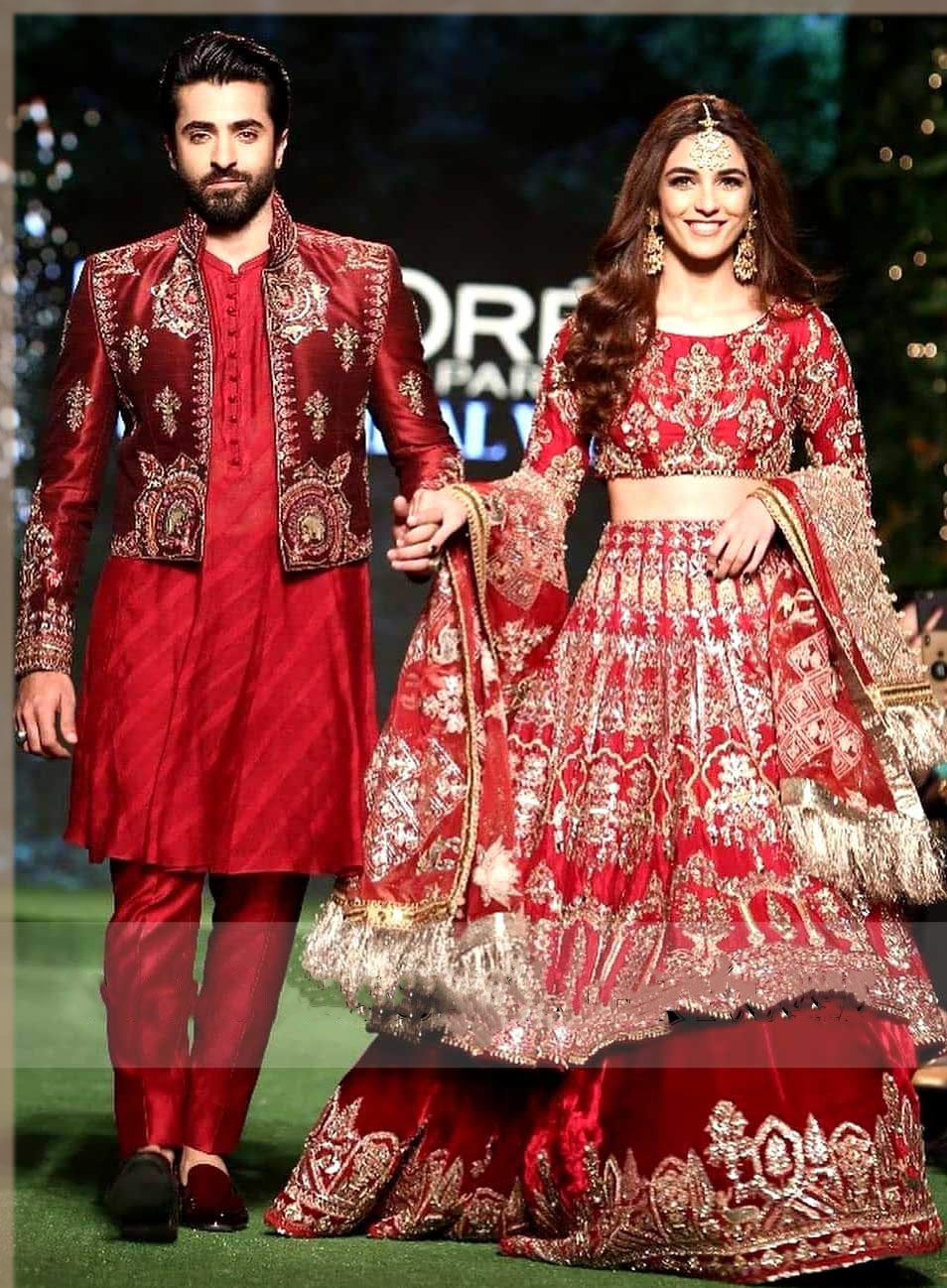 Cultural Wedding Dress Collection In Pakistan
Pakistan is a home of different cultures. Similarly, every culture has a different fashion style according to their trends and mores. Traditional dresses look beautiful and give you a classical vibe. Everyone feels proud after wearing traditional attire. Pakistani cultural wedding dresses are very stunning. Enjoy your traditional dress according to your culture.
Balochi Dresses Prospect the Wedding 
Balochi bridals wear massive Benefaction(Bejari) on their heads, which represents their culture and moral values. Elegant Balochi style embroidery dress with matching accessories combination is a big thumbs up. A traditional dress consists of a beautiful long shirt, with a solid colour palazzo and fancy embroidered dupatta. Groom can wear the Shalwar Kameez with the velvet embroidered waistcoat paired with a traditional Turban on his head. Besides, a Peshawari chappal can enhance the look.
Sindhi Wedding Event Dresses
Sindhi bride usually prefers vibrant colours such as red, pink etc. Most brides wear the multicoloured bangles with elegant Tila work attire, and Groom wears a traditional white cotton dress along with the turban on his head. Moreover, the groom also carries Sindhi ajrak on his shoulder. The brides wear yellow clothing with flower accessories along with the full hands of mehndi, which shows the sign of marital happiness and prosperity. Favorite Sindhi couple Asif Zardari and Be Nazir Bhutto in white colour dress set out a pure vibe.
In Pashtun weddings, the groom and the bride regarded as King and Queen. A groom can wear a black shirt with a neckline embroidery embellishments and contrasting waist coat. A bride can wear a solid colour dress with a V-shaped neck and umbrella sleeves for an elegant look. The different size necklace combination makes her more attractive and graceful. The Pashtun bride wears a Benefaction on her head as a symbol of tradition.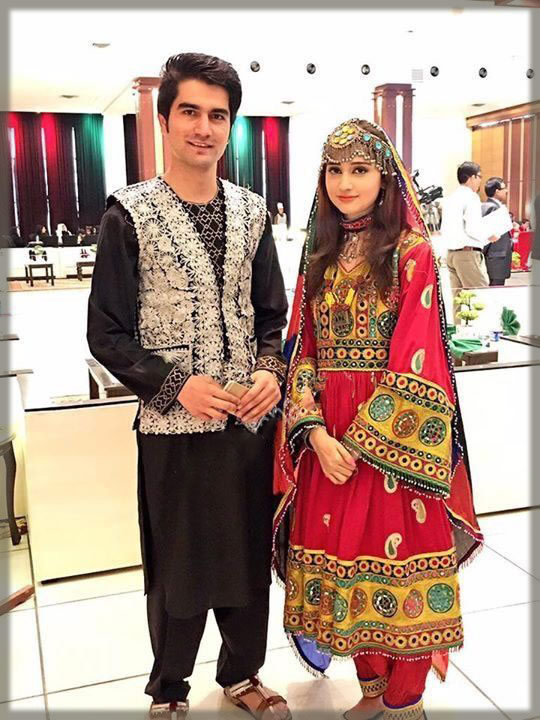 Engagement is a ring ceremony to announce two people as a couple officially. Mostly girls preferred to wear maxi and lehenga choli for the engagement ceremony. The green is a sign of good luck and health. In the image below, both the brides are in pastel green colour. Groom can wear a contrast colour suit to complement the bride's dress.
Beautiful Engagement Gown
The blue colour is a sign of essential smoothing and a healthy mind. Most men prefer to wear a blue dress, which enhances their personality. A bride can wear an elegant blue gown with light work, that gives a royal look to the bride. She will look fantastic with minimal makeup and accessories like a simple necklace and earrings.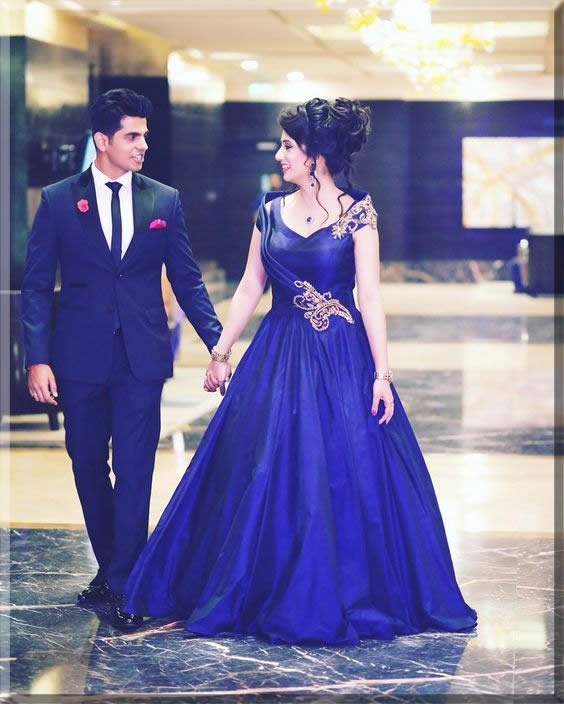 Latest Bride and Groom Wedding Dresses

Those people who are planning their wedding dresses, they don't have to worry. We are trying our best to highlight the latest and trendy bridal and groom dresses for you in this article. Saving your time, you can browse every new trend and collections of designers. We know that everyone wants to look beautiful, and why not? A wedding is a lovely turning point in the life of the bride and groom. Let us make it memorable.
Pakistani brides are known for their fancy wedding dresses. Now Grooms are also becoming conscious about style and fashion. Grooms are also trying their best to compliment their better half's dresses. There are many wedding dress collections in the market. Let us begin.
Angrakha Style Mehndi Dress
The bride can wear a yellow Angrakha style gown with a flat chappal at the mehndi event. You can see in the following picture she is wearing churidar pyjama with Angrakha frock. Sleeves, Daman, and matching dupatta makes the dress more beautiful. The outfit she is wearing has green and yellow bangles, which is the essence of the symbolic mehndi event. Lightweight jewellery enlightens an attractive look. Groom can wear the cigarette pant with kurta and stylish waistcoat.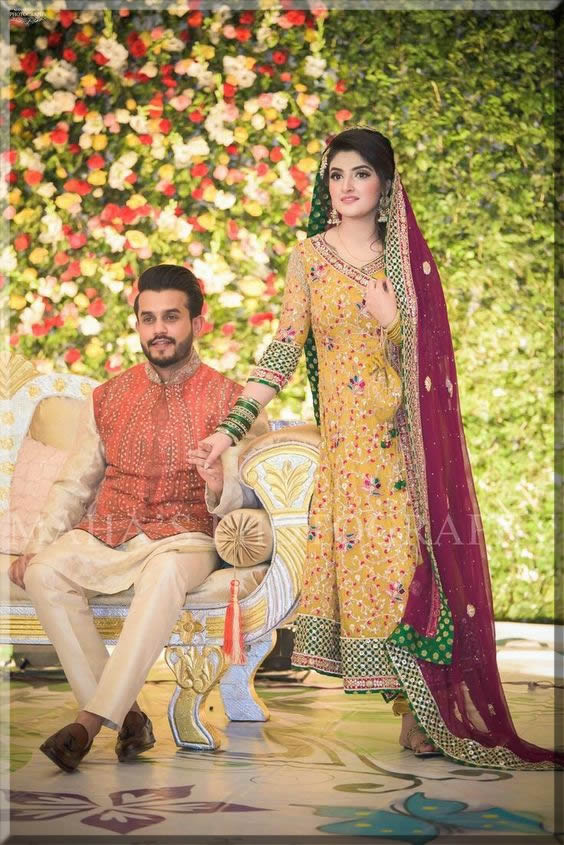 Lehenga Choli Mehndi Dress
Lehenga choli is the latest bridal wedding wear. Green Lehenga, with the stunning artistry, looks so elegant. Green and yellow are the primary colours of the mehndi event. Yellow-green choli with full sleeves embroidery enhances the bride's personality. In the following picture, she is wearing matching jewellery with her choli. Groom styled himself with cigarette pants and kurta. He wears a heavy embroidery matching jacket and black shoes.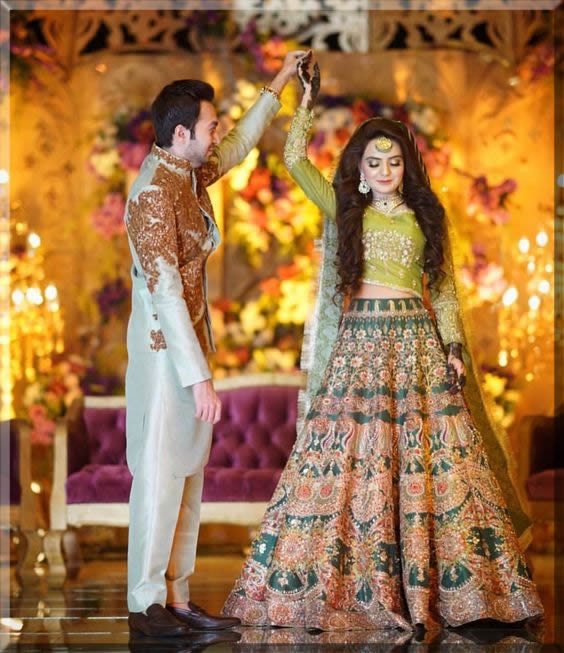 Green Mehndi Bridal and Groom Dress
If you are looking for matching bride and groom dress, take a hint by the following picture. The bride can wear green choli with stunning yellow-green lehenga and a green choker with some dainty earrings. Groom can wear off white shalwar kameez with green ethnic waistcoat and matching khussa. Hence both will look made for each other couple in matching dresses.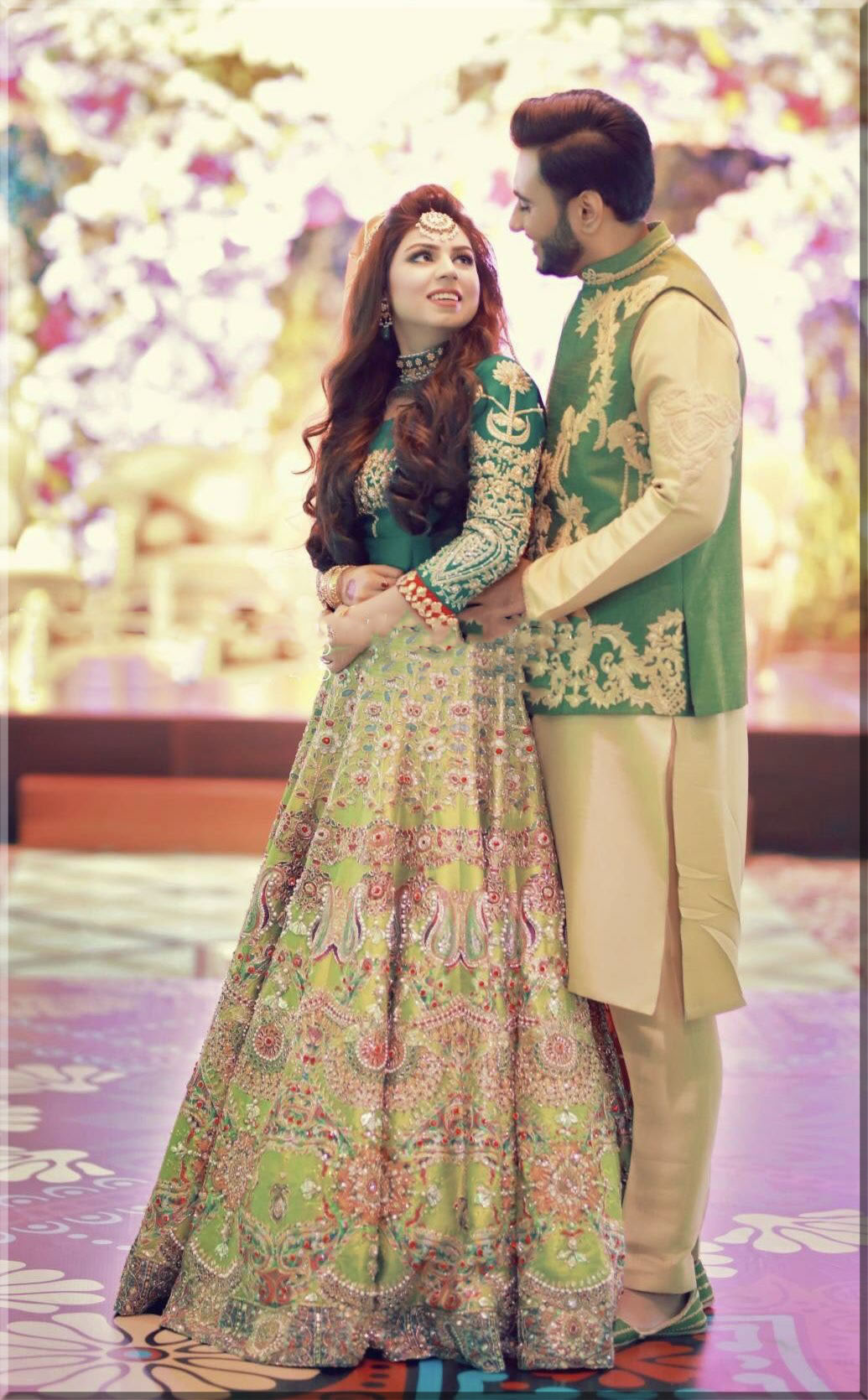 Barat Bride and Groom Dresses
Floor-length long sleeves pullover dress for the bride is the latest styles of lehenga. Boat neckline with the open shirt style gives a modern look, and beautiful beaten gold accessories make her even more gorgeous. In the image below, the groom is wearing elegant matching sherwani and Shimla style Turban as the prospect of barat function. Matching style makes it more attractive to both of them.
Elegant Bridal and Groom Dresses for Barat
Brides like to carry the red colour for the first-day function, and she can wear solid coloured choli with heavy embroidered lehenga. The trick to make it a perfect dress is dupatta assembling and suitable jewellery that can enhance the look. Groom can wear black open-cut sherwani with white pyjama. You can see in the following picture, for instance.
PFDC Loreal Bridal Week Wedding Dresses



Loreal Bridal week presented unique and most recent styles to the audience. They keep us up to date. Following is the picture representing the colour combination and jewellery selection. Angarakha neckline long sleeves embroidery dress gives a fuller look to the bride.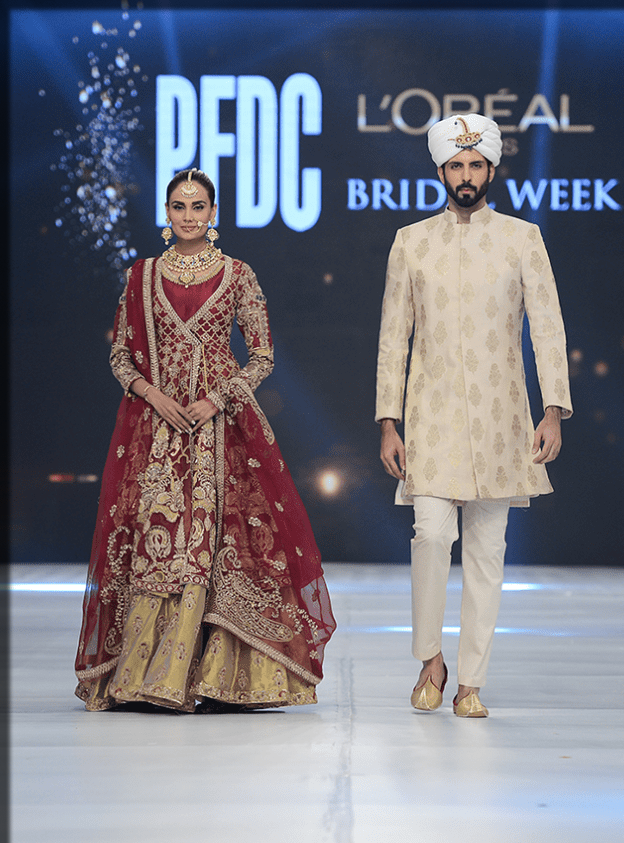 Metallic Grey Walima Dress for Couple

Metallic grey is very much in demand as it is a natural, fresh and balanced colour and liked by the bride for walima function. See below, the bride is wearing a stunning ruffled gown with long sleeves and embellishments all over the dress, and the groom is wearing a matching colour long jacket with cigarette pants.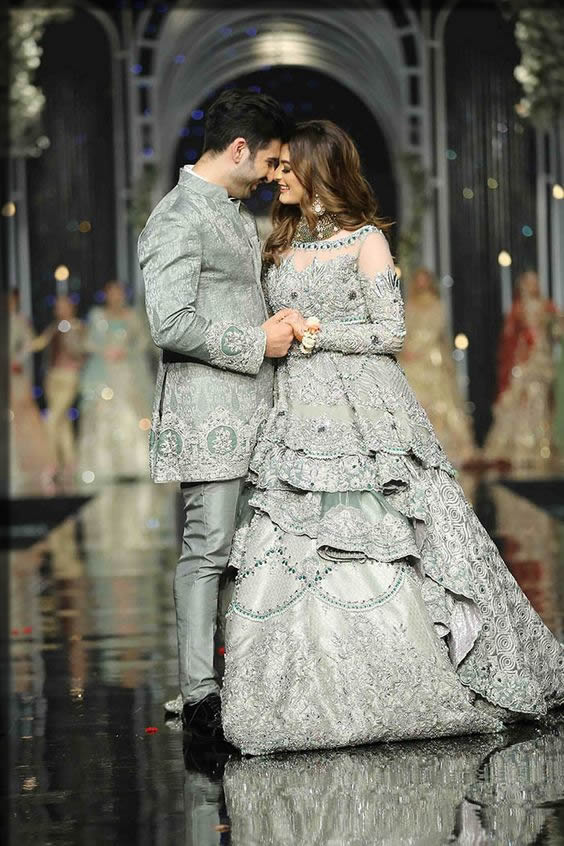 Walima Bride and Groom Wedding Dresses



Moonstone floor-length long sleeves lehenga look so lovely with little hints of red. The boat neckline is perfect for choker or necklace. Groom can wear a contrast colour like navy blue or maroon to compliment the bride's dress.
Nomi Ansari Bride and Groom Wedding Dresses
Pakistani designer Nomi Ansari is the big name of the fashion industry. He launches the latest bridal collection for every season. There is a white collection with golden work firstly. The fantastic outfit of this couple presenting the modern style sense. Groom is wearing a kurta with a knee-length jacket. Embroidered kurta and jacket with churidar pyjama look graceful. The bride is wearing heavy jewellery with a light colour dress and looking like a perfect couple.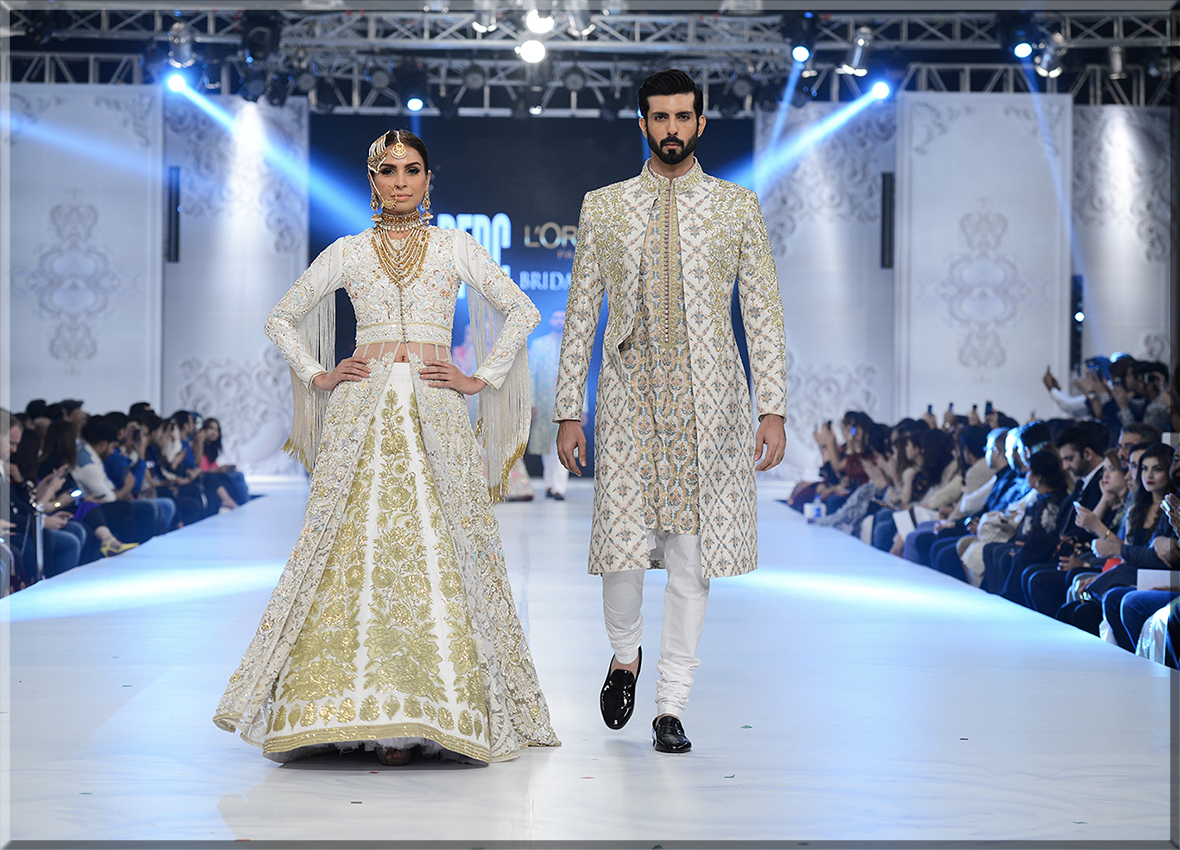 Wedding Dress Presented By Shazia Kiyani
Shazia Kiyani's recent collection is outstanding because she makes deep cuts and necklines in her outfits. The V-neckline shirt in a copper embroidery with full sleeves in her collection looks fantastic. Tissue fabric dupatta with Silver Lehenga and bail design in a decent light colour is fascinating the stuff. Groom in a black kurta with sherwani neckline, front and sleeves enhancing the overall appearance. Churidar pyjama with printed stole give him a gorgeous personality. Therefore, this dress can be wear as Barat or reception attires.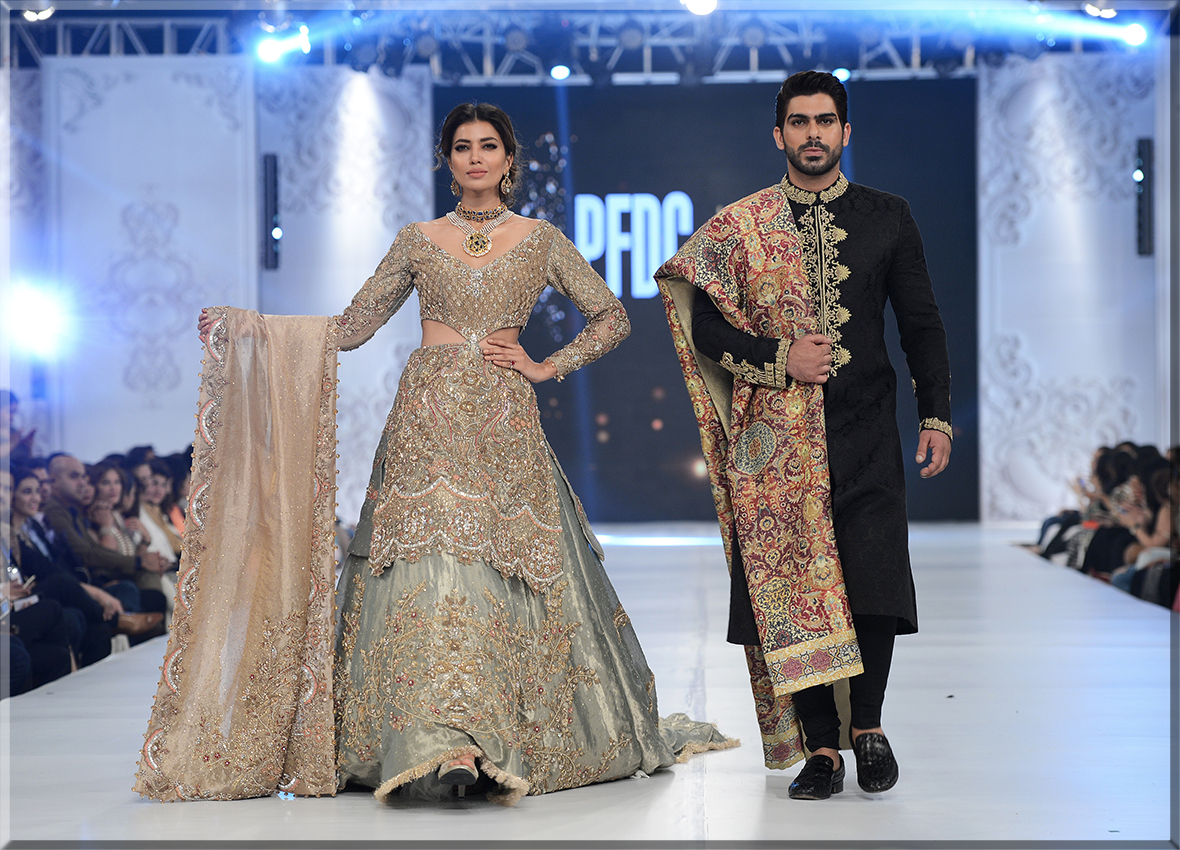 Maria B Couple Wedding Dresses
Maria B is a popular name in the fashion industry. She makes fantastic dresses for women and my personal favourite designer too. Pastel brown heavy embroidered gown on the peach colour is a jewel in her collection. This dress is very suitable for Reception, but Brides can carry this dress at barat as well. Groom can wear traditional Shalwar Kameez dress with velvet waistcoat along with Khussa to compliment the bride.
The latest bride and groom wedding dresses are readily available in every designer's collection. You can take ideas of mixing and matching dresses. Make your decision by choosing from thousands of options or get inspiration. You can confidently select the bride and groom dresses from different websites or outlets of designers, but whatever you decide to wear, don't forget to smile because it can outshine everything.