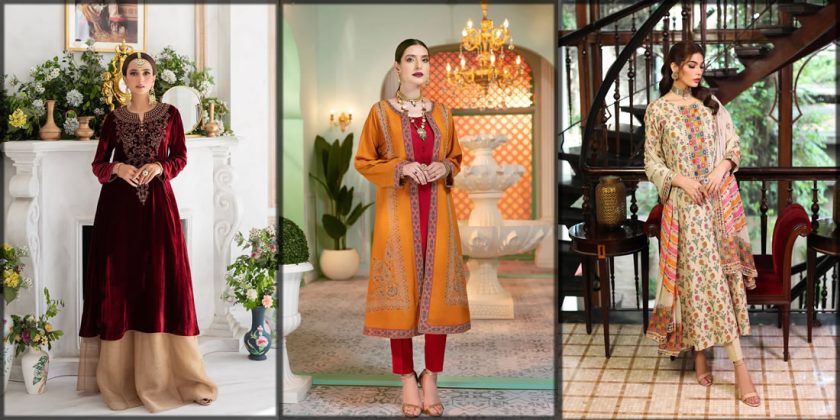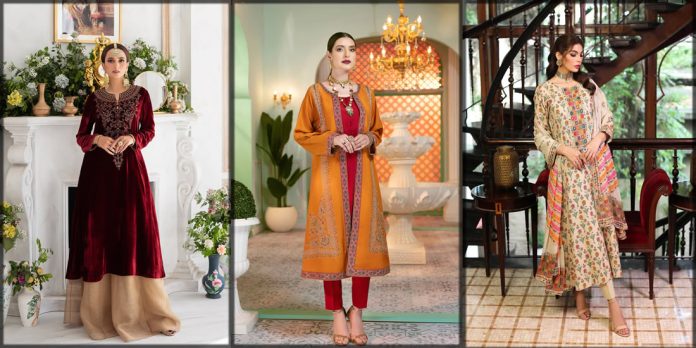 The teenagers prioritize the pret dresses, so they don't need to face the stitching difficulty. Hence, every season, teenagers are excited to see the latest collection of the Chinyere, so they can make their look more awe-majestic and elegant by wearing engaging clothes.
I will present the most dazzling and stylish pret collection of the Chinyere that will add more charm to your winter look by keeping you warm. In the Pret collection of the Chinyere, you will get kurtas, two-piece, and classy three-piece attires in different sizes. So, you can pick any size as per your choice and body size.
Look down and check out the brand new catalog of Chinyere that contains the khaddar, velvet, karandi, cotton jacquard, and crinkle chiffon dresses in single, two, and three-piece configurations. All these stunning and dazzling winter outfits help to demonstrate your personality by making it more dashing. Let's explore.
About the Brand and Designer
Chinyere is the project of the Bareeze that offers an outstanding and stunning pret collection for women. As you know, young girls like to wear pret dresses, and In the Breeze store, you only receive unstitched attires. Hence Bareeze intensifies the separate terminal named Chinyere in 2000. Where they provide extraordinary ready-to-wear clothes for women of all ages.
The main headquarters of the Chinyere is in Lahore. Seema Aziz and Hamid Zaman are the owners of the Bareeze/Chinyere Brand. Both are known as the most talented and qualified designers of Pakistan.
Latest Casual and Formal Dresses by Chinyere Winter Collection

The chinyere winter collection is recently launched that brings many new and unique crafted attires for women of all ages. Chinyere used the slub khaddar, cotton karandi, jacquard, and linen textures to furnish their winter clothes this season. In the ready-to-wear collection of this notable brand, you get the attires in the following sizes:
Pick any size according to your body size, shape, and choice. Moreover, explore our winter clothing directory that contains impressive winter clothes from all notable brands of Pakistan. 
1- Chinyere Winter Kurta Collection
The international brand Chinyere offers the most splendid kurtas in decent hues. In the latest winter collection by Chinyere, you will get a wide variety of teen kurtas that you can match with jeans, flare trousers, and capri to complete your livelier look. Further, do the natural makeup with shimmery eyes and enjoy your dazzling and decent look.
These kurtas are made with slub khaddar, karandi, velvet, and jacquard textures that also keep you warm during the cold days of winter and give you a relaxing look so that you can freely enjoy your event and gathering.
Sleek Black Karandi Frock with Embroidered Neckline

Sleek black is the most favorite color of the ladies that every lady wishes to wear at any event to add more shine to her look. Look at the classical evening wear frock you can wear in your evening/night function to prettify your dull look. Of course, you must pair it with flawless makeup, straight, loose hair, and classical gemstones to grab the stunning flash. Classic evening dresses are also available at the Maria B evening dresses.
Maroon Cotton Karandi Kurta

Cotton Karandi is the comfiest texture that is usually worn on cold days. In the karandi pret collection of the Chinyere, you receive the most beautiful kurtas, 2PC, or three-piece attires. Below is a unique cotton karandiKurta, which is beautifully adorned with bright, shaded embroidery. You can pair this cute kurta with plain capri to get the perfect look. For more stylish karandi suits, visit the Taana Baana winter collection.
Fancy Karandi Tunic for Teens

Here we have the karandi n short tunic for young girls that is nicely embellished with standard exemplars. It will give you a smart and wonderful look if you pair it with blue jeans. You can also pair it with tulip pants to opt for the traditional look. The choice is yours.
Maroon Velvet Single Shirt for Women

In winter Women always look for a velvet dress to give good vibes to their appealing look. Therefore, each brand has included velvet dresses in its winter catalog. This winter, Chinyere offers the dazzling thread and sequins work velvet frock for women of all ages. 
Have a look at this maroon velvet kurta is nicely decorated, just like the J. Kurti collection. Pair it with the plain dyed trouser and minimal makeup to catch the fantastic look. You can carry this cool kurti at any casual and formal event to enhance your allure. 
2- Wonderful 2PC Chinyere Winter Collection
In the 2PC attires of the Chinyere, you get the most splendid attires with the best shades of tones. These dresses help to catch the attention of others. You only need to pick the right colored outfit as per your skin tone. If you have a dark complexion, then go for the light hues. If you have a fair complexion, you need to purchase lightly shaded attires to make your look stunning.
Digital Printed 2PC Cambric Suit
Digital prints are always eye-catching. Therefore teenagers and women go for digital printed kurtas and dupattas. You can carry this beautiful cambric shirt that is paired with the matched with chiffon dupatta for getting the absolute casual look. Pair it with off-white cotton trousers to get the killer look. For more classy winter attires, explore the Maria B winter collection.
Classy Slub Khaddar Shirt & Pants

The dotted patterns are always trendy that help to rock your gathering by making your look impressive. Look down at this beautiful slub khaddar shirt that is paired with the khaddar trouser. One of the sleekest outfits to get the glaring yet remarkable gaze at any event. 
If you want to grab this type of look at that point, keep your hair open by curling them, also wear long earrings and high heels for a stylish look. For getting such distinctive and stylish prints, Orient Textiles winter dresses are also one of the best options.
Two-Piece Printed Dobby Cotton Suit

Are you looking for a stunning party wear dress to complete your dazzling look? At that point, choose this dobby cotton dress, which is decent and captivating at the same time. The dobby cotton suits are liked widely these days. Every woman wishes to buy them. Hence Chinyere offers stunning dobby cotton dresses. Look down at the beautiful cotton shirt that is paired with the colorful bottom. It is one of the most alluring dresses that completes your vivid look.

3- Marvelous 3PC Winter Dresses

The 3PC collection of the Chinyere is also awe-inspiring, like the Limelight winter collection. It has used dazzling shades and soft fabric to prepare its luxurious winter clothes. In their three-piece attires, they offer the shirt, trousers with chiffon, and wool shawl. Look below for getting the most amazing 3pc attires for your winter wardrobe.
Casual Slub Khaddar 3PC Suit
Say hello to this lavish slub khaddar suit that will keep you warm and help demonstrate your solid character. A well-decorated khaddar dress that is nicely furnished with the most fantastic work and tints. This long shirt is paired with the simple trouser and chiffon dupatta that will add allure to your winter flash. The khaddar attires by the Khaadi winter collection are also worth buying.
3PC Cotton Karandi Formal Suit
Cotton Karandi is a comfy texture, which is usually worn in the winter to keep you safe from the cold. The nicely decorated knee-length shirt with the chiffon dupatta is the best choice to wear whenever you are going to a casual or formal party. Never forget to curl your hair to opt for a stylish and dazzling look.
Sleek Black Winter Cotton Karandi Dress
 If you are looking for a beautiful party wear outfit? Then, give a chance to this cotton karandi outfit by Chinyere. It is delightfully designed with thread, tilla, and adda artwork. This masterpiece indeed gives you a royal look at any gathering and celebration. Bonanza Satrangi winter collection has also kept in mind the preferences of Pakistani women while creating the masterpieces.

4- Splendid Party Wear Formal Outfits for Winter

Winter also comes with a lot of events and parties. Following beautiful formal dresses make the perfect choice to wear at such events. As some ladies prefer a decent dress, these light shades are the right option for them. The minimal embroidery at the front of these shirts enhances the overall outlook of these dresses. You can also carry these appealing attires at any formal gathering to add extra appeal and attraction to your look.  
Try to keep your accessories minimal with these stunning dresses to get the fascinating flash. Plus, wear the high heel shoes, apply nude makeup and tie your hair in any bun style to make all of your breathtaking and jazzier flashes at any winter celebrations. 
Embroidered Winter Velvet Dresses

A velvet dress with lightweight embroidery is the right choice for winter weddings/parties. Therefore, considering this concern, Chinyere utilized the velvet texture and created a separate catalog of velvet dresses to satisfy their client. Plus, they used delicate embroidery and dazzling coloration to prepare these dresses well.
Look down at the below velvet collection by Chinyere that is not only appropriate for wedding events but also for formal use as well. The decency of these single and two-piece dresses is unmatchable, adding extra enchantment to your look. Try to match your velvet suit with bold makeup and a striking hair bun to catch the stunning yet graceful flash. Nishat Linen's winter collection also contains an astonishing variety of velvet dresses.
Look above to get fantastic apparel from the latest collection of Chinyere. All these dresses are according to the latest trend and fashion. So feel candid, grab any attire you like the most, and make all of your engaging and dazzling flashes at formal and casual celebrations. Like Bareeze, it also offers the facility of free delivery. So, you can rapidly get your ideal outfit in just a few days. Have a Happy Winter!! 🙂