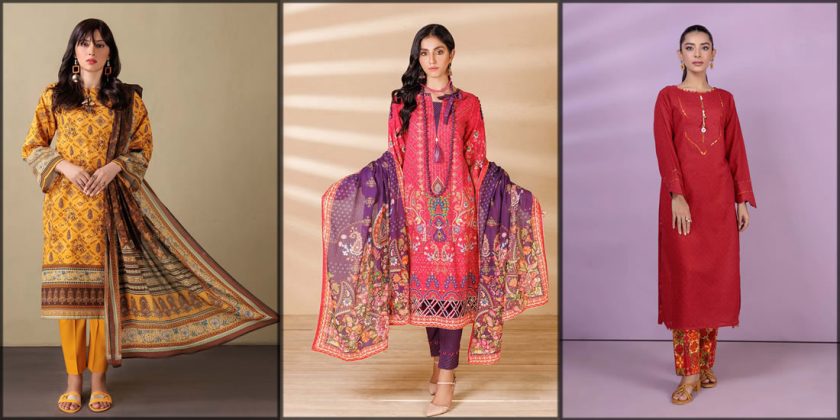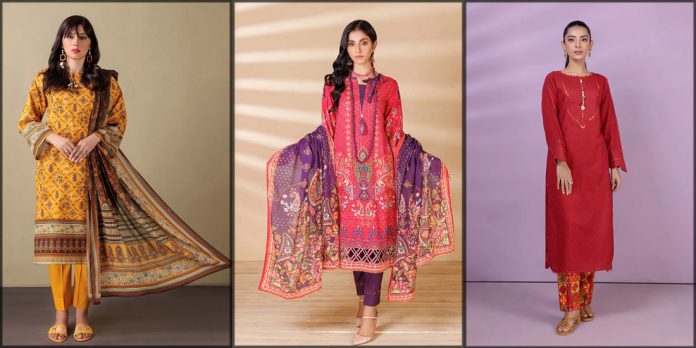 Bonanza Satrangi winter collection has recently been launched that admittedly fulfills the ladies' hearts because Bonanza brings elegant seasonal clothes for ladies to indulge them. It used pure thread, sequins, motifs, artwork and paste print, digital prints, and tie and dye patterns to make its winter collection awe-inspiring.
Bonanza tries to design the attires according to the latest trend and techniques each season. As you know, nowadays, tie and dye dresses are on-demand. Consequently, as you can see below, it offers many karandi and khaddar attires in tie and dye patterns. In its latest catalog, you will get elegant dresses in khaddar, karandi, and linen stuff that will undoubtedly enhance the grace of your personality and make it more charming and splendid.
You can shop the Bonanza Satrangi clothing online with just one click-by online order. I hope its latest clothing collection will add new and classic designs to your wardrobe as it has everything you need. Furthermore, it is recognized as the most favorite brand of women because it gives high-quality and latest-pattern clothes. Therefore, I hope this brand's latest colorful and beautiful dresses will make your season more beautiful.
Bonanza Intro..!!
Bonanza was established in 1976 by Hanif Bilwani. It offers a wide variety of clothes for women, men, and children. Each season it provides high-quality texture, worth for money, and trendsetting pieces of equipment to its consumers. Moreover, it manufactures its clothes with a mixture of bright and nude shades that make its clothes extra charming and engaging than others. Hence it is becoming the most leading brand of Pakistan. Today, It has 80+ outlets across Pakistan.
Latest Bonanza Satrangi Winter Collection for Women

This season, Bonanza has introduced various new structures in both formal or casual wear. You can also wear these clothes at multiple events as well. It used pure and soft fabric to make its winter attires more magnificent and astonishing. Furthermore, Bonanza winter outfits have the most striking hues with some light shades that are soothing to the eyes. 
So this season, add more charm and grace to your look by wearing the Bonanza outfit. This season the cost of khaddar and karandi dresses are too low, which everyone can easily buy. So why are you waiting for it?? Hurry up and visit your nearby outlet and grab some clothes for your winter season. Moreover, explore our winter catalog and get updated dresses of all brands under one roof.

1- Bonanza Satrangi Unstitched Winter Cotton Collection

Most teenagers prefer to buy unstitched clothes because unstitched clothes are more affordable than pret ones. Hence all notable brands offer a wide variety of unstitched dresses for the comfort of their clients. For example, gaze at the unstitched winter collection of the Bonanza Satrangi that consists of the chicest hues and stylish patterns. 
The first volume of the attires has recently been launched. So without wasting your time, go to the Bonanza outlet and grab your favorite dress before the stock ends. For more designs of unstitched dresses, visit the Junaid Jamshed winter collection. Here are the most captivating and classy winter cotton suits with the chicest patterns, perfect for making your look alluring and decent. You can stitch these dresses in any style, like an off-shoulder shirt, knee-length frock, and other designs of your liking.
In this cotton catalog, they prefer dark hues because dark shades are more trendy in winter. These stunning dresses normalize your look and keep you warm because all suits are made of pure cotton stuff. So look down to explore.!!
2- Bonanza Satrangi Unstitched Khaddar Dresses
Bonanza Satrangi winter collection has a lot of incredible and stylish variety of comfortable attires. Especially, you will be able to see a lot of heavy khaddar dresses in their volume 1. Please take a look at the two-piece and three-piece heavy khaddar dresses below.
A little bit of decoration can enhance the grace and beauty of the dress. However, some people prefer to wear only partially embellished dresses. Instead, they prefer a well-printed attire with an embroidered patch or collection of pearls for a modest and refined look. I am glad to say that Bonanza Satrangi winter collection has launched its volume 1 with incredible craftsmanship. You can get printed khaddar dresses with an embroidered organza patch for the border. Indeed, it will upgrade your looks beyond infinity.
3- Unstitched Two-Piece Collection

To enhance your grace, you must try something appropriate and different. Bonanza Satrangi winter collection comes up with strategic techniques to satisfy the public. Here is another intriguing volume of two-piece suits. Please have a look at the collection below.
Teens always prefer to wear a classic printed two-piece dress that is comprised of a shirt and a trouser. Undoubtedly, it is easy for a teen to carry the stylish outfit idea. Therefore, the Bonanza Satrangi winter collection brings you an ethereal portfolio of two-piece suits. Please take a while to explore the image gallery below. The delicate and impressive prints are sufficient to retain your grace and charm. You can combine a youthful printed or embroidered scarf with the following dresses for a completely charismatic look.
4- Three-Piece Corduory Collection by Bonanza Satrangi
Who says that corduroy is the fabric for summer only? An intelligent human never believes the myths and goes with the flow. This year, illustrate yourself with the vibrant and delightful corduroy dresses by Bonanza Satrangi winter collection. The enchanting hues and dynamic styles will surely give you a polished look. Please give it a thought!!
Are you looking for the most glammy and striking attires for winter? Then look at the most classical three-piece collection of the Satrangi made with corduroy stuff. Plus, the color combination of these dresses is just mind-blowing and makes you more pretty. Three-piece dresses by Maria B's winter collection also hold a good reputation among Pakistani women.
5- Pret/Ready to Wear Collection for Women



This brand's ready-to-wear dresses are awe-inspiring and striking, as you can see below. Bonanza is probably the best brand that also launches the pret collection every season so that the ladies will not face the difficulty of stitching and get refreshing dresses in stitched forms.
These beautiful attires are made with khaddar, linen, karandi, jacquard, cotton, cotton satin, and dobby textures. Moreover, this pret collection is prepared with the latest styles and patterns that renew your winter look and execute it more engagingly. In addition, sensual and mesmerizing attires are also available in the Sapphire's new clothing range. 
Stitched Single Shirts Collection

If you don't want to wear heavily embroidered dresses, these simple and elegant Kurti/kurtas are the best choice. I hope you will like this shirt collection of Bonanza that offers you the printed and embroidered kurtas originated with soft khaddar, karandi, jacquard, dobby, and viscose fabrics. You can consume these attires at your formal and casual events to enhance your winter look well. This stunning collection also gives you a chance to style yourself with the best outfit at any meeting or party. Also, check out the Limelight winter clothing range for more stylish outfits.
Two-Piece Pret Dresses for Women

In the two-piece section of the Bonanza, you will get incredible printed attires that you can carry on any casual and formal events to make your look jazzier and stunning. Feel free to buy any below outfit because they are made with pure and high-quality fabric that improves your look by keeping you warm and makes your look more appealing and captivating.
Three-Piece Winter Collection by Bonanza Satrangi

Explore the below displayed 3PC printed attires by Bonanza prepared with khaddar, jacquard, cambric, and dobby textures. You can carry these outfits at your formal and family gathering to get an appealing yet modest gaze. You must combine your winter apparel with brownish makeup and loose hair to grab the perfect look. So kamal's winter collection also has stunning designs of three-piece dresses.

3- Essential Warm Sweaters Collection for Wome
n
Winter is not just about wearing an exquisite and graceful outfit, but thinking about a warm shawl and sweater as well. There are a couple of clothing brands that launch their exceptional variety of shawls sweaters and jackets for both men and women. Breakout is famous for its high-quality collection of shawls, jackets, and other similar outerwear.
Here is the latest collection of warm sweaters and cardigans by your favorite Bonanza Satrangi below. The notable brand brings essential and noteworthy warm outerwear for the comfort and ease of the public. Indeed, you will feel warm enough to enjoy the night street walks by wearing any of the following cardigans, ponchos, cape shawls, and sweaters.
Full Sleeves Cardigans for Teens
If you want to be irreplaceable, you must be different. Luckily, women have sufficient knowledge of fashion to bring a modest look. I am glad to say that the following full sleeves cardigans will be an appropriate choice for maximum people to wear in winters.
I think you would agree that wearing a nice cardigan can make you look more youthful and graceful. Do you want to retain your grace with winter stuff? If so, then combine nice jeans or flared pants with the following cardigans to make a modern and chic winter look.
Classy Twin-Set PullOvers for Teens
Who needs a basic sweater when you have a twin-set pullover to radiate a youthful look? Well, I may not be wrong if I say that every girl tends to look pretty and vibrant in winter. Therefore, I would suggest the teens opt for the following striped pullover this year.
Get yourself the classy twin set pullovers from Bonanza Satrangi's winter collection this year for a charming vibe. Indeed, your charisma will never be neglected if you wear any of the following classy outerwear. Let us know about your experience with pullovers.
Stylish Cape Shawls for Women
Many people believe that scarves are the most beautiful thing to be invented by designers. The reason is that people can carry a scarf more comfortably than a long 3meters dupatta. Similarly, the shawl is an upgraded version of a scarf that looks more youthful.
The following cape shawls are created with a vision to wrap your arms and body in less time. Some women find it difficult to adjust any sweater or a jacket that fits with their size. For instance, you can opt for the graceful cape shawls by Bonanza's winter collection below.
Modern Full Sleeve Zippers for Teens
Undoubtedly, a zipper outfit is easy to wear and carry. Also, you can instantly wear and remove outerwear that connects with a zip. This year, pull off your winter vibe with the classy and elegant full-sleeved zippers by Bonanza that will keep you warm & comfortable.
Please take a while to explore the striped yet graceful zipper sweaters by Bonanza Satrangi winter collection below. You can pair nice jeans or khaki pants rightly in contrast with the outerwear to exude elegance. I hope this fashion tip will work for you to radiate grace.
Elegant Poncho Collection for Girls
Outfitters' winter collection is immensely popular for having the most modern and chic variety of jackets. But, who needs a jacket if you have an elegant poncho to cover your upper body in winter? Let me introduce you to the latest Poncho collection for girls.
Bonanza Satrangi's winter collection came up with the newest poncho collection that appears delicate and graceful. Women and teens can easily wear the poncho just like they wrap a shawl around. You have to wear the following style by bringing it down the neck.
4- Some Pro Tips for Buying Winter Clothes
Whenever you purchase the winter attires for you, always keep the following things in your mind. 
First of all, you also need to take care of the texture of the clothes. Always go for the right winter stuff so that you can enjoy your winter by wearing comfortable and warm textured garments.

Moreover, if you need to buy the pret dresses, pick the right outfit according to your body shape, size, and skin tone. Because not all hues will suit everyone. 
Key Point: Remember that not only outfit will make you pretty you also need to pay attention to other things like footwear, makeup, hairstyle, and accessories to get the breathtaking gaze.

Here is a beautiful assortment of Bonanza Satrangi winter collection. These dresses will also help to keep you warm during the cold days of winter. Moreover, the variety of dresses is incredible and stunning. It is the main reason why people prefer to buy Satrangi attires. You should also go through all of these dresses and select the one according to your choice.