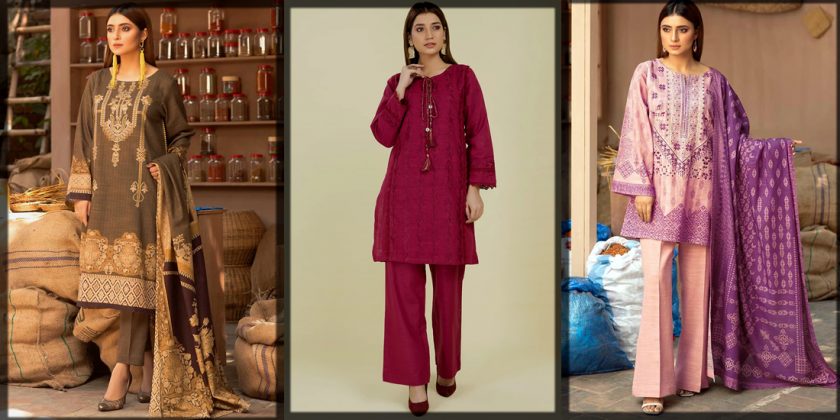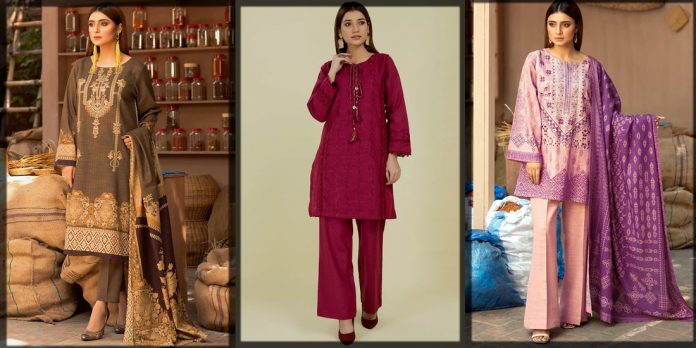 Warda started to work in 2006. It provides the most remarkable and alluring clothes for women. It has managed to become a renowned brand in merely a few years. You will get the Warda winter collection by perusing this blog.
Like other brands, Warda also chose the comfiest and reliable texture for making its luxurious winter collection. The dresses of the Warda consist of the most dazzling shades with fantastic and impressive designs. Continue browsing this blog for examining the latest and new winter attires of the Warda.
They have concentrated on the bright tints this winter for making its fascinating collection. They also offer a wide variety of the pret collection in the most dazzling designs and shades. In its winter attires, you will get the attires in a kurta, two-piece, and three-piece patterns. So, without wasting time, let's get started.
Warda Designer Winter Collection for Women (Pret and Unstitched Dresses)

In winter, the demand for warm and comfortable clothes increases manifold. By wearing a chic outfit, you can enjoy any season happily and freely. Therefore you need to purchase the most astonishing and splendid attires for yourself. In this aspect, Warda's latest collection is here to help you in choosing stylish dresses. Therefore, Warda, each season offers the most splendid and striking outfits for women. It also manages the season-end sale for its customers so that everyone can comfortably buy the Warda attires.
Classy Unstitched Winter Collection by Warda

The Warda winter collection consists of the most alluring unstitched dresses with an attractive design. You will get the Khaddar, karandi, and linen fabric dresses that will not only enhance your look but will also keep you warm.
The unstitched dresses of the Warda encourage you to stitch your outfit in any style. You can also design your unstitched attire in a long floral maxi and long shirts per your choice. All these unstitched outfits can be combined with straight trousers.
Khaddar is considered the comfiest and soft fabric to keep you protected from the cold days of winter. Now you can enjoy your winter season by wearing the most alluring khaddar suit. You can also wear these elegant dresses at your formal party or social gathering for a more impressive look.
The two or three-piece khaddar attires have the most vibrant shades that will add more shine to your winter look. Are you going to a social gathering? At that point, the khaddar suit is a decent and impressive option for you. You may combine your dress with classy block heels or lightweight gems. Explore the Alkaram winter collection for more designs of khaddar suits.
Like khaddar, karandi is also the comfiest texture that keeps you warm. Look at the blue karandi outfit below, which is beautifully decorated with digital prints in a pink and brown touch. It is one of the most alluring dresses that you can wear at your birthday party. Check some more designer silk dresses here.

If you want to complete your impressive and awe-inspiring look, at that point, you need to do the following steps:
Tie your hair in a classy hair bun.

Do your natural makeup.

Also, wear long traditional hoops.

Plus, Wear the high heel in a yellow shade.
And, your amazing and lovely look is complete.
Linen Printed Clothes for Women
Linen texture is prepared with the fibers of the flax plant. It dries faster than other fabrics. It's one of the softest and cozy textures that help to keep you warm. The linen-textured clothes are the priority of the ladies because they are soft and warm at the same time. The Warda tries its best to satisfy its clients by presenting the most alluring and jazzier designs in the linen texture. You can wear these elegant linen 3Pc suits at your social gathering for a more impressive look. Also, visit the Gul Ahmed winter collection for more variety. 
Following dark-shaded attires have beautiful floral prints and designs over them. The first two dresses of brown and green shade have floral patterns on their front. Black attires are beautifully prepared with a white outline. The last pink one has the classic blue border, making it a decent choice to wear in everyday routine.
Ready-To-Wear Fall Collection for Teens
The winter is just around the corner. Hence many notable brands have launched their latest winter collection for serving their clients with the most striking dresses. I hope that you enjoyed the previous summer collection of Warda, which contained the most impressive clothes. The Warda's latest winter designs are also very remarkable, as the Limelight winter dresses. It contains the most impressive and alluring design of suits in the most vibrant and lovely shades that will help to make all of your looks dazzling and killer. You can wear these dresses at any winter party or get-together to complete your look.
Classy Printed Linen and Khaddar Shirts for Teens
Teenagers prefer to wear single shirt dresses as a top, Kurtis, and short frocks. Therefore, Warda always presents short-length and knee-length dresses for youngsters. In the pret the Warda, you get a wide variety of kurtas and frocks. You can match your winter tops, short shirts, or kurta with impressive jeans and alluring footwear for a more killer look. If you are going for the cocktail party, at that point, the classy short dress, jeans, and sneakers help you out to complete your dashing look by making it more beautiful.
Printed and Embroidered 3PC Khaddar Outfits
Need the classic embroidered dress for your social event? Also, check out these outstanding khaddar outfits. The digital printed knee-length shirt is furnished with thread craft. The sleeves and daman of the shirt have thread crafting over them. It is paired with the straight cambric trouser and digitally printed khaddar dupatta. If you want to opt for this type of look, you need to keep your hair open after straightening them and apply the natural makeup with bold lipstick. For adding more fashionable dresses to your closet, also see the So Kamal winter attires and make a statement style this year for a refined look.

Winter Bottoms Collection
In the winter collection of the Warda, you will get incredible designs with the most impressive tones. In Warda's latest bottom collection, there are tulips pants, wide pant trousers, Capri, and many newest designs. You can match your single shirt with any stylish bottom for completing your impressive and noteworthy look. All these winter bottoms are made from khaddar and Karandi fabric that will keep you warm. Pair these bottoms with high heels for a more dashing and stylish appearance.
I hope that you have liked the latest winter collection of Warda. The rates of the following outfits have also been mentioned for your ease. Now hurry up and purchase your favorite winter outfit before the stock ends. The colorful prints and embellishments will add charm to your winters.