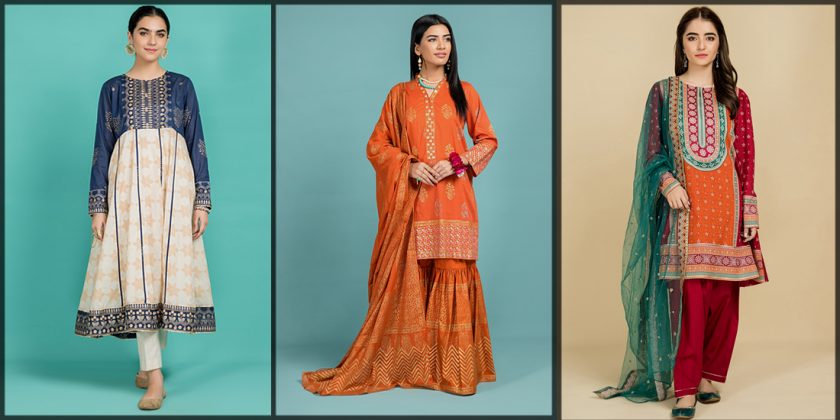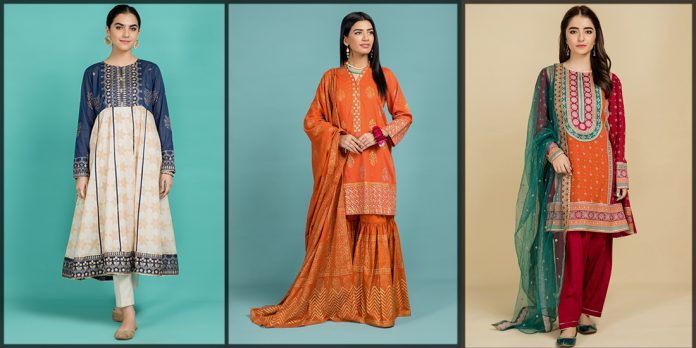 Eid is just around the corner and it's the exact time to grab the most stunning eid dress from your favorite brand. The most anticipated eid collection of Kayseria is out now. Read this blog towards the end to check out the latest Kayseria eid collection with prices. Always pick the right dress that adds more grace and shine to your look.
Well, I am sure the latest eid collection by Kayseria indeed renews your festive look and makes it more noteworthy. It contains impressive two and three-piece suits in the unstitched and stitched categories. The prices are reasonable according to the quality of the dresses. Kayseria used traditional themes and the best color palettes to make its summer eid dresses more chic and dazzling.
The collection has the lawn, cotton lawn, jacquard, and poly net texture to make eid extra impressive. Furthermore, the soft fabric of these dresses not only refreshes your Eid look also shields you from the sun's hot rays. Look down and grab your favorite dress from the store or online website and enjoy your eid with style by wearing a modest outfit.
Kayseria Eid Collection Catalog for Women (New Arrivals)

People always get judged by their appearance. Don't care about the people's judgment and create your interpretations in the enlightenment of your own wisdom. Because life is yours, and you better know how to dress, how to act, how to live, and how to shine. Never let anyone steal your sparkle.
The way you dress is an representation of your character. Wearing an accurate dress for any event is an ingredient of good habits. Hence, this eid, dress up well, not to impress, but for pleasure and style. In this manner, the Kayseria eid collection helps you add more appeal and grace to your Eid look. Have a look at the below designs and get some highlights about the Kayseria latest eid collection.
Stylesnic always appreciates fashion and quality. We have a beautiful and latest eid collection of every distinctive brand. You can find all your favorite brands under one roof of our brand. So, explore and save your time for searching different brands online. 
Ladies Unstitched Eid Collection with 1Pc, 2Pc & 3Pc Suits
If you want to modify your dress according to your favorite style? At that point, the unstitched collection of Kayseria is the best. You will get the two or three-piece dresses in the most amazing shades and designs. The all bright and fresh hues make the unstitched collection luxurious and dazzling. You can easily customize these dresses in any style your like.
You can likewise wear these classy attires at any formal and casual gathering to prettify yourself. These unstitched dresses are paired with the net, jacquard, chiffon, and lawn dupatta. Khaadi latest eid collection also contains a wide variety of unstitched suits in vibrant tones.
Dyed & Embroidered Poly Net Shirt
Poly net is the formal texture that is used to create luxurious festive dresses. The below poly net shirt is improved with the multicolored thread embroidery. You can pair your sleek black dyed shirt with plain black trousers to make the outfit more stunning. Sparkle the world with your pretty looks by wearing this cool black outfit this Eid. Ansab Jahangir luxurious eid collection also contains impressive suits. Give it a shot too!

Green Traditional Theme Shirt for Young Girls
Many of us like to wear the traditional dress at this holy festival. The below classic shirt is the best for those girls who want to make their Eid look classical and traditional. This printed shirt surely modernizes your look and makes it more exciting.
Pair this incredible Kurti with the plain green trouser and chiffon or net dupatta as you like. Further, apply bold makeup, wear the traditional jhumkas, add kajal on your eyes and wear the khussa to get an excellent and classical look. For more conventional dresses, visit the Junaid Jamshed festive collection.
Dyed and Embroidered Poly Net 2PC Suit
If you desire to get a formal look at eid, then the below poly net suit is for you. The grey shaded shirt is furnished with pink thread embroidery. Plus, the baby pink embroidered net dupattas add more grace to this outfit. By wearing this impressive outfit, apply the pinkish makeup, wear the lightweight earrings and necklaces, add a highlighter to your cheeks and chin, wear block heels, and your stunning eid look is complete. You can likewise carry this striking outfit at your birthday party to look more modern and smart. For more embroidered dresses, visit the Faiza Saqlain eid collection.
Printed & Embroidered 3PC Suit
The combo of black and yellow is very much in trend nowadays. Below is the most beautiful yellow and black printed and embroidered suit that you can wear this Eid. This appealing suit is paired with the black net dupatta that is further furnished with floral fabrication. You can also wear this classy suit at any casual gathering to make all of your breathtaking and noteworthy looks.
Dyed & Embroidered Poly Net Saree for Modern Girls

Many women mostly like to wear a saree at specific events. Hence all notable brand and designer offers the stunning sarees for those ladies. So, they can achieve their dreams and get an extra smart and chic look on every occasion. The below elegant black cotton net saree is the best choice to wear this Eid to modify your look.
You can wrap this sleek black saree in different styles. There are many styles to drape a saree. Pick any style and wrap your black style and inspire the crowd with your livelier look. Pair your saree with nude makeup and keep your straight hair open to make all of your awe-inspiring and dazzling looks. For more stunning sarees, visit the top Pakistani designers saree collection.
Stylish Ready to Wear/Stitched Eid Dresses for Girls

If you want to skip the troubles of stitching at that point, the pret dresses are the best option. Kayseria is the most significant brand that offers traditional dresses, just like the Almirah eid collection. In the latest pret collection, you will get the printed and gotta work shirts, angrakha style flared shirt, printed shirt with gharara, lawn printed suit, jacquard suit, and much more. Look down and explore the pret collection of Kayseria and grab your favorite outfit.
Printed and Gotta Embellished Shirt with Plain Trouser
If you crave to make your Eid look super cute, then pick this printed kurta from the Kayseria store. It is further improved with the gotta work that makes it jazzier. Combine this dashing shirt with the plain maroon Capri or trousers as you like. You can also combine this shirt with the sharara or gharara to get the traditional look.
Fashion Tip: With this customary outfit, wear the khussa and classical jhumkas to get a refined and splendid look.
Mushq eid collection has beautiful embroidered organza stitched eid dresses, explore it as well.
Embroidered Angrakha Style Flared Shirt with Straight Trousers
If you desire to try something new this Eid, at that point, the below angrakha style flared shirt is the best option. It is paired with straight trousers. You can likewise combine this flared shirt with the legging as you like.
With this fantastic outfit:
Try to keep your makeup and adornments lightweight.
Further, wear the flower garlands on both hands and wear the khussa shoes to get a fabulous and elegant look.
You can also wear this killer suit at any casual party to make all of your jazzier and beautiful looks.
Traditional Printed Shirt with Embellished Dupatta and Sharara
Sharara is a customary dress. In Pakistan, many women love to wear sharara because it is more comfortable to carry. You can wear the sharara with long shirts, and even with a short shirt, the choice is yours. The coming up next is the most beautiful short shirt and sharara set in the deep maroon color, you can find a similar color combination in the Sapphire eid collection for women.
The block print adds more charm to this outfit. You can also carry this classical outfit at your sister/brother's mehndi event. Pair your traditional sharara dress with classical jhumkas, flower garlands, and bronzer makeup, and get a striking and attractive look.
Classical Flared Frock for Young Girls

Frock is always the first priority of young girls. It is the most alluring style of garment that every lady craves to wear. Hence Kayseria included the five to six articles of frocks in its latest collection. This Eid, the below printed flared frock is the excellent choice to wear. Furthermore, visit the Maria B eid collection that also contains stunning frocks for women. 
Pro Tips: If you want to make your eid look extra smart and beautiful, then all you need is to:
Apply the pinkish makeup by skipping the highlighter.

Wear round circular earrings.

Wear the traditional khussa.

Tie your hair in a low bun. 

Wear the blue and pastel bangles on both hands a

nd your dazzling eid look is complete. 
Cotton Lawn Printed Suit with Poly Net Embroidered Dupatta
Cotton lawn is the comfiest texture that will improve your look and likewise shield you from the melting days of summer. This festive, say yes to this lovely pink three-piece suit that indeed renews your look and makes it dazzling. The knee-length pink shirt is prettifying with silver embroidery, and it is paired with plain trousers and a poly net dupatta. With your captivating pink outfit applying pinkish makeup and wear long hoops to get a breathtaking and lovely look.
The Best Hot Seller Dresses in Kayseria Eid Collection

This Eid, prettify yourself adequately by wearing a trendy outfit. In this manner, the Kayseria Eid collection will be helpful for you. In its latest Eid collection, you will get the stitched and unstitched dresses in the most dazzling shades and designs. Try to match your dress with the right style of footwear, accessories, and makeup to make your Eid look smart and decent. Likewise, you can wear these dresses at any get-together and even at formal party events to get a splendid and striking look. Also, check the full catalog of the Alkaram eid collection for keeping your options open.
Everyone has their own unique fashion style, and the style explains a lot about the demeanors and tendency of as a person. So, this Eid, add more sparkle and style your look by wearing the modest outfit from the Kayseria store and cherish your look. Remember to combine your pretty dress with the right pair of shoes, makeup, and accessories to make all of your spirited and breathtaking looks.