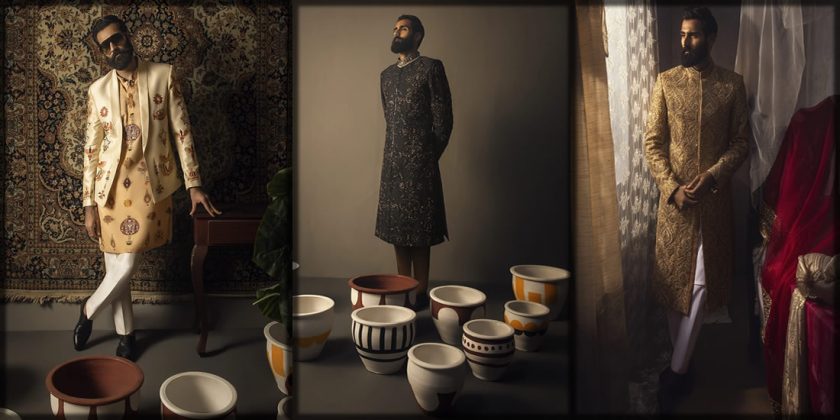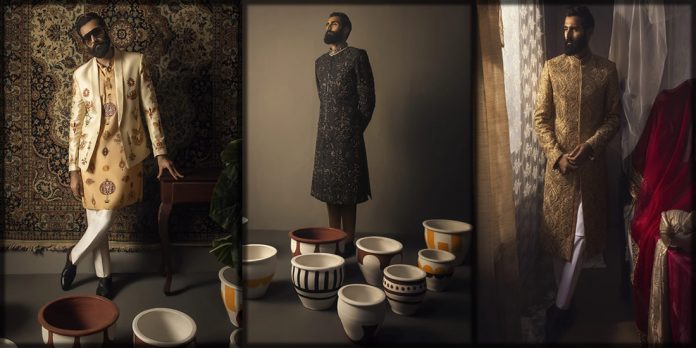 A wedding is a significant occasion for the brides and the grooms to start a new chapter of life with love and joy. Also, they begin the journey with a formal event with close friends and family. To make this prestigious moment memorable and splendid, everyone needs a relatable outfit. Not only the brides but the grooms need a well-established outfit too. Here is the latest Ali Xeeshan menswear collection to equally facilitate grooms for a better look.
Many people believe that a casual yet decorative dress is enough for a groom as the bride needs much attention. But, men are equally the spotlight of marriage ceremonies like women. Therefore, a man needs to dress up correctly and formally to compete with the target audience in the event. There are many clothing brands and fashion designers who struggle to create youthful and modest outfits for both the brides and the grooms.
I am pretty glad to say that Ali Xeeshan has a distinction in bridal wear dresses for girls and wedding wear for grooms. I can assure you that you will see many magnificent outfits in the collection below with no guilt and doubt. Well, you might have seen significant clothing styles from a couple of clothing brands before too. But, let's take a bit of time to explore the most flaunting, well-created, and embellished dresses for the upcoming grooms here.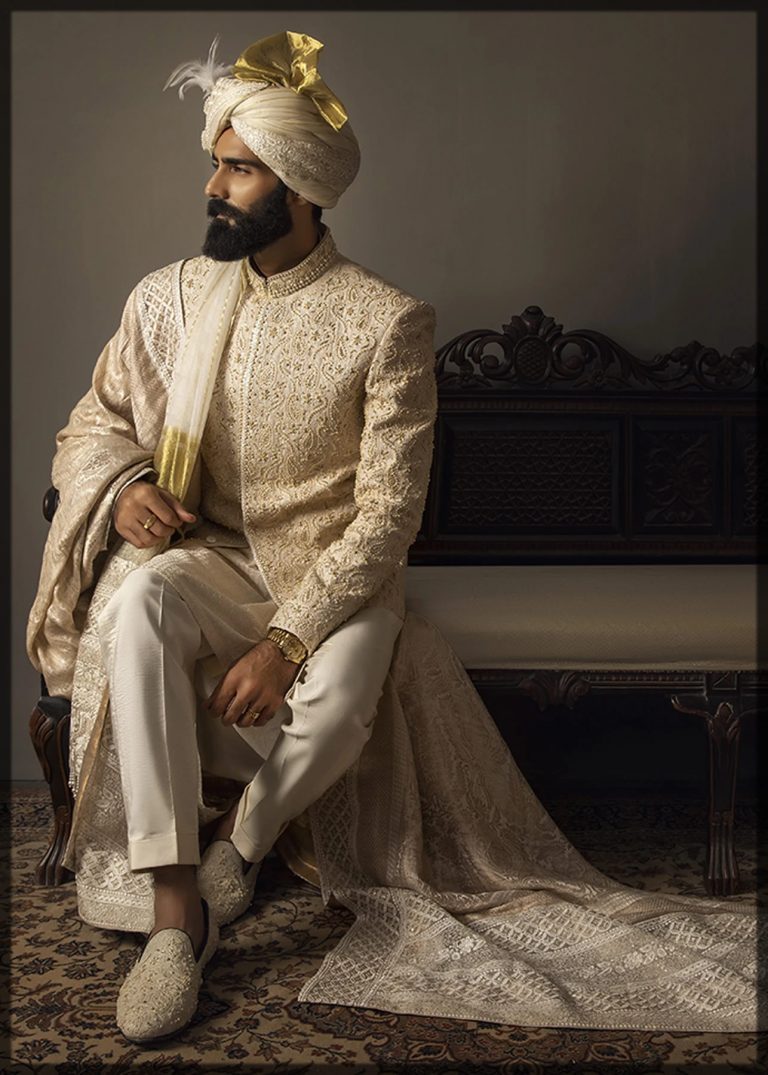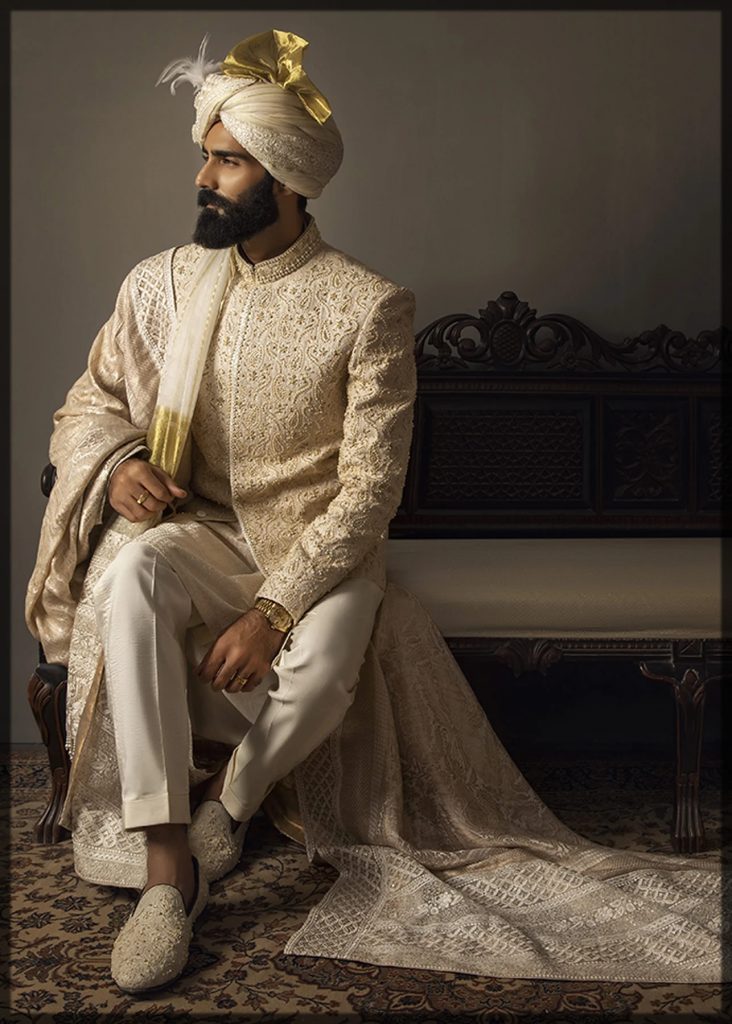 Latest Ali Xeeshan Menswear Collection for Grooms

Ali Xeeshan's unique designs and styles are a true reflection of Punjabi culture. Also, his designs evoke the Punjabi culture with aesthetic designs and artwork. Further, the creative designer beautifully blends the old traditional designs with the new and modest ones to create an illusion in the outlook. Also, his innovative designs propel women to opt for designer dresses. After massive success in his bridal series, Ali Xeeshan has launched his groom's collection with heavy embellishments and creative designs for the upcoming grooms.
Everything originates with a bit of effort and ends as a beautiful journey. Indeed, your identity will strike a balance if you are consistent with your struggle and hard work. There is always an impossible quest that evolves into new and modest styles with unclassifiable identities. But, everyone must have enough substance to make complete sense of their efforts. Ali Xeeshan is proof and inspiration that nothing goes wrong when you are true to yourself and your work. Let's give an applaud to his groom's collection.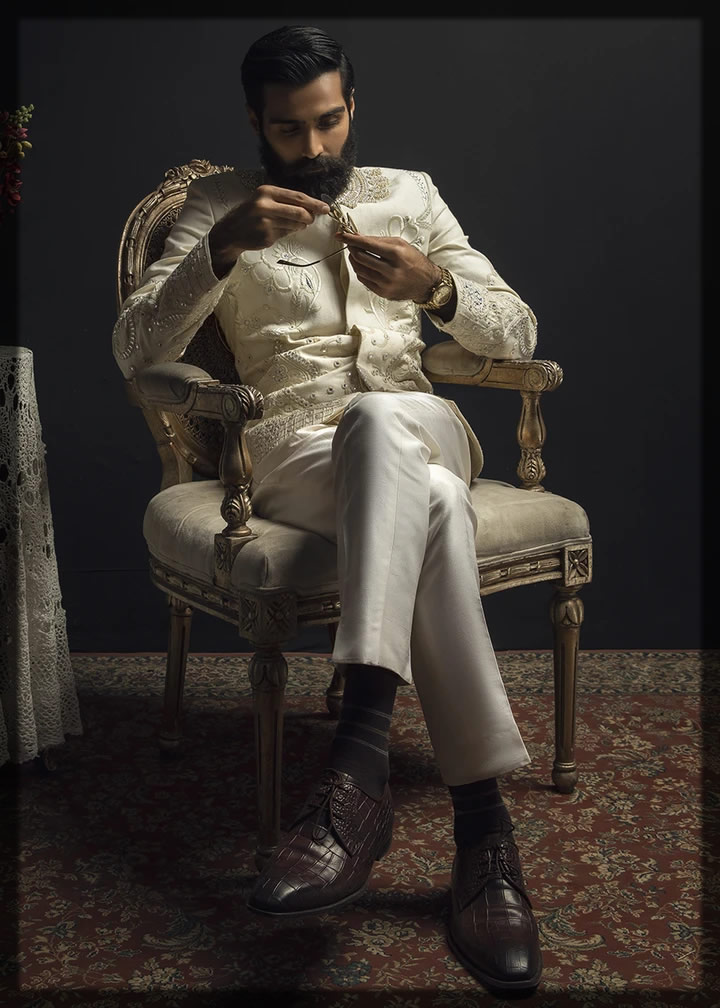 About the Creative Designer and Brand History
Ali Xeeshan stepped into the fashion industry with a label, Ali Xeeshan Theater Studio. The designer got massive respect and applaud after the record-breaking success in 2020 of his debut collection at the PFDC Fashion Week. The leading designer completed his graduation with a distinction from the Pakistan Institute of Fashion Design. Further, he went to Germany and Paris for fashion training and designing to create innovative clothing styles. The creative designer is known and famous for his significant statement styles for men and women.
Further, Ali Xeeshan utilizes genuine weaving and crafting techniques to make flawless clothing designs. Many people appreciate his edgy silhouettes and shapes with astounding combinations for glamorous artwork. The designer collaborated ornamentation and embellishment to create his exclusive wedding collection that raised his fans. People around the globe started following the designer for his endless efforts and creative designs. For instance, you can explore the recent Ali Xeeshan's bridal collection to get modest styles.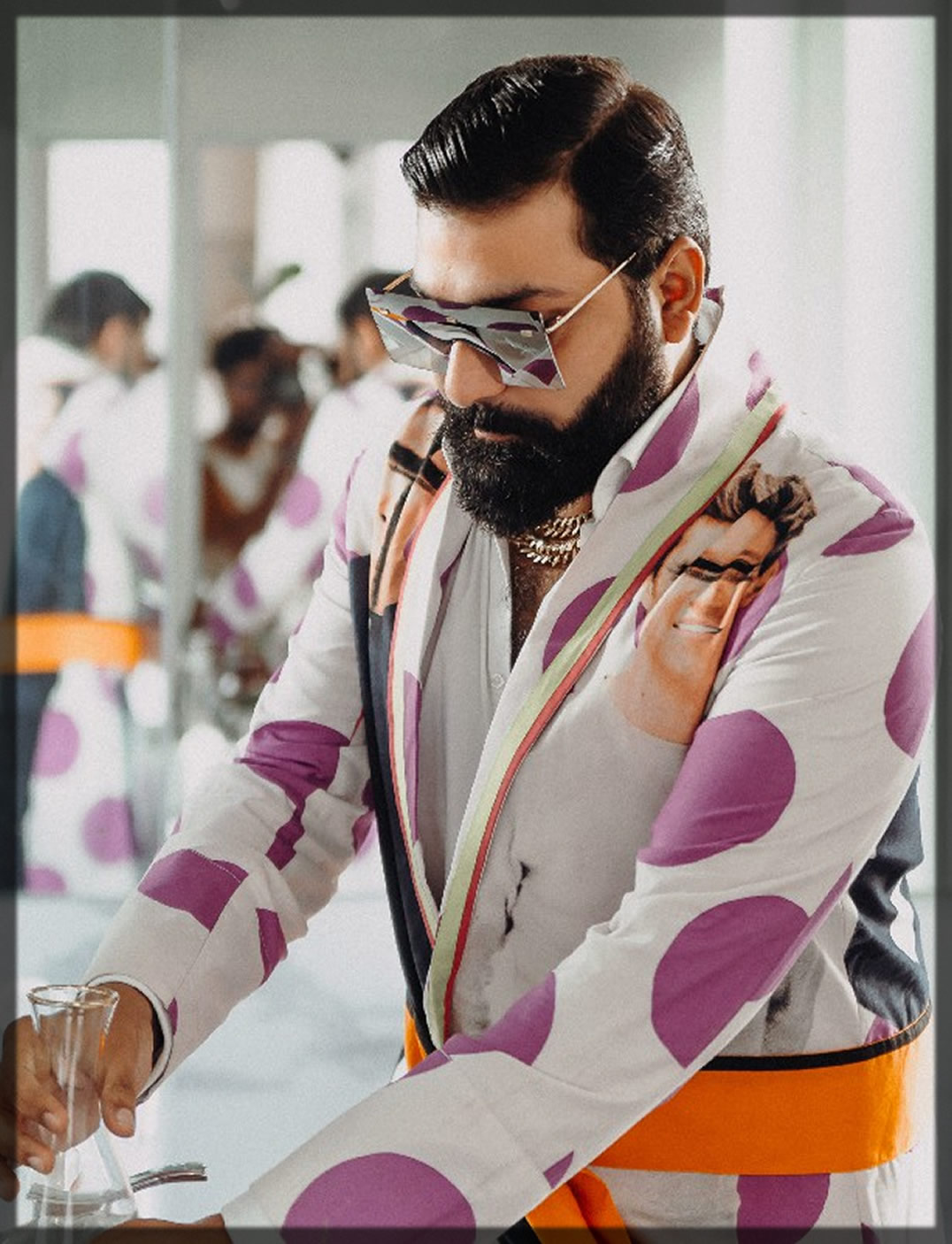 Ali Xeeshan Wedding Sherwani and Coats Collection
The visual artist and master craftsman has a limited edition of wedding wear dresses for grooms. Well, the essentially crafted dresses have a lot of dynamic designs which will bring you a graceful look. Plus, the diverse art forms will reflect the true passion of Ali Xeeshan's phenomenal creation. Indeed, the specialist of aesthetics and critics of fashion has a productive collection for you. Let's have a quick glance at the portfolio below that includes:
Optical White Prince Coat.
Embellished Cream Prince Coat.
Embellished Royal Gold Sherwani.
Shocking Pink Prince Coat.
Essential Black Groom Sherwani.
Heavily Embroidered Prince Coat.
Graceful Emerald Green Sherwani.
Colorful and Embellished Sherwani.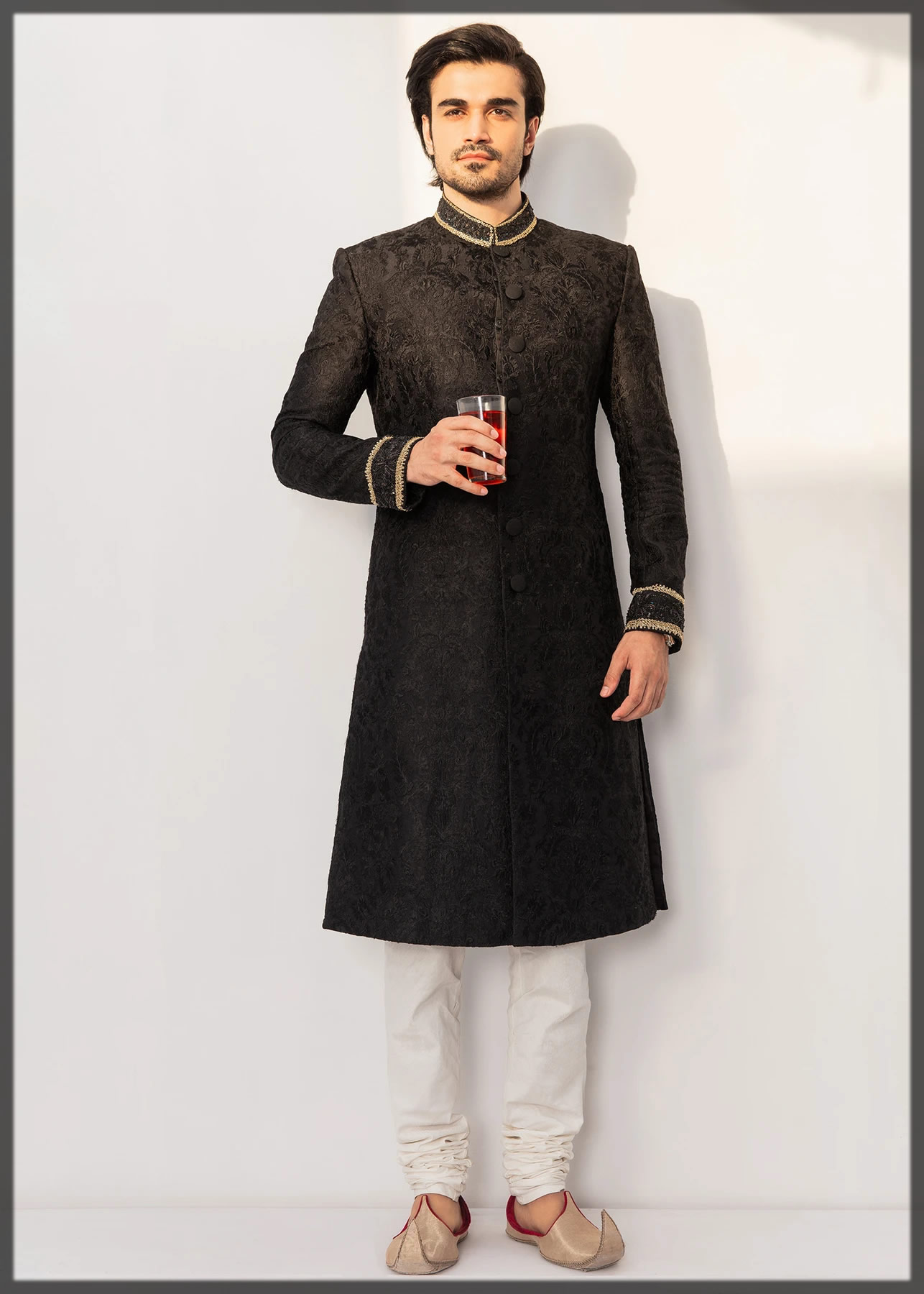 Optical White Embellished Prince Coat
There is absolute harmony and grace in white color if worn as a groom nikkah dress. Well, there are a couple of shades in white, including plain, cream-white, off-white, and optical white. Here we have the most magnificent optical white embellished prince coat for an ultimate grace for you. Indeed, the joy of dressing is an art, and a man can be a good artist if he follows the trends. So, it is time to attack your rivals with the magnificent and decent optical white dress below.
Delve into yourself if you want to make your wedding day memorable. Opt for the graceful yet embellished prince coat below. You can visibly see the intricate embellishment details for a refined look. Undoubtedly, Ali Xeeshan has created this elaborated design for an ultimate stunning look with a lot of effort in the making. Make a dignified hair and beard style with the help of a hair spray for an ultimately chic look. I hope you will love yourself with this dress.
Embellished Cream Prince Coat for Groom
Men have equal rights to look modest in their wedding dress. There is a need to wrap yourself in an unimaginable outfit to cross the fashion boundaries. Therefore, the Ali Xeeshan menswear collection presents you with a wide assortment of sherwani and prince coats for grooms. Finally, it is the time to chase your dreams with perfection and gratitude. Please give a thought to the magnificent and embellished cream prince coat by Ali Xeeshan below.
There is no need to make yourself tricky and complicated on your wedding day. Instead, you must wear an outfit that shows harmony and grace. Undoubtedly, the following prince coat will enhance your dignified looks. Additionally, you can go for a turban style for an elevated look. Pick up and combine a nice pair of shoes in contrast to your dress to complete your look. I hope it will make your looks worthwhile and make your big day memorable.
Embellished Royal Gold Sherwani for Groom
Men always have the joy of dressing and fashion. Undoubtedly, fashion is an art, and men and women are great artists. There is no denying that a man is one step or another away from women in following trends. Instead, it is an interesting fact that a man never compromises on his looks. Plus, there is no compensation for laziness and being old. One must be responsible for his/her grace and beauty to survive the era of fashion.
Here we have an engaging yet embellished royal gold sherwani for grooms below. If you want to look royal on your big day, opt for the following sherwani. There might be a few of you who have mastered the art of fashion and grace. But, there is no need to get upset as we have an entirely pure outfit for you that will add glam to your wedding look. Give a big shoutout to Ali Xeeshan for creating the extraordinarily magnificent attire below.
Shocking Pink Prince Coat
You can attract the attention of the public if you dress up unusually. Undoubtedly, people who look unusual always look the most graceful. It all begins with a reason to smile and stay modest. Plus, a little bit of exploration and struggle can pave the way for ultimate sophistication. Here is an anonymously designed unique shocking pink embellished prince coat for the upcoming grooms to wear. Let's give it a thought and chance for an unusual look.
Do not fix your dreams and boundaries for fashion. Instead, there must be a particular domain for you to enjoy the charm of dressing. Here we have such an unusual outfit for the groom to bring radiant looks on his wedding day. Preferably, the following outfit will be an ideal choice to wear on mehndi night. Exude elegance and grace with the well-decorative outfit below. Combine an ethnic Khussa in contrast to this mehndi dress to complete your looks.
Essential Black Sherwani for Groom
Excellence is the ultimate supreme simplicity among fashion, style, and trends. Undoubtedly, people who look for ultimate sophistication always choose a unique yet graceful outfit for their big day. Black is a universal color that coordinates with a couple of shades.
Therefore, it is an ideal hue to wear on your wedding day as it looks royal with the dress shade of your bride. Let's give a thought and chance to the graceful black sherwani for the wedding day by Ali Xeeshan groom's collection below. I hope it will bring you the desired grace and dignity.
Heavily Embroidered Prince Coat
Keep your traditions and cultural norms alive by wearing a dress that revives the cultural heritage. Luckily, we have hard-working designers who create such traditional outfits for both men and women. Here is the embellished, heavily embroidered prince coat for you below.
Make a sizzling look with statement style on your wedding day by wearing the coat below. Be a man with loyalty and royalty so that you can catch the positive vibes from the public. I hope people will appreciate your choice if you pick the following dress for your wedding.
Graceful Emerald Green Sherwani for Groom
Do not prefer to wear an average style on your big day. Instead, add some spice to your wedding look with some unusual combinations and styles. Ali Xeeshan menswear collection presents you with the most comprehensive and most innovative collection for your big day.
For instance, please take a look at the image gallery below. The elegant emerald green sherwani can be an ideal choice for grooms as an iconic barat day dress. Further, you can make a turban style along with a shawl wrapped around your arms for a statement and wise look.
Colorful and Embellished Sherwani for Groom
Who says that a man can not wear colorful clothes? There is a need to break the stereotypes and allow men to wear whatever they want. Fortunately, Ali Xeeshan urges his valuable customers to love and pick the dynamic and colorful styles for their big day.
Here is the one vibrant yet colorful sherwani for the groom. Usually, people in rural areas, where feudalism is common, love to follow the outfit idea below. Therefore, Ali Xeeshan menswear collection is all set to satisfy the people of rural areas with such attractive dresses.
Add perfect spice to your wedding look with the statement styles above. Ali Xeeshan has created magical and flaunting outfits with dynamic designs for men. Undoubtedly, people will remember you for your graceful and distinct look at your wedding. Please give a thought to the collection above and do not forget to appreciate the designer's efforts. I hope you will be able to create a youthful look on your big day with the graceful statement styles above.