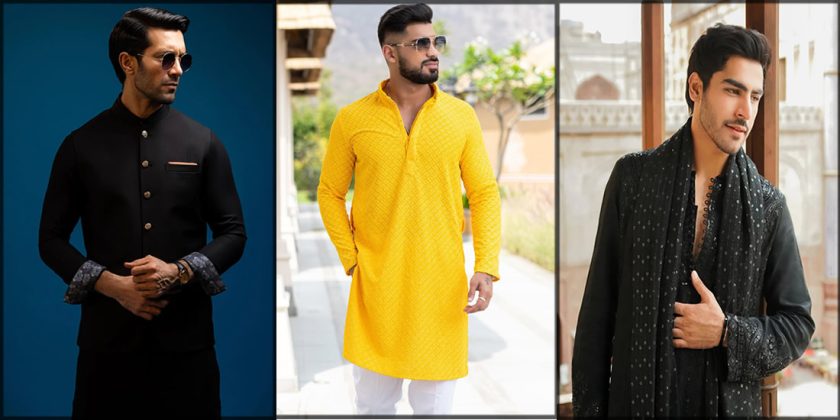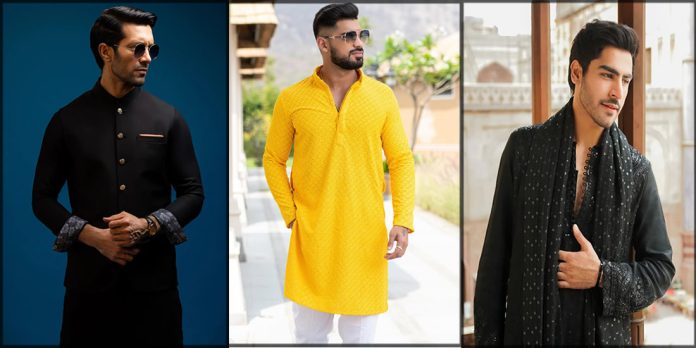 Mehndi ceremonies are an integral part of Indian weddings, and they bring a wave of joy, colors, and traditions. In this fashion blog, we will explore some of the most elegant Mehndi kurta designs for grooms that will make heads turn and capture the essence of this beautiful tradition.
The Mehndi kurta, much like the Mehndi ceremony itself, is a celebration of artistry and culture. While the spotlight often shines brightly on the bride, the groom also plays a significant role in this colorful celebration. One of the key elements of the groom's Mehndi look is the kurta, a traditional Indian garment that holds the power to elevate his style and presence.
The right choice of attire can elevate the groom's appearance, and the Mehndi kurta is the perfect canvas for showcasing style and sophistication. In this fashion journey, we will delve into the world of Mehndi kurta designs for grooms, exploring the fusion of tradition and trend, colors and fabrics, and the artistry that goes into crafting the perfect ensemble for this cherished occasion.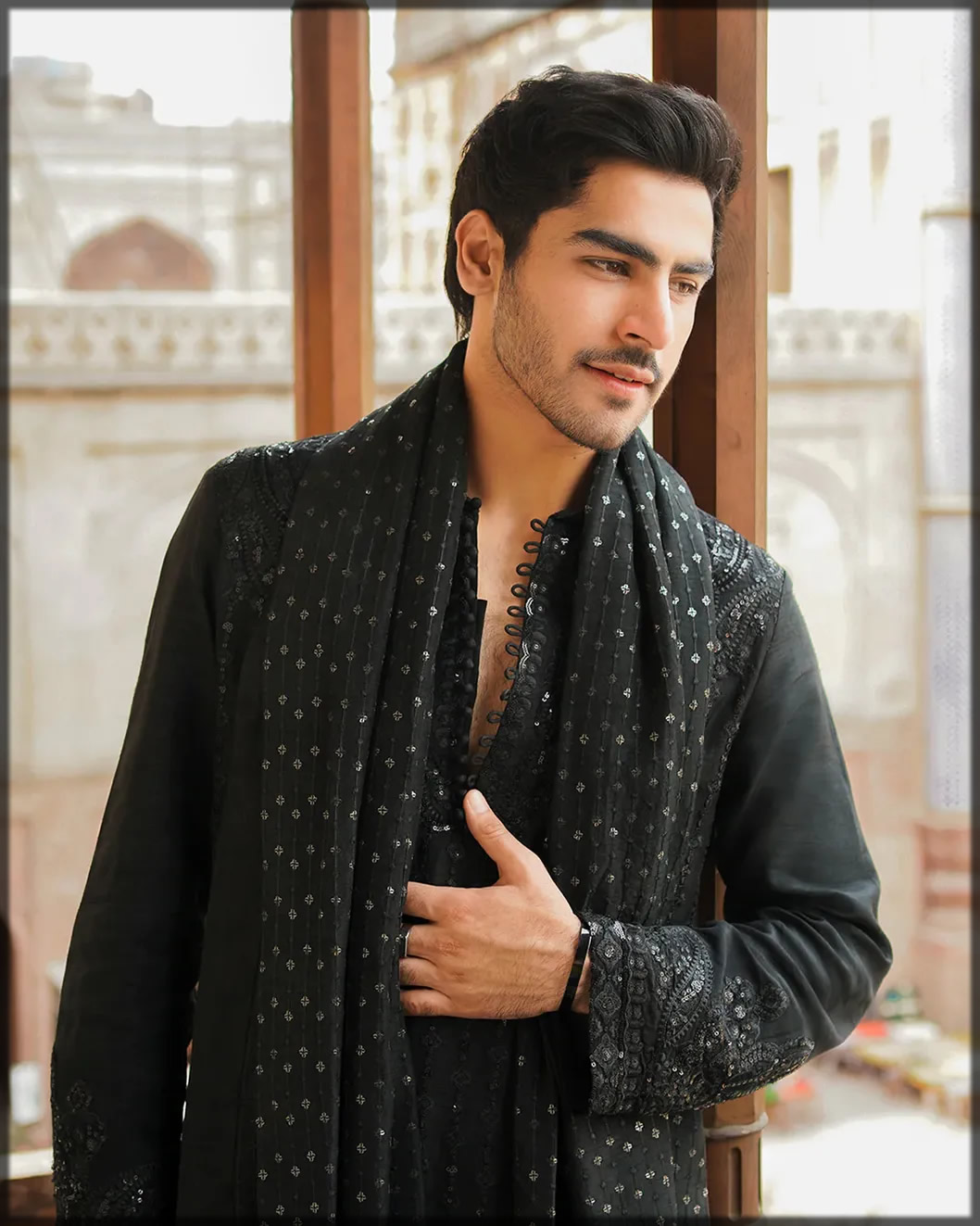 A Tale of Latest Mehndi Kurta Designs for Groom in Pakistan
Just like brides, grooms also want to look their best on this special occasion. The Mehndi ceremony, a vibrant and joyous pre-wedding celebration, is a momentous occasion in Indian weddings. It's a time when intricate henna designs adorn the hands of the bride, and the air is filled with music, laughter, and the sweet aroma of Mehndi paste. It is an opportunity for grooms to infuse their personality into their attire, to merge the richness of tradition with contemporary fashion sensibilities. Whether you're drawn to the timeless allure of velvet or the understated charm of minimalistic designs, your choice of Mehndi kurta is a reflection of your unique style.
In this journey through the world of Mehndi dresses for groom, we will explore the diverse options available to grooms today, each with its own distinct character and flair. From the regal opulence of heavily embroidered kurtas to the refreshing allure of pastel hues, these designs are a canvas upon which grooms can paint their vision of elegance and panache. So, let's embark on this sartorial adventure and discover the perfect Mehndi kurta that will make you the center of attention on your special day.
Traditional Yet Trendy:
Embrace the essence of tradition while infusing it with a twist of contemporary style, as fashion continually evolves to create fresh expressions of cultural heritage. Opting for a classic white j. kurta adorned with intricate hand-embroidery in vibrant hues not only pays homage to timeless craftsmanship but also establishes a captivating contrast that draws the eye. For a modern interpretation, consider pairing this splendid kurta with churidar bottoms or even tailored trousers, infusing a touch of cosmopolitan flair into the ensemble. The harmonious blend of these elements achieves a delicate equilibrium, where the opulence of rich embroidery meets the refined simplicity of a clean and minimalistic silhouette, ensuring that your Mehndi look is both timeless and trendsetting.
Traditional kurtas for grooms exude timeless elegance and cultural richness. Crafted with meticulous attention to detail, these kurtas are a quintessential choice for weddings and festive occasions. They often feature intricate embroidery, embellishments, and luxurious fabrics, reflecting the groom's heritage and style. Traditional kurtas embrace the rich tapestry of Indian and Pakistani craftsmanship, offering a perfect blend of heritage and contemporary fashion, making the groom look regal and poised on his special day.
Pastel Designs
In today's ever-evolving fashion landscape, pastel shades have emerged as a prominent trend, and they seamlessly translate into the realm of Almirah kurta designs as well. Opting for serene hues like mint green, lavender, or powder blue can elevate your style quotient at this festive occasion. By embellishing your kurta with delicate threadwork or tasteful sequin detailing, you not only exude an air of sophistication but also infuse a delightful and rejuvenating twist into your Mehndi ensemble, ensuring that you stand out and capture the essence of this beautiful celebration with elegance and charm.
Pastel kurtas for grooms have emerged as a stylish and contemporary choice in wedding attire. These soft-hued kurtas, often adorned with intricate embroidery or subtle embellishments, offer a refreshing departure from traditional bold colors, adding a touch of sophistication and elegance to the groom's ensemble. Pastel kurtas are versatile, suitable for a range of wedding ceremonies, from mehndi and sangeet to daytime receptions, making them a popular and fashion-forward choice for modern grooms looking to make a subtle yet impactful style statement on their special day.
Floral Designs:
Floral patterns have stood the test of time as an evergreen selection for Mehndi ceremonies. Opting for a  Sadaf Fawad Khan kurta bedecked with intricate floral embroidery or enchanting floral prints can infuse your ensemble with a charming dose of romance and whimsy, effortlessly capturing the spirit of the occasion. To enhance this botanical-inspired look, consider selecting a soft, earthy color palette that seamlessly complements the Mehndi ceremony's vibrant theme. Complete the ensemble with a pair of stylishly crafted juttis to add an authentic touch to your attire, creating a harmonious and eye-catching appearance that resonates with tradition and elegance.
Floral kurtas for grooms have emerged as a stylish and refreshing choice, adding a touch of vibrant elegance to traditional wedding attire. These intricately designed kurtas adorned with floral patterns and motifs offer a unique and modern twist to the classic groom's outfit. Whether it's a subtle hint of florals or a bold, eye-catching print, floral kurtas bring a fresh and fashionable dimension to wedding fashion, allowing grooms to embrace nature-inspired aesthetics while maintaining the grandeur of their special day.
Regal Velvet:
For grooms who wish to make an opulent and regal statement on their Mehndi ceremony, opting for velvet Mehndi kurtas is an impeccable choice. These winter kurtas, crafted from sumptuous velvet fabric, envelop the wearer in an aura of extravagance. Deep, regal colors such as royal blue, emerald green, or maroon, when paired with intricate gold or silver embroidery, result in an ensemble that exudes pure luxury and grandeur. The soft, velvety texture not only adds an extra layer of opulence but also provides a tactile indulgence, ensuring that you not only look but also feel exceptional on your special day.
Velvet kurtas for grooms exude an aura of regal elegance and sophistication. The luxurious texture of velvet, with its softness and sheen, adds a touch of opulence to the groom's attire, making it a perfect choice for special occasions like weddings. These kurtas, often adorned with intricate embroidery or embellishments, create a striking and memorable look for the groom, ensuring he stands out on his big day. Whether in rich jewel tones or classic blacks and blues, velvet kurtas bring a timeless charm to traditional groom wear, making them a popular and stylish choice for weddings and formal celebrations.
Bandhgala Brilliance:
A Bandhgala kurta is a timeless and suave choice for the groom. It exudes elegance and sophistication A Bandhgala kurta is undoubtedly a timeless and suave choice for the groom on his special day. Its enduring appeal lies in its ability to exude elegance and sophistication effortlessly. To create an unforgettable impression, consider selecting a Amir Adnan kurta adorned with intricate embroidery that resonates harmoniously with the vibrant Mehndi decor, allowing you to seamlessly blend tradition and style.
When paired with impeccably tailored trousers or the regal dhoti pants, this ensemble will undoubtedly transform you into the epitome of style and grace, ensuring all eyes are firmly fixed on you throughout the Mehndi ceremony.. Opt for a heavily embroidered Bandhgala kurta in a color that complements the Mehndi decor. Paired with well-fitted trousers or dhoti pants, this ensemble will make you the epitome of style and grace.
Minimalistic Marvel:
In the realm of Mehndi kurta designs, it is important to recognize that sometimes, less truly is more. A minimalist approach to your Mehndi attire can be equally, if not more, captivating. Opt for a solid-colored Cambridge kurta, preferably in a shade that resonates with the Mehndi theme, and add subtle but artful detailing along the neckline or cuffs. This understated elegance not only reflects a refined taste but also allows the essence of your personality to radiate, ensuring that on this special occasion, all eyes will be irresistibly drawn towards your effortlessly chic and sophisticated ensemble.
Minimalistic kurtas for grooms offer a refined and understated elegance that has become increasingly popular in contemporary weddings. These kurtas are characterized by their simplicity, clean lines, and subtle detailing, making them an ideal choice for grooms seeking a sophisticated and timeless look on their special day. With a focus on high-quality fabrics and minimalist embroidery or embellishments, these kurtas exude a modern yet traditional charm, allowing the groom to stand out with a quiet, dignified style that complements the overall wedding aesthetic.
Indo-Western Fusion:
For grooms who desire to push the boundaries of sartorial creativity, an Indo-Western fusion Mehndi kurta emerges as an excellent and avant-garde choice. This distinctive style beautifully merges the time-honored intricacy of traditional embroidery with a cutting-edge contemporary silhouette. Opt for a short kurta that gracefully bridges tradition and modernity, offering both comfort and style.
Pair it with impeccably fitted trousers or even dhoti pants for an effortlessly unique and highly stylish look that strikes the perfect balance between classic and contemporary. Elevate this fusion masterpiece further with carefully chosen accessories, such as a statement necklace or a tastefully coordinated pocket square, to culminate in an ensemble that transcends conventions and showcases your distinctive fashion sensibilities. Such traditional kurtas for grooms not only exude cultural richness but also reflect the groom's individuality, making them an ideal choice for celebrating the union of tradition and personal style on the special day.
Your Mehndi ceremony is a celebration of love and tradition, and your attire should reflect that. These Mehndi kurta designs for grooms offer a blend of tradition, style, and elegance, ensuring that you look your absolute best on this special day. Whether you choose a classic, traditional look or a more modern and experimental one, the key is to feel comfortable and confident in what you wear. After all, it's not just about the clothes; it's about the love and joy you bring to this beautiful celebration.