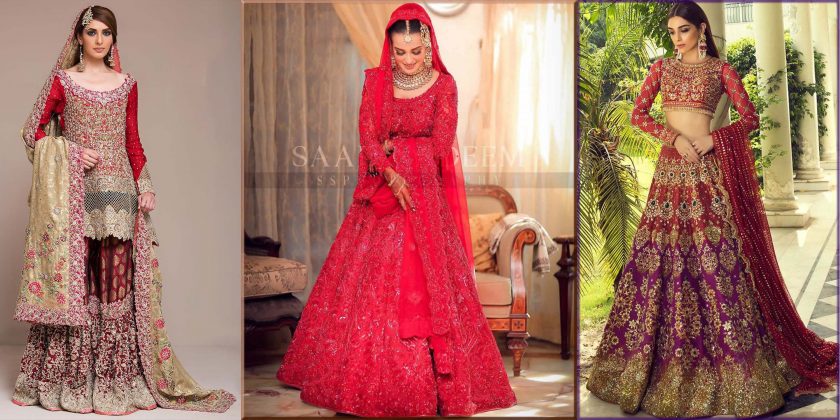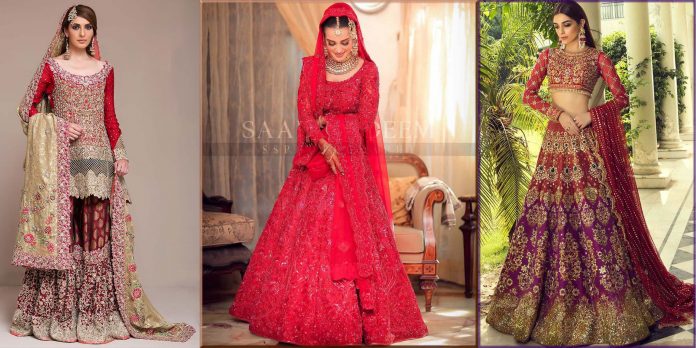 Every bride is conscious of her bridal dress. A day when every girl dreams to look no less than a princess because the wedding day is a life-changing event that comes only once in a lifetime. So, the day of a Barat is very significant for her. Every girl wants to wear a luxury dress on her big day. In this article, you can find the outstanding collection of bridal barat dresses by top Pakistani designers.
Mostly girls are worried about their bridal dress; they can't decide what to wear? Which shades to decide? What styles and designs are trendy? How she looks graceful? What kind of dress does she wear and which will look good on her? These are the questions that are stuck in the minds of every bride to be. So, let's take a glance at the best Bridal Barat Dresses for this year.
From the last several decades, our Pakistani fashion designers worked hard in the fashion industry. The topmost famous fashion designers are, Fahad Hussayn, Deepak Perwani, Sania Maskatya, Asim Jofa, and Zainab Chottani. The leading cause of their popularity is that they have done marvelous work on women wear, including casual, party wear and bridal wedding dress overall.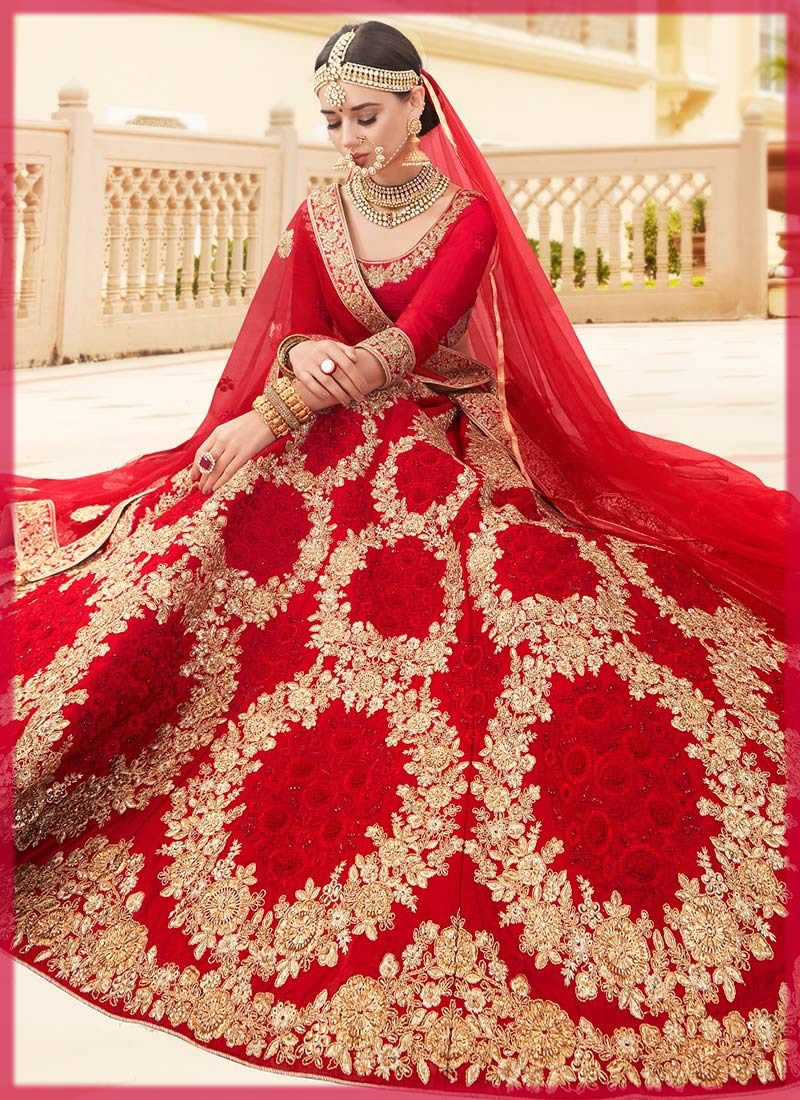 Pakistani Bridal Barat Dresses Trends
The most demanding color in Pakistan for a Bride is red. Red is the traditional colour of weddings since forever. Usually, a red colour dress wore with other colour combinations. Here we are sharing Best Pakistani Bridal Dresses Collections for barat day.
1- Fahad Hussayn Bridal Collections
Because of his creative work, Fahad Hussayn is in the top 10 Pakistani famous designers. In bridal wear outfits, Fahad Hussayn is also setting up some unique tendency, and his unique ideas of massive embroidered dress collection are heavenly.
Luxury Lehenga Choli
This particular dress is nicely draft because it has a very charming handcrafted choli with 3d design and with zardozi artwork. And the shawl decorates with tissue fabric with heavy borders on all sides. It is a beautiful outfit for your Barat day to look stunning.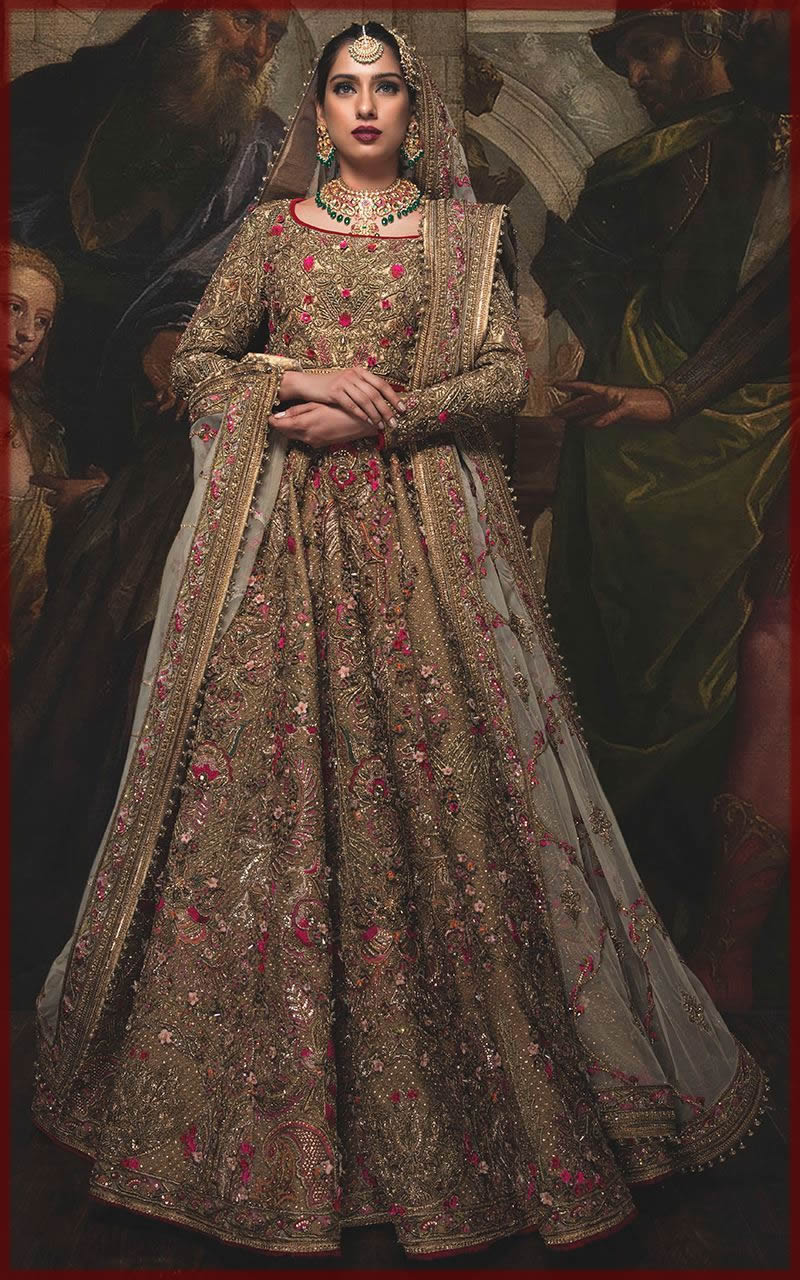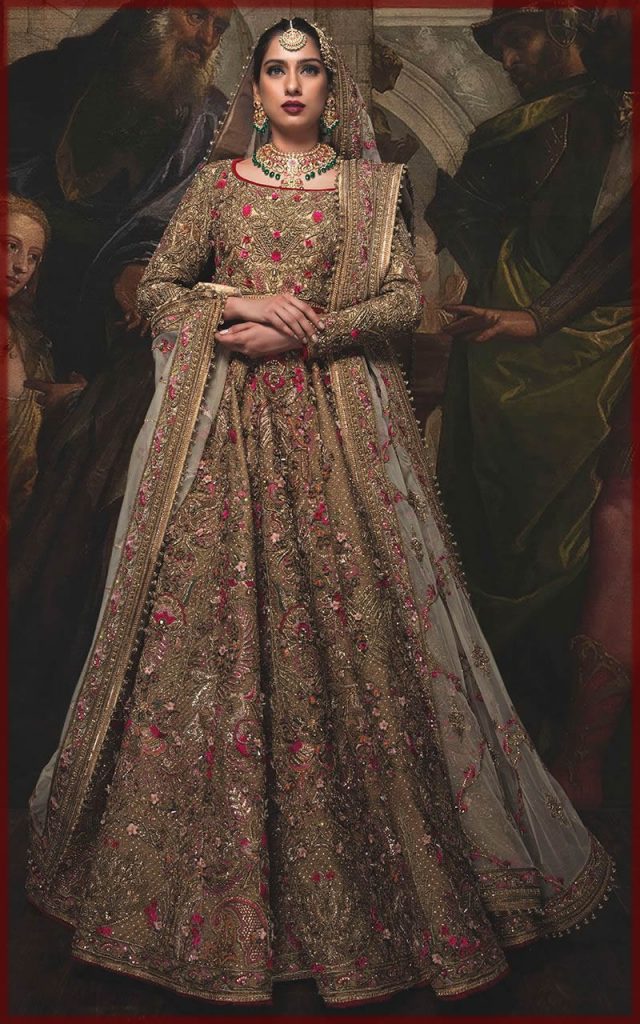 Long Embroidery Shirt with Sharara
A long shirt with sharara is very trendy. Many girls prefer to wear this on their Barat day. This dress is a masterpiece. The Korean bridal net, silk, and Jamawar used in for making it graceful. The dupatta has made from four-sided gotta. It's the best combination for your big day for looking elegant.
 2- Sania Maskatiya Barat Collection

The Sania Maskatiya designer is known as the best and famous Pakistani designer because she used real stuff and different tones and shades for making stunning outfits. If you are worried about your bridal dress, don't worry because she brings new trendy dresses every year with uniqueness. Decorate your wardrobe with Sania Maskatiya's beautiful clothing. So, here is the stunning range of bridal barat dresses by Sania.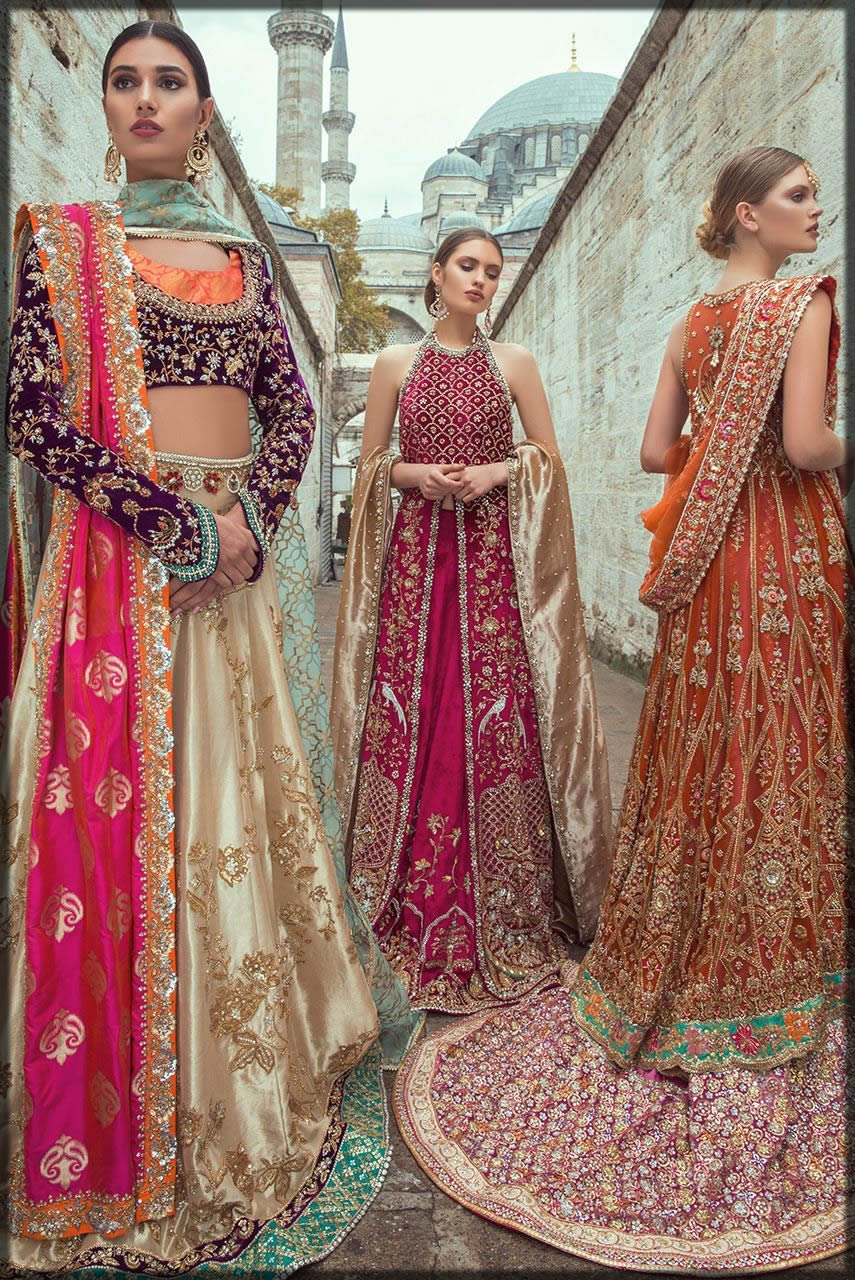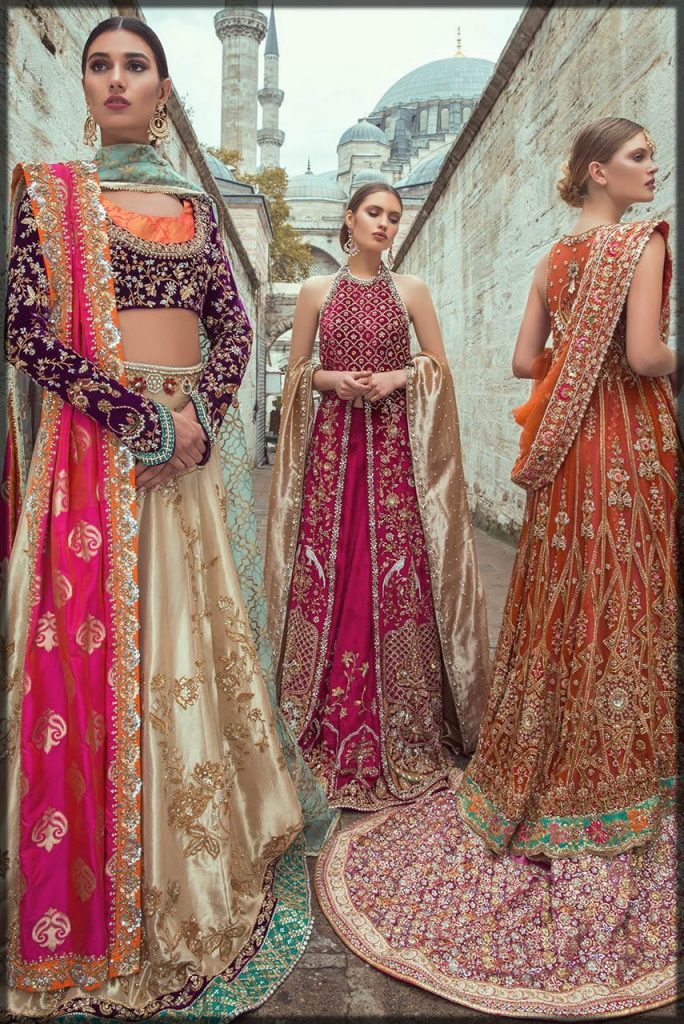 Hand Embroidered Long Shirt
A unique floral embroidered long shirt embellished with zardozi work. It's paired with twill, and digitally printed dupatta with a hand embroidered border and a gorgeous Jamawar hand-worked lehenga. Grab this outfit to outshine everyone.
Cotton Net Hand-Embroidered Peshwas
If you don't want to wear a classic red colour on your day, you can combine red with orange zest. The orange and red combination is the best. In this Anarkali dress, the Cotton net hand-embroidered peshwas paired with digitally printed dupatta with hand embroidered border. You can pick this combo for your Barat look. Apply nude makeup to complement this attire.
Elegant Zardozi Work Lehenga
In this dress, the Net zardozi work peshwas with heavy hand-embellished French networked dupatta, paired with Jamawar hand-embroidered lehenga. The red and maroon combo is looking superb. If you want to wear a traditional red colour on your special day, then don't waste your time grab this outfit for your memorable day.
 3- Asim Jofa Bridal Barat Dress Collections
Asim Jofa is the glowing star in the galaxy of the Pakistani fashion industry. IAFA International Asian Fashion Awards had honoured him. Dazzle with Asim Jofa's latest bridal lehenga collection. Look gorgeous and charming on your wedding with the enthralling collection of  bridal Barat dresses by Asim Jofa.
Gold Bridal Bodice Dress
Some girls love the gold colour and prefer to wear a goldy dress on their Barat day. Hence Asim Jofa provides a lovely finish to this gold colour dress. Gold bridal corselet dress with full sleeves and front open A-Line net shirt with beautiful hand embroidered worked with Zardozi, Dhaka and Kora. Make a low updo hair and done eyes makeup with gold glitters. Wear simple bridal bindi and earrings in gold colour for looking superb on your day.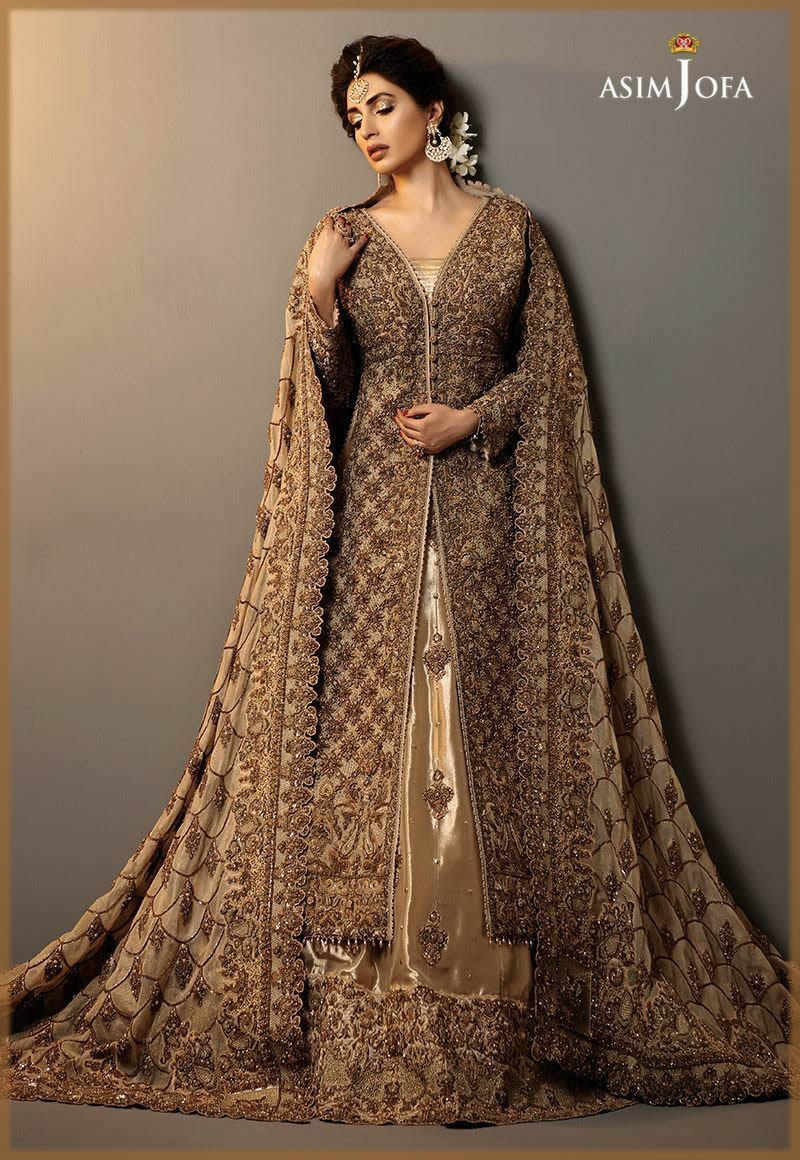 Stunning Emerald Green Lehenga
Asim Jofa has been combining the red, green and gold colour for this luxury collection. Fully furnished cutwork lehenga with golden pearl and cutwork border all over the lehenga look beautiful. It matched up with a red net dupatta with golden border. To complement this look, choose an open hairstyle with minimal makeup.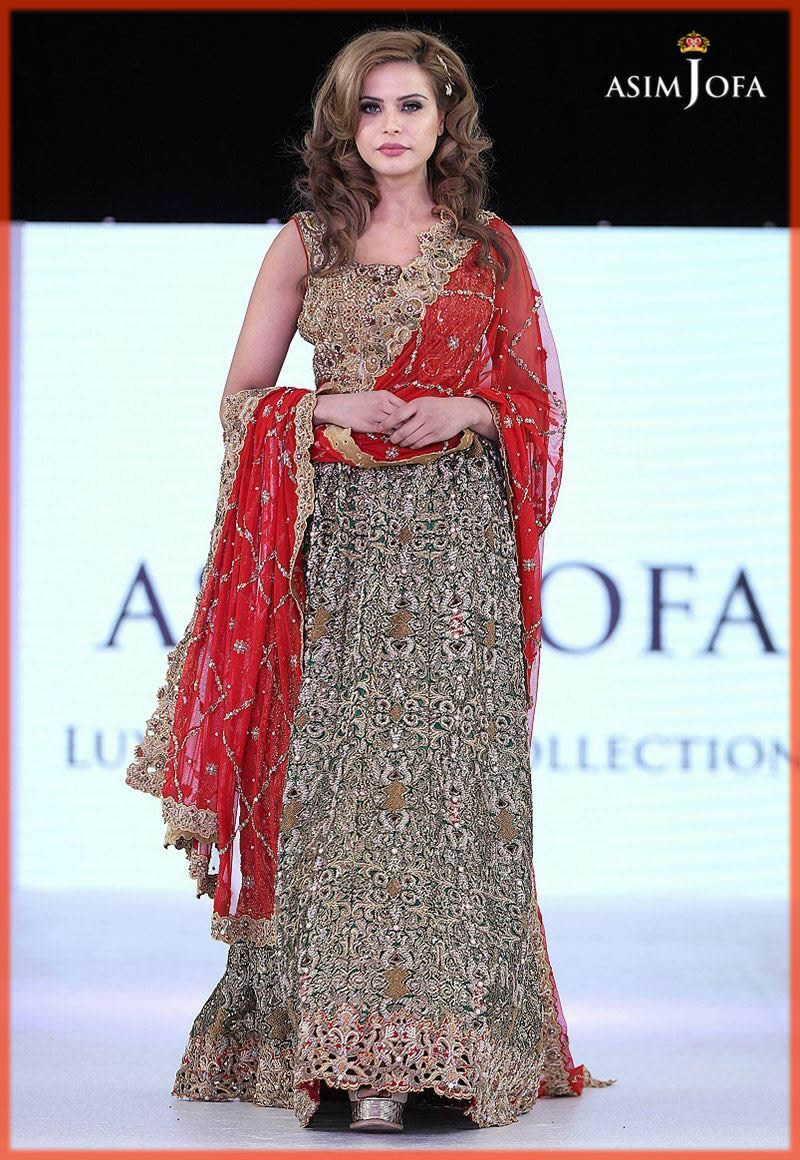 Kora and Dabka work Lehenga
Some girls don't like dark colours. Instead, they prefer nude and pastel colours on both days (Barat and Walima). The below dress is heavily embroidered, front open short frock with heavy multi-coloured hues, paired with fully embroidered lehenga. It comes along with pink four-sided border dupatta. Make a low messy bun with this outfit to look astonishing.
Heavily Embellished Choli with Sharara

Gold heavily embellished choli with golden embroidery on the front and the back in Kora and Dabka embroidery. It comes with a red sharara. If you are sharara lovers, then this outfit is for you. Look classy in your event with this outfit.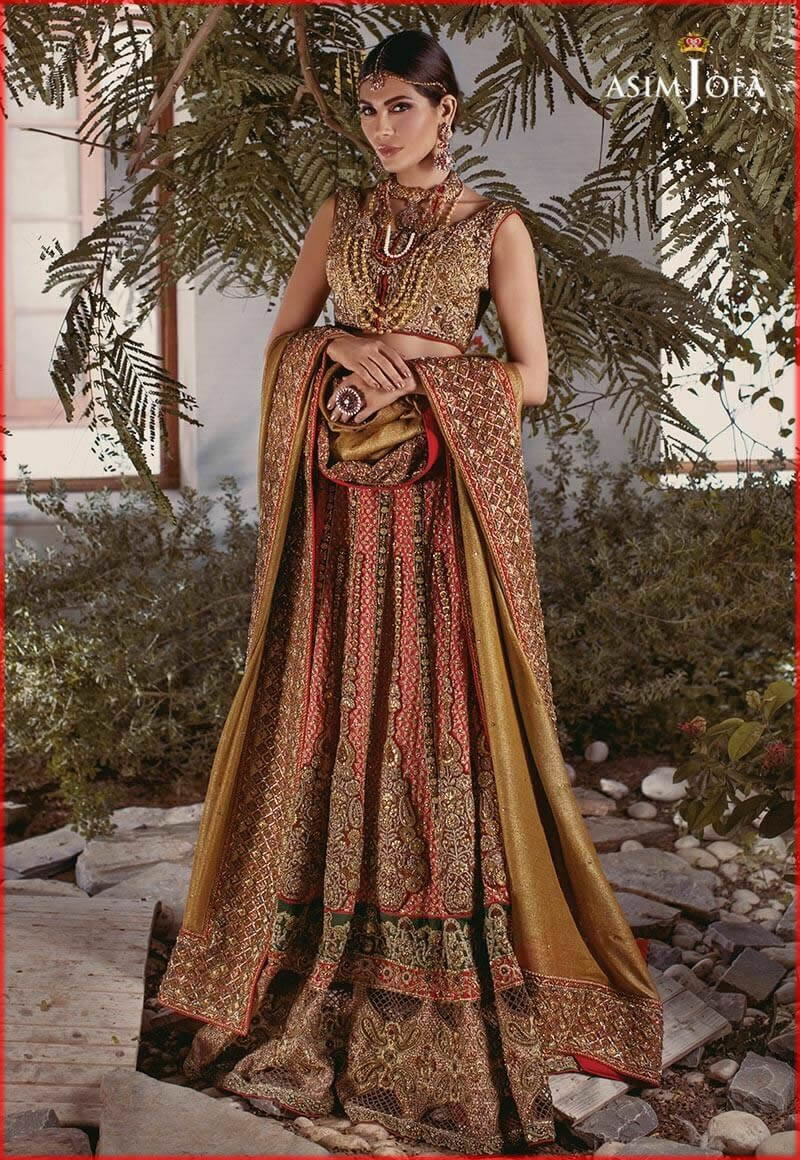 4- Nomi Ansari Barat Wear Dresses

Nomi Ansari is the king of colours. He has worked so hard to give the nation a better fashion industry. Do you want to get a beautiful wedding dress??? Don't worry, check the bridal dresses collection of Nomi Ansari. Nomi Ansari Latest Bride and groom dresses collection consists of colourful, beautifully adorn heavy bridal lehengas and groom sherwanis.
Iqra Aziz is wearing Nomi Ansari on her Barat. She looks like a traditional bride by shining and glowing in the perfect combination of deep red and gold jewellery. It is an all-red impressive dress that is heavily embellished.
Mughal-e-Azam Ethnic Bridal Dress
If you want to look unique on your special day, you can try ethnic-themed lehenga. This lehenga design displays artwork of a Historical gracious queen. Its paired with modern floral embroidered short frock embellished with zardozi work. Make a hair bun and wear a choker with Bindi for ethnic look.
Beautiful Fully Embroidered Lehenga
Check this eye-catching outfit designed by Nomi Ansari, which has hand furnished choli with a digitally printed heavily adorned lehenga that is completed by a heavy worked dupatta. Look how beautifully she carries this lehenga. This fully embroidered lehenga is one of the best Indian bridal dresses that give you a gorgeous look.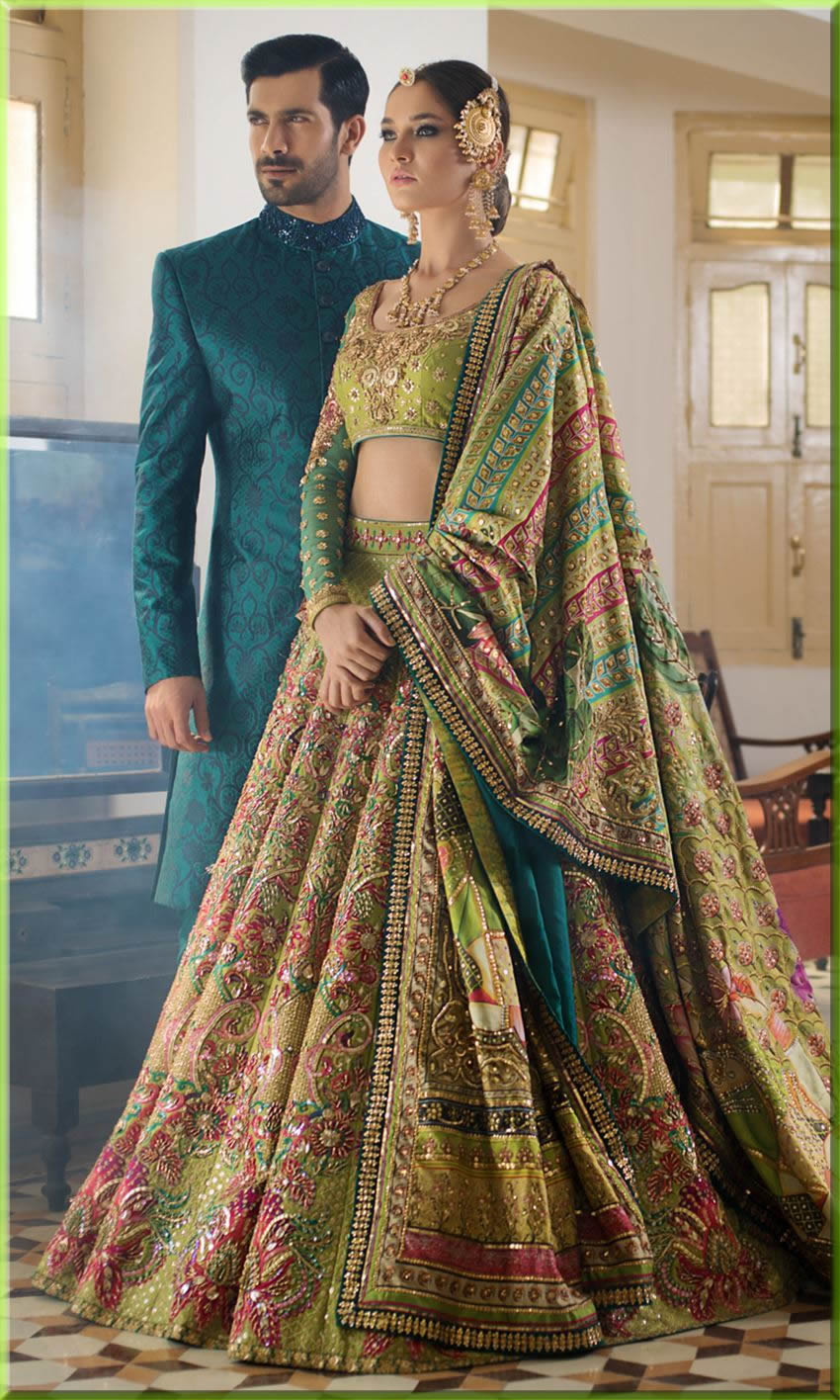 Mehrunnisa B
ridal Dress
A deep orange kameez with net zardozi embroidery and cutwork border is accompanied by contrasting maroon velvet lehenga, and net zardozi worked dupatta on four sides. Must have this outfit in your wardrobe collection because it's a very appealing outfit.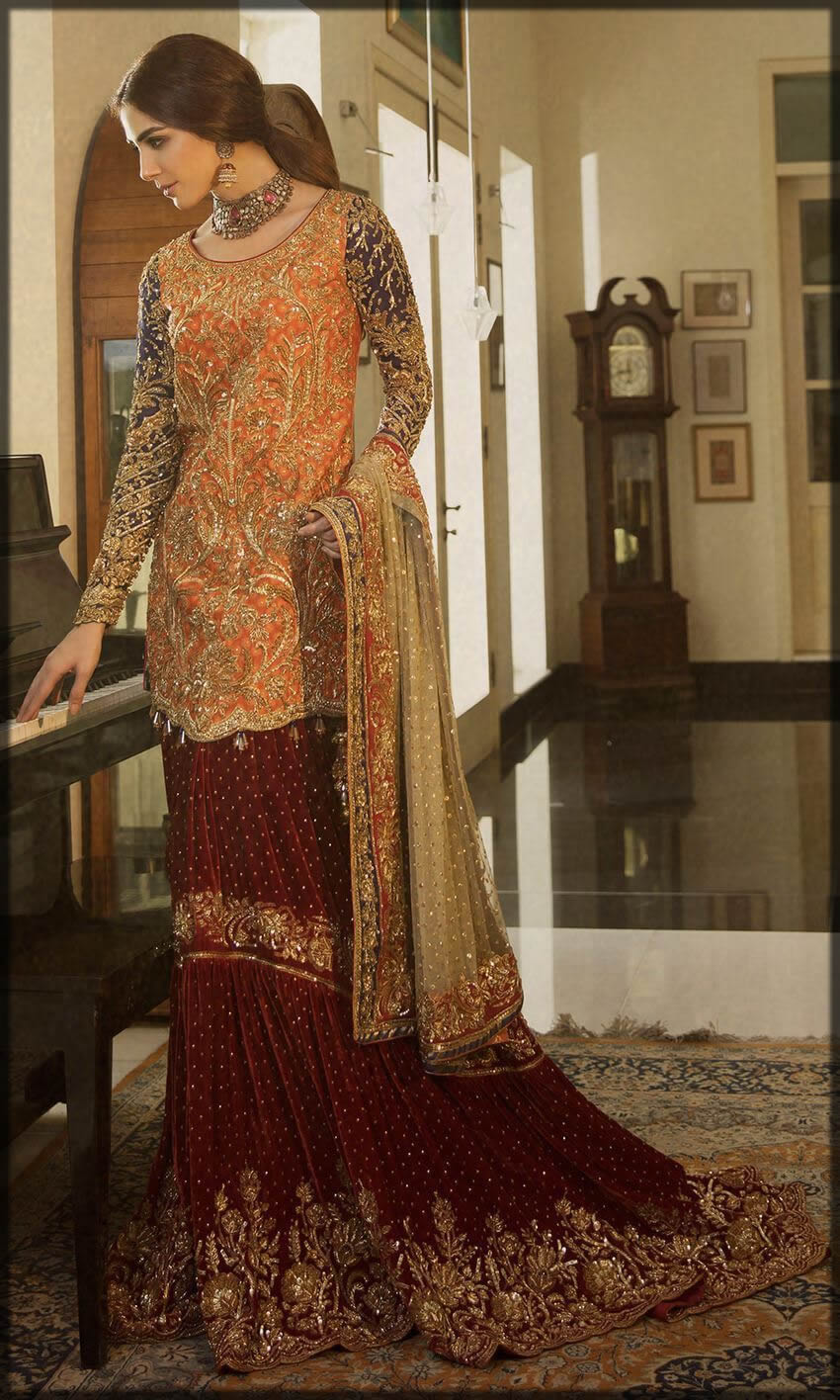 Kundan Lehenga For Bride
This stunning zardozi worked choli, and lehnga featuring beautiful patterns of work along with different tones look very beautiful. It's paired with zari net hand embroidered dupatta. This colour is very vibrant, and altogether, it is a stunning dress.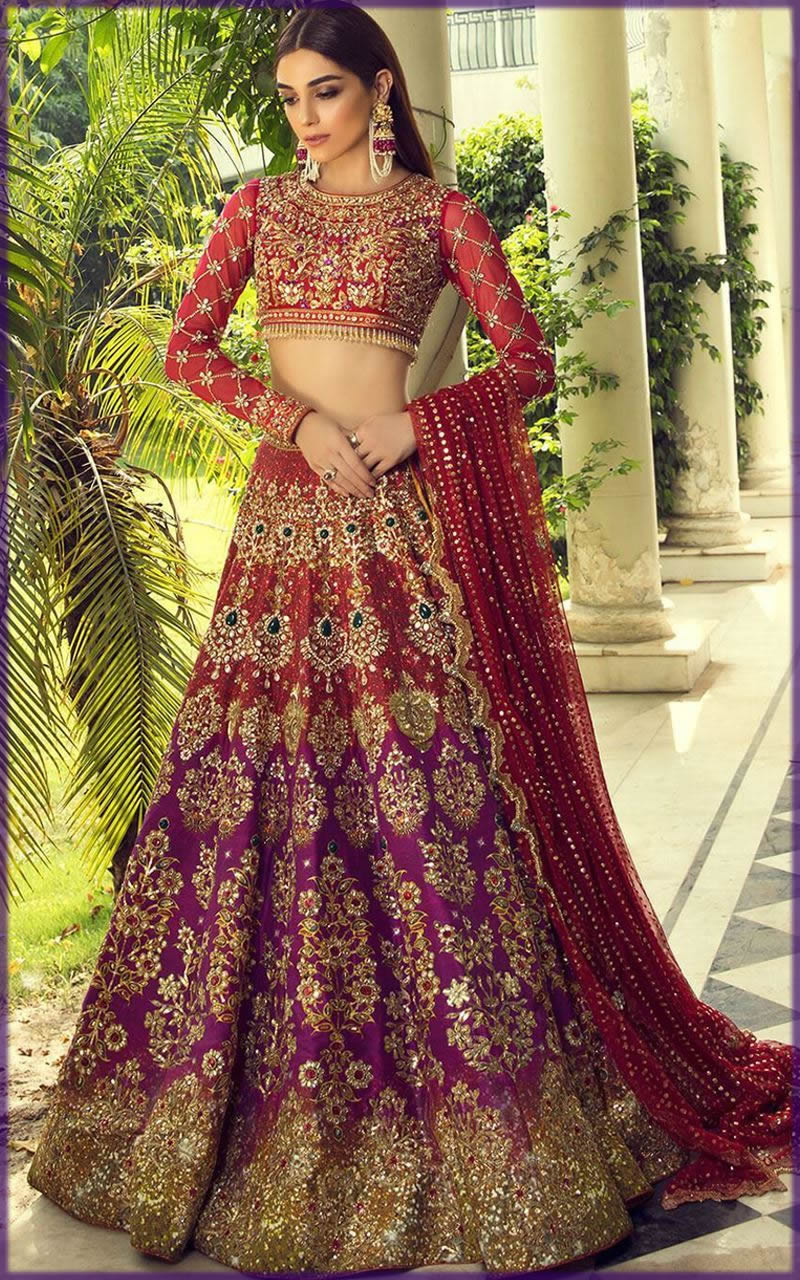 5- Zainab Chottani Bridal Barat Dress Collections
Zainab Chottani is a Pakistani fashion designer who started as a bridal wear designer. She is one of the well-known designers in Pakistan for bridal wear and has shown her production in Pakistan as well as in Dubai, London and the USA.
Here is her most elegant collection of bridal barat dresses.
Black Khadi Net Jacket
Zainab Chottani launched a new bridal wear collection this year. In this outfit, a black, khadi net, the jacket is featuring silver brocade in kora and gotta work in front, back and sleeves. It's an ombre with a maroon velvet choli and black Jamawar ghagra. If you want to look graceful and unique on your Barat day, give this outfit a chance because, with this luxury dress, you will look stunning.

Traditional Red Barat Wear

This dress is best for those who want to wear a classic red colour on their Barat. This traditional Red angarkha dress made with kora, Dapka, Tilla, and Cutdana work. It comes with rare sharara with embroidered borders that will give you a lovely look. Paired it with a piece of red jewellery to look like a traditional bride.
Its said that every girl has a dream to wear a rare and unique wedding dress. A bride is always special. Hence people excitedly wait to see what the bride's going to wear. So, her outfit should be unique and beautiful. In this article, I showed you the latest bridal barat dresses because a perfect wedding day is every girl's dream. I hope this article will support you in choosing a dress according to the trends.