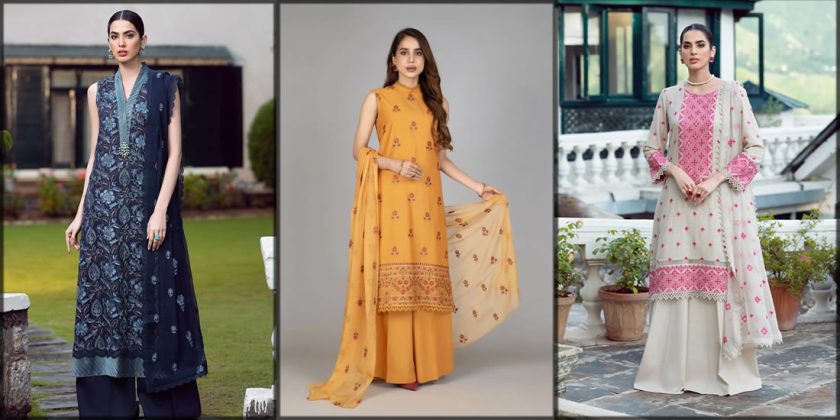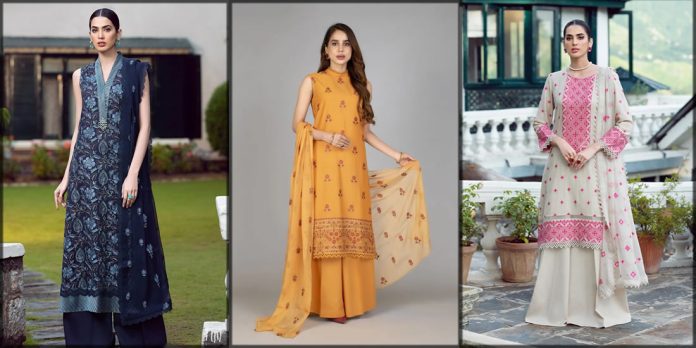 Women of all ages prefer to wear staggering and noteworthy outfits on any occasion and event. Therefore, when the new season approaches, every brand starts to prepare its luxurious seasonal collection to satisfy its client, but, as you know, winter is just around the bend. Bareeze has also recently propelled its winter clothing in the most striking tones and styles. It also offers breathtaking winter shawls for women. So browse this blog towards the end and explore the entire Bareeze winter colle

In the latest winter collection of Bareeze, you will find a stunning variety of khaddar, karandi, linen viscose, Khaadi net, chiffon, and organza dresses in all lovely shades. These magical dresses of Bareeze consist of the most unique and striking patterns that are perfect for ladies to welcome the winter season in style. Furthermore, the prices of these casual or formal dresses and shawls are also mentioned for your convenience. 
So, pick the classy and remarkable outfit from the Bareeze winter collection. Additionally, beautiful shawls with classic embroidery are also available in its latest collection. It also gives an online facility for those who don't have time to visit the store. It delivers your required outfit with free delivery within just a few days. So, please hurry up and get your favorite dress before it ends.
About the Brand
Bareeze, the most notable and ladies' favorite brand, was established in 1985 by Seema Aziz, a social activist, and famous businesswoman. She manages and directs the brand Bareeze and, each season, designed the most engaging dresses for women of all ages.
Bareeze is an international brand that also tendered its outlets in India, the US, UK, and Malaysia. It has 90 stores in Pakistan and more than 5000 employees who work hard and prepared beautiful dresses. Do you know why people love to purchase Bareeze attires? Because it provides high-quality fabric in a wide variety of designs and tones.
Latest and Attractive Bareeze Unstitched Winter Collection 
Every season, women are eager to view the fascinating collection of the Bareeze. Because Bareeze always offers the most fantastic and impressive outfits for women with the most alluring hues and patterns. Look at the Bareeze winter unstitched collection below, which has the most majestic suits for you. Moreover, the Limelight winter collection has recently been launched. So have a look at this collection too.
1- Casual Winter Dresses by Bareeze
In casual wear, women favor loosely fitted attires to work comfortably in the home and office. These casual attires also help to feel warm and relaxed. Because they are all made with warm stuff like karandi, khaddar, and linen, these three are considered the best fabrics for the winter seasons. Hence Breeze used these fabrics to prepare its winter catalog.
The casual attires of this brand are excellent that you can wear them at home and in the office, at university, and gatherings. Plus, if you want to make your look more attractive and awe-inspiring, at that point, you need to do natural makeup and should go for lightweight ornaments and high-heel shoes. For more casual dresses, visit the Sapphire winter collection.
Soft-Shaded Warm Winter Dresses for Women
To complete your comfy casual look, go for the nude-shaded linen-textured outfits. They not only prettify your face but also keep you warm. For example, lookbook at the following impressive soft-shaded suits below with the most alluring prints and patterns. You can wear these dresses at any casual get-together and functions for grabbing the stunning yet pretty gaze. Moreover, for more winter attires, visit the Warda winter collection. 
Winter Karandi Collection
Bareeze always brings seasonal outfits in a comfy and soft fabric to spark the women's look. The karandi is the most favorite texture of the ladies in winter. This material gives a beautiful appearance by keeping warm. For those ladies who don't like to wear khaddar attire because it is very thick, Karandi is the best. It is lighter than khaddar.
Have a look at the dazzling Karandi 3PC winter outfits below. They have beautiful shades like the Chinyere winter collection. All these Bareeze karandi dresses are awe-inspiring, and they are also best to wear at your university/college event. One more point, never miss combining the block heels with your karandi suit for a striking and killer look.
Exclusive Winter Magnified Dresses for Parties
To all the women out there who have been searching for blended attire, here is an exclusive of Bareeze for you. The high-end fashion retailer presents you with the most wanted luxurious cotton Karandi embroidered winter dresses. So, if you do not like to wear a khaddar or a velvet dress, opt for the following designs of the Bareeze winter collection and rock the event.
Would you mind taking a look at the glorious and enchanted Karandi dresses? Let's have a blissful moment by wearing splendid Karandi embroidered dresses this winter. The floral embroidered dupattas add much grace to the entire look. Wear high heels with the outfits for a whole modest look. Keep your hair open with a stylish style to complete your look.
Winter Two-Piece Embroidered Suits for Teens with Chiffon Dupatta
Who needs a three-piece dress when you have a splendid variety of two-piece suits? Well, it is all about your priority that either you pick a full dress of cut pieces. Bareeze winter collection brings you some master choices to modify your winter looks with charisma.
Please take a look at the image gallery below to discover mesmerizing winter outfits. You can have a lot of options from Salitex's winter collection as well. Fulfill your desires with the energetic and colorful ensembles below. Don't forget to tell us about your valuable feedback.
Bareeze Cotton Karandi Dresses
You will find the rich and jazzier designs in the cotton karandi suits of the Bareeze. Cotton is a handwoven fabric that is warmer and softer than other materials. The cotton suits of Bareeze are made with beautiful prints and designs. Plus, the color combination of these attires is also very jazzier. 
You can wear your cotton suit at any formal winter party to make all of your brilliant and noteworthy looks. All you require is to leave your hair open, wear the long hoops and apply nude makeup with the cotton karandi suit for making your look captivating and breathtaking. After seeing the women's broad likeness of cotton, J.'s winter clothing range has also introduced stylish attires in this fabric.
Classical Embroidered Dresses
It would help if you had a decent fancy suit whenever you go to a birthday party, formal event, and social gathering. The classy dress will help make your event or party more memorable and jazzier. So, if you want everyone to appreciate you and your dressing sense, at that point, try these partywear dresses this winter.
In this embroidered collection, you get the most fabulous and decent attires in lively hues like black, beige, cream, green and yellow. You can also carry the embroidered dress at your university's annual function if you like to make your look captivating. Further, to increase your beauty, keep your hair open with swift curls and hold the classy clutch with your embroidered suit for a more stunning and striking appearance.

2- Formal Winter Collection for Women by Bareeze

Formal dresses of Bareeze are different than casual outfits. Do you want to enhance your beauty in the winter festive? Then, some dazzling and colorful formal dresses in chiffon, cotton net, and khaddi fabric are beautifully furnished with thread, kora, dabka, and zari work. These formal attires are made with a lovely theme and brilliant color combinations that surely help you get the traditional and striking look. 
You can wear these formal attires at any formal, wedding, social, or informal gathering and event. All you ought is to pick the perfect outfit according to your body shape, size, and choice. Try to pick lightweight and decently adorned dresses for a more striking and fashionable look. While for the traditional and pop look, go for the heavily embellished outfit.
It's the exact time to update your wardrobe with the khaddi attires. Because the wedding season is just around the bend. And on wedding occasions, ladies like to wear khaddi attire the net outfit is never out of fashion. Hence, Bareeze offers you a wide variety of khaddi dresses with embroidered work, as you can see below.
In the khaddi collection of Bareeze, you get the most striking and splendid hues of outfits that are prepared with the comfiest fabric. You can wear these attires at any formal and wedding events to make all of your jazzier and striking looks. For more party-wear dresses, explore the Zahra Ahmed party-wear dresses.
Chiffon and Net Collection for Women
Chiffon is commonly a summer fabric. However, you can likewise wear it in cold weather. It additionally can keep your body warm during cold days. Moreover, it is one of the softest and most reliable textures that are perfect for parties and evening wear.
Yes!! You can wear these chiffon and net dresses at your evening party to add more spark to your look. Check out the most fantastic dresses underneath, which are elegantly enhanced with the kora, dabka craft, and motifs. These stunning suits are paired with the embroidered dupatta and trousers. So make your winter event extra shining by grabbing any outfit from the below list. For more stylish evening-wear dresses, browse the Taana Baana winter collection.
 3- Bareeze Winter Shawls for Women
In winter, you must wrap the shawl around your shoulders to protect yourself from the cold. The embroidered shawls are in-trend these days, and every lady wants to purchase them. Therefore Bareeze offers the most stylish and embroidered winter shawls for women.
These luxurious shalwars are of Bareeze are beautifully designed with the thread artwork that makes this shawl catalog breathtaking. You can match your embroidered shawls with a plain and simple outfit for a unique and striking look. If you are going to a formal party, then purchase any Bareeze embroidered shawl and pair it with the sleek black suit, make a classical hair bun, and wear the long/short hoops to make all of your elegant and classy looks. Also, visit the Maria B winter collection.
4- Unstitched Embroidered Velvet Dresses by Bareeze
For winter formal wear, the first priority of ladies is a velvet dress. Velvet is the special kind of fabric that keeps you heated during the cold nights/days of winter and also adds extra allure to your flash. So that you can freely enjoy your all celebrations. Hence all of us always go for the velvet dresses to slaughter the event. 
Have a look at the velvet catalog by Bareeze that offers striking velvet dresses for women of all ages. Thread, tilla, sequins, and adda artwork is utilized to design these outfits. Plus all fresh and bright tints are employed to make these dresses worth buying. These beautiful dresses are paired with embroidered velvet and chiffon shawls. So grab anyone according to your choice and make all of your splendid and engaging gazes. 
Fashion Tips: If you are going to wear velvet dresses on any occasion, at that point, tie your hair in a bun style, wear any style of high heel shoes, and apply the bold makeup to ravishingly slay the ceremony. 
In the latest winter attires of the Bareeze, you get the casual, formal, and stunning shawl collection as well. Women are always in trouble finding the right seasonal outfit. So for their comfort, we have gathered the best winter suits for women of all ages from the newest winter collection of Bareeze. Here you will get a wide assortment of print, weaving, and embroidered winter dresses made with khaddar and karandi stuff. I hope this blog will be helpful to you in picking the right outfit.