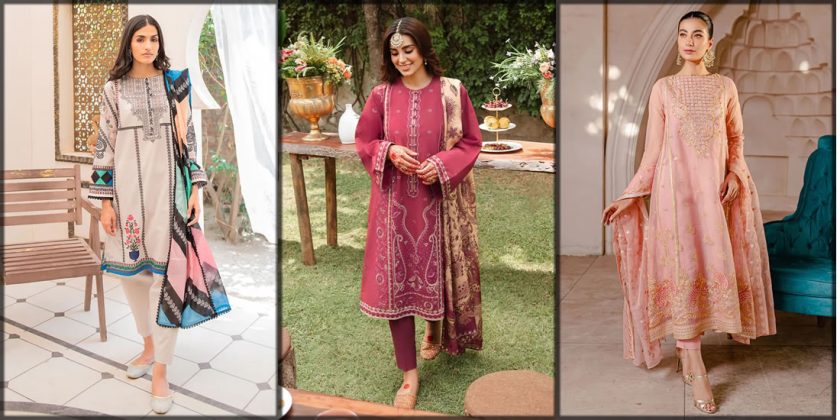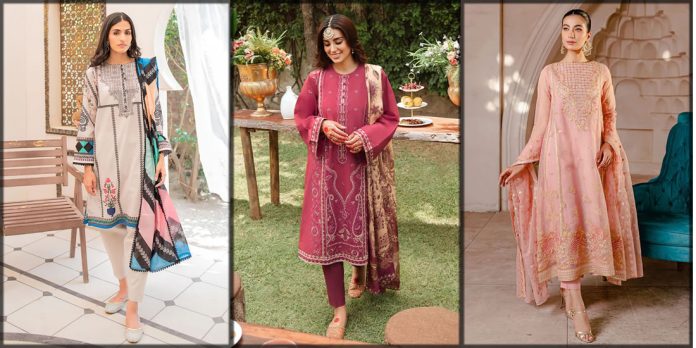 As the summer season comes, women rush towards brands for a fantastic wardrobe because they all use high-quality fabrics with unique shades to make their attires more stunning. Cross Stitch is among the leading brand in the fashion industry of Pakistan. Here is a fascinating Cross Stitch summer collection for ladies who are eager to see its latest collection.
Today, we will present the pret and unstitched lawn collection by Cross Stitch that will normalize your summer look. The architectural style of Cross Stitch dresses is just superb, as you can see below. Moreover, the brand propelled several retail outlets in different cities of Pakistan for the ease of its clients. So, everyone can easily buy Cross Stitch outfits.
This season, they used high-quality fabric for crafting unique dresses. In its latest collection, you will get organza, lawn, raw silk, and chiffon dresses made with pure materials and distinctive color palettes. Explore this blog towards the end to check out the newest lawn collection of Cross Stitch, along with prices.
Latest Cross Stitch Spring Summer Collection Catalogue (New Arrivals)

Cross Stitch's summer collection is magnificant that undoubtedly helps to make your summer gaze more striking and glamorous. It brings all kinds of dresses for the ladies to modify their look and appear more impressive. This season, Cross Stitch bestows you with a wide variety of summer collections. Also, the outfits are ideal for all generations. Summer categories of Cross Stitch usually include stitched and unstitched variety. Furthermore, the latest unstitched category includes:
Daily wear Lawn Attires

Premium Lawn Collection

Luxury Lawn Outfits
It also contains the stunning variety of pret wear that includes:
Basic Pret

Exclusive Pret

Luxury Pret
1- Daily Unstitched
Casual Lawn Collection
For casual or home wear, women prefer to buy the lawn attires because the lawn is considered the comfiest and reliable texture that helps keep you safe from the sun and keep your body calm and cold so that you can easily do your work. Do you want to have a cute look this summer? Check out the following daily lawn collection with vibrant and charming hues. For more daily wear, check out Rang Rasiya summer collection.
Digital Printed 2PC Unstitched Summer Collection
Women always want to follow fashion trends every season. Also, want to stand out by wearing exquisite styles. Therefore, when they prepared their mind for shopping, Cross Stitch always hit their mind first. Because they always give the excellent and unique pattern clothes in the most amazing themes.
The fashion trends nowadays are coming with long and medium-length shirts. Hence, Cross Stitch gives you the 3m loose fabric for the shirt so that you can stitch it according to your choice and body size. Have a look at the following 2PC digital printed lawn dresses that will help to make your gaze more striking and stunning. You can pair these lovely 2PC suits with the chiffon and net viscose dupattas as per your need. Ittehad summer lawn also contains the digitally printed attires. 
Classy 3PC Printed Outfits by Cross Stitch

If you are going for the formal gathering and you want to look decent and impressive. At that point, try these three-piece lawn-printed suits paired with the lawn, organza and chiffon dupattas. Most of the Cross Stitch summer collection consists of bright and dark shades because they know very well women of all ages love to wear bright and dark hues to look more agreeable and graceful.
In summer, always go for the bright shaded attires to make your summer season more colorful and jazzier. The below alluring three-piece unstitched attires are crafted with high-quality fabrics and shades. Moreover, they have elegant chiffon, and lawn dupattas in contrast. Further, wear the traditional khussa to grab the stunning look.
2– Luxury Unstitched Festive Collection

Are you looking for bright summer colors in the premium category? Check out the latest luxury collection of Cross Stitch that contains bright-shaded attires. Also, the dresses of the luxury collection are more elegant and staggering for a polished look. You can check out Orient Textiles summer dresses as well.
The following luxury collection of Cross Stitch is prepared with the string, dabka, and Kora work that makes the attires more brilliant and fabulous. Grab these lovely outfits for your sister/brother's wedding to adding more grace and attractiveness to your look. 
3PC Chiffon Outfits for Women

If you are worried about your dress and want to make your sister nikkah jazzier and glamorous by wearing a classy outfit. At that point, explore these chiffon dresses of Cross Stitch that will normalize your dull look and make it more marvelous. Moreover, the hand-embroidered net dupatta paired with these outfits makes your gaze more charming and impressive. For more chiffon dresses, look at the Warda summer collection.
Organza Luxury Unstitch Collection
Do you want to make your summer look more vigorous at weddings? The following organza collection of Cross Stitch will modify your look. Some of the dresses may have an organza dupatta. However, some may have a soft tissue dupatta for an elegant look. Grab the one that you like to wear. Pair these classy outfits with heavy adornments to get a flawless and alluring flash. Zainab Chottani summer collection also has amazing organza dresses. 
Raw Silk Embroidered Evening Wear for Ladies

Below are nicely embellished and string embroidered raw silk outfits for those ladies who like to wear heavy attires. Do you want to make your evening look phenomenal? If so, then look at these beautiful digital printed and embroidered suits. Moreover, the dazzling net dupatta with these suits indeed updates your look. For more evening dresses, explore the Maria B evening wear.
Premium Lawn Dresses for Festive



Premium lawn is the most elegant and dazzling texture that not only gives you the pretty gaze also keeps you secure from the long blistering season of summer. For summer, Cross Stitch used the lightweight lawn fabric. The premium lawn dresses are a little bit costly than others, but it gives you a stunning look that other fabrics can't give you.
Let's browse the stunning dresses of Cross Stitch that are awesome. The color blending of these dresses is magnificent. You can also pick these suits for Eid to make your Eid look unique and appealing. For more premium lawn dresses, visit the Limelight summer collection.
3- "MAHIRI" Embroidered Lawn Collection by Cross Stitch
Now check out the latest Mahiri lawn collection by the famous brand Cross Stitch. The following chic lawn dresses are nicely adorned with threadwork, making the attires more dazzling and attractive. Here is a glimpse of Cross Stitch's well-designed articles that you can wear at any formal gathering to add more charm to your flash.
Classic Lawn Dresses with Chiffon Dupatta
Are you looking for a more inspiring summer outfit? Here is an image gallery for you to overview and select. The latest lawn embroidered collection contains vigorous attires that are paired with an embroidered chiffon dupatta. In summer, most ladies love to carry the chiffon dupatta because the chiffon fabric is very lightweight. You can wear these stunning attires at your friend's  birthday party to make you look more classy and pretty. Asim Jofa luxury lawn is also available in stores now.
Embroidered 3PC Summer Lawn Outfits with Net Dupatta
This versatile catalog is designed for teens carrying lightweight dupattas with heavy dresses. These three-piece lawn suits will be the best for your upcoming event to look more elegant and beautiful. Furthermore, the net dupatta, in contrast, adds a sparkle to the overall look of outfits. Pair your lawn embroidered dress with lightweight earrings and classy footwear to get a lovely and captivating gaze.
4- Pret/Ready-to-Wear Cross Stitch Summer Collection
The ready-to-wear attires of the Cross Stitch likewise very chic and impressive. You will find the casual, formal, and luxury dresses in the pret catalog made with vibrant tones and lovely themes. There are three categories included in the ready-to-wear collection. These are:
Basic Pret

Exclusive Pret

Luxury Pret
Simple Yet Graceful Basic Pret
Youth nowadays look for graceful and ready-to-wear dresses. Therefore, Cross Stitch presenting a wide variety of pret with elegant and basic designs with a great color combination. In the basic collection, you will receive rounded and straight basic shirts with cigarette pants styles that will make your summer look much pleasing and lovely. So, let's have a look at the alluring image gallery of the elegant collection beneath. For a more casual attires, check out the  Almirah summer lawn.
Exclusivee Embroidered Pret Outfits

Usually, for a party or other gatherings, women look for some formal dresses. I am sure these exclusive dresses will fulfill all of your desire. However, the cost of these may be generally high than simple basic dresses. But, this will satisfy your demands surely. These stunning outfits are made with shamose silk & viscose net fabrics. Dresses are heavily embellished with beads and pearls.
You can likewise wear these elegant suits at your sister's wedding to make all of your jazzier and striking looks. Grab any dress from the Cross Stitch store and apply the bold makeup to get the stunner look. 
Luxury Pret Summer Collection
Are you looking for something impressive yet unique? Let's have a look at the luxury pret collection of Cross Stitch. Here you will find an immense variety of clothing styles. Also, the unique styles will make you look distinctive, among others. All you necessitate is to pick the right one as per your choice and need.
With these heavily embroidered dresses, keep your makeup minimal to get the jazzier and breathtaking flash. You can pair your single Kurti with plain trousers and net, jacquard, or silk dupatta as you like. Never forget to pair your chic footwear with your classy outfit to add more grace and sparkle to your party look.
You can get your favorite dress from the retail outlets of Cross Stitch. Also, they provide a fast online shopping facility. The charming collection of this brand will make your summer season lovely and noteworthy. The dresses are available at both low and high costs. So pick any dress from the Cross Stitch summer collection as per your choice and need and enjoy your summer season freely and happily.