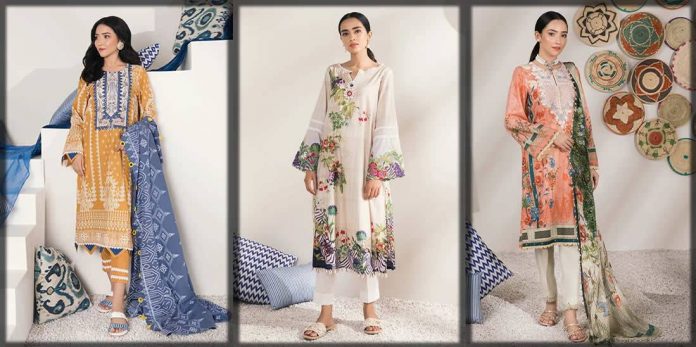 Cross Stitch is among the leading brands in the fashion industry of Pakistan. Online shopping facility is also running successfully through the advancement of technology. So, here is an alluring Cross Stitch summer collection 2020 for you.
As the summer season comes, women rush towards brands for the fantastic wardrobe. So, the brands work on crafting marvelous stitched and unstitched collection for the public. Today, we will present you with a pret and unstitched latest lawn collection.
The architectural style of dresses is readily available to the majority. The brand propelled several retail outlets in different cities of Pakistan. Also, it uses high-quality fabric for crafting excellent dresses.
Latest Cross Stitch Summer Collection 2020 – Fresh Arrivals

The famous brand stands among the kind designers of Pakistan. It bestows you with a wide variety of summer collections. Also, the outfits are ideal for all generations. Summer categories usually include stitched and unstitched variety. Furthermore, the unstitched category includes:
Daily wear Lawn

Premium Lawn

Luxury Lawn
Are you looking for ready-to-wear attire? Here is a stunning variety of pret collection that includes:
Basic Pret

Exclusive Pret

Luxury Pret
Comfortable Daily Wear Lawn Collection



Do you want to have a blazing look this summers? Check out the following daily lawn collection with vibrant and charming hues. For more daily wear, check out Rang Rasiya summer collection.
Yellow has always been a fiery color. Now, we present you with some gleamy outfits in yellow color. The alluring three-piece unstitched attires are crafted of high-quality fabric. Moreover, they have an elegant chiffon dupatta in contrast.
Vibrant Unstitch Summer Collection
Do you want to follow the theme fashion of the running year? Women always want to follow fashion trends every season. Also, they want to stand out by wearing exquisite styles. The fashion trends nowadays are coming with straight and medium length shirts. Furthermore, a straight cigarette pant comes as a lower-body garment, hence, bringing a defined look. Have a look at the following daily lawn collection. Ittehad summer lawn is also available in market.
Impressive Light Summer Outfits
Light colors are the favorite of everyone nowadays. Whenever you think about summers, you prefer to have lightly-shaded dresses. The daily lawn collection of the prestigious brand has decent shades for you. Check out the following impressive light-shaded outfits and grab the one that you find will be the best for you.
Dazzling Premium Lawn Collection
Wanna look dazzling in this summer season? Check out the latest premium lawn collection by the famous brand Cross Stitch. The brand has versatile designs with incredible fabrics. Here is a glimpse of well-designed attires.
Charcoal Glint Black Outfits
Besides, black is a heat-absorbing color. Still, it stands at the number one priority of ladies. The beautiful series of black are available online and at stores. These black three-piece lawn suits may be the best for any upcoming event. Furthermore, the chiffon dupatta, in contrast, adds a sparkle to the overall look.
Elegant Pure Summer Colors

Are you looking for light summer colors in the premium category? Check out the latest collection with prices below. Generally, the premium collection has high costs. Also, the dresses are more elegant and staggering for a polished look. Have a look at the stunning summer colors below. You can also check out Orient Textiles summer dresses as well.
Stunning Brick Red Combinations
Are you stuck between the selection of dresses? If so, then prefer combinations over one shaded dress. We have a stunning brick red combination for you. It comes best with white color in contrast. So, here we have a blazing outfit for you in a red brick combination. I hope it will meet your desires.
Luxury Unstitched Festive Collection
Are you looking for a more inspiring summer outfit? Here is an image gallery for you to overview and select. The latest festive collection contains vigorous attires that are waiting for you to wear them. Asim Jofa Luxury Pret is also available in stores now.
Softened Blue Festive Outfit
Blue is the color of the sky and sea. Hence, it shows certainty and fresh looks in your personality. Also, the color is mostly preferred by the women of average age. Here we have a stylish wardrobe in blue for you. Moreover, the hand-embroidered net dupatta is the overall beauty of this three-piece festive outfit.
Vigorous Jacquard Luxury Unstitch Collection
Do you want to make your summer look more vigorous? The staggering collection of festive wear will help you to bring a warm look. Have a look at the image gallery below with updated prices. So, the pastel printed jacquard collection will make your wardrobe perfect. Some of the dresses may have an organza dupatta. However, some may have a soft tissue dupatta for an elegant look. Grab the one that you like to wear. Zainab Chottani summer collection also has amazing Organza dupattas.
Faux Mirror Embroidered Evening Wear
Here is an embellished mirror embroidered faux green outfit for you. Do you want to make your evening look phenomenal? If so, then have this beautiful digital printed and embroidered suit. Moreover, the dazzling net dupatta will look gorgeous for a complete evening look.  Maria B evening wear is also worth buying this year.
Ready-to-Wear/Pret Cross Stitch Summer Collection
Do you want to spare your time? Have the stylish pret collection for your ease. There are three categories included in the ready-to-wear collection. These are:
Basic Pret
Exclusive Pret
Luxury Pret
Breakout summer pret is always very trendy nowadays.
Simple Yet Graceful Basic Pret
Youth nowadays look for graceful and ready-to-wear dresses. Therefore, we have a solution for them. We are presenting a wide variety of pret with elegant and basic designs. Also, the choice of colors has a great variety. Moreover, the rounded and straight basic shirts with cigarette pants or tulip styles can make your summer look much pleasing. So, let's have a look at the alluring image gallery of elegant collection beneath. For more festive collection, check out the  Almirah summer lawn.
Staggering Exclusive Pret Collection
Usually, women who are fond of attending parties look for formal dresses. They need a stylish and trendy yet ready-to-wear dress for them. So, considering the high demand of ladies, we have a staggering exclusive pret for you. These dresses fulfill all the desires of the ladies. However, the cost of these may be generally high then simple basic dresses. But, this will satisfy your demands surely. The variety of suites are of jacquard, linen and organza fabric. Also, some are heavily embellished with beads and pearls. So, have a look at the breathtaking clothes here.
Luxury Pret Summer Collection
Let's have a look at the vigorous luxury pret here. The pretty designs are a fusion of both the cultures of our country. Some women prefer to have purely eastern attire. However, some look for a western outfit. Do you want to wear a sizzling dress? Check out the luxury pret gallery here.
Mudraven Angrakha Style Dress
There is an immense variety of clothing styles. Also, the unique styles will make you look distinctive, among others. Therefore, women always seek something different. Are you looking for something impressive yet unique? If so, then the beneath angrakha style dresses will be the best for you. The embellished dress has an embroidered bottom. Also, the ends of the sleeves are finely decorated. Moreover, the staggering net embroidered dupatta marvels at the overall fancy look.
Classy Mosaic Blue Outfit
Here is a loose fit A-Line style blue mosaic shirt. It has delicate sequin embroidery on its front. Moreover, pearl drops and organza scallop details on sleeves and hem along with button tassels are on the front. Furthermore, it has a faux mirror embroidered organza dupatta. Also, take a look at the Zara Shahjahan summer dresses.
Hence, you can get your favorite dress from the retail outlets of cross stitch. Also, they provide a fast online shopping facility. The alluring collection will make your summers charming. The dresses are available in both low and high costs. However, the festive dresses may be of an extremely high cost. So, let's have a fine summer look at the latest cross stitch summer collection.