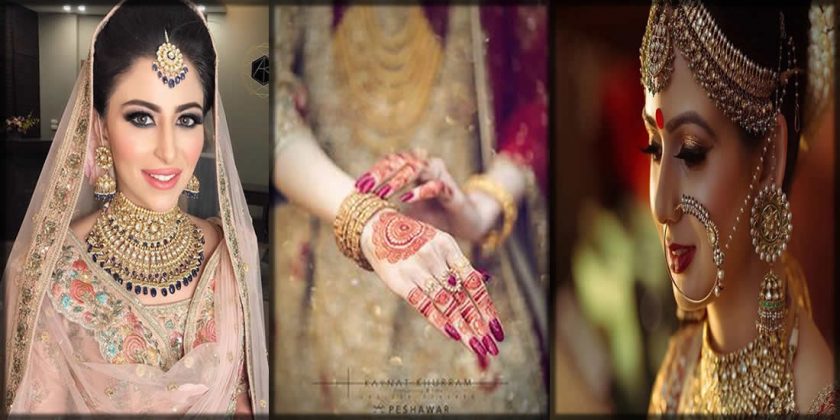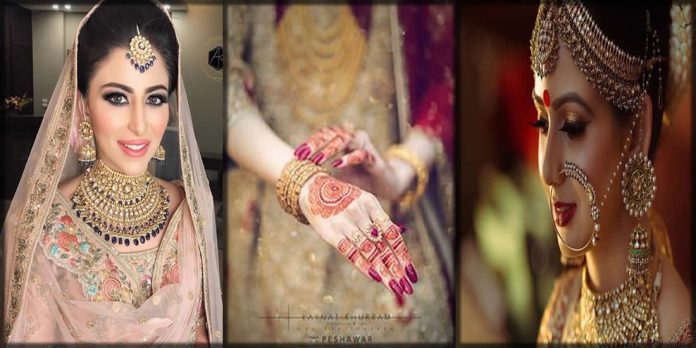 Do you want to strike your wedding look? A stunning pair of jhumkas will help you stand out at your big day. Well, earrings alone are not enough for a staggering look. A fantastic pair of bangles is required too. Therefore, we are showcasing a vibrant collection of bridal jhumka earrings and bangles.
Women feel incomplete without wearing jewelry. Also, the beauty of the bride is unjustified if she is not wearing jewelry. A little sparkle in style is needed to enhance the character. Therefore, one must look for statement styles to add glamour to her entire look. The antique jewelry will add appeal to your personality.
Are you planning for your big day? Here are some exquisite styles for you that will aid in getting a compliment. Let's have a look at the breathtaking variety of ear and hand jewelry below.
Hot Selling Bridal Jhumka Earrings and Bangle Styles

The majority of girls are obsessed with jewelry. Also, they consider that a girl is incomplete if she is not wearing jewelry. They are always looking up for extravagant jewelry with intricate artwork. Similarly, every bride wants to enhance her appearance.
Everyone has a unique taste of clothing. Some girls may prefer lightweight jewelry. However, some are always up for oversized accessories. Do you want to have a delicate look as a bride? Check the latest collection of wedding jhumkas and bangles below.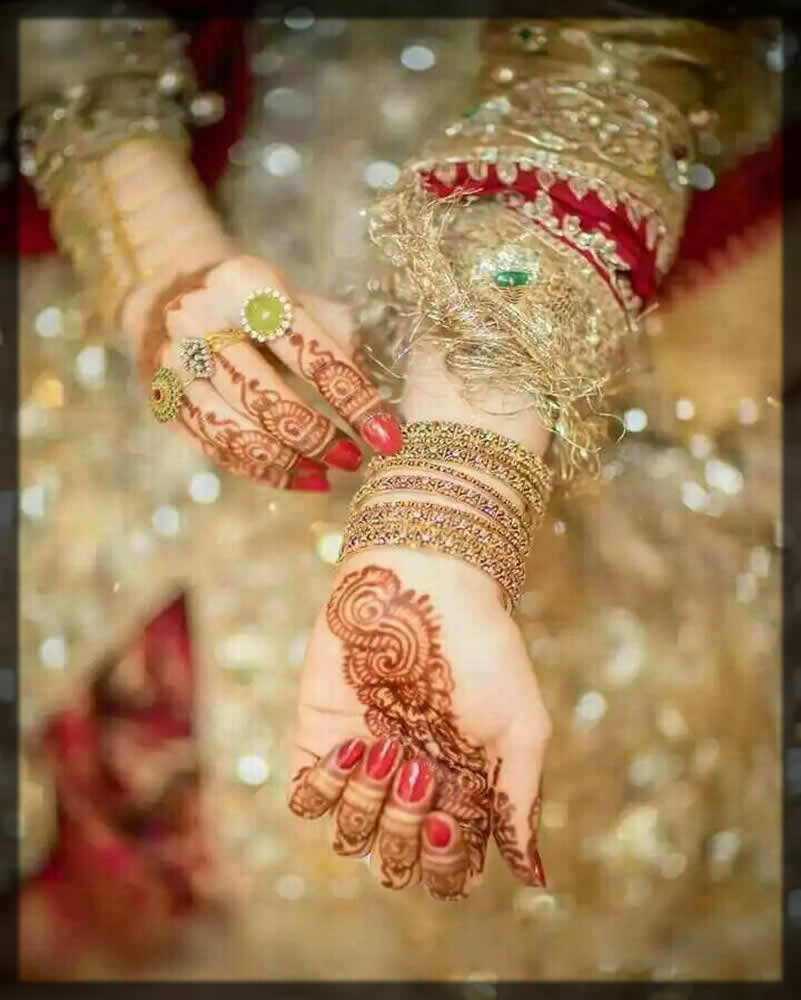 Latest Bridal Bangles Collection for Wedding

You might be looking for something conventional to wear on your wedding day. Likewise, women look for exquisite designs of hand jewelry. There is a variety of bracelet for girls that brings a feminine vibe. However, when it comes to the bride, she will always look for stylish bangles. Here we are presenting you with some common styles of bangles that include:
Studded Kundan style.

Pearl lined peacock designs.

Ruby rose-cut bangles.

Diamond bangles.

Pure gold bangles.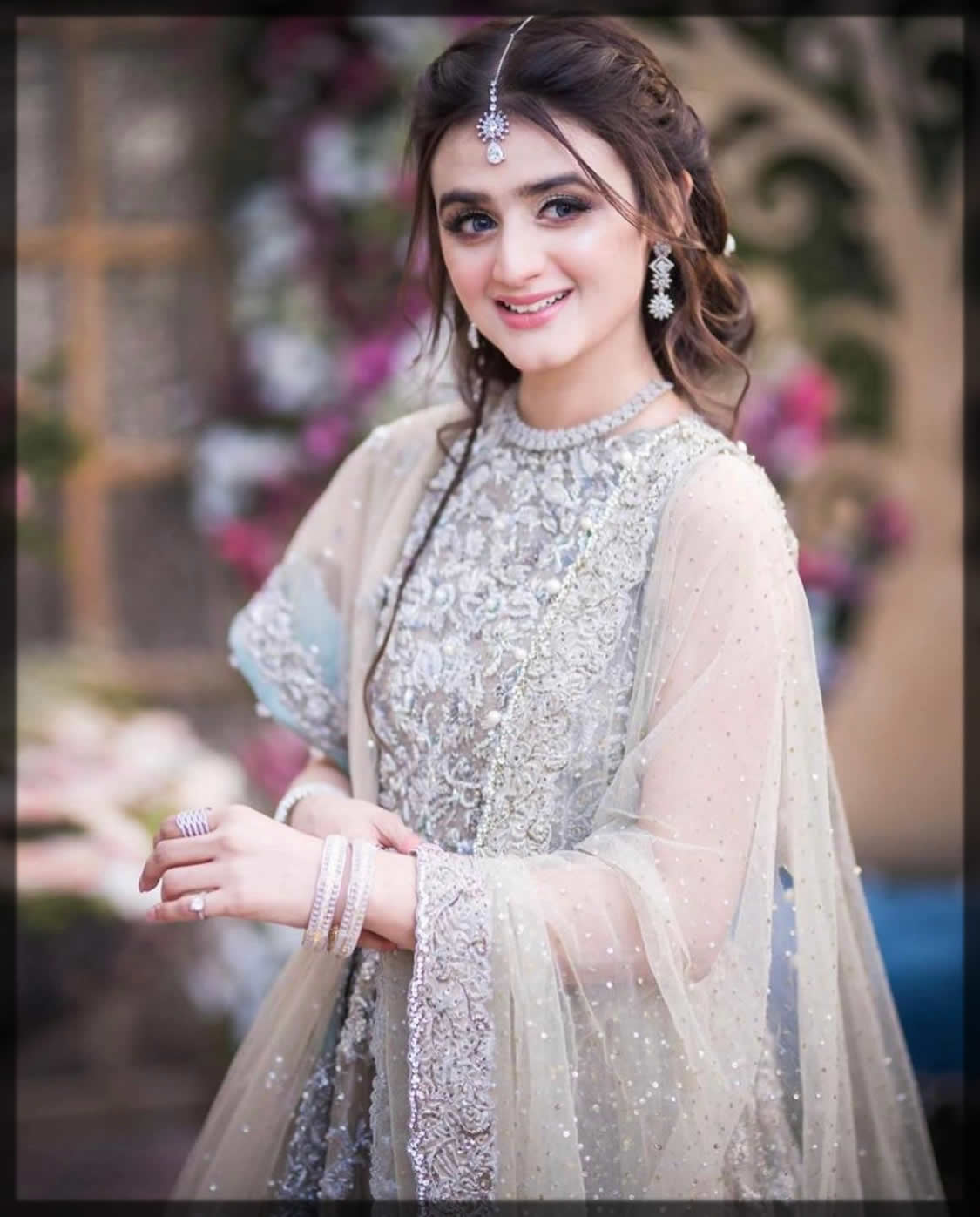 1- Bridal Bangles with Studded Kundan
Do you want to wear new trends? Then you should go for the stylish studded Kundan bangles. Also, they bring a stylish and magnificent look to the bride. This style has its origins in the Indian culture. However, Pakistani brides also prefer this beautiful design. Explore the eye-catching bridal studded bangles below.

Do you want to explore some more Indian collection? Check the latest Indian bridal jewelry with trendy designs.

2- Pearl Lined Peacock Design
The young girls always look for some colorful designs. Therefore, they are busy in searching for stylish jewelry that adds glamour to their bridal look. Are you looking for some intricate and colorful designs? If so, then indeed, you are at the right place. Look at the beautiful collection of stylish yet, colorful peacock bangles for the brides below.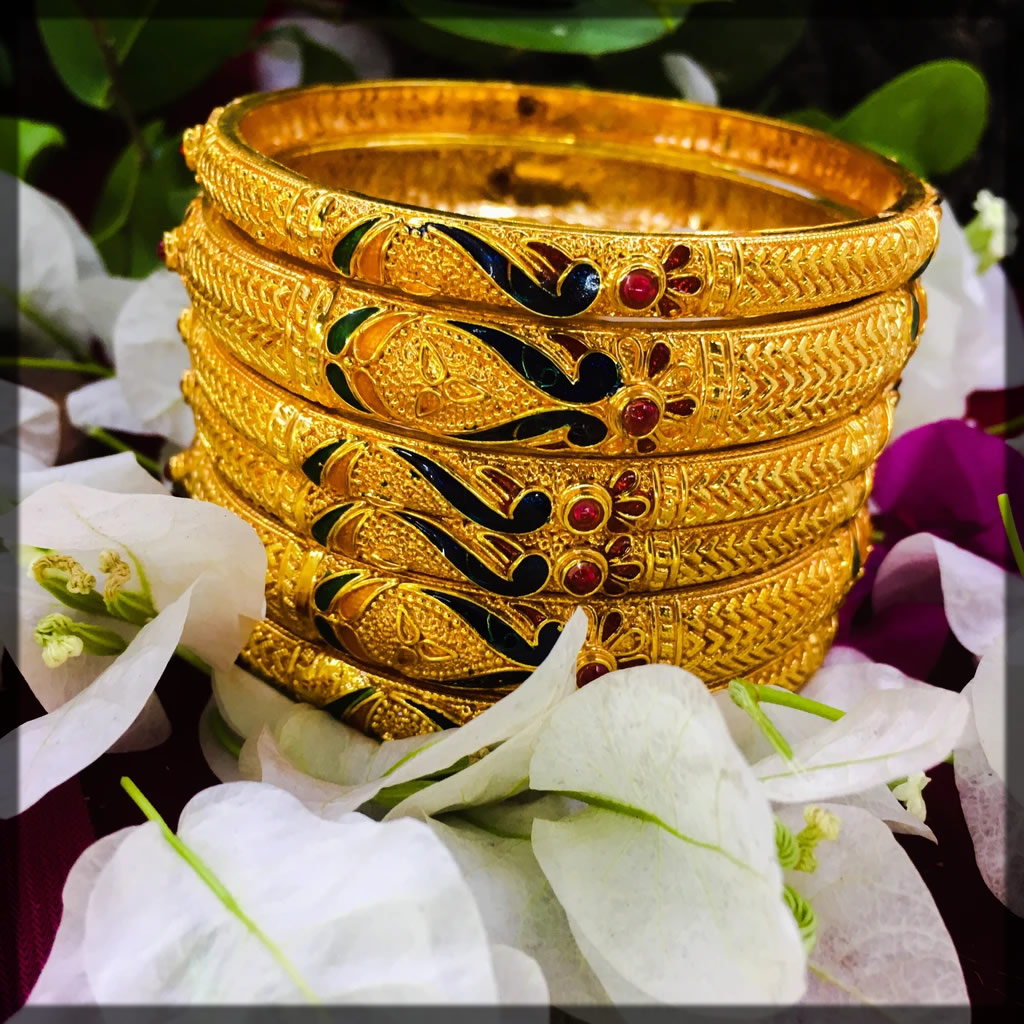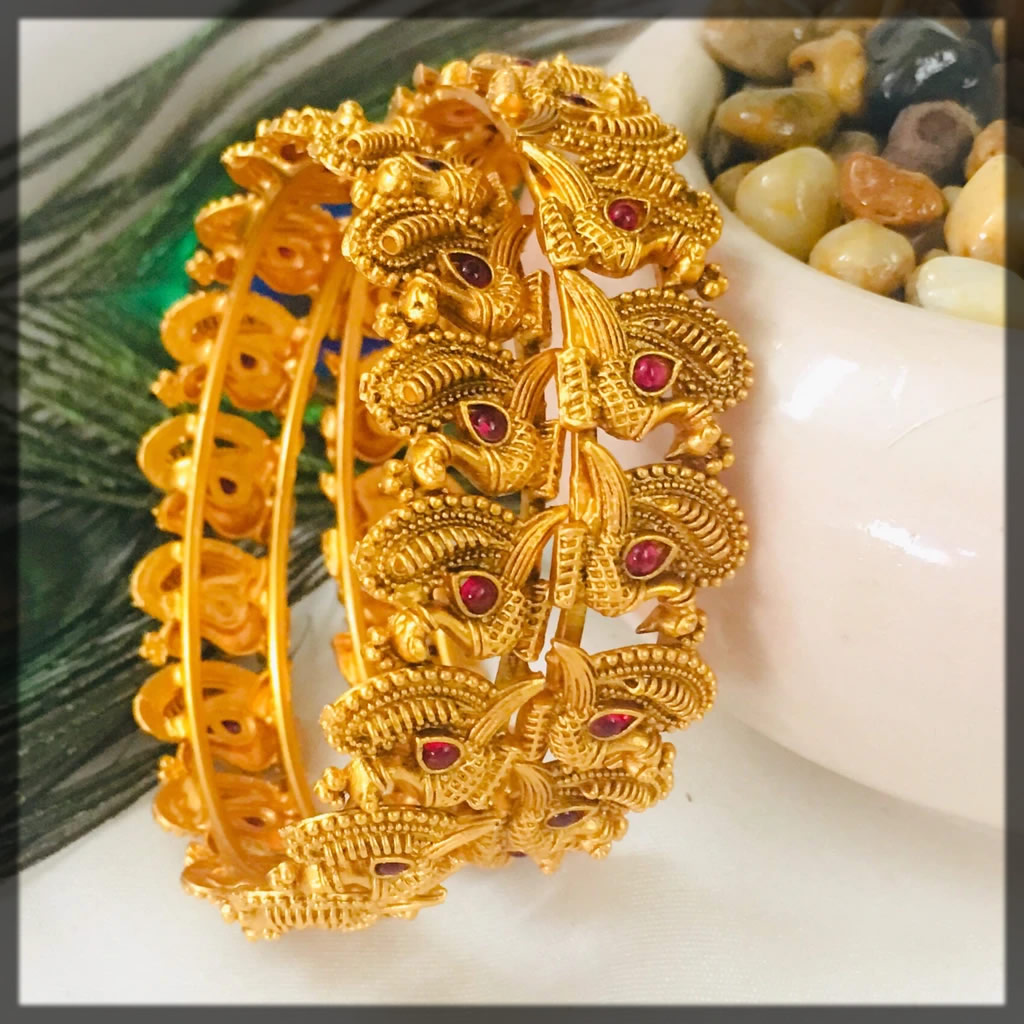 3- Ruby Rose Cut Diamond Bangles
Do you want a style up your looks in a unique way? See the fantastic ruby bangles below. Yet, the simple and attractive techniques look glaring. Also, wearing such designs is an ideal choice for brides. Invest your time and money to get stylish hand jewelry for your big day.
Usually, the South Indian brides consider this style quite perfect. However, Pakistani women prefer such glittery bangles on the baraat day. Explore the trendy bridal barat dresses here and match the bangles accordingly.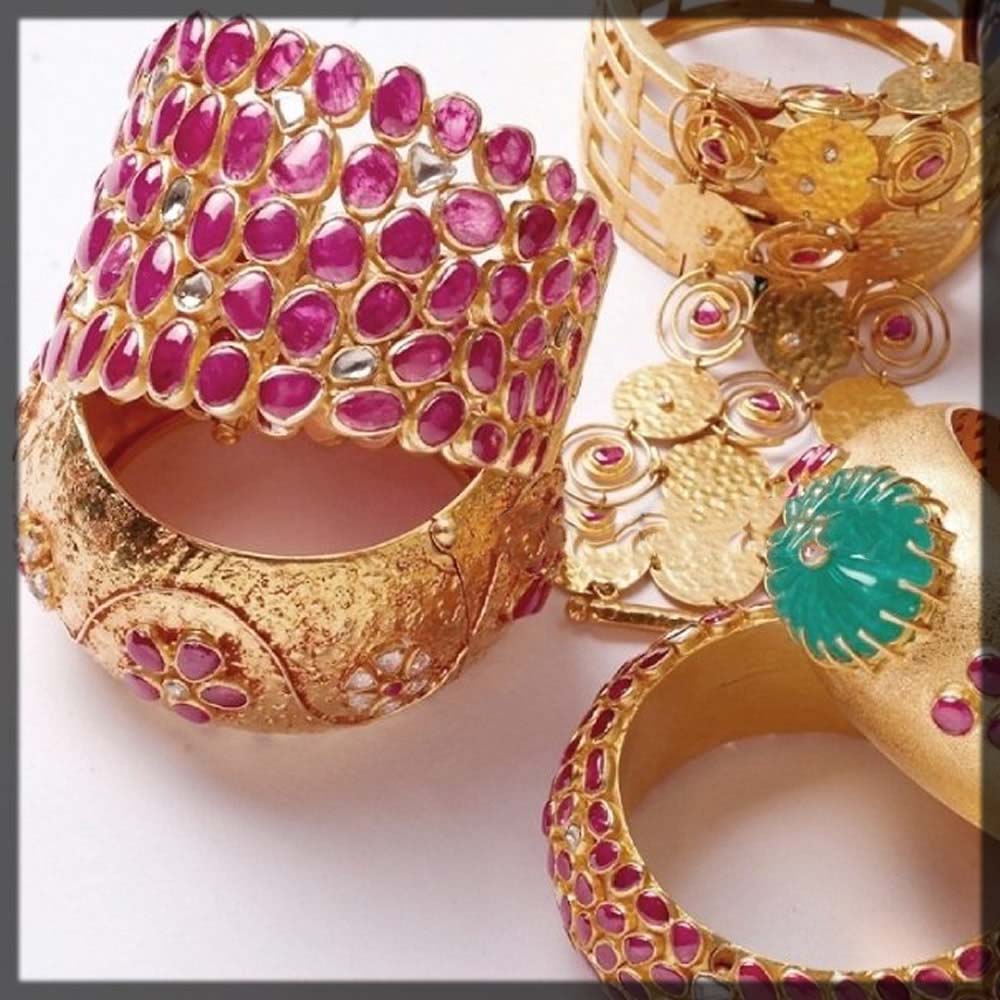 4- Unique Diamond Bridal Bangles
Diamond never goes out of fashion. Also, nothing can be more delicate and eye-catching than diamond accessories. It will be the loveliest sight if you choose to wear a diamond set on your wedding day.
Wanna have some luxurious touch entirely? Get yourself a compliment and enhance your looks by wearing diamond bangles. Usually, the diamond looks perfect with walima outfits. Choose the best outfit for your walima from the latest bridal walima dresses. Further, match the diamond bangles accordingly.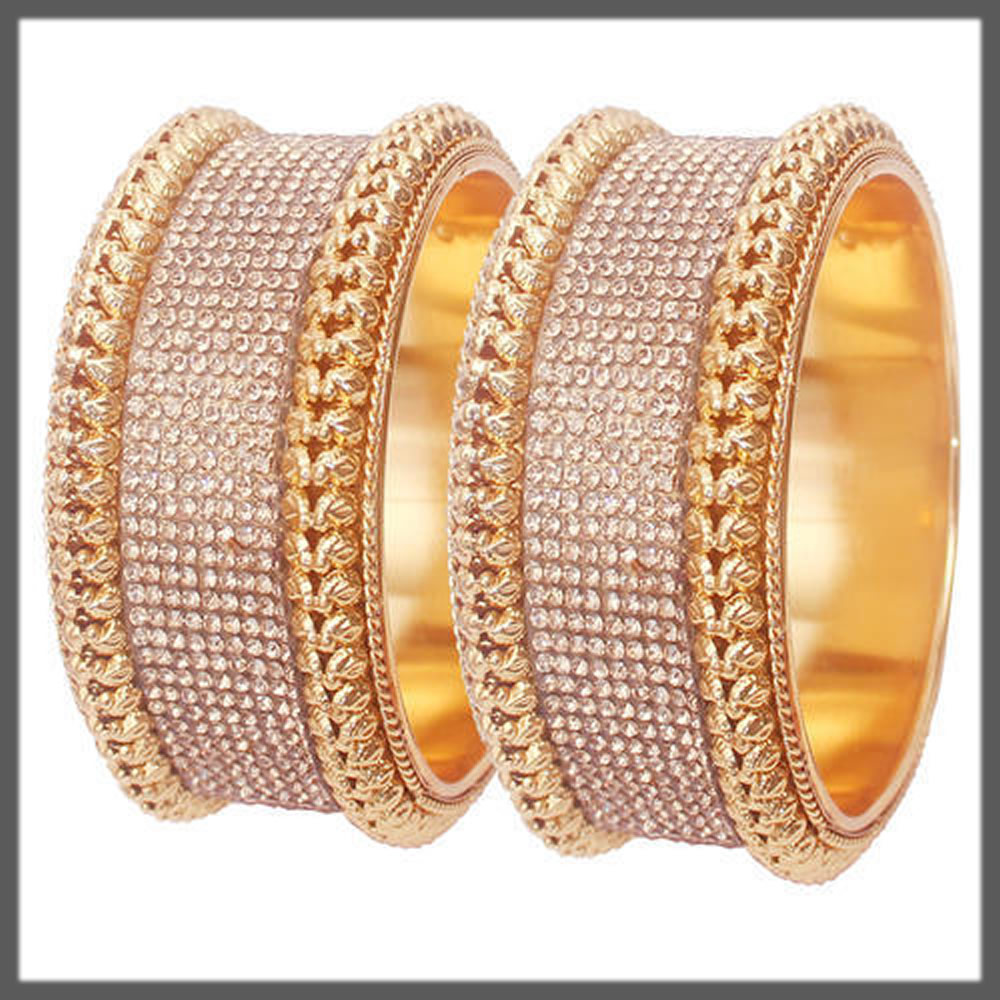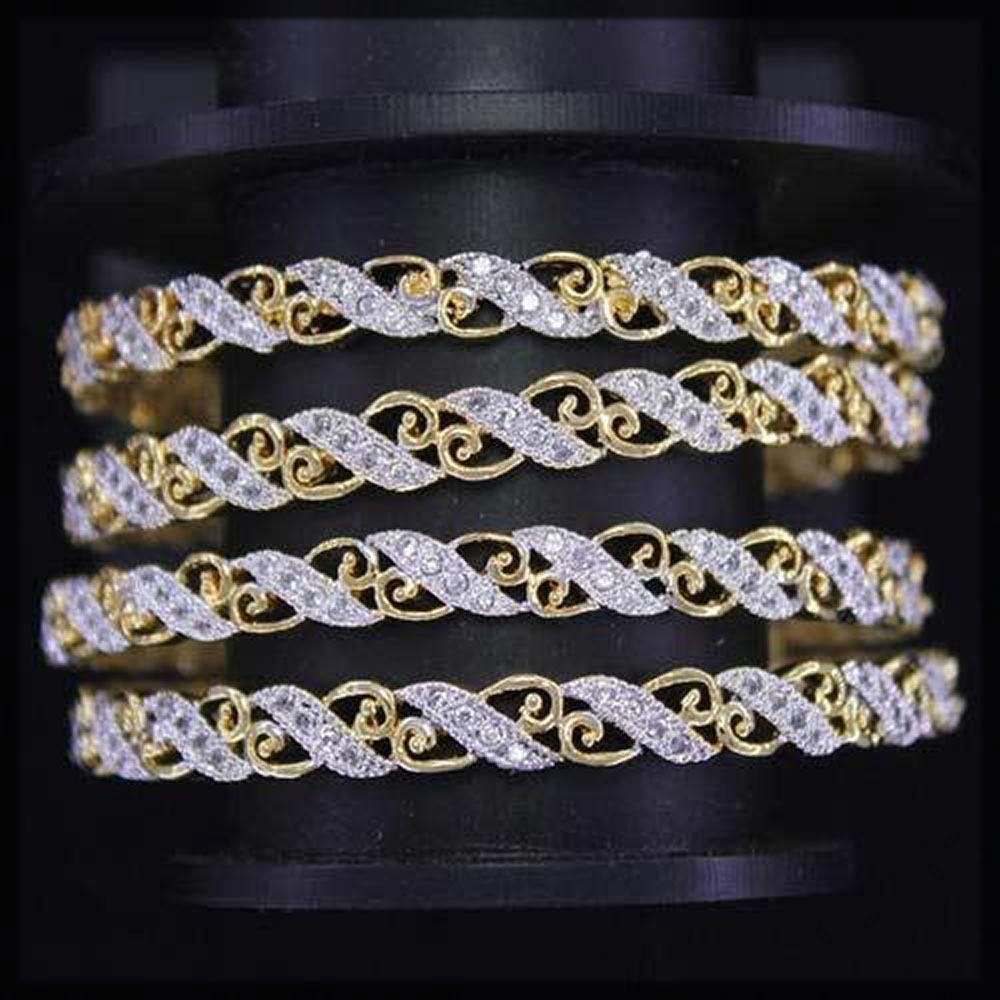 5- Pure Gold Set for the Bride
Gold jewelry is of great significance in Asian countries. Some traditional women feel incomplete if they are not wearing an accessory of gold. Therefore, they prefer that the bridal jewelry must be of pure gold.
Well, here is a collection of bridal bangles in pure gold. The highly detailed structures are perfect for a complete bridal look. Also, the intricate ornaments are further adorned with stones and pearls. Hence, it will make your wedding quite auspicious. Explore here another exciting collection of wedding rings and necklace designs and match these bangles accordingly.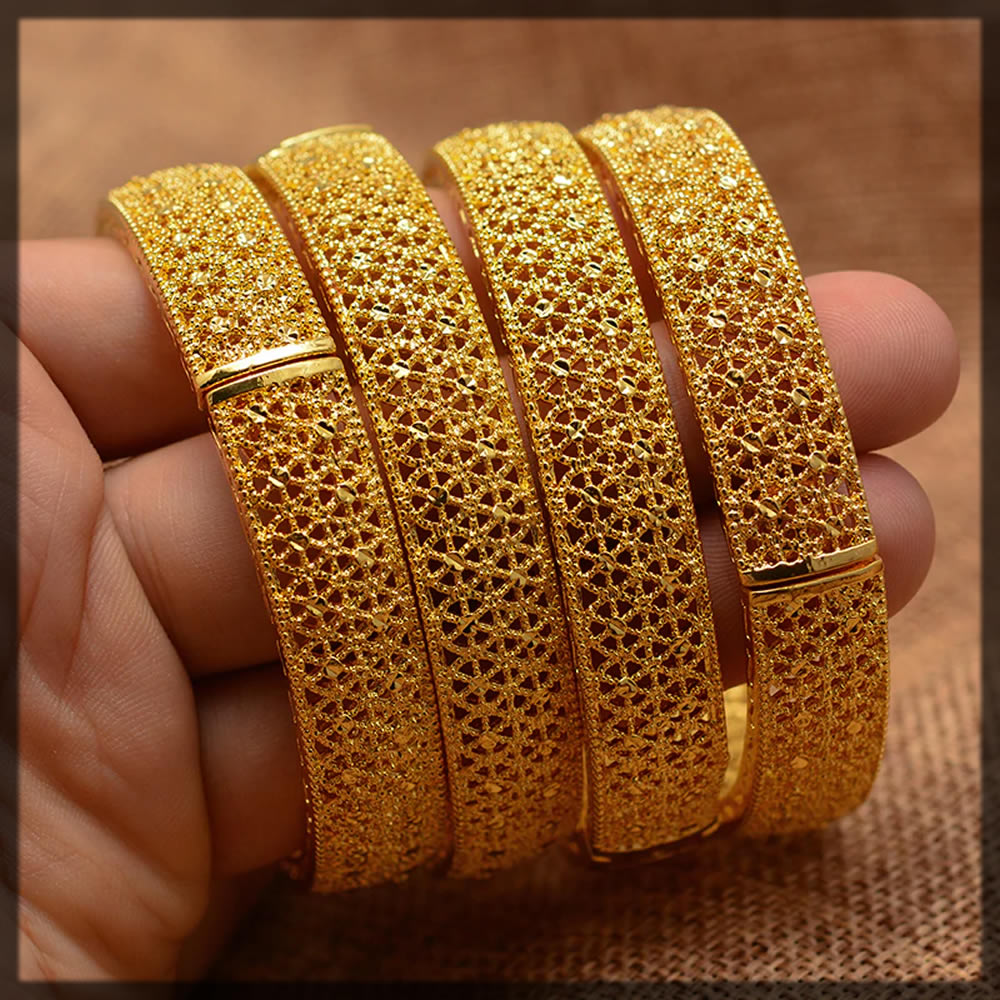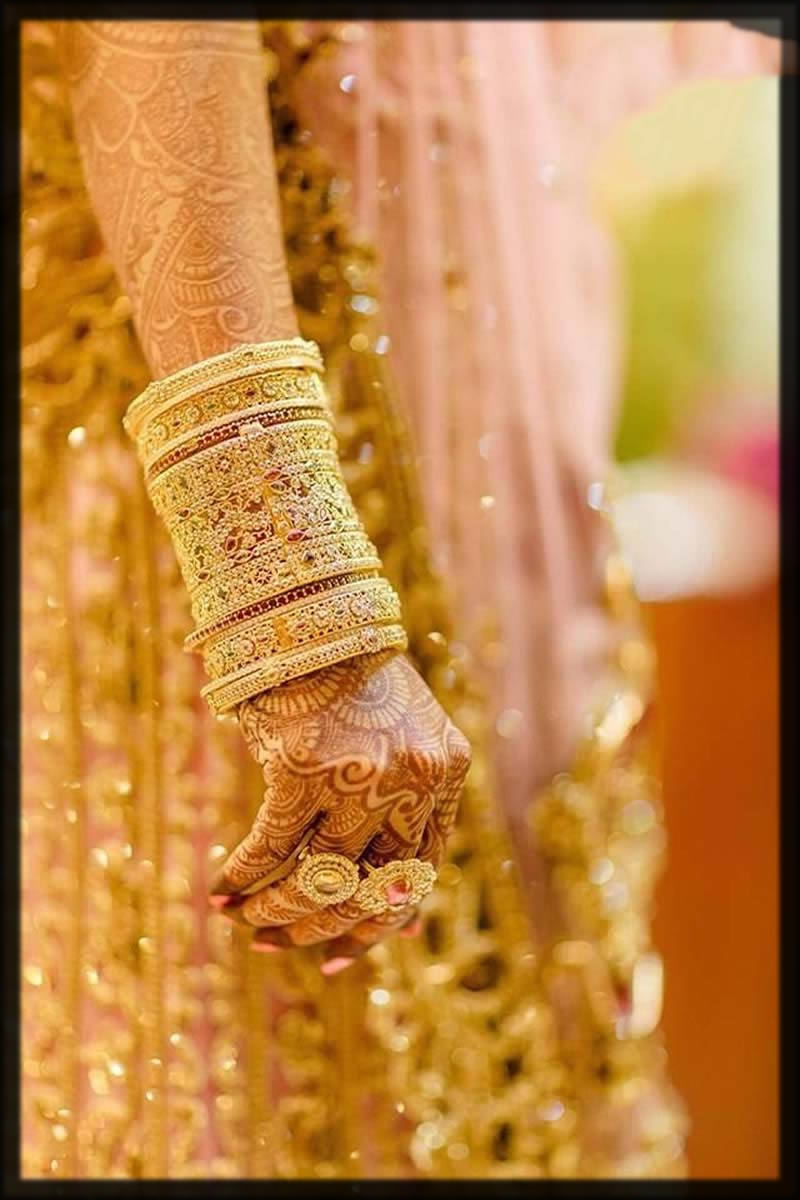 Most Demanding Bridal Jhumka Earrings Collection
Women are busy exploring traditional jewelry for them. Here we have a solution to their searches. Well, those who rely on store shopping can visit the jewelers in the market. However, those, who are convenient in online shopping can explore the latest collection here. The most common styles in jhumka earrings include:
Splendid diamond styles.

Alluring jhumkas with extended chains.

Long jhumkas with ruffles.

Multi-tire styles.

Pure gold earrings.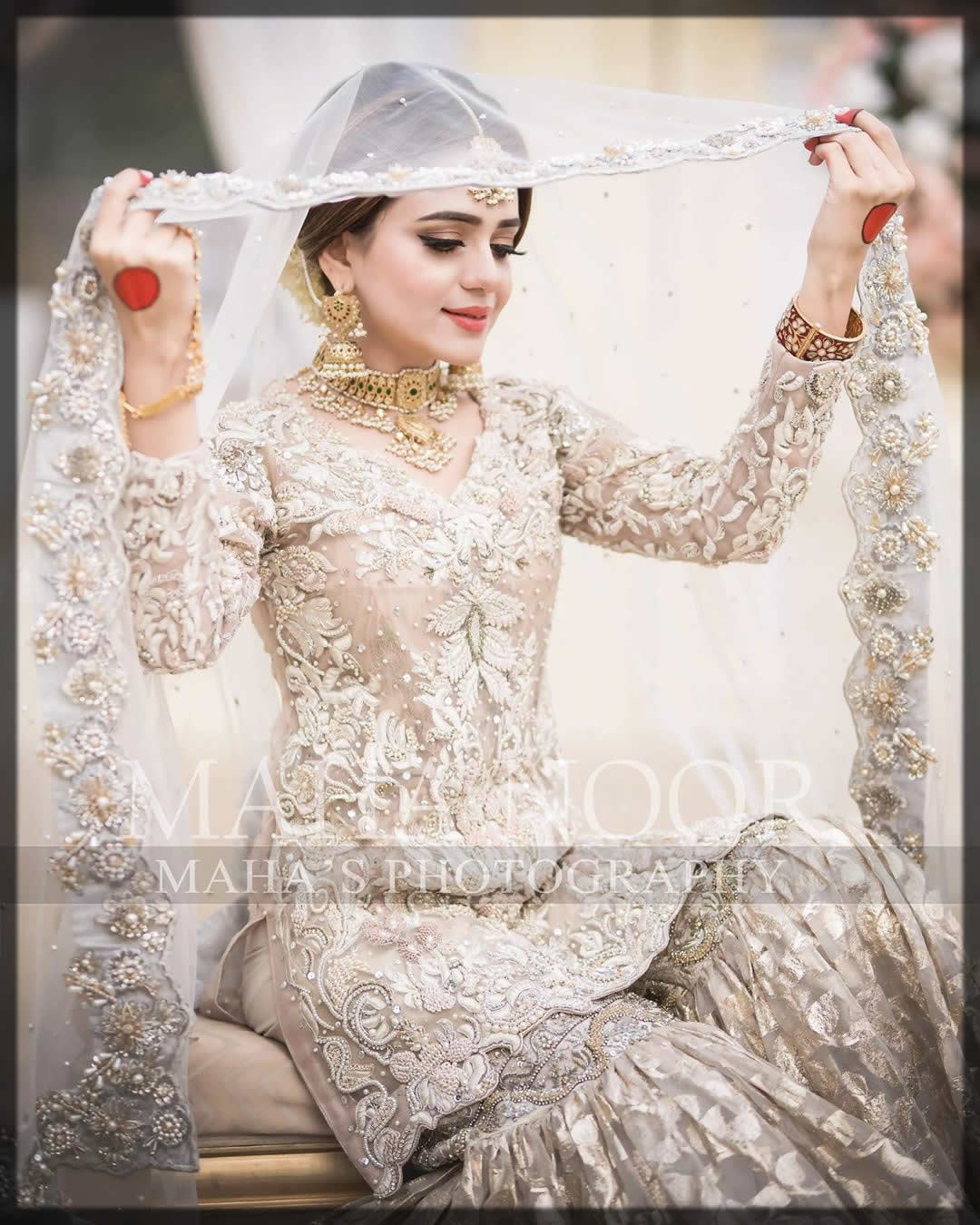 1- Diamond Jhumka Styles for Bride
Some wealthy families can afford the high cost of the diamond. Therefore, they prefer to have at least a single item of the diamond at their wedding. It brings a glamorous look regardless of whatever you are wearing.
So, are you interested in wearing diamond earrings? The following intricate designs will bring a statement look. Well, these are expensive but look delicate and add a sparkle to the bride. Take a glance at the beautiful jhumka styles below.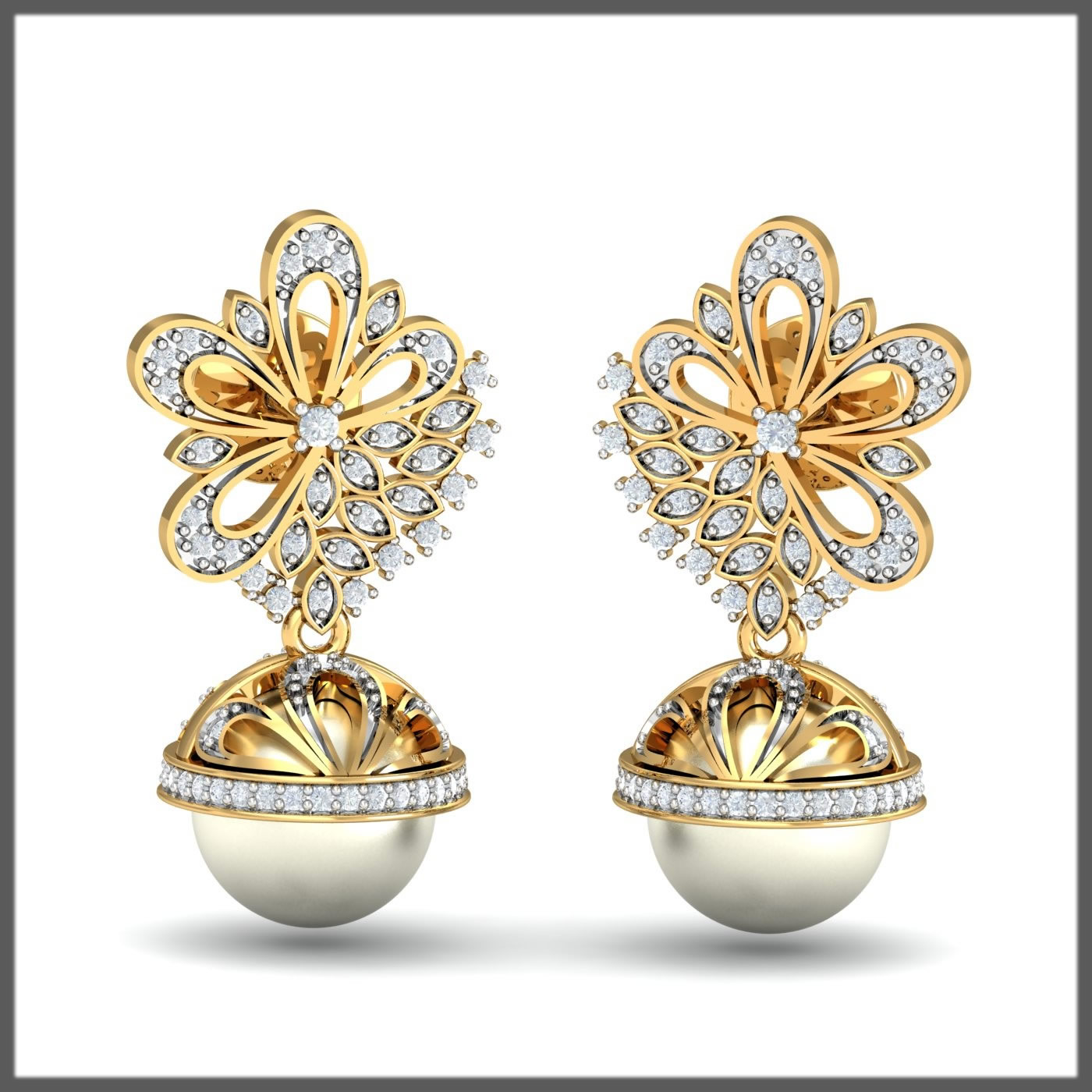 2- Alluring Jhumka Style with Extended Chains

There is a variety of jhumkas for ladies. Some prefer simple and delicate earrings. However, some look for exotic designs with incredible adornments. Such extravagant styles add a flickery appearance to the bride.
Every style suits a typical outfit. Similarly, jhumkas with extended chains look perfect with lehenga choli. Make your outfit extravagant by wearing fantastic earrings. Check the beautiful earrings below.
3- Long Jhumkas with Ruffles
Some women are fond of wearing oversized jewelry. Therefore, they look for earrings that can touch their shoulders. Such elongated jhumkas come in ruffles and layers. Hence, they bring a classy and fashionable look to the bride.
For all the upcoming brides, here is a collection of stylish jhumka earrings. The long jhumkas will look perfect with the bridal dress. Get yourself a compliment by wearing the exquisite designs of long jhumka earrings.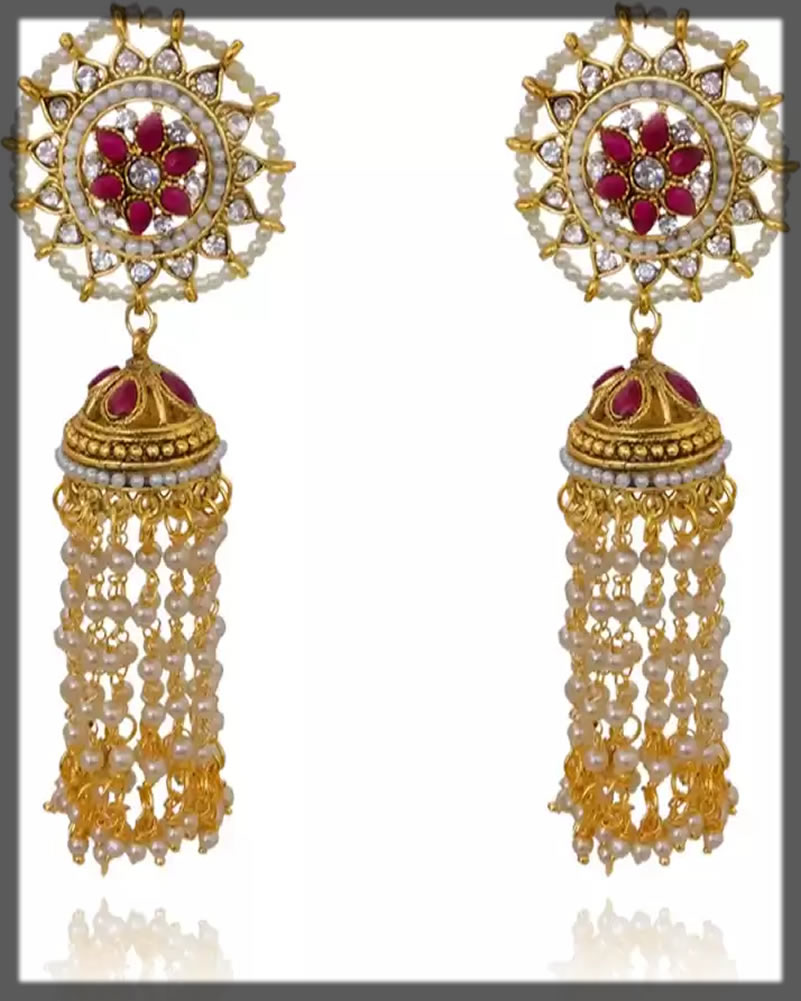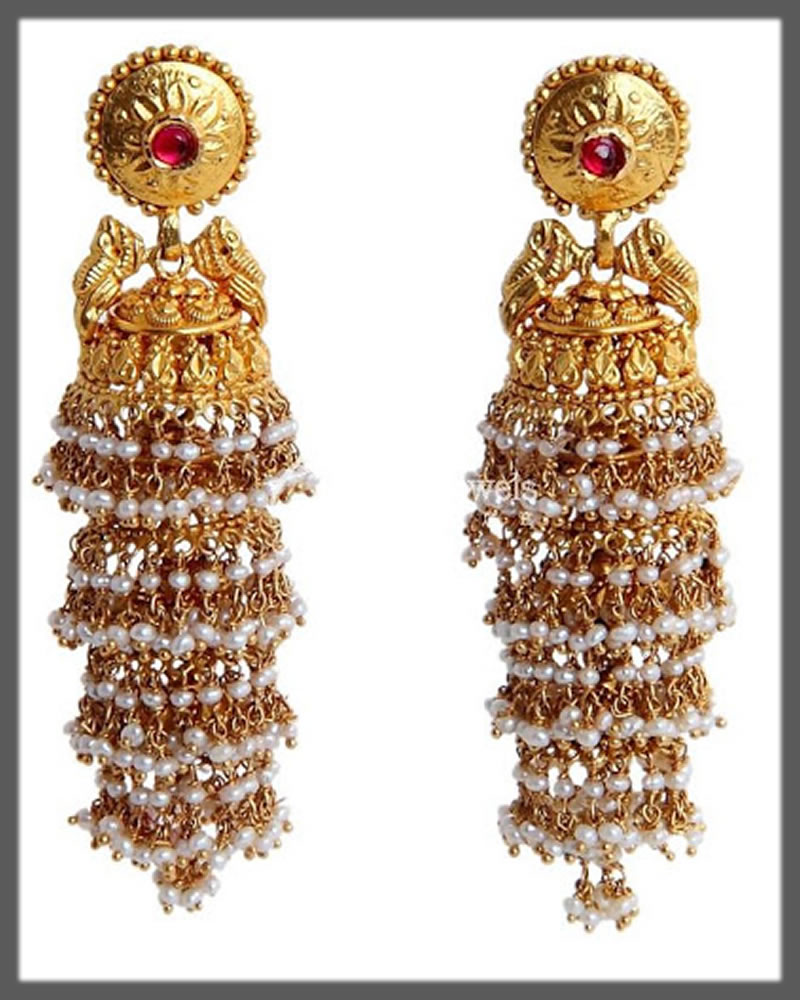 4- Multi-Tier Style of Bridal Jhumkas
The designers are busy crafting several unique designs for ladies. Some ladies are searching for distinctive styles in earrings. Therefore, we are showcasing the multi-tier jhumka earrings for them.
Such intricate designs will appeal to your character. Also, they will draw more attention to the bride. Let's extract some time to explore the multi-tier designs below. Get the statement styles for a polished appearance.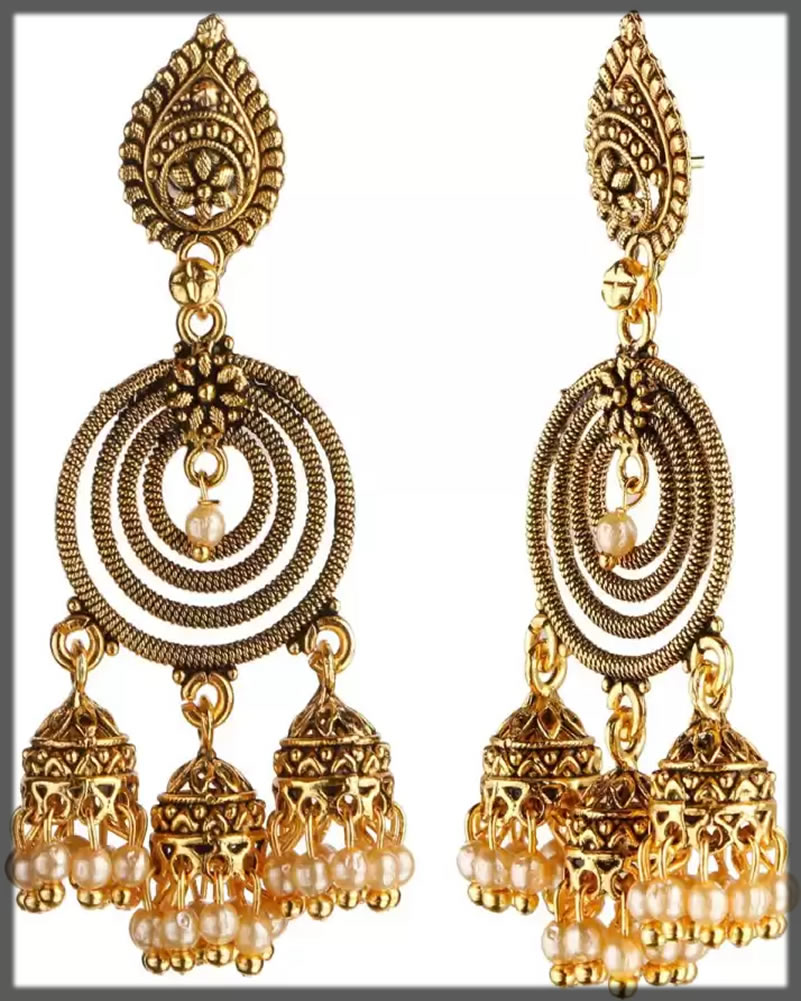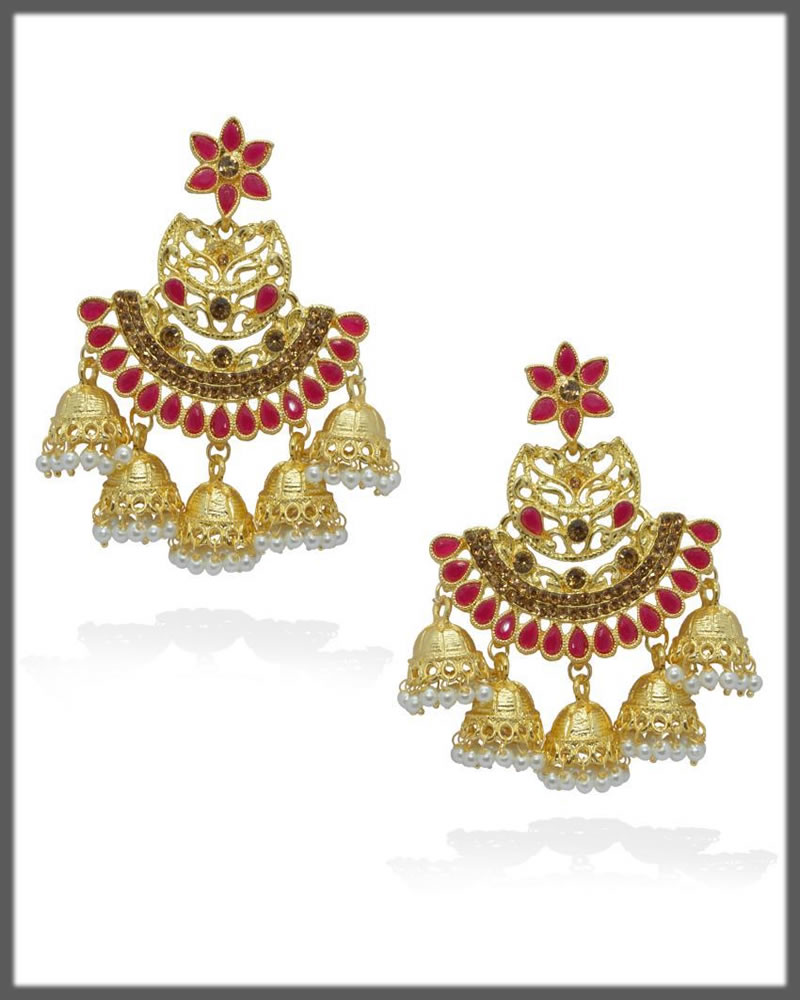 5- Gold and Vintage Jhumka Styles
The classic gold and vintage jhumkas are available for the conventional brides, as many of the brides look for traditional jewelry. We are showing the antique gold earrings for a brilliant look.
Further, these styles will look perfect with the bridal clutches. Get the outstanding attires from the latest collection. Also, rock your event by matching and wearing the pure gold earrings for a classic look.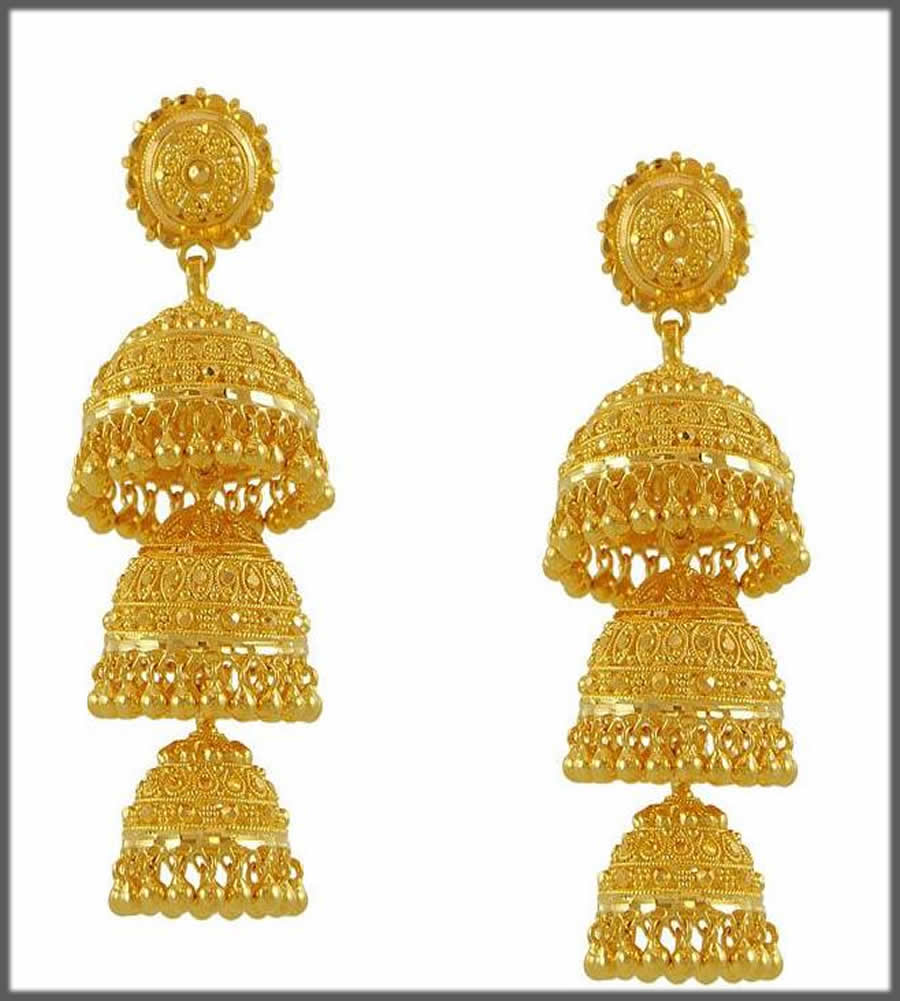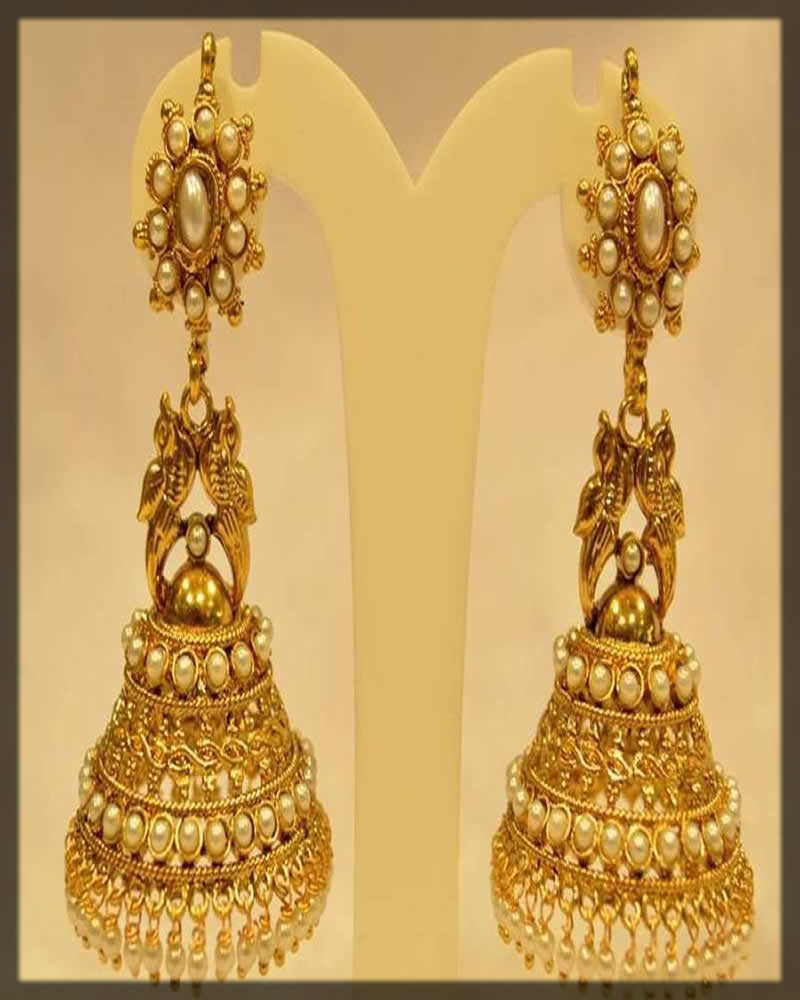 Pro Tips for Bridal Bangles and Jhumka Earrings

Jewelry is the choice of every girl. But, there are certain aspects that a girl should follow. Some experts have various tips for wearing accessories. Therefore, we are suggesting some pro tips for you. Read the following suggestions:
Always prefer light-weight jewelry.

Further, choose an accessory that exactly matches your bridal suit. Also, check the latest 

Pakistani bridal dresses

 for your outfit.

Prefer high-quality designs for exquisite looks.

Moreover, follow the latest trends in fashion for a modern look.

Properly wear the jewelry for convenience.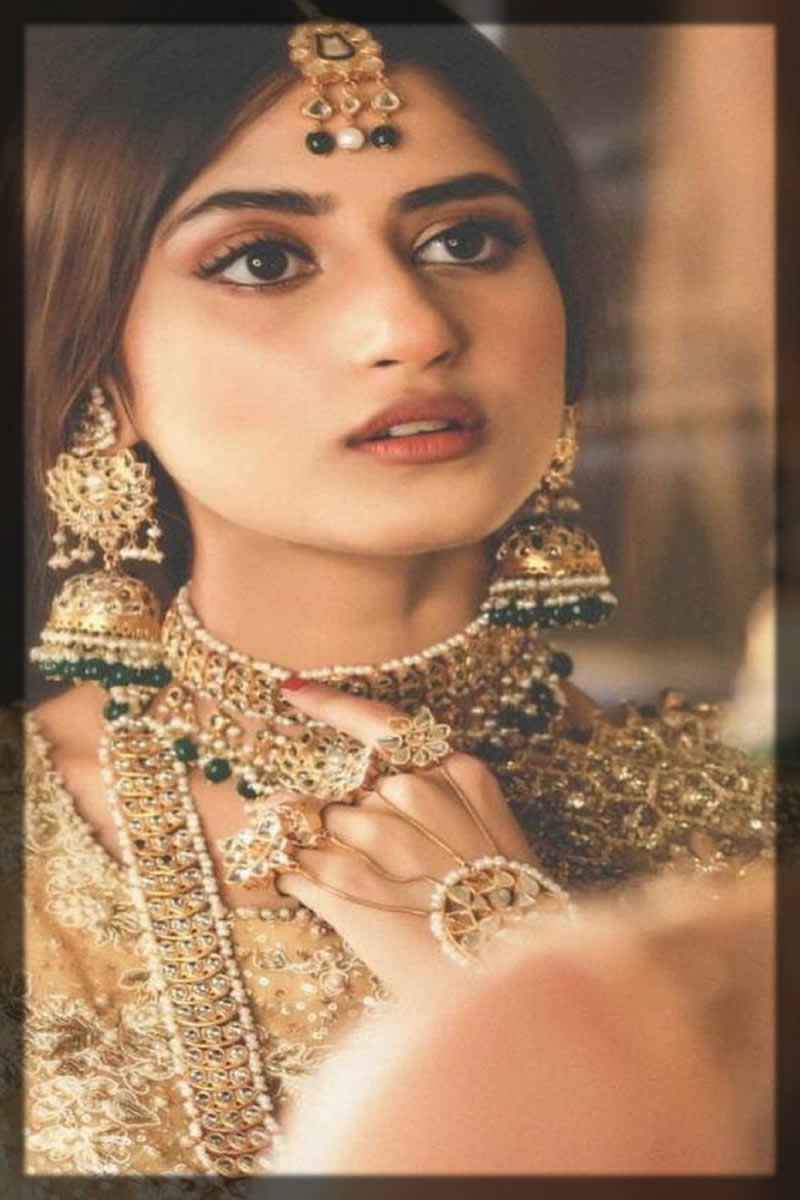 There is an immense variety of bridal jhumka earrings and bangles here. Let's invest some time to choose their favorite designs. Also, you can shop all the styles online. Make sure to get the latest fashion with intricate art. Opt for the jewelry that you think will suit you the best. Happy wedding!! 🙂