If you believe that your style is the impression of wealth, think again. Your style is the expression of your imagination that can take you to another level of aesthetics. Indeed, winters can make you think about more imaginative stuff to wear. For example, you can opt for a beguiling ensemble from the Cross Stitch winter collection to exude elegance and grace. Cross stitch is one of the finest clothing brands in Pakistan.
The brand made its identity from its innovative styles and created limitless designs. Plus, the beautiful designs brought a revolution in the fashion industry of Pakistan. Here we are going to present you with the latest cross stitch winter collection with incredible styles. With the arrival of fall, people rush toward the market to gather their new outfits. Likewise, it also puts pressure on the designers to make several modest designs. Almost all the brands have launched their fall collection. I hope you will love the generous and kind styles.
So, the architectural styles with contemporary trends are ready to hit your wardrobe. The colors and cuts will attract you to opt for them. Additionally, it would be an absolute pleasure to wear a comfortable yet chic ensemble by Cross Stitch. So, take a moment and discover the most enchanting winter assortment below for a pleasant season.
Unstitched Winter Collection for Women by Cross Stitch (New Arrivals)

Every year, Cross Stitch offers its new variety to the public. The designs and color palettes are made according to the taste of people and the season's nature. Plus, their themes are according to the demand of the customers and act as the trendsetters in society. You can enjoy casual and formal wear from the enchanting collection of Cross Stitch. Well, you may have explored the Cross Stitch summer collection before. Here is the extravagant winter variety for you.
The leading brand offers a variety of fabrics every season. All the collections are available within the range of the public. Beyond styles, it also provides high-quality texture. Therefore, people always enjoy having a wardrobe by Cross Stitch. Also, the designers are continuously evolving their creativity to keep their customers updated. Additionally, they want their customers to remain loyal to their brand.
Further, you can explore the beautiful variety of dresses for the better utilization of money and time.  The prices of this brand are comparatively high as compared to the other clothing brands. Maria B's winter collection is likewise a little expensive. Well, the fall categories have been launched in three fabrics primarily. These are:
The graceful cotton satin winter clothing range.
The striking linen fall collection.
Warm khaddar dresses by Cross Stitch winter collection.
"CIARA" Cambric Collection by Cross Stitch
Women are always the center of attraction at any event. Winter is the season to embrace splendid and colorful outfits. Undoubtedly, the delightful shades and mesmerizing styles will amplify the joy of winter. Luckily, you are in the place where you will get a lot of enchanting winter ensembles for casual and daily wear. Nothing makes a woman beautiful except a lovely outfit and a refreshing smile on her face. So, do you want to look beautiful?
If so, then you are in the correct place. Escape the chaos with the easy-breezy and delightful winter ensembles by Cross Stitch below. The light cambric collection features a variety of warm shades and graceful details. Indeed, the tiny embroidered techniques and beautiful combinations will amplify your looks. Combine a nice pair of footwear with an appropriate winter hairstyle to make a remarkably perfect look. Please give it a thought!!
"AZAL" Cotton Satin X Minal Khan

With the arrival of fall, women search for a variety of materials. Plus, the fantastic patterns with prints and embroidery are likewise significant. Cotton satin is a lightweight material that is a pre-winter fabric. Usually, people cannot wear it in intensely cold weather. This season, Cross Stitch brings you a tale of beautiful dresses that will upgrade your looks. The AZAL cotton satin collection is featuring the gorgeous and newly wedded Minal Khan for the demonstration of outfits. Would you mind taking a look at the portfolio below?
Minal Khan is a famous and top-rated celebrity in Pakistan's showbiz industry. The iconic star is a stylish model as well. Therefore, you might have seen in a couple of portfolios of clothing brands. Recently, the actress got married to a fellow actor Ahsan Mohsin Ikram. The couple was seen together in the drama serial "Parchaiyan" for the first time. Well, we are here to present you with the delicious winter ensembles of Cross Stitch featuring Minal. Please take a while to explore the dynamic and energetic AZAL Collection below.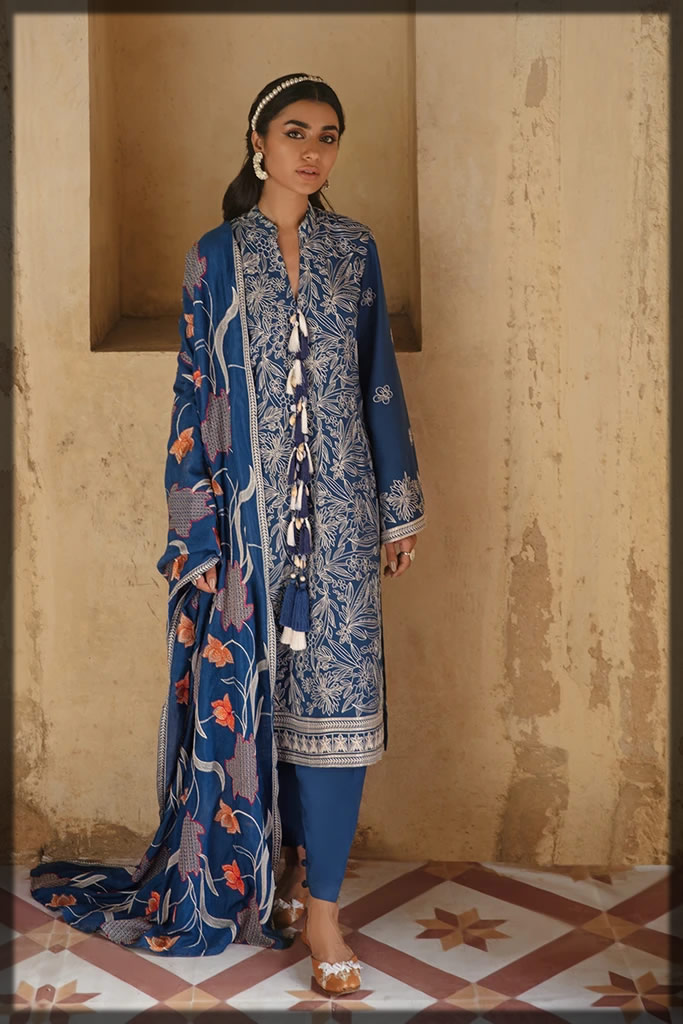 Impressive Digital Printed Two-Piece Dresses
Digitally printed outfits are always trendy and graceful. The fantastic floral prints of several styles look delicate and make you look sassy. Plus, the right selection of color and style is additionally essential for an entire grace of personality. Women prefer to wear cotton satin dresses in the early days of the winter season. Therefore, several brands launch their cotton collection.  Orient Textiles' winter collection is offering likewise eye-catching designs for you. Well, here you can explore an alluring winter assortment.
Below are the two amazing 2PC suits. Each of them has an embroidered patch to enhance its beauty. Do you want some more likewise styles? Indeed, you can get enough variety from the Alkaram Studio winter collection that is offering classic digital designs. The classy ivory, purple, and blue dresses below bring out a soothing appearance. Indeed, you can enhance the charm of your personality with the pleasant outfits below.
Vibrant Three-Piece Winter Outfits

Indeed, life is like a box of crayons. The right choice of color always influences your soul directly. Therefore, women look for such vibrant hues to wear every season. Give a thought to the delightful and colorful winter assortments from the Sapphire winter collection for a while. Here is an intriguing collection of vibrant three-piece cotton satin suits below.
Women are fond of vibrant clothing. Therefore, the spirited brand brings a graphical collection with tremendous hues and designs for women. Have a look at the beautiful assortment of dresses below. Indeed, you will enjoy the embellishment of dresses. The exciting hues and fascinating patterns are all set to rock your looks.
Light Shaded Winter Dresses
Are you looking for a light ensemble? Probably, some of the women do not like to wear vibrant colors. They believe that simplicity leads to sophistication. Therefore, they seek light colors for a graceful appearance. The Khaadi winter assortment also brings enchanted outfits for you to make pleasant memories. However, you may select an outfit from the collection below as well. The simple and graceful three-piece suits are ideal for women.
Wearing a dull shade does not make you look older. Indeed, it adds appeals to your character by the captivating styles. So, style up your winter season with the fantastic light shades below. To enhance your looks, you can combine delicate jewelry and make an appropriate hairstyle. Further, you can combine a nice and wise pair of footwear to complete your whole vibe. Take a look at the following designs and pick up your favorite.
Soft Linen Cross Stitch Winter Collection
Linen is a soft textured fabric that is used in making winter outfits. Mostly, women who face skin rash issues opt for this delicate material. It prevents the body from itching and rashes. Therefore, every clothing brand offers a particular linen collection.
Here you can discover the chicest styles for the cold weather. The striking linen attires will make your event more memorable. So, get a kind that shows enough depth in your personality. Get some more comfortable and traditional styles from the latest Junaid Jamshed winter collection. Below is a contrasting red and blue linen dress for you with an enchanted neckline. Additionally, it appeals more to the embroidered borderline of dupatta.
Colors are the simpers of nature and the melody of lights. An excellent outfit of stylish combination always adds a sparkle to your personality. Do you want to wear attractive colors? Beechtree winter collection has also become successful in gaining the trust of women, through its innovative styles.
Here is a rich portfolio of blue linen outfits. The dresses are beautifully decorated with embroidery and pearls. Further, they are combined with dupattas of fantastic patterns. So, do not forget to buy the most elegant dresses below. Combine nice pair of winter shoes to create an illuminating winter vibe. I hope this fashion tip will work for you.
Embroidered Three-Piece Linen Dresses
Nothing can beat the grace of a three-piece dress. Indeed, a woman always prefers a whole outfit instead of single shirts and two-piece suits. Therefore, the Cross Stitch winter collection presents you with graceful three-piece printed and embroidered khaddar dresses.
Would you mind taking a look at the image gallery below? The delightful hues and amazing combinations will take you to another level of elegance. Salitex winter collection has likewise delightful and refreshing winter ensembles as well. Please give it a thought and have fun!!
MANZIL Khaddar Collection for Women

Khaddar is the most worn and desired fabric in the winter season. It is highly preferred due to its intense warm nature. Usually, women who wear a khaddar dress rarely go for a sweater or a jacket as it gives enough comfort and warmth.
Plus, the artistic decorations on this fantastic fabric look alluring. Take a look at the following day-to-day and semi-formal khaddar attires. You will get a variety of easy-breezy yet warm styles here. Plus, the delicately combined ornaments double the beauty of the dress.
Three-Piece Embroidered Khaddar Attires
A sumptuous outfit with delicate embroidery always looks traditional. Plus, the artisanal patterns evoke elegance and feminine allure as well. Further, accompanying it with a viscose dupatta will make it tremendous and perfect for your winters. Get yourself more delightful dresses from the So Kamal winter collection for an extensive variety as well.
Please have a look at the breathtaking portfolio of three-piece embroidered khaddar dresses below. The fascinating combinations will propel you to opt for it. Further, you can amplify your looks with appropriate makeup and classy hairstyle. Bring a proper finishing with fine choice of footwear. I hope you will appreciate our fashion tips for a modest and chic look.
Semi-Formal Khaddar Outfits for Women
The simple yet elegant styles always brighten up your day. Therefore, one must go for the chicest outfit to bring glam to her personality. For a festive winter look, a contrasting turquoise shawl is a perfect combination. So, get ready to flaunt with the chic variety below.
Have a look at the digitally printed and embroidered khaddar suits below. Probably, the intricate designs are inspired by delicate crochet lace patterns. Additionally, one of the black outfits has an embroidered motif at the neckline. Hence, these dresses are perfect for winter evenings. More variety of khaddar is presented in the Bareeze winter collection with captivating styles. Let's give it a thought.
Luxury Chiffon LUXE ATELIER Collection for Women
Winter is famous for glamorous night parties and musical nights. Such auspicious events require dazzling and well-decorative attire to bring true beauty. Therefore, the Cross Stitch winter collection brings an extensive variety of formal dresses for women. Please have a look at the luxurious and lustrous LUXE ATELIER collection by cross-stitch below. Undoubtedly, women are the shiny and sleeky creatures of GOD. Therefore, a woman needs to retain her shine and grace. Such retention is impossible unless you wear an appropriate dress.
Undoubtedly, the designers have been working hard to create magical and attractive stuff for the public. Fashion is the state of mind that no one has from birth. It is the world that teaches you to bend yourself towards the traditions for a modest look. The modern era is the era of fashion that requires a lovely outfit for formal and casual wear. Indeed, a woman finds ways to adorn herself in a magical yet attractive outfit for the ultimate sleekness and shine. Get yourself an appropriate outfit for a spectacular winter look in a modest way.
Trendy Stitched/Ready-to-Wear Dresses for Girls



Your wardrobe is incomplete without a delightful collection of charming hues that have magical prints. Undoubtedly, you can save your time with the ready-to-wear variety. You might have seen a brilliant Pret assortment by several notable brands. Take a while to explore the fascinating Pret collection by Cross-Stitch below. Indeed, you won't be able to question the delicate dresses that why they are so grateful.
Jacquard Embroidered Pret Shirts
Winters always empower you to embrace the hot fashion trends in the cold weather. Luckily, the favorite season fills your heart with love and colors to enjoy the delightful season. Such joy can be enhanced if you are right with your wardrobe. It is time to fill your closets with sufficient volumes of premium quality dresses by your favorite brands.
Here is the latest collection of jacquard embroidered ready-to-wear shirts for you. Cross Stitch never fails to retain the public's love for better quality clothing. Indeed, you will be fascinated by the latest collection of delicately embroidered jacquard shirts. Combine contrasting trousers or pants with the following shirts and go out for a walk with friends.
Ready-to-Wear Silk Shirts
Make yourself simpler and sophisticated so that you can retain your glam and grace. Indeed, wearing an outdated outfit will never get you a positive compliment. If you want to catch positive vibes, you must style yourself in a sophisticated manner. Admittedly, the following pure silk and tissue silk pret shirts will bring out sheer elegance to your looks.
Women always seek a variety of silk dresses in winter to exude elegance. Indeed, real women always know who to pull off a graceful look with the chicest outfit. Cross Stitch winter collection brings you the delightful and elegant silk shirts below. You can combine your favorite trouser with the shirts for an aced and sleek look. Please give it a thought!!
Delicate Viscose Net Pret Shirts
Do you want to pass the winters in a desultory fashion? Undoubtedly, cozy weather is all about wearing chic outerwear. Let's spend some time pulling some dazzling winter ensembles. Cross Stitch winter collection facilitates the customers with a variety of fascinating styles. Let's give a thought to the following delicate viscose net shirts.
You can enhance your looks with a perfect matching of delicate jewelry and appropriate footwear. The following viscose net shirts require contrasting trousers or shalwar for a complete look. Indeed, the tiny details and patterns on the shirts will propel you to opt for it. Get dresses likewise from Limelight's winter collection and have a blissful season.
Classic Floor-Length Embellished Frocks
Crisp air and party will double the joy of the winter gatherings. You need to opt for a classy and dazzling formal outfit at winter eves for a perfect look. Cross Stitch winter collection brings you two formal embellished and embroidered peach ensembles below.
Please have a look at the attractive ensembles below. The two essential peach ensembles will bring you the right amount of glamorous and grace. Furthermore, you can upgrade your looks with appropriate party makeup and heels. Please give it a thought and have fun!
Dazzling Two-Piece Embellished Dresses
The weather forecast hints at filling the closets with essential warm attires. Women prefer to wear Pret suits instead of single shirts. Therefore, we are bringing another chilling assortment for them. Cross Stitch presents ready-to-wear two-piece suits for women.
Please have a look at the following image gallery t discover mesmerizing winter dresses. There are a couple of engaging and attractive ensembles for aged women here. However, you need to look for a contrasting bottom in your own style. Please give it a thought!!
In the intensely cold weather, one must have warm stuff in their closets. Therefore, Cross Stitch is bringing you a mesmerizing collection of khaddar shirts in an affordable range. Indeed, you will enjoy the magical prints and fall in love with the warm and comfortable fabric. Head over to your nearest store to grab your desired shirt.
Light Linen Printed Pret Collection
Besides being too cold, many girls can not bear intense warm fabric. Instead, they look for mild stuff that can not harm their body. For instance, we are presenting you with soft linen shirts. Please take a while to explore the flattering patterns below. Undoubtedly, you can rock your vibes with great positivity if you opt for the following collection.
All the dresses by the Cross Stitch winter collection have beautiful patterns that propel people to opt for them. Additionally, the inspirational styles will make you stand out among the crowd. Fantastic combinations of elegant hues are breathtaking and enchanting. So, go and grab the stunning dresses from the recent collection of this brand.