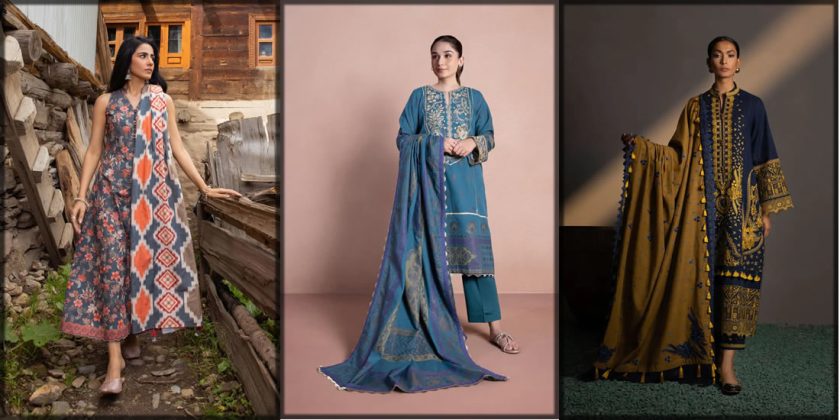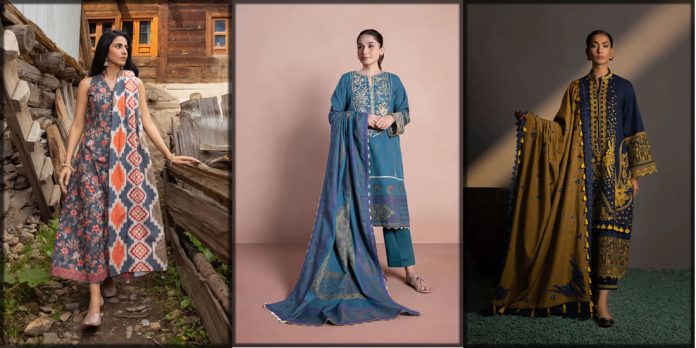 Winter is just around the corner. Now it's time to refresh your wardrobe with winter attires. The Sapphire winter collection will update your wardrobe with the stylish and latest dresses. You can find various styles and designs in both unstitched and stitched forms in the newest collection of Sapphire.
Winter is the cold season, so you must pick comfy and remarkable outfits that protect you from the cold and keep you warm. You will get dresses in unstitched and stitched categories made with the khaddar, karandi, yard-dyed, and jacquard fabric in Sapphire's latest winter dresses that normalize your look and keep you warm.
They have various splendid clothes designs for the ladies in their winter attires. Moreover, they used adda, sequins, thread, and beaded artwork to prettify their winter attires. I hope this weblog will help you to choose the right outfit. The prices of these dresses are also mentioned so that you can buy your favorite dress easily. Read this blog till the end and check the latest and most appealing collection of Sapphire.
Sapphire Intro..!!
Nabeel Abdullah is the owner of Sapphire, and the main headquarter of Sapphire is in Lahore. Sapphire is the high street brand that got famed in just a few years because of its 100% pure fabric clothes. Sapphire offers a wide variety of daily wear, party wear, and formal wear dresses for women of all ages. It also provides stunning garments for kids and men.  It also has more than 35 stores around the globe. Like many other notable brands, it also offers an online facility for the comfort of its clients.
Latest Sapphire Winter Collection for Women [New Designs]
Sapphire is the most renowned brand that always presents excellent and impressive attires for women and youngsters. This winter has also brought the most remarkable prints with the most amazing shades and patterns.
The stunning winter collections of the Sapphire contain dresses for both casual and formal events. Plus, you will get the most charming designs in the most alluring shades in its winter catalog. So let's explore and browse the cozy winter collection for women of all ages and choose the best one for yourself.
1- Unstitched Winter Collection for Winters

You will find the most fantastic outfits for youngsters and women in Sapphire's unstitched winter dresses. From casual to formal dresses, they have everything for everyone in-store and online web. That's why it is becoming the most favorite brand of ladies. Because of its classy designs and embroidery, this brand is getting popular among the masses.
It uses a pure and soft texture to make its cool attire. Likewise, it has also used the Karandi, khaddar, yarn-dyed jacquard, and winter cotton for preparing its winter clothes this winter. You need to combine your special warm outfit with the most classy winter footwear. For more attires, explore our winter dresses catalog that contains the winter collection of all notable brands of Pakistan.
Saphire x Sajal Aly
Sometimes, women look towards fashion icons for a piece of advice that makes them look beautiful. I am glad to say that you will get everything about fashion and glam in our blog. Admittedly, the following lustrously embroidered and well-embellished winter dresses will bring you a glamorous look. Please take a look at the breathtaking portfolio below. 
Are you looking for some majestic attires for your winter wardrobe? Then, take a queue from the below catalog of Sapphire featuring the most talented and gorgeous Sajal Aly to get exquisite glimpses. You will get a variety of cotton Karandi and khaddar dresses in Sapphire's latest series for winter. The well-decorative attires are coordinated with basic pants and complimentary dupattas for a whole vibe. You can also explore Salitex's winter collection for a wide variety of embellished winter attires. So please give it a thought and have fun!!
Khaddar and Karandi Daily Wear Collection
Your daily wear dresses are different than formal outfits. You need loosely fitted attires for everyday wear to do your work easily. You get the most striking and captivating casual attires in Sapphire's collection with the most appealing tones. Further, you can also wear these attires at your casual get-together. 
Khaddar and karandi dresses are specially planned for young girls. The Sapphire winter collection will get modified pattern suits in exquisite styles. They have adorned the shirts with leaves, motifs, and flower patterns on the khaddar and karandi fabric.
These warm shirts have been combined with straight khaddar trousers and digitally printed khaddar/karandi dupattas in the most lovely hues. They have used bright shades like purple, aqua, dark green, white, black, yellow, and other classy ones to make the lavish daily wear collection. You can wear these vibrant dresses at your friend's birthday or any other casual event. To get more vibrant colors and styles, you may also glance at the Beechtree winter outfits.
Basic Printed Khaddar Shirts for Teens
Are you crazy about your winter look? Well, teens are always curious and ambitious about their seasonal looks. This year, you can make your winter vibe much more classy and elegant with Saphhire's printed shirts. Please take a look at the image gallery below to discover the amazing styles. Combine jeans or contrasting trousers to complete your whole look.
Printed Two-Piece Khaddar Dresses
Warm khaddar ensembles are always welcomed and encouraged by teens. However, in case if you do not want to wear a two-piece suit, opt for the following printed dresses. These classy two-piece printed khaddar attires are warm enough to bring you the desired look. Moreover, you can explore the latest assortment of Limelight's winter collections for more similar designs.
Some people do not prefer a shirt and a heavy warm shawl outfit in winter. Instead, they like a graceful outfit that has plain trousers. Therefore, the Saphhire winter collection brings a stylish portfolio of printed two-piece suits that comprise a shirt and pants. Would you mind taking a look at the image gallery below? Please give it a thought and have a blissful year ahead with Saphhire's elegant printed khaddar attires.
Graceful Three-Piece Khaddar Dresses
The daily wear series brings you delightful khaddar and karandi dresses for this winter season to exude elegance. Be yourself and bring grace to your personality with the following three-piece collection. You can also explore So Kamal's winter collection for a wide fall variety. Please have a look below.
A traditional woman always seeks a contemporary yet graceful outfit to retain her glam. Luckily, you are in a place where you will get every desired style. Women who believe that they can rock the event with a three-piece dress shall think about the following collection. The engaging portfolio portrays the delightfully printed khaddar ensembles that are coordinated with a khaddar shawl and net blended dupatta. Please give it a thought!!
Three-Piece Kashmiri Embroidered Signature Collection
Khaddar is the comfiest texture usually used to manufacture winter attires. However, women of old age usually wear lightweight khadar attires in the cold season to stay warm and calm. Thus, Sapphire offers an impressive variety of khaddar attires in all lovely shades.
These khaddar dresses are paired with embroidered dupattas and plain trousers. Further, thread and sequins work is done on these attires to make them extraordinary. You can carry these luxurious dresses at any casual and even formal events for an appealing flash. You can also carry the embroidered dress on any wedding occasion if you don't like to wear chiffon/organza dresses. So this winter, enjoy all of your cold festivities with these embroidered khaddar attires and stay cheerful.
Three-Piece Embroidered Karandi Suits
Sapphire winter collection brings a classy assortment of three-piece karandi embroidered suits for teens. You might have also seen karandi dresses in Beechtree's winter collection for women. But the following points will take you to the next level of elegance. So please take a while to give a thought to the following fascinating suits to upgrade your looks.
The public always appreciates elegant and refreshing suits. Therefore, the makers tend to bring many delightful patterns for the public to satisfy their wants and desires. Here is a collection of embroidered karandi dresses by Saphhire for you. You can spot the nude and colorful combinations in the image gallery below. Make a perfect hairstyle and combine delicate jewelry to complete your entire winter vibe.
Embroidered Three-Piece Winter Collection
Imbued in subtle contrasting hues, an embroidered three-piece outfit is a must in winter. The following embroidered ensembles are rendered in a unique canvas to bring you the desired grace. This year, be a vision to behold and exude elegance in the lustrously embroidered dresses by Sapphire's winter collection. Indeed, you will love the generously created dresses. Create an illusion in your style with the magical outfits below.
A little bit of decoration uplifts the attraction and grace of the dress. Therefore, some teens prefer to wear embroidered dresses for a youthful look. The clothing brands respect the public's desires and bring collections accordingly. Here is another intriguing embroidered khaddar collection for teens below. Bonanza Satrangi's winter collection has likewise delicately embroidered dresses as well.
Luxurious Jacquard and Yarn-Dyed Collection for Women

The Sapphire luxury collection is a perfect choice to make you look stylish and noteworthy. The prices of these jacquard and yarn-dyed outfits are so low that everyone can comfortably buy them and prettify herself by wearing a luxury outfit.
If you are going for a wedding and party event, then the Sapphire luxe outfit is a perfect choice. So, to make your look killer, you also need fantastic makeup and footwear. Further, the lightweight gems also complete your radiant formal look. For adding more stylish dresses to your wardrobe, you may also visit the Alkaram winter collection.
2- Stitched Sapphire Winter Collection for Women

Don't have enough time to face the difficulty of stitching unstitched clothes?? At that point, get the ready-made collection. The ready-to-wear winter collection of each Pakistani brand is impressive, but the Sapphire collection is always on the top because it gives the most dazzling and stylish attires for women and youngsters. 
In the pret collection of the Sapphire, you will get the stylish Kurtis, two-piece, and three-piece suits in the most striking shades. The luxury pret group of the Sapphire has the gota and tilla work over it, which makes it fancy enough. Other than this brand, Gul Ahmed winter dresses have also introduced classy and stylish designs.
Printed Linen Shirts for Teenagers
Digitally printed shirts are in trend. Hence, Sapphire offers striking printed shirts for women of all ages. Look at the 1-piece linen printed shirts with the most excellent shades. You can pair these elegant printed shirts with jeans or tulip pants to complete your classic winter look.
Fashion Tips: If you want to gain the traditional appearance at that point, you need to combine your impressive printed shirt with the sharara, Ghaghra, and khussa. Moreover, if you desire to make your look fashionable and glorious at that point, combine your digitally printed shirt with jeans and block heels.
Two-Piece Embroidered Karandi Suits

In winter, karandi suits are always the number one priority of women. Indeed, such decent colors and styles bring a modest look to women. Sapphire's winter collection brings a fascinating variety of embroidered karandi suits for women to get a refined look. Please look at the sequins and thread embroidered karandi suits and combine them with nude makeup and classical gemstones to stand out.
Three-Piece Twill Collection
Teens always welcome an embroidered outfit as it looks pleasant. Sapphire winter collection has an ethnic variety of two-piece embroidered twill dresses for you. Please have a look at the twill dresses below. In addition, the outfits feature embroidered A-line shirts that are illustrated with meticulous embroidery to get you a modest look.
Embroidered Recycled Cotton Shirts
Are you looking for striking winter shirts for party wear? If so, then you be glad to see the fascinating and meticulously embroidered shirts below. The following masterpieces by Sapphire are layered with scintillating embellishments. Indeed, the graceful outfit with a viscose shawl is a must-have for your winter wardrobe.
Two-Piece Khaddar Embroidered Dresses
Do you want to create an attractive yet everlasting impression on people? If so, then it is the right time to keep your allure elegant and graceful with the following embroidered khaddar dresses. Opt for the following dignified dresses from Sapphire's winter collection for an elegant look on winter evenings. I hope it will work effectively for your sparkle. Zara Shahjahan's Winter collection has graceful dresses for women likewise.
Jacquard Embroidered Two-Piece Suits
Need a nicely embroidered dress for your wedding event? At that point, have a look below. You will get the most striking and splendid outfits with the sequin and thread work that will add shine to your look and make your event more splendid. In the following dresses, you may see beautifully embroidered dresses that are soothing to the eyes.
So, glow up in this year's winter season with Sapphire's festive jacquard collection. The following fascinating colors will propel you to opt for it. The outfits are rendered in white, red, and maroon hues to create a youthful style ideal for teens and young girls. So please give it a thought and enjoy the bliss o winter with full coverage and grace.
Luxurious Organza Embroidered Dresses
Are you looking for a timeless and chic combination for winter? Do you want to allure in elegance and grace collectively? If so, then opt for the luxurious organza embroidered two-piece dresses by Sapphire's winter collection below. The embellishments and ethnicity of hues will bring you a positive vibe with the right amount of glamour and grace.
These dresses are made with an organza texture that gives you a graceful and pleasing look. You can carry these attires at any formal and wedding events to complete your look marvelously and striking. You must combine your heavily furnished dress with lightweight gems and minimal makeup to catch the breathtaking gaze. For more formal dresses, explore the Bareeze winter collection.
Sapphire always offers the most striking and stunning attires. This season you will also get a wide variety of winter attires in unstitched and pret forms. Sapphire focuses on bright tints for making its elegant winter attire for women. Because they know that bright and dark hues are the priority of every lady because the dark shades help complete your look more impressive and noteworthy. Look above and get all updated dresses of Sapphire.