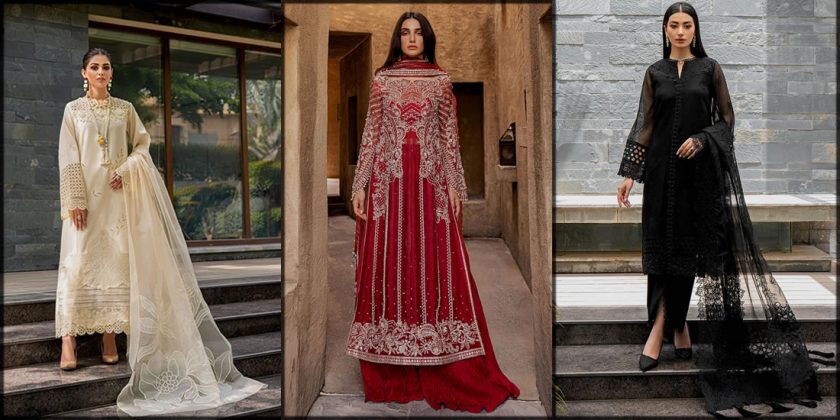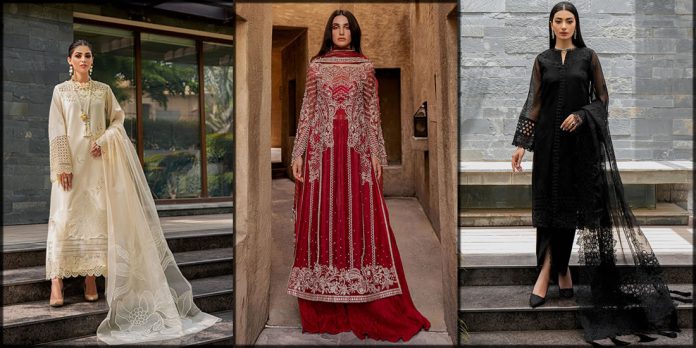 A high street fashion brand, Mushq, recently launched its summer collection that offers breathtaking masterpieces for all upcoming occasions. You can never go wrong with these classical ensembles because they all are made with sumptuous designs and rendered in gorgeous shades. Look down to explore the latest Mushq luxury lawn collection with prices.
Mushq is the only brand that doesn't design clothes only, it also designs the dreams of many women by providing stylish garments every season. So this season gets ready to dazzle by wearing the appealing Mushq attires from its newest collection, which is topped with dyed trousers and stunning matching dupattas that create an ethereal look at any summer occasion.
In its summer catalog, you will get three-piece suits in the lawn, cotton net, organza, chiffon, and dobby lawn fabrics that are nicely furnished with a fantastic fabrication style. All these suits are paired with chiffon, silk, and net matching dupattas that assemble striking statements to these attires.
Mushq
Luxury Lawn Summer Collection for Women (New Arrivals)

This summer season, chase your dream by wearing a comfy and reliable outfit from Mushq. You can wear these stunning attires at any casual and formal party to add more elegance to your look. You can likewise wear these luxury suits at any wedding ceremony to look more stylish and striking. All you need is to pair these attires with the soft shining makeup, alluring footwear, and flashy adornments to stand out. 
This season Mushq offers the following four catalog for women of all ages to get the thrilling look at any summer event.
Kahaani

Zeenat

Maison

Espoir
1- KAHAANI Luxury Unstitched'22
Look down at the unstitched catalog of Mushq, which is beautifully crafted with exotic and delicate embroideries. Here you will get an appealing variety of cotton net dresses prettified with sequins, floral, and pearl embellishments.Moreover, the timeless and vibrant colors made this catalog awe-inspiring.
Furthermore, these dresses' damn, sleeves, and borders are likewise adorned with fine detailing. The embellished organza, crushed, and cotton net dupattas add more beauty to these attires. You can carry these attires for any casual and formal party to make all of your stunning flashes.
Embroidered Rose Red Cotton Net Suit by Mushq

Rose red is the most fantastic shade for the summer season. Mushq beautifully adorns the red outfit with 3D flowers, sequinned and pani embellishments, as you can see below. Grab this outfit for your formal party to get an attractive and fabulous look. Plus, pair this classy outfit with lightweight earrings and bold makeup by applying maroon eye shadows and pinkish lipstick. Explore Rang Rasiya's luxury lawn collection that also contains impressive attires.
MidNight Black Summer Suit with Embellished Organza Dupatta

MindNight black is the most impressive and vibrant shade that every woman prefers. This fabulous black-shaded attire is classy and sassy. You can pair this sleek outfit with the black shaded accessories to make your display more formal and splendid. The 3D floral detailing on the dress enhances the outlook. Plus, the dupatta is beautifully designed, which complements the dress very well.
Look at the Sapphire summer collection that surely helps to make you more attractive and striking because it contains the greatest and most comfy summer attires for women of all ages.
Ocean Blue

Sequin Embroidered Cotton Net Suit by Mushq

Look at this beautiful shade of blue that is perfect for summer parties. This chikan embroidered cotton net attire is the best choice to grab the crowd's attention. It is paired with the dyed cotton silk undershirt, cotton trousers, and embellished organza dupatta that append more beauty to this outfit. Moreover, the sequinned back of this suit makes it more charming and attractive. You can grab this outfit for your night events to add more charm to your look. For more evening wear suits, visit the Maria B evening collection.
You can stitch this dress in the picture below for making your outfit more classy. Further, you can also stitch it according to your need and choice. The ruffle dupattas are on-trend these days. You can customize your dupatta in ruffle style for a more striking gaze. For more embroidered dresses, visit the Almirah summer collection.
2- MAISON Casual Pret from Mushq Luxury Lawn

Now have a look at the "Maison casual pret" that contains impressive yet classical attires. Here you will get the stunning embroidered lawn attires that are improved with the thread and chikan artwork. You can wear these attires at any casual and formal event to make all of your breathtaking and awe-inspiring looks. You can likewise wear these classy attires at your best friend's birthday party. With these attires, all you need is to keep your makeup and accessories minimal to get a splendid and striking look.
Melon Yellow

Chikan Embroidery Luxury Lawn Suit

Women wish to wear laser-cut embroidery on formal occasions because it prettifies the look and makes it more trendy and modest. This cream blush dress is adorned with laser-cut embroidery and flower theme artistry. It is paired with the embroidered organza dupatta and dyed trousers that increase the elegance of this outfit.
You wear this dress at your university welcome party to impress others with your modest and chic look. You can also carry this beautiful outfit for formal gatherings to get the incredible flash. With this outfit keeps your hair open by wearing striking adornments to allure. Gul Ahmed's summer collection also contains the laser-cut embroidered dress, check it out.
Aqua and Yellow

Dobby Lawn

Suit by Mushq Brand
If you want to try something new and fashionable, at that point, pick this aqua and yellow shaded formal dress from the Mushq luxury lawn catalog. The aqua, silver, and yellow mixture make this outfit more classy and breathtaking. You can wear this outfit at your formal gathering to look more unique and modest than others. With this outfit, keep your makeup minimal. Remember to hold the classy bag and wear the high heel shoes with this outfit for a more breathtaking and jazzier look. Furthermore, the Limelight summer collection also contains the chicest attires for women. So give it a shot too!
Heavily Embroidered Luxury Lawn Suit for Women

Look at this lovely embroidered suit by Mushq. This classy midnight blue-shaded outfit is the best for casual wear. It is paired with the embroidered organza dupatta and cotton trousers. You can wear this attractive outfit at any casual and formal party to improve your look and make it more striking. With this outfit, wear heavy adornments and lightweight makeup to keep your look decent and charming.

3- ZEENAT Luxury Pret for Women
Black is the most demanding color of the decade. No matter what the temper is, women of all ages love to wear black attires to dazzle. Hence, all brands try to include the four to five articles in a black shade. Thus this summer, Mushq likewise offers a separate catalog of black dresses in pret forms. 
Below are the most splendid suits that are prettified with the chiken Kari and floral detailing. Plus, these dresses are made with pure lawn and cotton net fabric that shields you from the summer heat and give you a chill and fresh look. You can pick any below outfit if you are going to a casual party or brunch. Further, you can also wear these outfits at a formal gathering to make your appearance more classy. Moreover, visit the Beechtree summer collection, which also contains many stylish dresses in black hues.
4- ESPOIR Casual Pret for Summer
Are you looking for a great masterpiece for your wedding event to catch the appealing gaze? Feel relaxed; you are in the correct spot. Here you will get the beautiful ensembles that come with the pani, sequins, kora, dabka, and pearl detailing that indeed append more refinement to your summer look and also keep you cold and chill during the scorching heat of summer because these dresses are made with pure and soft fabrics like chiffon, cotton net, and organza that are very reliable and comfy fabrics.
Red

Pure Silk Organza Net Outfit for Royal Look
At formal and wedding events, ladies wish to wear comfy yet modern attires. Look below at the red-shaded three-piece summer suit of Mushq that contains the stunning handwork on a shirt with pearls finishing. It is paired with the crushed raw silk pants and a hand-worked organza dupatta that increase the overall beauty of this outfit.
You can wear this striking attire at your sister/brother's wedding to get the splendid and striking gaze. All you ought to do is to combine this sleek outfit with straight open hair, soft yet bronzer makeup, and high heel shoes. Plus, skip the jewelry for an extraordinary and decent look. For more formal dresses, explore the Faiza Saqlain catalog.
Beautiful Chalk Pink Mushq Attire for Formal Parties

For summer wear, always go for the light and bright, shaded outfits. The below pink suit from the Mushq luxury lawn is the most excellent choice to wear. Chalk pink is the most classy summer hue that adds more intensity to your summer gaze. This beautiful suit is adorned with stone and pearl artwork that surely gives you the royal yet dazzling flash at any summer event. If you are going to wear this classy outfit, then pair it with nude makeup and lightweight adornments for an extra classy look.
Mellow Green

Formal Outfit for Alluring Look

Sequins and pani embroidery are special sorts of thread works that make the attires more classy and appealing. Mushq always presents the newest attires for women, this season, it likewise brings the pani work adornments with dazzling shades to make its latest collection more alluring.
The below mellow green luxury suit is the best choice to wear if you are going to your best friend's wedding. It is the only dress that adds more attractiveness to your look. Remember to pair this outfit with the right accessories to shine. Further, look at the Sana Safinaz summer collection for more variety.
"Sunehri"

Zari Tissue Silk

Dresses for Summer Parties
Sunehri is ready to win hearts with its soothing color combinations and mind-blowing artwork. This beautiful catalog is prepared with pure tissue and zari silk fabrics that are the best combo for the upcoming season. This stunning catalog showcases a display of enchanting hand-embellished artistry, which enriches the attractiveness ofJ these dresses. You can carry these soothing shaded attires to garb the appealing flashes at any wedding event.
"Celestine" Raw Silk Summer Pret Dresses
Celestine is intricately framed from soft shades and brilliant artwork. It is a perfect catalog to celebrate summer weddings. This catalog features raw silk shirts, organza dupattas, and silk trousers beautifully embellished wiJth pearls, dabka, sequins, and fine threadwork. You can also carry these appealing attires to catch the audience's attention at any summer party. You only need to pair your raw silk suit with lightweight accessories and bronzer makeup to dazzle. 
Wrap yourself with the alluring and modest Mushq luxury lawn collection and make your look progressively gorgeous and stunning. These suits will assist you in adorning yourself well and also make your summer season more fun and vibrant. Visit any nearby outlet of Mushq and enjoy your summer in style. You can also get your desired dress at your doorstep by ordering online.