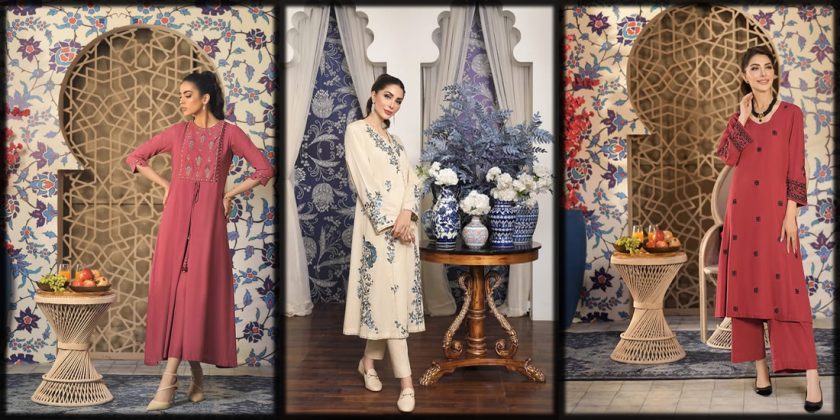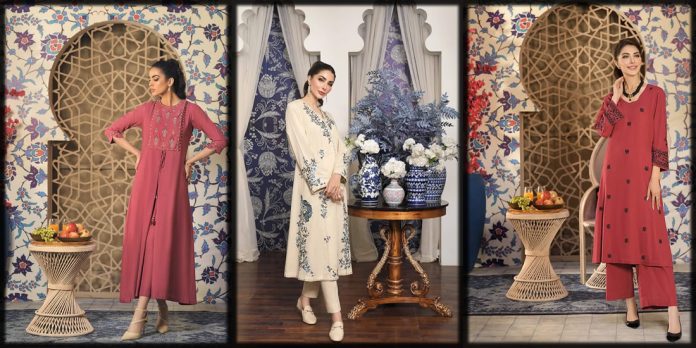 With the arrival of fall, the clothing brands start launching their fall collection for both men and women. Certainly, the designers knew the fact that women are fond of fashion and clothing. Therefore, the designers keep women at their top priority to create magical dresses. Here are some beguiling designs from the Nishat Linen winter collection below.

This new collection fulfills the weather demands with an extraordinarily immense variety of designs. Nishat has always introduced new patterns and designs in the most striking shades. This winter has also presented the most creative and jazzier outfits for the ladies. So, a woman shall take minimum time to pick up the delightful outfit for winters by Nishat.

The leading brand always follows new and updated trends to get you a modest and chic vibe. Indeed, the splendid outfits will get you a positive compliment from the galaxy of individuals around. Turn the temperature high with the warm and delightful ensembles of the Nishat Linen winter collection below. Indeed, you will possess a charming and graceful look by wrapping yourself in the gracious and elegant attires from the portfolio below.

Best Winter Dresses Collection by Top Brand Nishat Linen

Nishat announces its collection in various volumes, and its 1st volume of the winter has recently been launched with the most stylish attires. Most of Nishat's dresses contain long and short shirts with Karandi or khaddar dupattas, which are the best way to wear winters. 
The prices of Nishat winter dresses are mentioned for your ease to buy your ideal dress as per your budget and need. It has used the pure khaddar, and Karandi stuff for making its winter dresses more luxurious and appealing. In the latest collection of the Nishat, you will get the following categories: 
Unstitched.

Freedom to Buy.

Ready to wear.

Luxury winter dresses.
1- Nishat Linen Unstitched Khaddar Collection
Most women prefer unstitched attires because they want to design the dress as per their requirements. You can easily pick any dress and select the stitching designs of dresses according to your need. Here we have the delicious khaddar outfits for you by Nishat Linen. As the ready-to-wear winter dresses of the Nishat are impressive, its unstitched collection is also very delighted with the most vibrant tints and patterns. You will find the printed and embroidered dress with dark and dim hues in unstitched attires including:
Printed Two-Piece Khaddar Dresses (Shirt + Trousers).
Embroidered Two-Piece Khaddar Attires (Shirt + Trousers).

Dazzling Khaddar Printed 2PC Suit (Shirt + Dupatta).

Printed Three-Piece Khaddar Dresses with Karandi Dupatta.
Printed Two-Piece Khaddar Dresses (Shirt + Trousers)
Teens always require a youthful style to bring an illusion in their looks. Luckily, you are in a place where you will get delicious outfit ideas for a memorable winter look. Nishat Linen's winter collection will ace up your looks with its flaunting dresses. For instance, please have a look at the following image gallery to explore the two-piece printed khaddar suits.
The two-piece attires below accompany a floral printed shirt combined with plain trousers. You need to look for a contrasting dupatta for a complete look. However, you can opt for a floral printed complimentary scarves too. Combine nice pair of shoes to get a whole cozy vibe. Also, get similar ensembles from the latest Salitex winter collection for women.
Embroidered Two-Piece Khaddar Attires (Shirt + Trousers)
A little bit of decoration amplifies the entire grace of the dress. Therefore, Nishat brings you the magically embroidered khaddar dresses for winters. Please have a look at the following image gallery to explore the basic unstitched two-piece khaddar attires for this year.
The tiny details on the front, sleeves, and borders of the shirts bring exquisite beauty to the dress. Further, you can combine a contrasting dupatta to complete your looks. You can explore a wide range of winter collections by the top Pakistani brands for more variety.
Dazzling Khaddar Printed 2PC Suit (Shirt + Dupatta)

Vibrant shades will add more shine to your winter look. If you are going for the friends gathering, the following outfits can be an ideal choice to wear for looking more incredible. You can match this impressive 2PC suit with plain basic trousers to complete your vibe. Plus, keep your hair open and combine a nice pair of shoes for an entirely flawless look.
Printed Three-Piece Khaddar Dresses with Karandi Dupatta
Women always look for a complete and graceful outfit to wear. Therefore, Nishat Linen brings an exceptional assortment of three-piece dresses for a job doing woman. If you find it difficult to contrast the matching bottoms and dupattas, you can pick a complete dress.
The following image gallery shows warm and impressive three-piece khaddar attires for women. Indeed, you will like the magical patterns and prints of the attires. Amplify your looks with delicate jewelry and shoes to catch the positive vibes from the public around.
2- Unstitched Linen Attires for Women
Did you find khaddar too warm to bear? Well, if you can not wear an extraordinarily warm fabric in winter, you can opt for a linen outfit. Nishat Linen brings you some intriguing and delightful linen dresses for this ear's winter season. The awe-inspiring hues and magical prints will make your looks memorable. Let's have a look at the following collection.
Printed Two-Piece Dresses for Teens (Shirts + Trousers)

Teens prefer floral prints over other styles for comfort and ease. Undoubtedly, Nishat takes good care of your ease and brings you the desired styles. Please have a look at the image gallery below that showcases splendid two-piece printed linen attires. You can explore similar linen outfits from the latest Orient Textiles winter collection for women too.
Embroidered Two-Piece Linen Attire (Shirts + Trousers)
Are you looking for decorative linen attire? If so, then here we have a colorful embroidered variety for you. Amplify your winter looks with the delightful and embroidered linen attires below. Undoubtedly, the vibrant and voguish hues will turn heads on you. Spot similar combinations and details in Beechtree's winter collection for women as well.
Printed Embroidered 3PC Linen Dresses

A woman needs to take good care of her looks and personality. You must think twice about your looks before choosing a style. Well, most of the women prefer three-piece dresses over single shirts and two-piece suits. Here we have yet another three-piece embroidered collection for you below. Get similar breathtaking outfits from So Kamal's winter collection for women as well. Rock your looks with Nishat Linen's embroidered linen dresses below.
3- Freedom to Buy Collection
I hope you enjoyed the previous summer collection of Nishat that contained the most stylish patterns and decent hues. The winter collection of the Nishat is likewise very chic with the most dazzling designs. The Nishat is one of the most loving brands of ladies that brings the most stunning attires with the most fabulous creations every season.

It also gives the freedom to buy the facility, which means you can buy the loose fabric as per your need. It starts at PKR 460 per meter. You can purchase flexible material and make any off-shoulder dress or any style in your required size.

Elegant 1PC Shirts for Teens
Youth looks for colorful single shirts collections to make the unique style of their desire. Now, you can buy your favorite shirts from the following collection of Nishat for a unique look. The magnificent patterns on the shirts will propel you to opt for the dress. Combine contrasting trousers and dupatta with single shirts to complete your entire look.

Striking Two-Piece Khaddar Attires
Women who look for a two-piece dress with dupatta shall think about the following collection of Nishat. The freedom to buy collection portrays a variety of voguish hues and prints to make a delightful look. Get the refreshing outfits for a charming look from Nishat Linen's winter collection for women and have a memorable season ahead.
Digital Printed Three-Piece Khaddar Outfits
Digital printing is the most striking pattern that helps to complete your classy winter look. If you are going to a college or university party, the digitally printed dress is the most suitable outfit. Go for the elegant hair bun, apply the fantastic makeup, and wear the lightweight gems to complete your dashing look. You can explore the Alkram Studio's winter collection for more enchanting winter attires as well.
4- Ready to Wear Winter Collection by Nishat Linen
In ready to wear Nishat collection, you will get the most excellent and remarkable attires for the youngsters and ladies with the most striking designs. In the ready-to-wear collection, you will find the kurta style dresses, two or three-piece dresses that are best to wear in winter.

Take a look at the most recent and latest ready-to-wear winter collection, which has been prepared with the comfiest texture like cotton Karandi and khaddar. Both fabrics are very soft and warm and make them the ideal choice for the winter season. Keep reading this blog for getting the most appealing winter attires.
Awe-Inspiring and Appealing Basic Pret
Most teenagers prefer to wear printed dresses because the printed outfits help to make them look more splendid. The printed collection of the Nishat is awesome that brings many new designs and patterns for teenagers and women. You can match your classy printed shirt with any tulip pants for a jazzier look.
You can match your lavish outfit with the most classy footwear and natural makeup for the daily routine. The more you remain simple, the more you look splendid and decent. You can also wear the lightweight gems with these printed attires for a more lovely and noteworthy look. If you combine your printed suit with the block heels, it will look perfect and classy.
Digital Printed Cotton Karandi Shirts
Cotton Karandi is the comfiest and soft texture that helps to keep you warm. Have a look at the digitally printed cotton Karandi attires that have been shown below. Digital printed dresses are a great choice to wear whenever you are going to a formal party. It will help to enhance your look by making it more gorgeous. Also, check out the Cross Stitch winter collection for getting ideas about the latest winter dresses.

Printed Two-Piece Pret Suits

The formal attires are a little bit different than casual ones. If you are looking for a two-piece basic pret outfit, then you should think about the following portfolio. Undoubtedly, you can exude grace and elegance in the basic pret suits below. Zahra Shahjahan winter dresses have also been launched, so you can visit them to get the latest designs.

5- Luxury Outfits by Nishat Linen Winter Collection
Women always try to enhance their beauty with modest and chic clothing ideas. Undoubtedly, a luxurious ensemble can bring you massively positive compliments. Also, you can be in the limelight of an event if you wear classy and elegant attire. Nishat Linen's winter collection has an exclusive collection of luxury winter attires for women.
Would you mind taking a look at the image gallery below? The immensely delightful and well-decorative luxury ensembles are ready to bring you the desired glamour. This season, amplify your looks with Nishat's premium quality dresses for a refreshing look. Also, you can explore the Bareeze winter collection to get more embellished and luxurious dresses.
6- Exclusive Velvet Pret for Winters
All that a girl needs to be classy is a fascinating style that can elevate her looks. Undoubtedly, winter brings you so many options to adorn yourself in a variety of fabrics. Besides khaddar and linen, teens looking for a luxurious velvet dress for a modest look.
Therefore, the Nishat Linen winter collection brings you a delightful portfolio of exclusive velvet dresses below. You can find exceptional velvet embroidered cape shawls, tailored coats, and formal two-piece and three-piece luxurious velvet outfits in the portfolio below.
Essential Embroidered Cape Shawls for Teens

A graceful and basic shawl is a must to be present in everyone's closet in winter. Especially, college and university-going teens prefer to wrap their arms and body with a stylish cape shawl. You can get a lot of variety of shawls from Bonanza Satrangi's winter collection as well. Here is the luxurious portfolio of embellished velvet shawls for women below.
Basic Tailored Coat and Trousers for Western Wear
Do you want to rejuvenate your personality exclusively? If so, then make a statement style with the joyous tailored velvet coats by Nishat Linen's winter collection. The generosity of style will bring you the desired elegance and grace. Feel free to buy the exclusive velvet two-piece dresses from the nearest outlet of Nishat. Indeed, you will be able to create a distinct and attractive look if you opt for any of the smart choices below.
Glamorous Two-Piece Velvet Dresses
There are a lot of women who search for a graceful two-piece dress that comprises a knee-length shirt with a graceful bottom. Therefore, Nishat Linen brings another intriguing variety of velvet two-piece suits to satisfy the segmented groups. Would you mind giving a thought to the following beguiling styles? I hope you will never regret investing time in it.
Stylish Three-Piece Velvet Sharara Dress
This year, adorn yourself in a glamorous three-piece velvet ensemble by the Nishat Linen winter collection. The beautiful maroon embellished tunic is coordinated with a net sharara with sequin spray. So, upgrade your evening look with the breathtaking dress below. You can explore Maria B's eveningwear collection for a more likewise variety as well.
7- Aura Winter Collection for Teens
Traveling is a common practice among Pakistanis especially in the fall season. People prefer to visit the Northern areas to have a blissful season. Such trips and Funtime require funky and classy attire. I am glad that Nishat Linen's winter collection comes up with an amazing and trendy Aura collection to please the public with delightful styles.
Please have a look at the enchanting image gallery below that features digitally printed pret shirts for you. Now, you can step out in style wearing any of the classy shirts below to get a jazzier vibe. Combine matching trainers for an easy walk on the mountains. Plus, combine comfortable and warm jeans to complete the entire vibe of the outfit.
8- Essential Hues Collection Featuring Short Tunics
Do you want to feel the joy of life in a real and elegant way? Are you looking for a smart choice of clothes? If so, then you are in the correct place. Nishat Linen's winter collection presents you with an exclusive assortment of classy short tunics for teens. Would you mind taking a look at the exemplary collection of tunics by Nishat Linen below?
Well, the portfolio presents you with the straight and casual buttoned-down tunics for winter. This season, feel the joy with the warm and graceful tunics below. Exemplify your style with any of the following dresses according to your choice. An appropriate combination of jeans and trainers will amplify your entire winter vibe beyond infinity.
The secret of a great style is to feel comfortable and happy in whatever you are wearing. All the modest ensembles of the Nishat are awe-inspiring and stunning with the most dazzling shades. I hope this blog will help you to pick the best outfit for yourself. Plus, never compromise on your looks and pick the chicest style to exude elegance. Never forget to tell us in the comment section about your favorite costume among all these beautifully designed dresses.