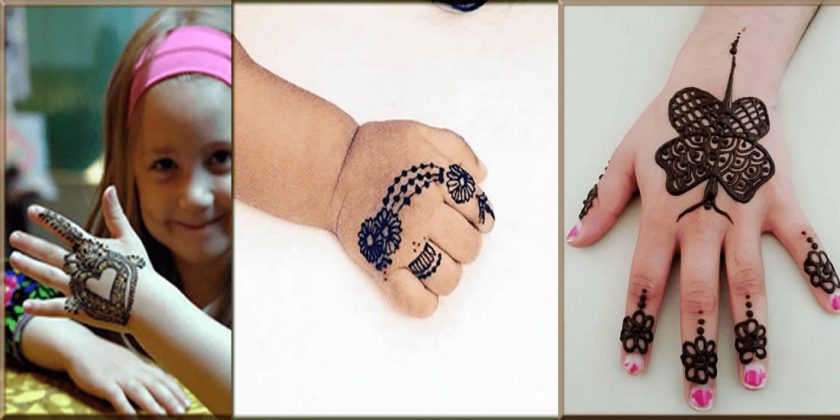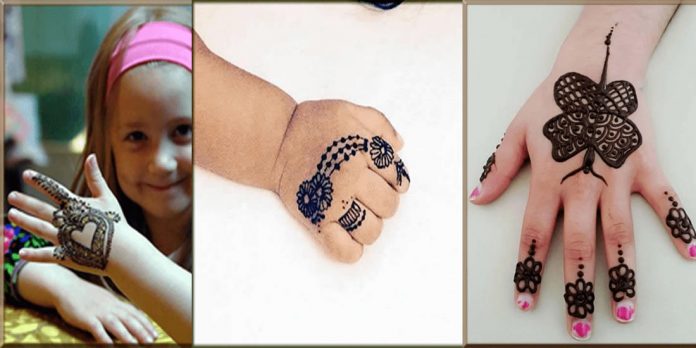 Mehndi is an art that every girl applies to embellish their hands so that their hands look fascinating. It is not just loved by adults but also kids. Here are some fantastic mehndi designs for kids and teenage girls, which will add some statuesque to the small hands. Children don't have much tolerance. They sit unassumingly during the entire mehndi process. Also, it might be better to let their mehndi design stay as minimal and as fashionable as possible.
You can combine kids mehndi with other motifs like flowers, dots, swirls, and paisleys in their mehndi styles. They are not only easy to form but also look fabulous on those tiny hands. Are you looking for the most recent mehndi styles for kids?? I have made your task easier by making a list of pretty and soft forms of mehndi for the youngster. So, keep scrolling.
Classic Mehndi Designs for Kids and Teenagers

As you know, kids don't have much tolerance, so below is the best henna art for the youngster. Because it takes minimum time to draw, and it is the most comfortable henna art. In this design, you can draw a Tikki in the center of the palm, and cover fingers with hearts or simple dots. While on the other hand, you can also draw simple Parallel lines around the dots. This latest Tikki mehndi design is suitable for festivals and family wedding events.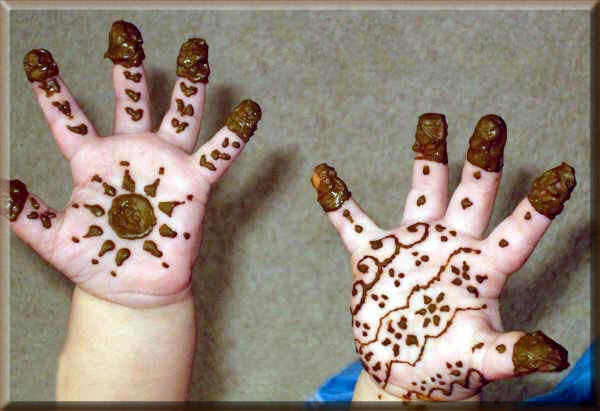 Beautiful Honey Bee and Floral Designs



Here is a fresh design for the cool kids. This design is effortless; however, it looks gorgeous. This mehndi design is applied in the center of the palm. You can see a bee is sitting on a flower in the center of the hand. This is the most less time-consuming henna arts for the kids, which is easy to draw.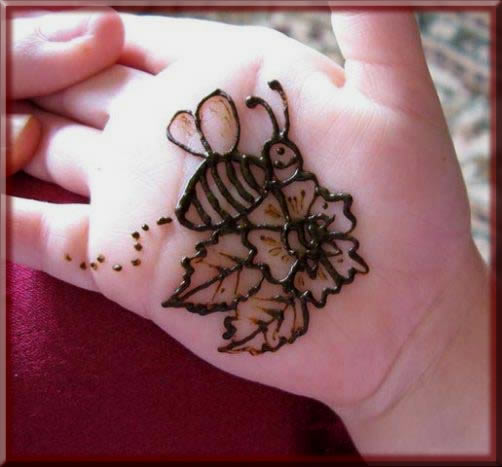 Smiley Face Mehndi Designs for kids
Children are a blessing for us. A cheerful face mehndi designs are the simplest for adoring the baby's hands. Following design made in the center of the palm, A smiling face is drawn within the center of hands. Also, a circle revolves around smiley with a touch Moroccan henna designs. Some smileys also are on the wrist band and fingers with the minimal henna patterns. It is the most cutest henna pattern for the cool kids.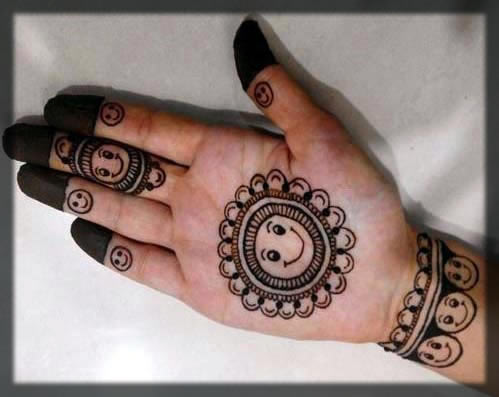 Cutest Fingers Henna Art
This is a beautiful finger mehndi design for the kids, which is ideal for weddings or events like Eid. A simple rose flower is drawn within the side of the hand, and the index finger then connects both flowers with the dotted chain, following mehndi design for those kids who don't want dense mehndi patterns on their hands.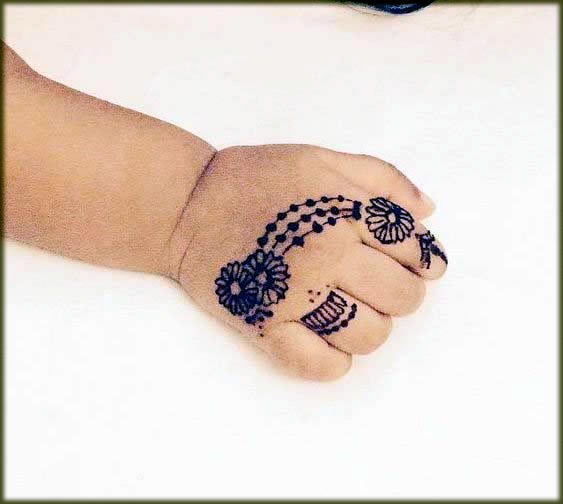 Fairy Stars Mehndi Designs for Kids



It's a beautiful and cute baby mehndi art with just a fairy made on the rear of the palm. Rather than using the sticker and tattoos on Kid's hand, this is often a far better option that stays long. A fairy drew with little stars and dots, which is ranging from the index and ends at the wrist band. The foremost favorite henna art for the youngsters, which every kid wants to use it on their hands. Pair with striking fairy outfit for creating your daughter appear as if as a fairy.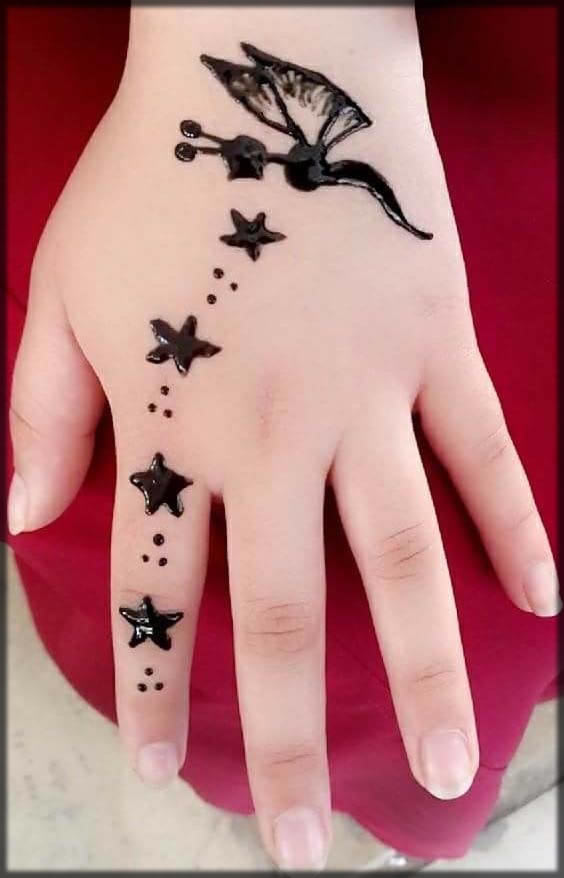 Dazzling Hearts Pattern for Baby Girl
kids also love cute hearts. They also want something unique which looks classy on their tiny hands. So, these designs are best for kids. The first design contains lots of hearts, which are little as well as more significant in size. In the second design, a beautiful heart is made on the side of the hand. The fingers are decorated with the swirl and paisley trails. It is the best design for kid's parties or festivals. Pair this mehndi design with any kid's favorite outfit, especially traditional outfits.
Pleasant Floral Pattern for Inpatient Children



If you do not want to attire your impatient kid's hands with the enormous heavy jewelry, then you can adorn their hands with the graceful mehndi art like this. Big flowers at the center of the hands, dotted chain, and therefore the Turkish mehndi patterns make the simplest combinations to embellish your child's hands.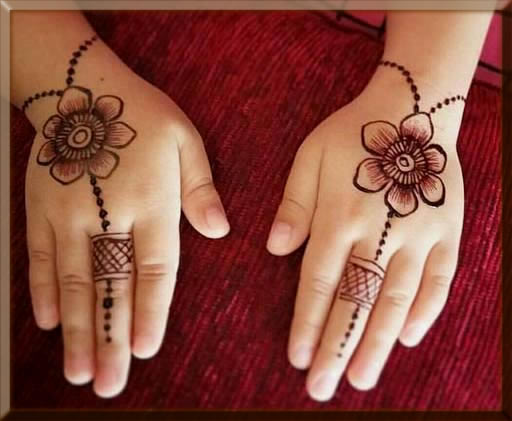 Cute Fish Henna Art for Toddlers
How about applying your little ones' favorite fish on their hands? They will take care of the mehndi and never want to spoil it. Even they will sit with comfort and relaxation. In the following design, the fish is drawn within the arms of the little one with a simple design.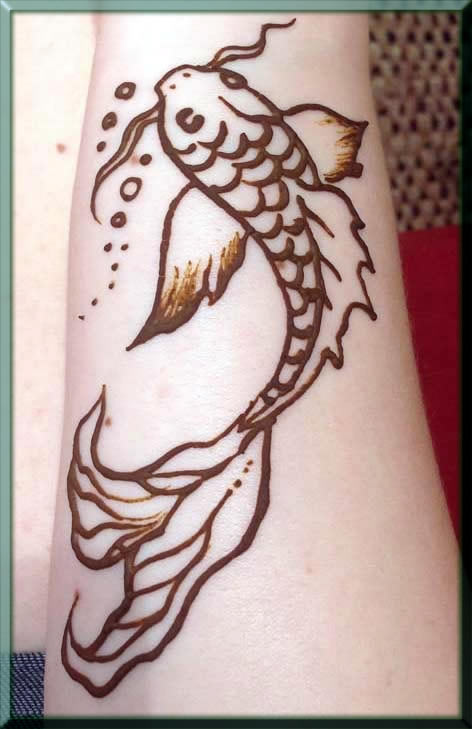 Classy Floral Designs for Children of All Ages



Kids are sweet and innocent as blooming flowers in your garden. Hence, the precise match for your little one's henna design is that the trail of flowers. The straightforward flower trail starts from the wrist band and ends at the index or ring finger. The selection is yours. Decorate your kid's hands with the subsequent beautiful trail henna patterns.
Tikki Flower with a Sponge-Bob Face Mehndi Art for Minors
Every kid loves Sponge-bob; they never say no for this design. The only Sponge-Bob has drawn on the back-side of the hands with the combo of the Moroccan and motifs. If you're trying to find some unique kids henna design for a kid's party? Do this ravishing mehndi design to furnish your little one's hands.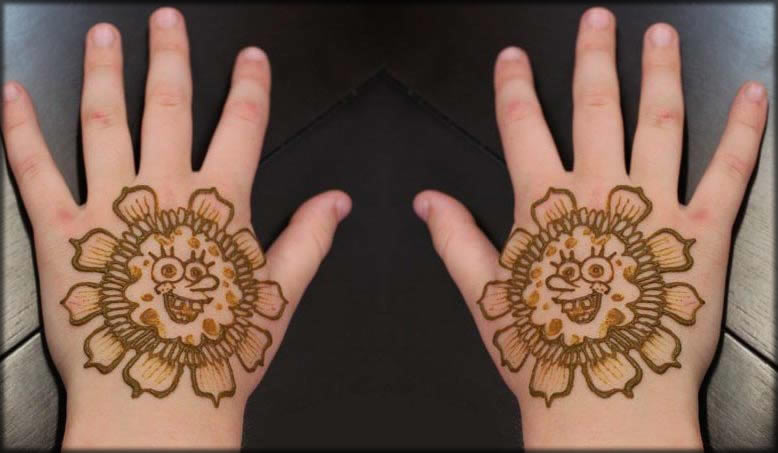 Simple Dotted Mehndi Designs for Kids
Another time-consuming and easy mehndi design that you simply can pick for your youngster. Below is that the dotted design, which is extremely easy to use. As you know, kids have no patience to take a seat with the Quietism. Then this design is best for those kids.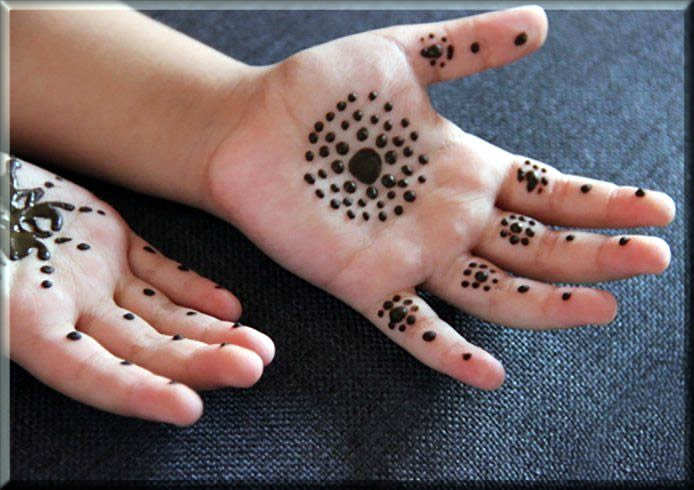 Shimmery Glitter Mehndi Designs for Children
Glitters add the shine in your henna designs and make them shining and glamorous henna patterns. If you're trying to find the sweetest henna designs for the marriage party to prettify your baby girl's hand, then try this. Nothing is often exciting for baby girls like this. Make some stars, flowers, and heart with the henna cone then refill the spaces with the glitters. Glitters are available in several colors; you can pick any color consistent with your kid's dress and adorns her hands with the newest henna patterns.
Instead of applying henna on hands and further cover it with glitters, you can directly use glitters on your child's hands. You can instantly make stars, flowers, or dots with the sparkles that your child loves. It's effortless and straightforward to draw, which you can try on your kid's hands.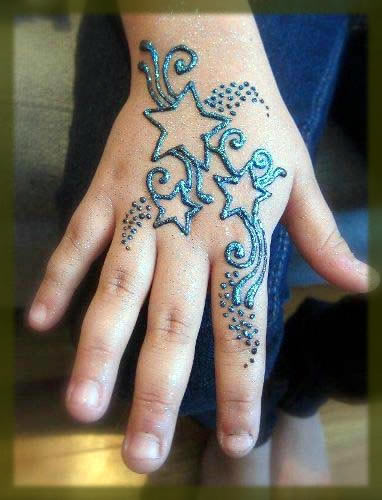 Magnificent Arabic Mehndi Designs for Kids



Arabic mehndi designs contain big flowers or bold outlines. Arabic mehndi designs aren't only utilized in Arab countries, many Pakistani, Turkish, and Indian girls also want to decoarte their hands, with the most straightforward Arabic henna designs. It is a striking mehndi design for the youngsters, which is ideal for weddings or parties. These designs have very classy patterns with bold outlines, which is the perfect style for the youngsters.
Marvelous Star Henna Patterns
A circle with curves and dots is drawn within the center of the palm. On the edges of fingers, there are small circles alongside additional dots drawn—a fresh design for your munchkin's hands. The subsequent design is suitable for festivals and family weddings. To decorate your child-star in indo-western outfit seem perfect with this henna art.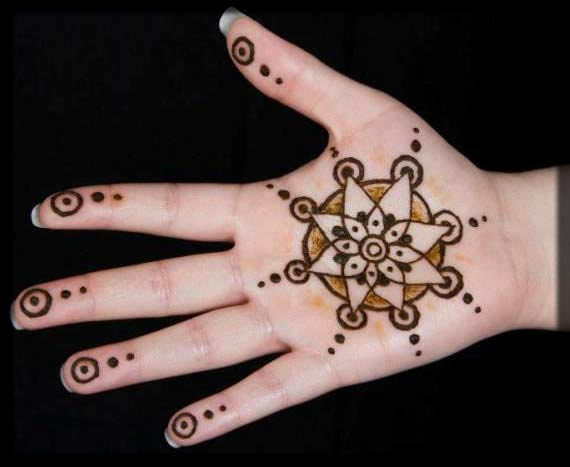 Stunning Butterfly Patterns
Here is some other beautiful mehndi style for kids, which is surprisingly simple but offers a charming touch. This pattern is made on the back of the hand, and you can see an adorable work commencing from the wrist band, which is stretched out to the end of the hand with a butterfly.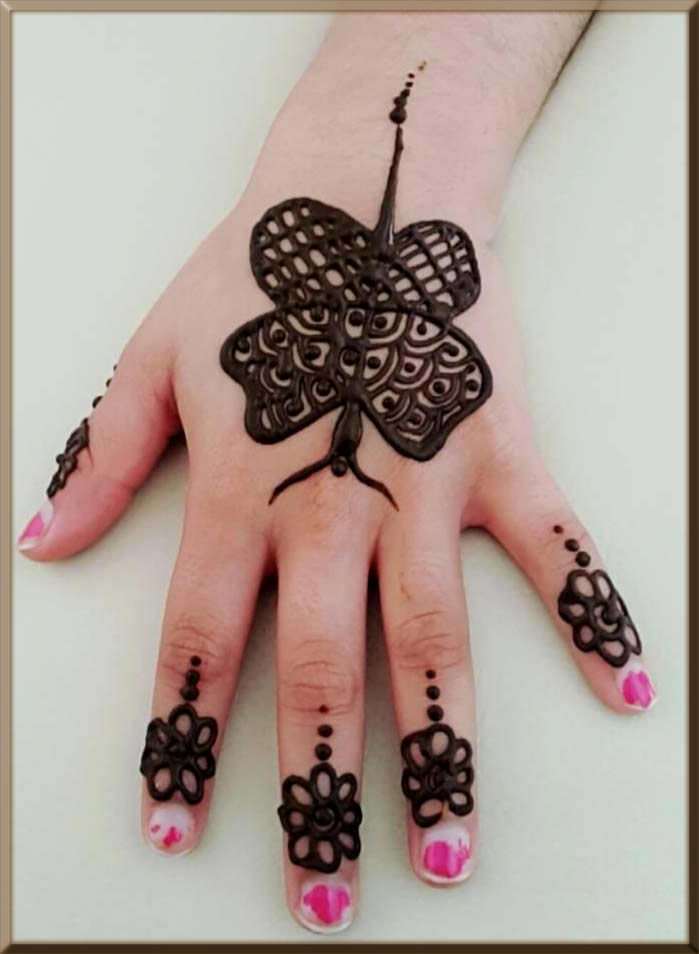 Enticing Mehndi Designs for Kid's Feet
Here is the contemporary collection of children's feet mehndi design. Furnish your kid's toes with the ultra-modern and glammy henna designs. These designs include stars, motifs, and paisleys. These feet henna designs are simple to draw and can utilize rapidly so that the infant doesn't experience too much stress.
Everyone, including adults and youngsters, love applying the henna mehndi to adorn their hands. In this article, I showed you the various henna tattoo designs for kids. This will help you to decorate your kid's hands or feet with cute patterns. We hope you will find the most straightforward mehndi designs for your kiddie. Don't forget to inform us about your favorite one in the comments!