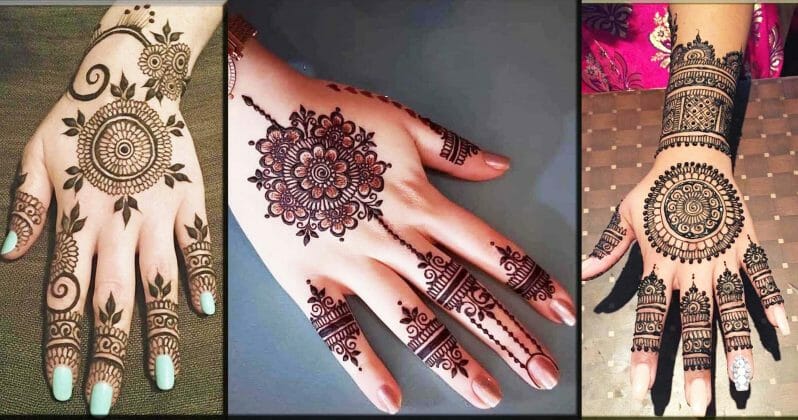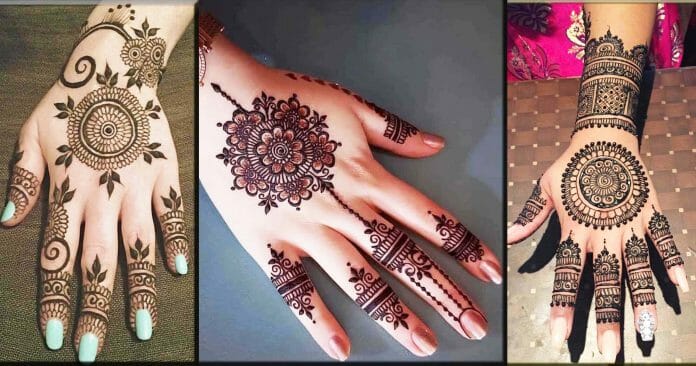 Tikki mehndi designs are one of the most famous mehndi designs, which are loved by all age groups of women. You can draw Tikki style in both ways, either simple or complex. We have a wide variety of ravishing and dazzling Tikki mehndi designs collections, so keep scrolling down. Tikki mehndi design consists of various eye-catching designs, which enhance the delicacy of the Tikki pattern.
With this design, you can create a complicated or straightforward style according to your choice because some girls prefer thick and intricate henna. Dense and complex henna art makes the hands more magnificent instead of other bulky designs. In the beginning, only single round Tikki drawn on the hands or feet, but then different patterns added and elegant shapes are formed. Some typically used shapes in Tikki mehndi designs are:
Diamond
Peacock or mango
Circle or Oval
Triangle
Square
Hexagon etc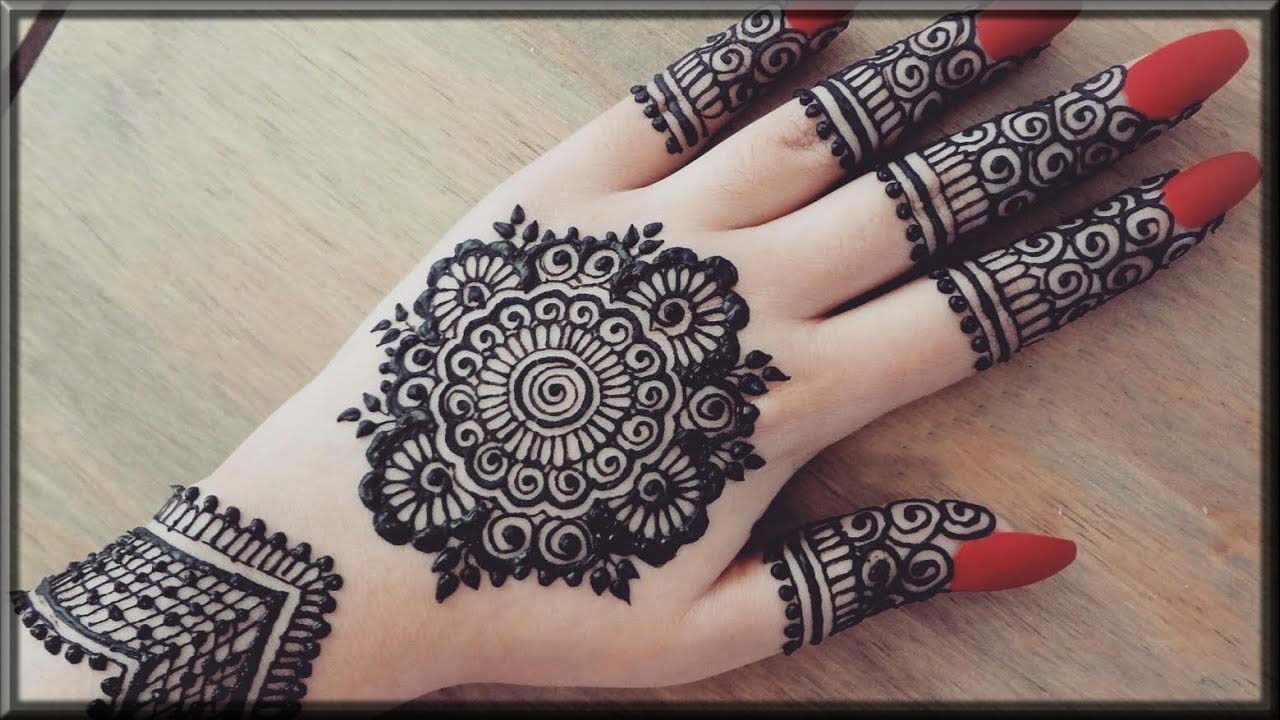 Round Tikki Mehndi Designs Gallery



Mehndi is a temporary tattoo, which makes your hands and feet pretty. There are different types of mehndi designs, including peacock, Indian, Arabic, Moroccan, and many more, but Tikki is one of the sweetest styles. You can draw Tikki in many forms like round, diamond, and more. Round Tikki with floral and swirl patterns makes the best design of all.
Fascinating Gol Tikka Mehndi Designs
If you have chubby hands and you want design according to your hands, then the best option for you is the round Tikki style. The circular pattern will make your plump hands beauteous. Moreover, circular designs work for all types of hands.
Delightful Diamond Tikki Mehndi Designs
Diamond Tikki commonly used nowadays. Everyone prefers some uniqueness in everything. Either it is mehndi design, mehndi dresses, or everything else. Round Tikki is an old-fashioned but still used. However, many girls love to draw round Tikki with some floral and swirl henna patterns.
It is a dream of every woman to have a beautiful design on her hands. As a result, with the right outfit for party or event, mehndi also enhances your appearance. Whereas, nail paints help you to prettify your hands. Moreover, diamond Tikki design is one of the most classy patterns which gives you an attractive look. If you want to go for any casual party, then decorate your hands with the latest diamond Tikki designs.

Captivating Triangle Tikki Designs
Triangle Tikki designs are unique and one of a kind patterns. It is quite popular among girls nowadays. The reason for its popularity is because of its eccentric appearance and distinctiveness. It is far from typical designs commonly used in mehndi.

To attain a simple triangle mehndi design, draw a triangle and fill it with some mehndi filling or curvy lines. Next, complete the design with simple swirls, flowers, or motifs. Add some additional dots to make it look fuller, and that's it; you have a beautifully modest triangle mehndi design.

Pretty Square Tikki Henna Design
Square Tikki styles are a little bit spacious than round Tikki. Usually, brides prefer square Tikki design for typical events like an engagement party, nikkah, and wedding event too. If you want a fuller or intricate mehndi design, you can combine Tikki with other styles, with some floral, swirl, Arabic, Indian, and peacock or many more designs. Take a glance at the picture below. It will be undoubtedly attractive and impose you to carry this design.
As the bridal dresses are a significant part of the wedding, mehndi designs are too. Wear a big ring in the middle finger and apply matte nail paint to make your hands beautiful — this following bridal mehndi design is based on square Tikki, which is further decorated with the floral or Moroccan patterns.
Wonderful Arabic Tikki Style
Arabic mehndi design is the best one for any occasion. It contains thick and intricate henna patterns. You can easily make any design with Arabic patterns by just changing the direction of motifs. Arabic mehndi with Tikki designs are very famous nowadays.

Arabic henna design is one of the best designs which you can easily combine with any Tikki patterns. In the following picture, you can see Round Tikki drawn on the backside of hands, and it is connected with round Tikki with fingers by dots. In this design, there is a little bit touch of Moroccan design, which makes the whole design more perfect. With this henna pattern, you can wear any Pakistani bridal dress to compliment it perfectly.
Classy Turkish Tikki Mehndi

As Pakistani and Indian girls love mehndi, Turkish girls also like to apply mehndi on their hands, feet, and even on the body. Turkish dramas are very famous in Pakistan, as Turkish mehndi is also. Turkish mehndi is not only for Turkish girls. Even now, in Pakistan and many other countries, girls love to draw Turkish henna designs on their feet and hands because the Turkish henna patterns are impressive and radiant. When the Turkish henna patterns combine with other shapes, it creates an exquisite design that will undoubtedly be superb.
Additional Tip:
Turkish girls also apply on some oils after removing the mehndi for getting the dark henna color. Or you can add some sugar water for the same effect.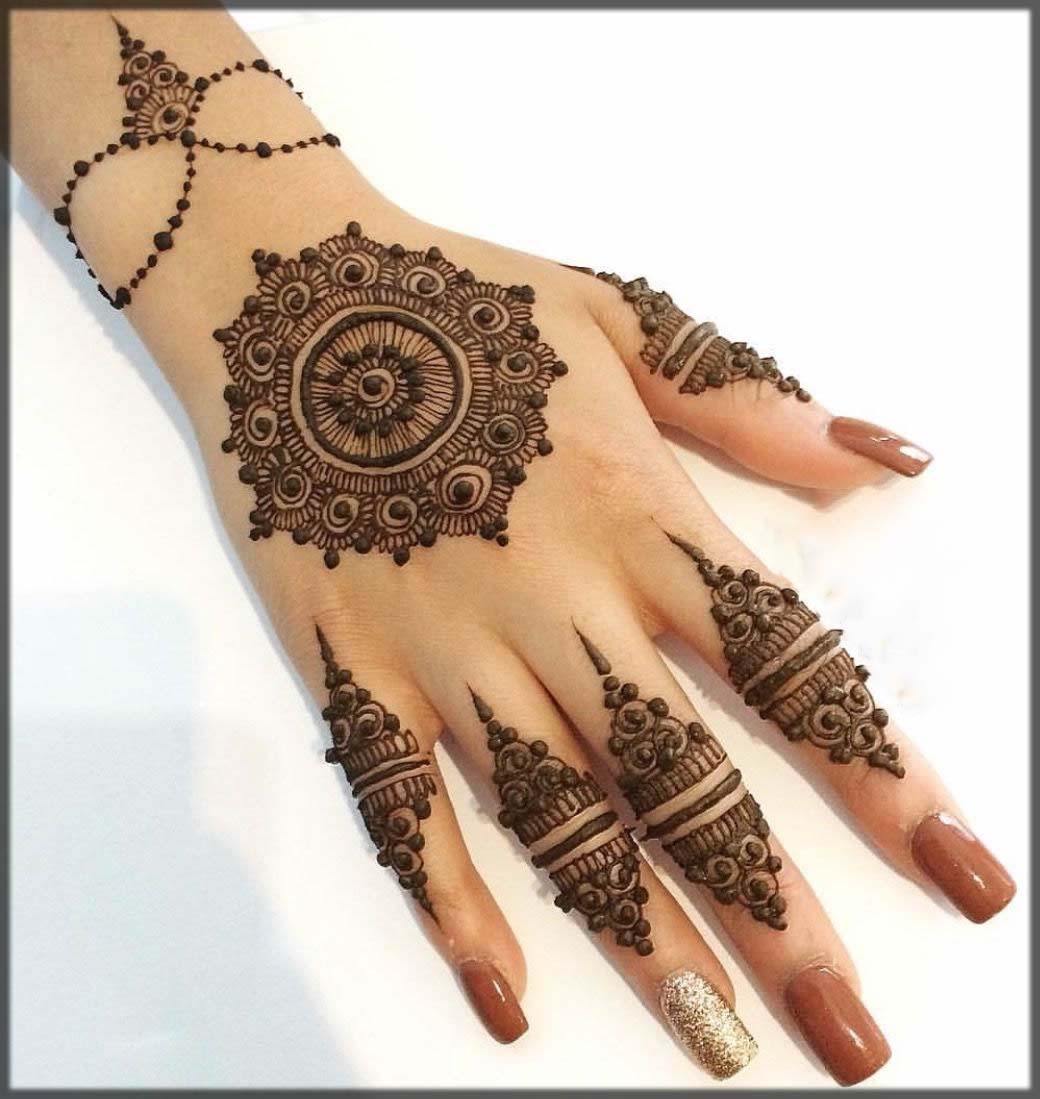 You can see in the below images that Turkish mehndi designs are very delicate and applied with a narrow mehndi cone. Turkish mehndi designs are time-consuming because they have many little details, and delicate thin lines form a perfect design.
Wonderful Moroccan Tikki Henna Design
Make yourself part of other's attention with the latest Moroccan designs. Moroccan designs are the simple box or circle which filled with simple dots or lines. It's not necessary to draw Moroccanin in the center, and you can put it anywhere.
Moroccan designs help you to beautify your hands or feet. Moroccan with the Tikki makes the best combination. Simple draw around any shape which you love, on the palm, and then fill-up with the Moroccan patterns. This fabulous pattern will make your hands shinning and also upcoming events memorable.
Marvelous Indian Tikki Mehndi Design
Tikki style with the Indian mixture makes a stunning design. The wedding season may be over, but girls always love to decorate their hands with henna either on any casual event. In Indian designs, different florals and motifs join together and create amazing Indian henna designs.
The Indian henna design is one of the styles you can easily create being a beginner. The below Indian Tikki designs will give your hands a new look, and everyone will not take off their eyes from your hands. This particular design is the best for those girls who don't want to apply dense mehndi patterns.
Fancy Beads Tikki Mehndi Design
Add-up fancy glitters and beads in your henna designs, and it will give you a marvelous look and beautify your hands to a whole new level. This design is suitable and unique for the brides who covet to make their wedding event catchy.
Fancy glitters and beads mostly work with Tikki styles that make them more perfectible. Draw any Tikki which you like on the palm and decorate your hands with the beads and glitters. The bride usually prefers this type of wedding mehndi designs, but that does not mean only brides can. Teenagers or kids can surely use it to adorn their hands.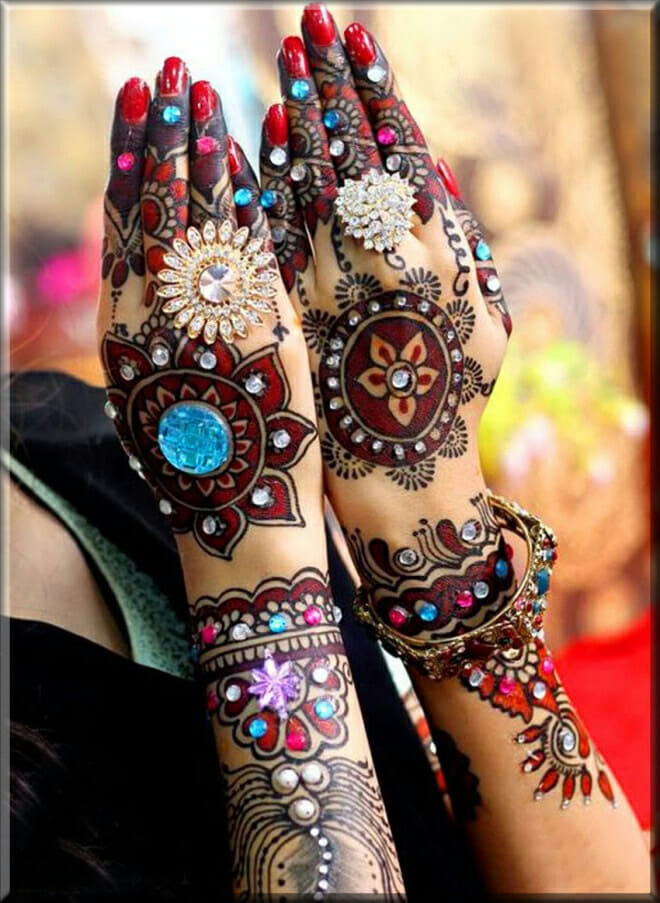 Kashees is one of the famous salons in Pakistan. Kashees gained popularity by their elegant mehndi designs, incredibly attractive bridal wear dresses, and hairstyles. Every girl prefers to apply kashees henna on hands or feet. kashees bridal Tikki design is also very famous nowadays.
It's a dream of every girl to decorate her hands with the best and easy henna designs. Kashee's henna patterns are not only for the bride but also for teenagers and kids. Many celebrities carry kashees mehndi on their hands in their events like recently Aiman and Minal decorated their hands with the best kashees henna styles on Aiman's wedding.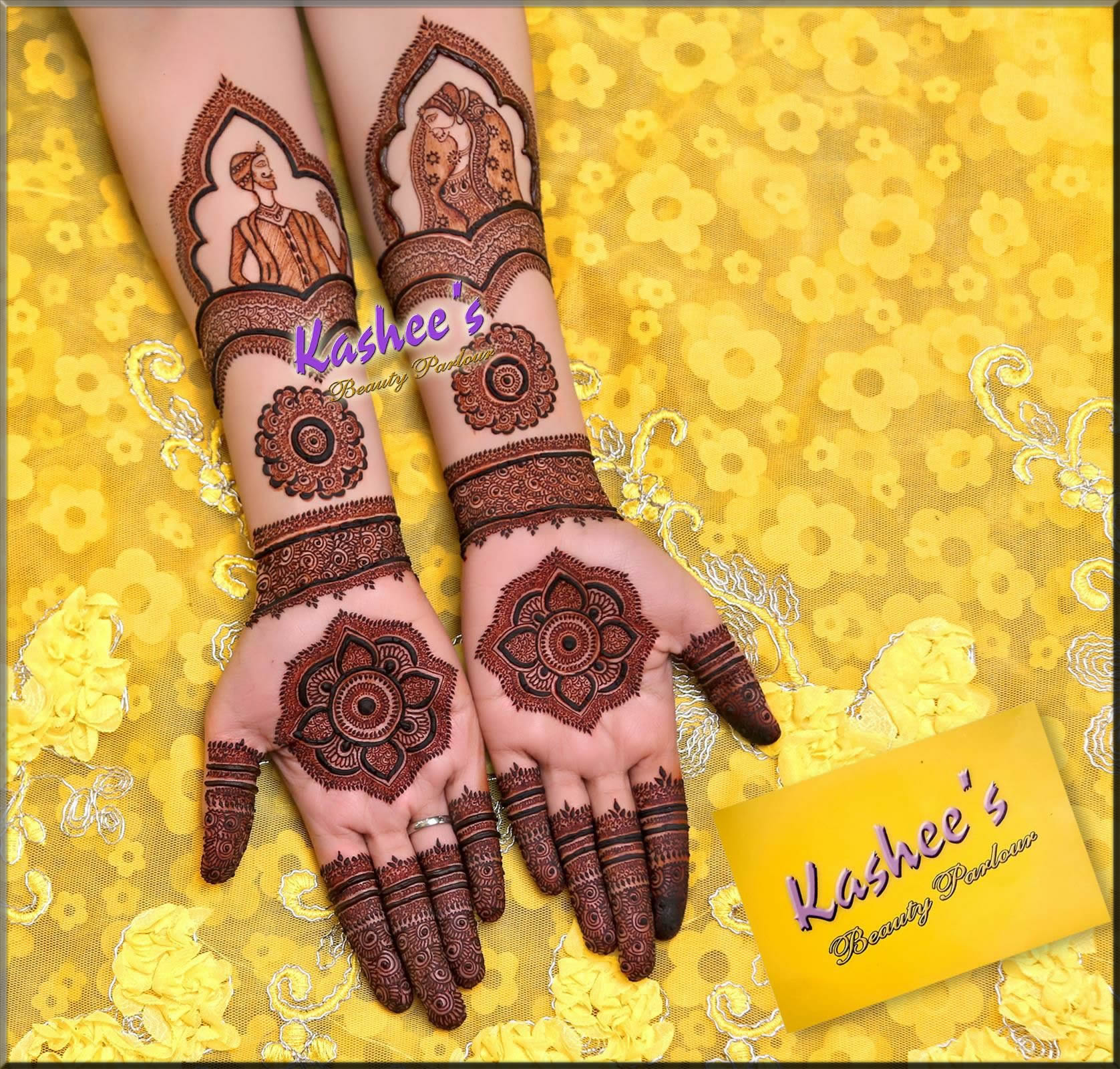 Below is the stunning bridal Tikki mehndi design by Kashee, which decorates your hands with the best henna patterns. Kashees make any design amazingly beautiful by adding some extra features to it. Check out this beautiful henna pattern, which is the combination of Arabic and Indian mehndi design for fingers and wrist.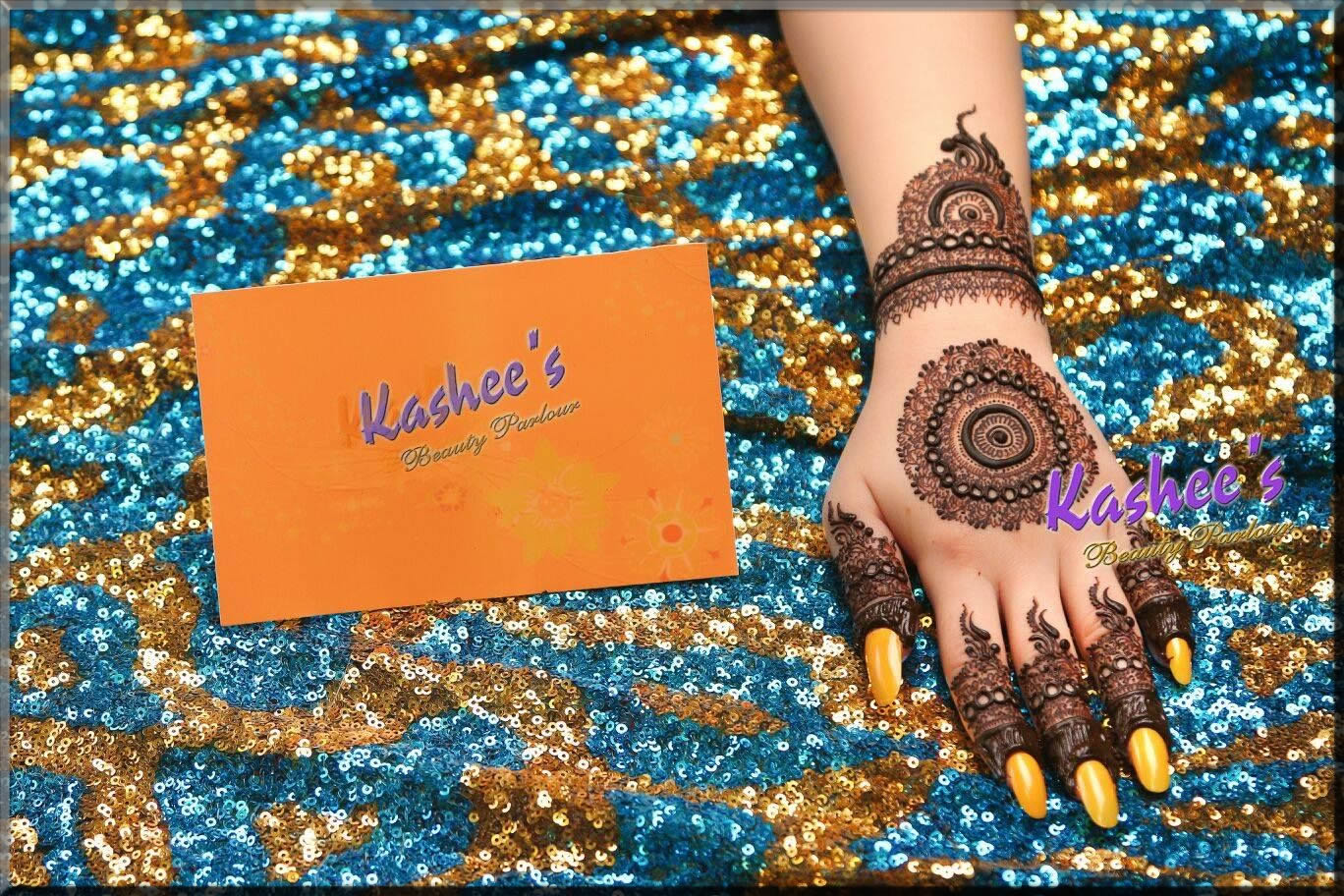 Tiki is a beautiful and delicate design which is mostly liked by many girls. You can also make it complicated by combining it with other patterns. Primarily, girls are not aware of the various types of Tiki designs. In this article, I showed you the different types and shapes of the Tikki. So, you can easily pick any style according to your taste and apply it to your hands. To sum it up makes your hands admirable.