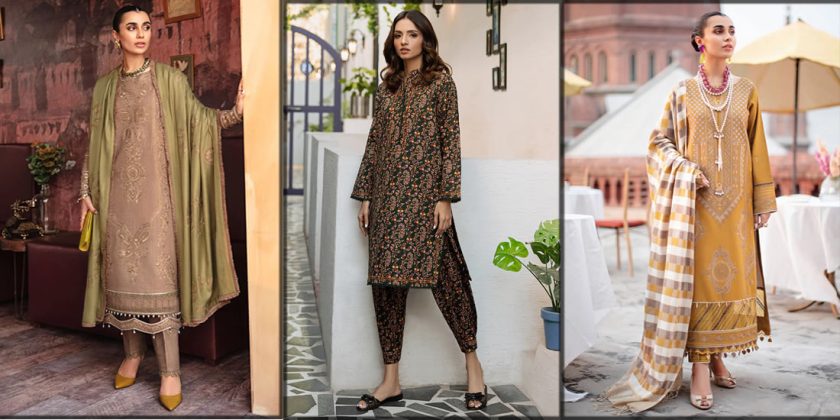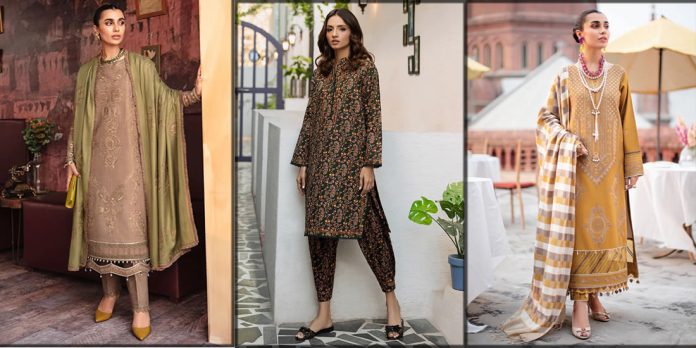 All brands work hard to manufacture beautiful outfits. So, try to be unique and yet identifiable for others. You can be anything in a world full of trends and fashion. Therefore, always opt for a style that can bring modesty to your personality. Get yourself a fantastic wardrobe with the Rang Rasiya winter collection. It offers an immense variety of incredible artwork that will get you a compliment. 
One must wear an outfit that reflects positivity and elegance. Further, do not try to copy anyone's style. But, create your style with an excellent aesthetic sense of wearing and tearing. Then, step into the fashion world to discover the factual aspects of modernism. Indeed, the following variety of winter dresses will bring out sophistication and glamour. 
The style you are wearing is a reflection of your attitude and personality.
So, here is the magnificent Rang Rasiya winter collection for you. The colorful ensembles are ready to hit your closets. The stylish and well-decorative dresses with fabulous wool shawls will give enough warmth to you. Additionally, the beautiful artwork will get you a compliment. Therefore, do not get late to collect the alluring variety from the recent assortment of Rang Rasiya winter collections. 
Latest Winter Collection for Women by Rang Rasiya (Fresh Arrivals)
Rang Rasiya is a spirited brand in the fashion industry of Pakistan. Its headquarters in Faisalabad, and many other outlets are in big cities across Pakistan. Indeed, the brand offers glamorous dresses for its customers every season. Fall has arrived, and brands have started launching their winter collections. Here is the Rang Rasiya winter collection for you.
Well, the leading brand comes up with a versatile variety of formal and casual wear. Additionally, it offers luxury and chiffon variety for festive occasions. The great versatility is significant for their quality customers. People love to enjoy luxurious prints and magical patterns with enchanted decorations. Indeed, you will enjoy their winter assortment. I hope you will enjoy the lovable styles from our latest and extensive winter collection.
You might have seen the recent Rang Rasiya summer collection that offers colorful clothes for women. Likewise, it has vibrant dresses for winter. Each dress will bring exquisite beauty with glamour in proportion. So, do not get late and grab the flattering dresses from the leading brand. Instead, explore the Bareeze winter clothing range and get tremendous looks with stunning dresses for more variety.
Cozy Linen Fall-Winter Collection for Women
Linen is the most common and demanded fabric in winter. There are a lot of clothing brands that offer an exceptional assortment of linen dresses for women. Well, you can explore an exclusive category of winter collections by top clothing brands. Indeed, you will be amazed at the brands' top-notch clothing designs and impressive prints.
After back-to-back attractive and flaunting designs, Rang Rasiya is all set to bring you another intriguing collection. The Zinnia unstitched collection features extraordinarily elaborate outfits for women. From dull to vivid, you will see a lot of outfit ideas and styles. So please have a look at the image gallery below to seek plenty of winter outfits for women.
Blue and Black Shaded Rang Rasiya Winter Collection
Fashion is the shield to survive the reality of everyday life. But, this survival is not accessible without a classy outfit and style. Indeed, the modesty of your dress code is a virtue that will bring untimely glamour to your personality. So, always choose a unique and flaunting combination to get subtle looks. The stunning combinations and styles are also available in the recent assortment in the So Kamal winter collection.
Here is a voguish combination for you to stand out among the galaxy of individuals. Get yourself a fabulous blue and black dress for winter. The magical hand embroidery on the shirt is enough for your pretty style. Additionally, it has a fully embroidered back and well-established sleeves. Further, its excellency comes up with a red jacquard shawl that completes your vibe. So, please take a look at the following style and consider it.
Splendid Yellow Outfit for Winters
One must focus on their clothing very consciously. The clothes you wear can not change the world, but at least they change your appearance. Therefore, you should look for a stylish ensemble to look gorgeous. Everyone remembers the way how you carry an outfit. So, dress impeccably, and they will never forget you. Choose a yellow-shaded dress as it brings a sparkle to your looks.
Below is a splendid variety of yellow dresses for you. So dress up well with the vibrant yellow color. Indeed, the digitally printed and embroidered dresses are delicate to bring inside elegance. Beechtree winter collection has also managed to craft classic winter attires.
Elegant Ice-Blue Winter Dress for Women
Are you looking for a sizzling outfit for jazzier looks? Indeed, ice blue is a color that can make you look charming yet effortless. The beauty of this dress is the mellowness of the tint. Plus, it combines beautifully with a blue and pink color to create a dazzling combination. So, style up yourself with a lovely yet straightforward ice-blue dress to look gorgeous.
Here is an embellished cottel linen shirt for you. The front of the shirt is immensely embroidered. Further, it has a digitally printed back and sleeves. The Khaadi wool shawl adds beauty to it. Additionally, it has an embroidered lace Patti for sleeves. So go and grab the stunning dress. For more designs and a variety of embroidered shawls, Maria B winter shawls will never disappoint you.
Striking Purple Linen Dress
Do you want to style up yourself differently? Do you want to stand out among the individuals around you? If so, the striking purple dress below will be your best option. It brings out elegance, and the scorching combination will turn heads on you. Taana Baana's winter collection is also offering more exquisite and stylish variety.
Below is a stunning Dori embroidered dobby linen attire for you. Further, it has digitally plain basic sleeves and back. It is nicely combined with an alluring khaadi wool shawl. Plus, it has an embroidered daman Patti for the shirt and shawl. Style up your winter wardrobe with this fabulous dress. Indeed, you will love the magical design for your winter party nights.
Embroidered Amber Hues Linen Dress
Take a look at the vibrant cottel linen shirt below. The front of this shirt is beautifully embroidered. Further, it is decorated with beautiful daman and printed sleeves. The dyed cotton trouser will make it complete. Additionally, it has a contrasting khaadi shawl for a whole winter vibe. After exploring the Cross Stitch winter collection this season, you will surely be happy.
Essential Black Winter Outfit for Women
Women love to enjoy deep black outfits. Indeed, the color black is the most favorite of all ladies. Moreover, people believe that those who wear black live the most graceful lives. Therefore, almost every brand has a unique and independent black collection. Here you can have fantastic black dresses below. Get black outfits likewise from the Khaadi winter collection.
Additionally, the wool shawl doubles its grace and beauty. Collect the following styles from the nearest store or online. For adding more stylish black and other colorful outfits to your wardrobe, the Bonanza Satrangi winter dresses are the best choice for you.
Elegant MAHI Viscose Collection for Fall
Rang Rasiya never fails to stand among the brands that care about their customer's love and affection. So, the brand brings a pre-fall collection for women with aesthetic and colorful palettes to satisfy the public. Undoubtedly, the glittery and shiny combinations will add glam and grace to your personality for an ace look. So, what are you waiting for?
Take a while to explore the engaging portfolio of the MAHI collection by Rang Rasiya below. The gallery consists of splendid viscose linen attires that will be comfy during your pre-winter season. Indeed, the cozy weather requires some warm designs to amplify the looks. I would love to hear your valuable feedback from the fascinating and splendid viscose attires of Rang Rasiya winter collection below.
"Dosti the Winter Affair" Collection for Women
Do you want to make snow angels this winter, or are you a coffee person? Well, it all depends upon oneself that how you perceive a season. To some people, winter is entertainment and a vast opportunity for fashion. So the fashion icons step out like a frog to prepare themselves for the tremendous winter. Rang Rasiya Winter collection facilitates the public to opt for every possible fashion in winter. Have you explored the Dosti winter volume of Rang Rasiya? If not, then please have a look at the image gallery below.
There might be some people who would prefer something other than just a linen dress. However, a little bit of blended clothing can bring them comfort levels. Rang Rasiya presents you with the dynamic and chic assortment of embroidered and well-printed karandi, chambray, and linen winter attires below. The exquisite and tiny details on the dresses will propel you to think about them. Please buy your favorite ensemble from the nearest retail store of the brand. Also, you can grab your favorites online from the website of Rang Rasiya. I hope you will love the styles.
"Safarnama Shawl" Rang Rasiya Winter Khaddar Collection
How many of you can decide on your outfit in a single go? Well, many people do not get satisfactory designs from the launch of the 1st volume of any brand. Therefore, the designers and brands launch their seasonal volumes with new styles. The fusion of incredible color palettes and mesmerizing hues will get you the one you have been searching for. Just in if you haven't found your kind of outfit from the Dosti and Ritzier collection, here is Rang Rasiya's Safarnama khaddar collection for you.
The famous brand Rang Rasiya has recently upgraded its winter portfolio with a beautiful addition to the Safarnama khaddar collection. The portfolio brings you colorful and well-embroidered khaddar dresses with thread embroidery. These beautiful khaddar attires are paired with the khaddar shawls. You can grab any below three-piece embroidered dress for your striking winter look. Acceptance is the gateway to the stability of the soul, and you must accept the quality collection this time. A big shoutout to the recognized brand for this massive effort in making fabulous winter dresses for women.
Exclusive Winter Premium Edit Collection for Women
Elegantly embroidered and well-established styles are always welcomed warmly by the public at large. Also, change always fascinates your sight, and you will start thinking about it. So bring an unusual yet imaginable change to your winter looks with Rang Rasiya's winter collection. The leading brand has launched another intriguing Premium Edit collection for you. Please have a look at the majestic yet elegant attires below.
A quick review of the following image gallery might confuse you about the structural details. Therefore, give a thorough and precise thought with focus. The image gallery presents embroidered fancy dresses that are coordinated with shawls for a wholesome attractive look. You may also find similar shawl dresses from Nishat Linen's winter collection. 
Heritage Collectables for Winter Evening Parties
A tree without leaves is worthless and people will never look at it. Similarly, a woman without the knowledge of her cultural norms and believes will not bother the people in her surroundings. Therefore, the clothing brands come up with an exceptional variety of dresses that will revive the cultural heritage. With knowing your traditions, opt for a contemporary outfit for reel and real elegance. Rang Rasiya Winter collection has exciting dresses for you.
Please take a while to discover the heavily embellished dresses below. The heritage collectibles collection brings you a wide variety of paneled embroidered dresses that are ideal for evening wear. Well, there is a lot more variety of splendid and embellished dresses in Maria B's eveningwear collection as well. But, an exclusive glimpse at the attractive portfolio below will surprise you with smart colors choices and enriched embellishments.
Rang-Rasiya Winter Pret/Ready-to-Wear Collection
Do you want to look classy, simple, and elegant simultaneously? Indeed, you will be glad to know that we have such a refined idea for you. So get a universal taste and become obsessed with the breathtaking two-piece pret dresses below. Orient Textiles' winter collection also has refreshing styles for women with creative and artistic ensembles of versatile hues.
Creating a visual style is easy if you have a nostalgic warm outfit. Indeed, harmony and grace lie directly in simplicity. But, sometimes, being simple is not enough. You must have to wear something unusual to get a flattering look. Indeed, these below pret dresses will be perfect for having such an appearance. The Alkaram Studio winter collection has also launched its unbeatable designs for more dreamy vibes. 
Go wild for a while and grab your wardrobe from Rang Rasiya this year. It offers exquisite quality with captivating designs that will propel you to buy them. Indeed, the comfortable fabric with enough decoration will make you stand out among the galaxy of people. Therefore, extract some time and explore the versatile winter assortment above, along with its prices. I hope you will enjoy the lovely magical designs.