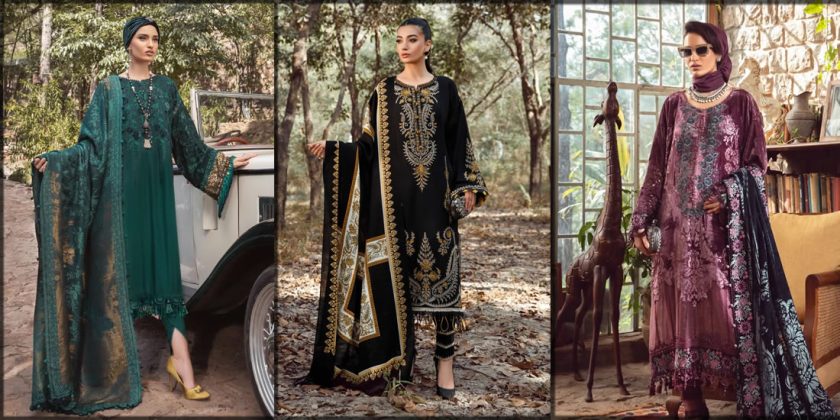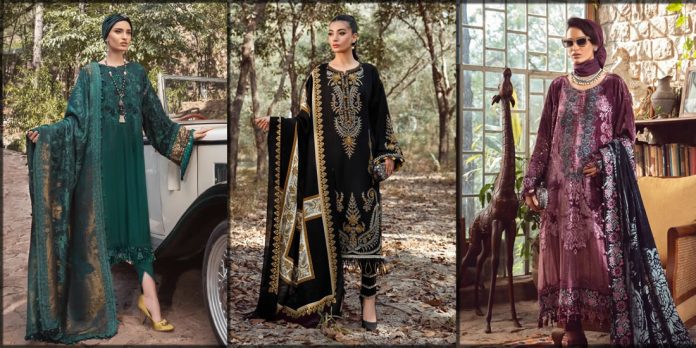 In the latest Maria B winter collection, you will get the most elegant and classic digitally printed attires in two-piece and three-piece categories. You can also find the glammy printed outfit with the chiffon, cotton net, and acrylic shawl for formal wear.
This winter, they have used dark and brilliant hues for making elegant winter attires. Because they know that bright shades are the ladies' first decision in winter. Also, it is better to prefer dark hues in winter to make your look more impressive and attractive.
Maria B is the most astonishing brand that introduces many new clothes every season so that everyone can adorn herself by wearing the most splendid attires. Please read this blog until the end, and I am sure this weblog will help you to pick the most marvelous and magnificent winter outfit. Indeed, you will never regret investing your time in the portfolio.
New Maria B Winter Collection for Women – Casual and Party Dresses
Maria B is the most notable brand that always tries to satisfy the client's needs. This winter, they have also presented the chicest collection with dazzling shades. Have a look at the Maria B winter collection, and get stylish attires for all casual and formal events.
At the wedding event, the classy outfit beautifies you by making your look gorgeous. In the latest winter dresses of Maria B, you will get outfits in a variety of textures for women. All of the fabrics are the comfiest and keep you warm. So, they protect you during the intense cold and freezy days and nights of winter. Indeed, the warmth of the dresses will comfy you.
Latest Ready-to-Wear Collection for Girls
Most of youngsters always go for the pret collection. In the ready-to-wear collection of Maria B, you will find the most excellent and brilliant shades of attires in the most decent and appealing designs. You will find a different trendy style in the latest pret collection of Maria B, like a  short shirt with palazzo, a long shirt with trousers, and a knee-length shirt with straight cigarette pants. The prices of the pret dresses of Maria B are a bit more costly than other brands. But they give you good quality dresses with a pure and soft texture. 
Pret Single Shirts for Teens
Khaddar and linen are the comfiest cloth of a piece that protects you from the cold season. Most Pakistani women love to buy such fabrics because it gives them stunning and a traditional look. Have a look at the most stunning plain long frocks with embroidery on the sleeves, and simple knee-length shirts below.
The following shirts can be paired with wide trousers or jeans. This stunning dress will add more charm to your winter look. Also, they are the ideal choice for you to wear at the party. For more variety of dresses, you may go for the Alkaram Studio winter collection.
2PC Stitched Winter Outfits
Just like the Maria B summer collection, its winter dresses are also ravishing. Linen is the comfiest and most dazzling texture that keeps you warm. This two-piece catalog of Maria B is adorned with sequins and threadwork and linen fabric. Combine court shoes and apply natural makeup with them for a complete look.
Embroidered 3PC Khaddar Suit
The underlying 3PC khaddar suits are beautifully decorated with threadwork. The knee-length shirt has threadwork on its neck, sleeves, and daman. You can also wear this adorable dress at your formal event for a fascinating look. Try to apply nude makeup instead of bold with this dress for a more appealing look. Also, you can wear lightweight gems for a more decent appearance. If you get this type of look at that point, keep your hair open along with curls. Winter becomes more pleasant with the classy attires. You can get these classy and ravishing dresses from the Gul Ahmed winter collection as well.
Unstitched Maria B Winter Collection
Maria b is the favorite brand of ladies, especially youngsters who like to wear Maria B's attires. Maria B not only presents the casual or formal attires. It also gives youth a wide variety of Maria B evening wear and bridal wear. Now you can fulfill your dreams by wearing the most luxurious and dazzling outfit at events. This season, Maria B has also offered the most striking designs in khaddar, linen, and silk texture. Take a look at the most stunning unstitched dresses and I am sure this latest collection will win your heart.
Appealing Khaddar Shirt with Printed Shawls
Winter is the time to discover the newest and modest clothing styles by the top designers. Luckily, Pakistan is a country with versatile clothing brands and fashion designers who have a magical mind to create luxury stuff. For instance, you can explore the complete catalog of the winter collection. Here is an assortment of khaddar dresses with printed shawls for you.
A woman will always prioritize a printed three-piece graceful dress over other basic collections. For such a targeted age group, Maria B has an exceptional collection of khaddar printed suits. Get yourself a dignified attire from the image gallery below to bring desired elegance to your looks. I hope it will work positively for you to get you an attractive vibe.
Striking Winter Outfits with Woolen Shawl

If you are looking for charismatic yet warm attire, you must think about wearing the following dresses. A woolen shawl will never get out of fashion in winter. Instead, people praise the women more who wears a graceful dress coordinated with a shawl. Therefore, Maria B winter collection brings you a dignified portfolio of warm suits with shawls below.
Would you mind taking a look at the following dresses? I hope you will never regret investing you money in buying the warm dresses below. The beautiful prints and aesthetic shades will make your awe-inspiring looks much graceful. I hope the following style will do complete justice to yourself and will bring you the desired glam and grace in winters.
Classic Printed Dobby Linen Suits with Chiffon Dupatta

Maria B is the most notable brand that offers many new styles for youngsters. This winter, they are offering the classy dobby linen atties in different hues and tones. You can opt for the following dramatic outfits if you want to wear vibrant shades in winter. Also, you can explore Salitex's winter collection for more similar and astonishing variety as well.
Let me introduce you the following basic dresses for winter. The dobby linen dresses by Maria B's winter collection have digitally printed shirts with back & sleeves. However, they are coordinated with basic plain trousers and colorful printed chiffon dupattas. Limelight's winter collection also offers cambric dresses with chiffon blended dupattas for women.
Blended Karandi Collection with Chiffon and Silk Dupatta

There are some ladies who do not prefer to wear a warm dress with a shawl in winter. Such women might have skin rash or allergic issues with the highly warm fabric. Therefore, we are introducing another chic and reliable fabric for them. The following karandi embroidered dresses will be the right and appropriate option for women who are looking forward to it.
Well, there are a lot of Karandi attires available at an affordable cost at the Orient Textiles winter collection. But, people who admire Maria B a lot for its exquisite designs will always prefer it over any other brand. Please look at the delightful colors and engaging prints with a little bit of embroidered details on the dresses below. The outfits are coordinated with plain basic trousers and chiffon and silk printed dupattas for a whole refined look.
Dramatic Winter Dresses for Women
A dramatic season always requires an extraordinarily chic and embellished dress. Undoubtedly, the tiniest details can bring the most ravishing and luxurious looks. Maria B always considers quality over any other characteristic. Therefore, the brand always succeeds in winning the hearts of the public at large in every seasonal collection.
Here is another beguiling collection of embroidered winter dresses for you below. The cost of the dresses is a bit more than So Kamal's winter collection. But, there will be no compromise and guilt on the quality and texture of clothing. Please give a thought to the engaging and well-established portfolio of Maria B's winter collection below and have fun!!
Unstitched Linen Dresses by Maria B X Gyulsim
Many clothing brands have adopted the culture of hiring cross-border celebrities for their seasonal collection. Before this, you might have seen the gorgeous Turkish actress Gyulsim in the uniting culture campaign in the summer. Now, you will see the same pretty face for the winter campaign as well. Ladies, fasten your belts and have a look at the collection below. Pick up your favorite dress if you want to look stunning like Gyulsim.
Magnificent Embroidered Three-Piece Linen Attires
Nothing can be the grace of a three-piece embroidered dress. Especially, a job doing lady looks for a well-embroidered and appropriately decorated dress for office wear. Therefore, Maria B's winter collection brings you magnificent and astonishing embroidered linen suits. Please take a while to discover the chic and graceful dresses for your winter wear below.
Maria B M.Prints Collection
Let's have a look at the most stunning M.Prints collection of Maria B, which offers striking linen attires paired with chiffon dupattas and cambric trousers. These classical attires are beautifully enriched with vivid prints and thread embroidery. You can wear these fantastic dresses to any casual and formal event to make all of your jazzier flashes. You only need to wear your M.Print suit with stylish gemstones, natural makeup, and high heel shoes to dazzle any winter event.
Luxurious Sateen Collection Featuring Hina Altaf
Sateen is a fabric that must be in the closet of every woman in winter. Certainly, everyone believes that winter is just about wearing linen or a khaddar dress. But, these are just stereotypical thoughts, and one must be kind and honest towards oneself. While picking up an outfit, always remember what you want and what you need. Only then you will be able to glamorize yourself. Here is an exclusive and glamorous sateen collection for you.
This year, Maria B brings you a portfolio of sateen dresses featuring the versatile and iconic Hina Altaf. The style and fashion icon is the wife of the famous tv show host, singer, and well-recognized actor, Agha Ali. The couple tied a knot about 1.5 years ago and are a true example of living happily ever after. However, here we would like to add that Hina Altaf knows how to adorn herself with a gorgeous ensemble. If you want to look as gorgeous as Hina, pick the right outfit from the Sateen collection of Maria B and have a blissful season.
Deluxe Velvet Collection X Rabia Butt
Doesn't matter how darkness is around, a woman with internal shine will always stand dominantly. Therefore, it is essential for every girl to be confident about herself and her looks. Sheen and shine come in two possible ways. Firstly, you need to be confident with whatever you are wearing. Secondly, you must make a wise decision about your outfit's color and style. Only then, you will be able to add glamour to your refined and polished look.
Here is the deluxe velvet collection featuring your favorite Rabia Butt below. Maria B's winter collection pleases you with yet another sparkling portfolio of velvet attires. Indeed, the embellished dresses and gracious styles will be ideal for any winter party. This year, adorn yourself in the meticulously created velvet ensembles by Maria B. Also, you can explore Nishat Linen's winter collection for a more exclusive variety of velvet embroidered dresses.
Maria B Luxe Winter Collection for Women
Reveal your hidden sparkle with the splendid luxe winter collection of Maria B. The creative designer has a lot of fascinating and chic ensembles for women of every age group. The range includes ordinary and simple dresses to the most astonishing designs. Just like Taana Baana's winter collection has many fancy dresses, here is the fancy variety of Maria B below. Please take a while to discover charming and well-decorative luxe winter dresses here.
Would you mind taking a look at the portfolio below? Indeed, you will be worth investing your time and money in the following pleasant attires. The net and chiffon dresses have a fully embroidered fribt. Further, the outfits are coordinated with graceful bottoms and splendid dupattas for a complete look. You need to go for appropriate makeup and a comfortable hairstyle for a whole vibe. Let's give it a thought and have a memorable look.
Exclusive Silk Net Winter Dresses for Women
How can a season end without wearing an exclusive silk dress/ Well, the creative designer Maria B has launched every comfortable fabric for you to own yourself? You need to embrace yourself the way you are and opt for silk dresses for a polished look. Well, there is a lot of variety of Pakistani silk dresses available for teens and youth. Here is a premier quality collection of luxe silk net dresses by Maria B's winter collection below.
Please extract a little time to overview the splendid and mesmerizing silk embroidered dresses below. The portfolio showcases a beautiful blend of contemporary and striking designs. The premium quality fabric and delicate digital printed patterns will bring you a dazzling look. Moreover, you can enhance your look with the right amount of makeup and delicate jewelry. Keep your hair open and wear stylish block heels for a complete look.
Premier Embroidered Wedding Wear Outfits X Ayeza Khan
What can winter do without a premier assortment of wedding wear dresses? Surely, Pakistani people have to face a lot of wedding festive in winter. Therefore, the clothing brands and fashion designers launch a special collection of fancy dresses for women. You might have witnessed a lot of variety in Sapphire's winter collection for women as well. Here is an exclusive assortment of premier embroidered wedding dresses featuring Ayeza Khan.
Your favorite and iconic Ayeza Khan is the ideal of today's generation. The beautiful lady comes in several styles that impress the public. This time, Ayeza impressed us yet again with her flaunting looks as she radiates glam in the following ensembles. Surely, Maria B's winter collection will turn out to be the most magical and enchanting collection of the year. Create an aura of magic and glam around yourself by wearing the following embroidered dresses.
Winter Party Wear Collection by Maria B
Partywear attires are a little bit different than casual attires. You need to wear embroidered dresses at events to add more charm to your look. Look at the most beautiful formal winter attires that are wholly decorated with sequins and thread work. These fancy silk dresses have long shirts, which are heavily embroidered with the Gota work. You can also wear these luxurious Maria B embroidered dresses at your wedding event to make it more memorable.

The latest winter collection by Maria B has been launched. The prices of these attires are also mentioned to pick any dress as per your budget and choice. You can also get your ideal dress at your doorstep by ordering online. Let us know about your favorite design and dress by commenting on it.