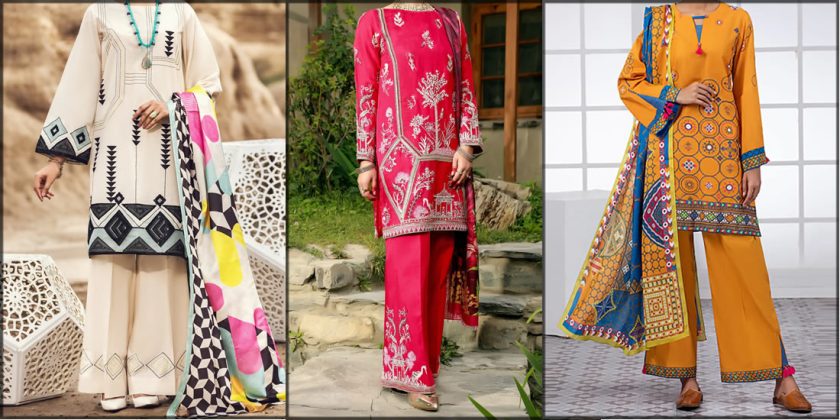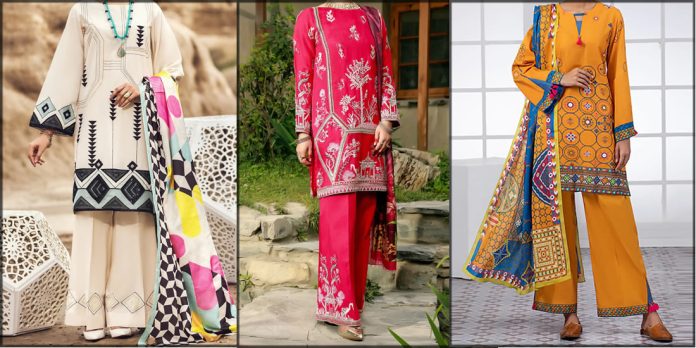 Besides hot beverages, everyone also needs warm and comfortable clothes to wear in winter. Eventually, it comes for a short time, but people spend a lot of time buying essential garments. Meanwhile, clothing brands have pressure to craft moderate quantities of fall dresses. Although you might have explored the recent assortments of several other clothing brands, here you will also discover the chicest hues and styles from the Almirah winter collection.
Look down at the newest Almirah collection that refreshes your look and makes it more dazzling. These dresses' attractive designs and beautiful colors propel women to buy them. Moreover, these dresses are mad with khaddar, karandi, jacquard, cambric, cotton, and organza textures. So, please hurry up and purchase them before they get out of stock.
I hope you will love all the dresses in the Almirah winter collection below. Indeed, the contemporary designs will propel you to opt for them. Furthermore, all of the styles are according to the latest fashion trends. Therefore, it will bring a sparkle to your personality. So, get your desired outfit from the collection below and have a comfy winter.
About the Brand

In the Almirah store, you will get elegant, perfect, and high-quality attires. Kamran Hussain is the owner of the Almirah brand, who manages 5000 staff who prepare the absolute clothes for women of all ages with classical and contemporary designs, as you can see below. Further, the brand has several retail stores in big cities of Pakistan. It also offers the shoes and accessories facility to its clients. Moreover, it provides an online shopping ability to retain its customers for the people in rural areas. Hence it is known as the leading brand of Pakistan.

Stylesnic presents a wide variety of warm and beautiful dresses in its winter catalog. You can explore all the famous clothing brands on our site with prices mentioned for your ease.
Latest Almirah Winter Collection for Women[New Arrivals]

Almirah stands among the famous clothing brands in the fashion industry of Pakistan. It offers subtle and modest variety to its customers. Meanwhile, it has a high level of trust by providing excellent responses and services.
Indeed, you will get incredibly chic styles in the recent assortment of Almirah. Likewise, another brand, Almirah, has a tremendous portfolio for fall variety. Moreover, the prices range of these dresses from general to specific, depending upon the style and fabric. Indeed, you will love the enjoyable patterns and artwork on clothing because all attires are designed with the freshest and brand-new techniques. You can see immense variety in the recent Junaid Jamshed winter clothing range as well. 
1- Winter Unstitched Collection
Everyone switches towards a new style in the new season. Similarly, designers change toward the most recent trendy styles to launch in the market. Unlike summer dresses, winter clothes are generally vibrant. Usually, the majority of the youth prefer to have searing hues for tremendous looks. Hence this season, Almirah brings derisive hues outfits for women of all ages. 
The creative artwork of Pakistani fashion designers is touching the sky. People around the nation are delighted with vigorous artwork. Here, we showcase the beautiful unstitched khaddar, karandi, dobby, organza, and jacquard outfits for you. You can grab the two-piece and three-piece unstitched outfits from the stores now. Let's take a look at the trendy outfits below.
Unstitched Two-Piece Winter Dresses

Are you looking for vibrant combinations for a definite winter look? Then, check the following tremendous variety. Usually, teen girls prefer such youthful styles and hues to complement their looks. Therefore, we have this specific variety for them. You can get vivid colors likewise from the Sapphire winter collection.
This portfolio contains the classical two-piece attires made with the dobby, cambric, and jacquard texture. You can carry these attires at any casual and formal event to grab the public attention. You must match your outfit with lightweight accessories and minimal makeup to make all of your breathtaking and appealing looks. Moreover, explore our winter catalog and get a winter collection of all brands.
Three-Piece Khaddar and Karandi Collection
Generally, every clothing brand comes with a seasonal variety with trendy styles. Also, they follow the segmented groups and construct the types accordingly. Most women look for a complete three-piece dress for the ultimate grace. Therefore, we have the following variety for them. You can have a similar assortment from the Zara Shahjahan winter collection. Take a look at the following khaddar and karandi dresses and choose the best one for yourself.
Party Wear Raw-Silk and Organza Dresses
Roses do not bloom autonomously in a short time. Similarly, women can not blossom without some exquisite style and dress. Get the fantastic art of floweret from the Almirah winter collection. Take a look at the following alluring unstitched festive suits decorated with organza patches and delicately embroidered that will enhance your looks. Also, you can explore the Chinyere winter collection for more similar hues.
Generally, teen women are usually looking for a heavily adorned dress for a wedding event. Here is a perfect option for them. The eastern designs below will look dazzling when combined with nude makeup and massive gemstones. Further, these dresses are according to the latest fashion trends. Therefore, wearing any of the outfits below will definitely look modern. Have a look at the following image gallery to get the most lovely dress for your wedding event. Indeed, you will love these styles.
2- Stitched/Ready-to-Wear Almirah Winter Collection

Buying unstitched clothes and getting them stitched is a time taking task. Additionally, some women prefer the given styles on the portfolio. To save time, women opt for ready-to-wear attires. Plus, they prefer to invest their time and money in modest and fascinating styles. Therefore, we are showcasing fabulous ready-to-wear dresses to you. Gul Ahmed's winter collection is also presenting you with various ready-to-made dresses.
Winter Short Tunics for Young Girls
Take a look at the short winter tunis below. The tunics are nicely decorated with hand embroidery. The vibrant and bright shades of these tunics are eye-catching, as you can see below.
In the first dress, the contrast between the white and pink is mesmerizing. The next maroon tunic is also a graceful one. It is paired with contrasting black embroidery that indeed adds more charm to your look. So this winter, style up your wardrobe with the phenomenal ethnic variety below. Do you want some more similar patterns? Check out the Beechtree winter collection for a couple of hand-embroidered attires. 
Winter Kurti/Kurta Collection for Women

Are you looking for a modest and trendy outfit? Indeed, modernity is essential to get classy looks. Therefore, one must have striking outfits to reflect real aspirations. Below are some magical winter shirts for you to wear this winter. You can wear these attires at any formal event to make your look extraordinary and breathtaking. Bonanza Satrangi winter collection also contains classic winter attires.
A brilliant selection of striking colors and combinations looks gorgeous. Probably, many of you might look for distinctive blends and mixes for extravagant looks. But there is no sophistication without some craziness. So, go crazy with the recent two and three-piece ready-to-wear cambric suits below. In the Nishat Linen winter collection, the cambric dresses are also classy. Take a tour of the breathtaking dresses below and grab the best one for yourself.
Formal Almirah Winter Collection

You might have seen the staggering formal wear from the Ittehad Textiles winter collection. But you will also indeed like the articles below. The mesmerizing khaadi net and organza texture ready-to-wear dresses are ready to hit your soul. So, get some time to explore the striking dresses with extraordinary contrasts. Indeed, you will love them all.
Further, women always search for extravagant styles that can get them a compliment. The following are the trendy formal wear dresses for them for the winter evenings. So, are you ready to enjoy the loveliest collection of the leading brand and get a compliment? Indeed, you can find sophistication and modernity in the Khaadi winter clothing range.
Indeed, an ideal outfit speaks for itself. Therefore, one must wear a defined outfit for a refined look. In the latest Almirah winter collection, you will find a wide variety of unstitched and pret dresses in all vivid shades and styles. Well, take a while and discover the recent array above. The rates of these attires are also mentioned for your comfort so you can quickly grab your favorite outfit.