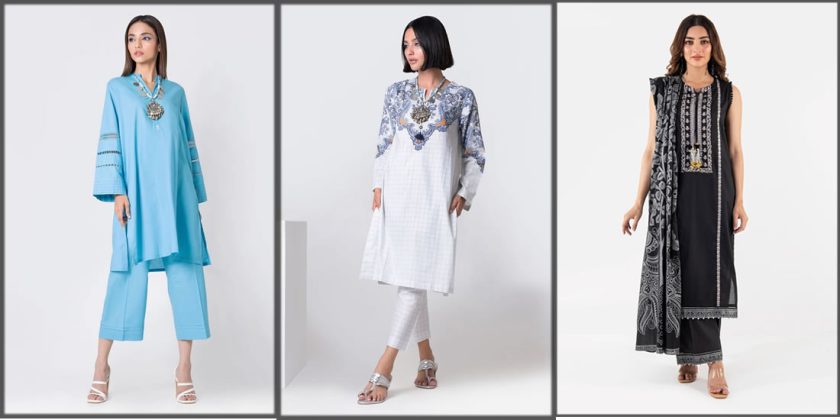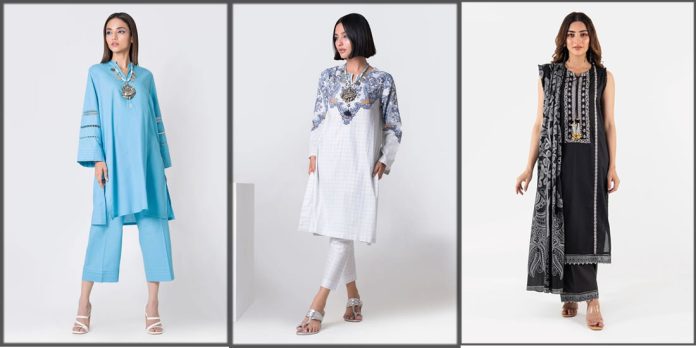 This brand is trendy among ladies due to its uniqueness. Everyone prefers to approach it to get a perfect dress for themselves. Undoubtedly, the leading brand offers stylish and modern dresses for women of every age group. Khaadi latest summer collection for women is now available online and in stores worldwide. Keep scrolling to know more about the newest Khaadi collection.
Khaadi is an international brand that is recognized all over the world. Not just working in Pakistan, but it has been working in many European countries. Indeed, it is the most famous fashion retailer that offers home accessories, clothing, fragrances, shoes, and many other products. With an innovative approach inspired by global fusion, Khaadi brings new trends and traditions to the people.
This season, Khaadi has ready-to-wear clothes and impeccable weaved kurtas for the new to the old generation of women. Women's dress range blends the best quality lawn, silk, cotton, chiffon, and Brochia dupatta. Indeed, all their outfits are made up with a western touch. The brand exhibited its women dressing range with an un-stitched, pret, and festive summer collection. 
Latest Khaadi Summer Collection for Women (New Arrivals)
The public at large always welcomes contemporary material and focused variety. So, for Pakistani women, Khaadi offers a versatile clothing range. This brand provides various alternatives for young ladies to upgrade their fashion sense. In addition, ladies have different options for summer garments. New designs, hues, printing structures, and weaving are here. So, try not to miss our update on girls' most recent summer dresses.
1- Pret/Ready to Wear Collection
Everybody has different preferences regarding clothing. So, Khaadi Pret's summer collection is offering further developed styles. Plus, it provides the best texture, structures, and hues to wear in each event. So, never be late to grab your favorite style.
Khaadi Pret provides a versatile variety of kurtas. Many young girls love to wear shirts with jeans. If you are looking for stylish kurta designs, then don't waste your time and select the best design for you here. Indeed, you will love the intricate patterns and aesthetic prints.
Khaadi is a top clothing brand in Pakistan which is a bit expensive, but the dresses are worth the price. Below are the magical prints, along with some embroidery that makes the dress eye-catching. Such attractive dresses are ready to enhance your grace if you carry them correctly.
The creative texture and threads are the cause of the beauty of these dresses. Khaadi is known for its unique texture and fabric quality. I can hardly wait to get them. Indeed, the vibrant and astonishing hues can bring you the most magnificent look in your summer.
Girls Love to wear kurtas in fresh colors. Mostly, young girls don't like to wear three-piece and two-piece dresses with long dupattas. Instead, they prefer to buy shirts they can easily carry with jeans and a lightweight dupatta. Such girls are the real gems who look forward to a classic and easy-going summer attire to look beautiful.
For instance, we are bringing you an enchanting variety of printed Kurtas with magnificent hues here. Below are the simplest, most delicate, and elegant styles for you that can make you stand out. So, bring a well-defined elegance to your personality with the following simple yet graceful assortment. For more printed attires, explore the Sapphire summer collection.

"Vibe in Nature" Collection by Khaadi
Recently Khaadi launched its ready-to-wear "Vibe in Nature" collection. This stunner collection of khaadi contains the following styles of western outfits.
Solid embroidered A-Line kurta

Solid flared kurti

Printed A-Line tunic 
These stunning outfits of Khaadi are made with soft yet comfy fabrics like lawn, cotton, broshia, and georgette that refresh your summer look and make it more dazzling and captivating. Further, the floral prints of these outfits make the attires more colorful and vivid. Look down to explore the newest "Feminine" collection of Khaadi. Bareeze Pret dresses are also very awe-inspiring. Take a look too..!

khaadi Western Pret Collection
As you know, khaadi always tries to satisfy its clients. Hence each season, Khaadi offers different types of clothes for women of all ages. Recently it launched a wide variety of embroidered and printed unstitched suits for women because they know women mostly prefer to wear embroidered and printed suits.
Now it offers a wide variety of western clothes for young girls. Because they notice youngsters always go for modest and stylish attires. You will find the printed, solid, and embroidered tops and tunics made with polyester crepe, viscose oak silk, lawn, and georgette texture that keep you fresh and cool during the warm days of summer. You can wear these tops and tunics at any cocktail and social event to attach more charm and sparkle to your look.
2- Unstitched Summer Dresses for Women
Some women like to buy unstitched suits because they want to modify them according to their desire. Khaadi has a huge unstitched ladies' summer lawn assortment. An unstitched grouping of the two-piece shirt pants and two-piece shirt dupatta is prominent in women. New unstitched dresses are refreshed and accepting the way things are, so merely getting them from stores.
So, demonstrate your joy to your friends and family because a lady consistently has extraordinary emotions towards her looks. Set yourself up to appreciate summer and make your own assortment. Summer resembles investigating new and in-vogue dresses. A large variety of best suits below are waiting for your visit.
Embroidered Two-Piece Summer Outfits(Shirt+Dupatta)
Excellent embroidery and the eye-catching shading subject will make you love this collection. Undoubtedly, a little decoration on the dress can appeal more pleasantly to your character. Therefore, the majority of the women search for a dramatic and embroidered two-piece dress. Here is a blissful portfolio for them to explore with passion and love.
A little decoration always adds too much glam to a dress. Khaadi presents you with glamorous dresses that are delicately embroidered. Further, the shirts are coordinated with printed lawn and chiffon dupattas. You can pick any of the following attire for your casual or formal summer event.
Are you looking for a pleasant outfit for summer? If so, then give a pause to your scroll and check out the following collection. The captivating hues are all set to bring glamorous looks to your personality. Plus, you can coordinate plain trousers for a complete look.
Printed Unstitched Two-Piece Dresses(Shirt+Trouser)
Sometimes, women seek a lightweight style for the sake of comfort. For businesswomen and those who have to work for long working hours, we have a comfortable assortment for them. Admittedly, the superficial digital and floral printed dresses below will meet your desires. So, take some time and look at the following image gallery.
The portfolio presents you with a beautiful and lightweight assortment. Plus, the delicate and purely summer colors will make you look all beautiful. So, get yourself a mesmerizing outfit from the latest summer collection of Khaadi. Plus, combine an exquisite dupatta with the simple two-piece dress for a whole vibe, and thank us later. Also, explore the Nishat summer dresses containing impressive dresses for women.'

Khaadi Unstitched Three-Piece Printed Suits 
Khaadi is a reliable and affordable brand for kids and ladies. Three-piece dresses are the most attractive and demanded collection among women. Beautiful colors and brilliant prints with embroidery enhance the value of each case. Conventional themes and patterns in complimenting shades are made for a versatile look.
Khaadi recently presented its well-known printed lawn weaved dresses for elegant young ladies. If you can't manage the large-sized dupatta, then move towards the two-piece dresses above. You can match a lightweight dupatta with these suits as well. Additionally, a nice pair of shoes and a perfect hairstyle will complete your contemporary look. Meanwhile, you can also check the beautiful lawn prints of Sana Safinaz.
Embroidered Three-Piece Suits
Do you want to look brilliant with some magic in proportion? If so, then please take a while to discover the following dresses. The unique embroidered three-piece dresses are ready to add dignified looks to your appearance. Plus, you can go for the following styles at any formal event in the summer. Of course, you prefer minimal makeup and combine fantastic footwear to complete your looks. Indeed, you will appreciate our collection and tips.
No one can beat the grace of a three-piece suit. Significantly, working women always prefer to wear an entire graceful dress. Moreover, you appeal differently if you look unique. So, do you want to stay distinctive among the public? If so, then quickly pick the embroidered three-piece suit from the latest Khaadi summer collection. Indeed, the delicately embroiderd suits will get you a compliment.
3- Khaadi Stitched Festive Collection for Summer
Women are fond of clothing and fashion. Undoubtedly, there is no exquisite beauty without some novelty and style in proportion. So, add more fuel to your hot personality with vibrant and festive summer dresses. Khaadi comes up with an exceptional catalog for those who are looking for a well-decorative and fancy party-wear dress. For formal wear, Khaadi is offering the best festive collection.
Enhance your presence with the help of the following luxe dresses. It presents an exquisite variety of chiffon, organza, and raw silk dresses. In addition, the festive dresses are beautifully embellished with stones and embroidery. Undoubtedly, you will be pleased with the embellishment of the following attire. So, head over to the nearest store and get yourself a glamorous dress to make your summer much more memorable.
4- Khaadi Unstitched Festive Collection
Summer is a season of colors and joy. Therefore, it is necessary for a brand to launch its colorful festive assortment for women. Moreover, a woman needs a luxurious yet comfortable dress to attend formal events. So, here is an exclusive unstitched festive collection for women below.
This portfolio offers heavily embroidered and well-crafted summer attires for women. Plus, the pure summer colors will bring you a delightful and elegant look. So please have a glance at the image gallery below to grab your favorite embroidered and embellished dresses. Limelight summer collection also contains impressive attires for women of all ages.

Khaadi is the most favorite brand of women. Khaadi's summer collection has launched with stunning designs. Delicate tints and square prints will give you a striking and pretty look. This season, Khaadi urged an entire combination of mode garments, including kurta pajama, kurta dupatta, and suit as a whole. So hurry up and visit any physical store of the Khaadi and select the dress according to your needs within your budget.