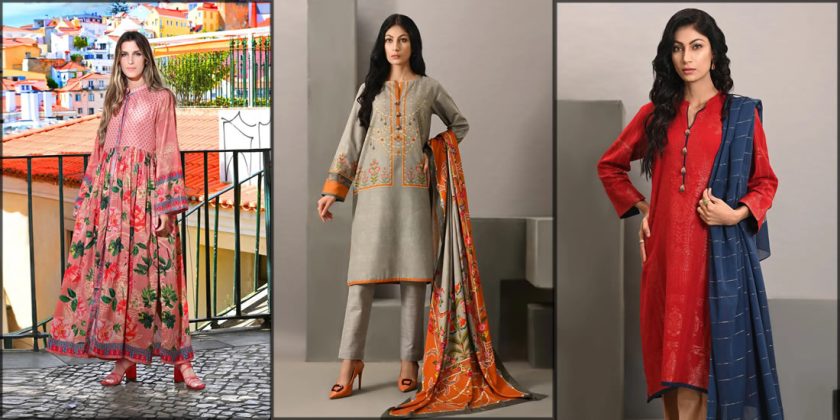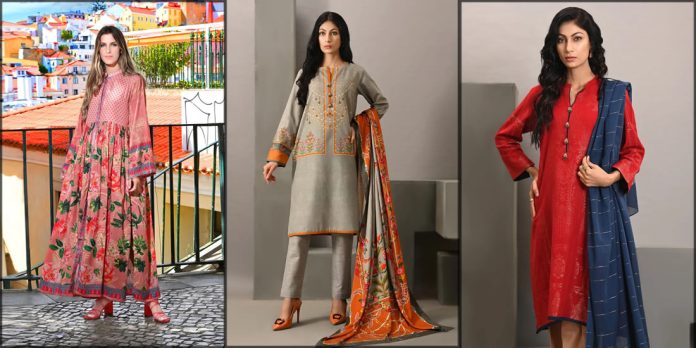 This extravagant winter collection by ChenOne encourages you to catch a striking appearance. All you need is to match your classical winter outfit with natural or nude makeup and special winter footwear. The right selection of clothes is very necessary for outshining others. This article is very helpful in choosing the right outfit from the ChenOne Pareesa winter collection.
In the winter attires by ChenOne, you get the most amazing outfits with the most alluring designs. It will help to add magic to your winter wardrobe. In this winter collection of ChenOne, you will find unstitched, pret, and top designs for women and teenagers. It has also included the classy bottom in its winter dresses for teenagers to complete their striking or killer look by wearing the top or jeans.
ChenOne Pareesa's winter collection consists of the most stylish styles with unique designs. In the seasonal outfits of ChenOne, you always find beautiful clothes. This latest collection of this brand is very awe-inspiring and you should visit it once for getting ideas about the latest trends.
About Pareesa 
It was founded in 1997. ChenOne is a fashion brand that offers clothes and provides a wide variety of footwear, bedsheets, kitchen accessories, and furniture for its clients. It is established in Gulberg Lahore.The outlets of ChenOne are also located in many major cities, including Lahore, Faisalabad, Sargodha, Islamabad, and Karachi. 
ChenOne Pareesa Unstitched Winter Collection
Are you not getting your required style in pret attires? At that point, try to purchase the unstitched fabric from the ChenOne store. In the unstitched collection by ChenOne, you will get the most alluring designs with the best tones. For more unstitched variety, visit the  Khaadi winter clothing range.
For stitching your dresses, you need to find a good tailor for you and then you can pick your required design for the shirt, 2pc, or 3pc collection. So, you can stitch your dress as per your choice and need. Do you not have any idea about dress stitching? Explore this blog and get some ideas about dress stitching.
1- Beautiful Single Shirt Collection
Look at the beautiful cotton satin single shirt that you can pair with a cambric trouser for a more lovely look. This dazzling shirt piece helps to make all of your looks alluring and striking. It is best to wear at casual events. For a more sleeking look, pair this classy shirt with Outfitters jeans.
Alluring Single Unstitched Shirt for Teens
A lovely digital printed shirt is the best choice to wear in the daily routine. You can also find a wide variety in the most alluring style by the Limelight winter collection in the single shirt piece. The following light blue shirt with the maroon print is looking very classy.

Viscose Staple Digital Printed Winter Shirt
Do you want to get a stunning look at your friend's birthday party? At that point, pick this alluring shirt for increasing your beauty. Further, pair it with the sleek black trouser and cone heels.
Pro Tip: Keep your hair open by curling them, and wear the long hoops for a more dashing look.
2- Striking Unstitched 2PC Suits from ChenOne Pareesa Winter Collection 
Do you have a low budget but want to make your look more splendid? Then you should purchase these 2PCs attires that are available at a low price. You can also pair these 2PC attires with a chiffon dupatta and wool shawl.
No matter what kind of event you are attending, you always need a classy outfit for adding more charm or shine to your look. Therefore, these splendid 2PCs attires help you out to complete your attractive and noteworthy look. Combine these 2PCs suits with the high heels, block heels, or flat shoes as per your choice and get a fantastic look.
Sleek Black 2PC Winter Outfit
Black is the ideal color for ladies. Look at the black and white winter outfit below that is beautifully furnished with red tassels. This stunning outfit is paired with the digital printed chiffon dupatta.
Pro Tip: To complete your fashionable look, pair this dress with bold red lipstick and classy long earrings.
Classy ChenOne Pareesa Winter Collection
Like a teenager, women also want a unique style of attires for making their look impressive and decent. All outfits by ChenOne consist of excellent and lovely patterns that add more enchantment to your dull look. In winter, try to purchase fresh and bright hues of attires for a more striking and attractive look.
3- Splendid 3PC Winter Outfits 
There is a wide variety of 3PCs suits in a ChenOne Pareesa winter collection. The prints and designs of these dresses are impressive and decent that stand out your personality in a crowd. In the three-piece dresses of the ChenOne, you get all bright and fresh hues like lime, green, purple, grey peach, and many others.
When it comes to working women, they prefer to wear 3pc attires for going outside. Because the 3PC outfit will help to keep your look formal and decent and makes it more dazzling. These 3PC unstitched attires are best for your casual or semi-formal event or occasion. Check out Charizma winter attires for more variety.
Appealing Digital Printed 3PC Winter Outfit
Mostly teenagers prefer to wear digitally printed attires rather than embroidered ones. The digitally printed outfits can enhance your look by making it more awe-inspiring. Do your impressive makeup with this green shaded outfit and wear the long tassel earrings. Classic three-piece winter dresses are also available in the latest Orient textiles winter collection.
Nicely Furnished Winter Outfit
For party wear, you need the classical formal dresses that complete your striking look. Look at the most impressive and appealing grey shaded shirt that is nicely embellished with the sequins work. It is undoubtedly one of the perfect outfits for making your look more killer and noteworthy.
4- Ready to Wear/Pret Attires for Teens
Teens girls prefer to wear pret dresses. Hence all notable barnds of Pakistan offer an impressive variety of winter pret dresses in all seasonal fabrics. Like other brands, ChenOne also offers winter shirts, bottoms, and two/three-piece winter dresses in all warm materials. 
As you know, the short shirt and palazzo trend is at its peak these days. So, this winter, try this great combo by purchasing the short top or shirt with your impressive palazzo and make all of your looks fashionable and classy. If you want to be sleeker, pair your short shirt with slim-fitted jeans. 
ChenOne Western Shirts for Modern Girls
Are you looking for some western dresses for your winter cocktail party? Then you are in the correct spot. Here you will get a stunning variety of western winter shirts for women of all ages. These classical shirts are made with cotton stuff that keeps you warm and adds extra sparkle to your look. You only need to pair your western shirt with the right style of the bottom to dazzle the winter night.
Stunning Ready to Wear Winter Shirts
Look down at this beautiful winter pret shirts portfolio of ChenOne that offers short and long-length shirts in all lovely tones and styles. You can wear these appealing shirts at any casaul, formal and social event to grab the attractive flash.
Grab any stunning kurta from the ChenOne store and match it with the alluring blue or black jeans. Taana Baana's winter clothing range has also kept in mind teens' likeness and created beautiful designs. You should also pair these shirts with khaki pants to get the striking flash. The choice is yours. 
Two/Three-Piece Winter Pret Suits

Now let's explore the stunning two and three-piece dresses of ChenOne, which are beautifully furnished with thread and sequins artwork. Jacquard and sub-khaddar fabrics are used to design these winter dresses. You can carry these appealing attires at any winter festive to grab the attractive flash. You can also wear these dresses at any wedding event by pairing them with heavy gemstones and nude makeup.
 ChenOne Winter Bottoms Collection



ChenOne also offers striking bottoms for the ladies. In the winter collection of the ChenOne, you will get the side-striped trousers and slim fitted capri at a reasonable cost that will assist you in making all of your looks stylish and glammy. But, of course, you need to pair it with a classy and impressive shirt for a more elegant personality. Check out more amazing dresses from the Sana Safinaz winter collection.
Have a look at the winter clothing range by ChenOne, and I am sure you will fall in love with the high-quality clothes of this notable brand. This season, it offers the striking warm attires in all comfy fabrics and vivid tints. Look above and get all updated dresses with prices.