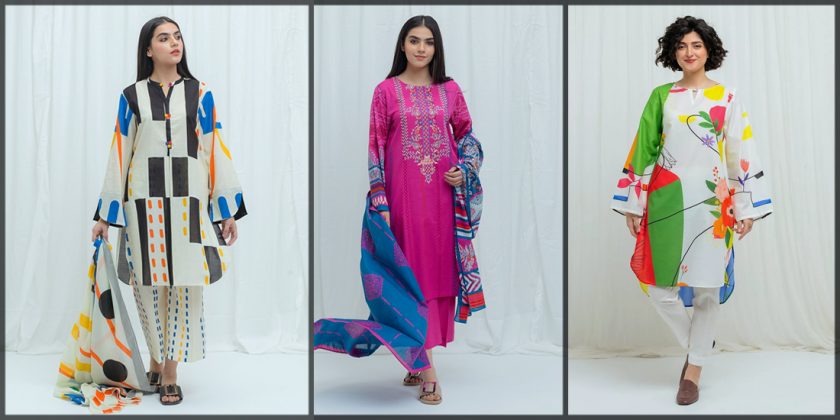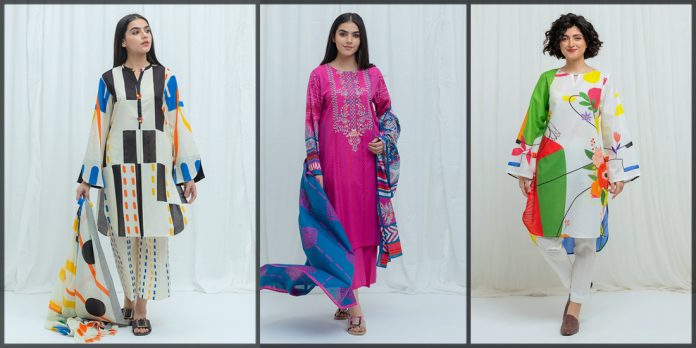 BeechTree Summer Collection is recently launched with the new patterns. The latest summer collection of BeechTree contains the classy unstitched and ready-to-wear dresses in the lawn, yarn-dyed, slub lawn, and cotton fabrics. That helps to normalized your summer look and also shield you from the summer season.
BeechTree for women was launched in 2010 by H.Karim Buksh. It is a high street fashion brand that produces fashion-forward and affordable clothing for women. Moreover, this brand allows you to buy dresses with stylish designs at very reasonable prices.
You can get ready to wear western outfits, jewelry, bags, shoes, outerwear, and much more from the BeecTree store. BeechTree offers stylish garments and accessories for Ladies. The new arrivals of the BeechTree Summer Collection are here, and you can get all updates from this blog along with its price.
Latest and Beautiful BeechTree Summer Collection

BeechTree every season offers the latest pattern clothes for its clients to modify their look by wearing unique pattern clothes. In its latest collection, BeechTree is presenting the following categories for women of all ages. 
Unstitched Printed and Embroidered Suits

Ready to Wear Weaved Dresses

Printed and Embellished Tops and Shirts
The most satisfying thing about this brand is that it offers unique and classy themes attires for women and teen girls. Plus, they used vibrant and appealing shades to make its summer collection more awesome. That will make your character more elegant and engaging. 
Fabrics and New Arrival:
Beechtree used the lawn, yard dyed, and cotton fabrics for preparing its summer collection. BeechTree lawn and cotton attires are intended to keep Pakistani ladies in comfort. The lawn assortments from this brand are available as unstitched suits and ready-to-wear dresses.

You will feel comfortable and unwind in these suits. BeechTree provides a vast number of choices so the buyers can explore a certain extent of stitched and unstitched suits. The wide variety of BeechTree unstitched catalog contains the digital printed and embroidered attires in the most amazing shades and themes. While the summer pret collection of BeechTree, mostly includes the embroidered suits. Bareeze summer collection has been launched recently, check it out.

1- Unstitched BeechTree Summer Collection for Women and Young Ladies – Volume I
BeechTree has launched a collection with the name of volume 1 summer unstitched dresses. This group of attires contains two-piece and three-piece lawn dresses. Below you can see the vibes of the printed unstitched single, two-piece, and three-piece dresses for the summer season. Almirah Summer dresses also contain the chicest printed attires.  
Unstitched volume-I has the best and elegant embroidered summer collection with flying colors. You can wear these attires in any casual get-together to adding more grace and charm to your gaze.
Unstitched Digital Printed Single Shirts for Teens
The unstitched printed single shirts of BeechTree are beautifully furnished with digital prints to make the single shirt collection more impressive. They used bright and brilliant shades to make its single shirt piece collection more charming and appealing. You can pair your digitally printed lawn shirt with cotton or lawn trousers/Capri as per the fashion trend. Plus, keep your hair open and applying minimal makeup to get the most attractive gaze. For more unstitched single shirts, you can visit the Firdous lawn summer collection.
Unstitched Printed Shirts with Blended Chiffon Dupattas – 2PC Collection

BeechTree has launched a beautiful unstitched two-piece summer collection. This collection is prepared with the best color combination and prints. So the ladies can freely and happily enjoy the summer winds by wearing the jazzier outfit. This collection contains digitally printed lawn shirts with chiffon dupattas. The chiffon dupatta is the first priority of ladies because it is very lightweight and easy to carriable. You can wear these dazzling printed suits at your friend's birthday party or casaul gathering to make all of your noteworthy and breathtaking gazes.
Unstitched Three-Piece Printed Dresses for Young Ladies

These three-piece dresses are fully decorated from the front with fantastic patterns. You can wear these dresses at any casual and formal get-together in the summer season. The three-piece collection of BeechTree has chic and classy pattern suits with chiffon, lawn, viscose, and net dupatta. For more unstitched embroidered collections, please visit the Alkaram Studio summer collection. 
Party Wear Unstitched Embroidered Suits for Women

For a formal gathering, you need nicely embroidered dresses that will make your gaze perfect and decent. Look at the embroidered suits of BeechTree that surely help you out. These dresses are beautifully furnished with the threadwork that makes the attires more classy and magnificant. Visit the Sobia Nazir summer collection for more embroidered suits. 
Pro Tips: Combine your formal dress with formal footwear and lightweight makeup. Further, keep your hair open by straightening. Now you are ready to walk with confidence to inspire the world with your decent and alluring flash.  
2- Unstitched BeechTree Summer Collection – Volume II
Beechtree is the only brand that always offers chic clothes with the most unique and lovely shades. In volume II, Beechtree offers the single shirt, two and three pieces suits in the comfiest and reliable texture and at reasonable prices.
Printed & Embroidered Two or Three Piece Dresses
For a casual gathering, women prefer to wear the printed attires, while on the other hand, at a formal gathering they like to wear lightly embroidered dresses. In the latest unstitched collection by BeechTree, you will receive the printed and embroidered attires in the most amazing shades and designs. All fresh and dark hues are used to make this stunning collection more remarkable and classy. These two or three attires help you to enjoy your summer season freely.
Jacquard is another most jazzier texture that will keep you cold during the melting days of summer. You will receive the 2PC attires in the jacquard collection of BeechTree. You can wear these outfits at any formal gathering to make all of your pretty and fabulous looks.
3- Pret BeechTree Summer Collection

Pret collection makes our life more comfortable. When we need some attires in a hurry and emergency situation, at that point, pret wear is the best solution. BeechTree has an extensive collection of embroidered and printed pret dresses. For more similar outfits, check out the Zellbury summer collection.
Printed Tunics and Tops for Teens

BeechTree likewise offers chic and modest tunics and tops for the young girl. Look at the colorful printed top that will help to make your summer season more bright and vivid. You can pair this classy top with jeans to complete your stylish look. While the second one is the one-shaded top that will give you a chic look at cocktail parties. Pair it with tights or jeans as per your choice. Pair these outfits with sandals shoes for catching a glimpse of crowds.
Embroidered and Printed Blue Lawn Shirts
The blue color is the most preferred color of the summer season. BeechTree is offering you blue embroidered and printed shirts. These shirts are embellished in detail with regular fitting. In addition, the screen-print is featured on the front, the embroidered motif on the hem and the screen-printed border on the sleeves enhance the beauty of these shirts.
Pink and Peach Shirts In Cotton Fabric
Cotton stuff is the most welcoming fabric in the summer. Everyone loves to wear cotton dresses. Here are the pink and peach cotton shirts for teen ladies who want to consume simple kurtas. You can pair your cotton kurtas with the checkbox theme trouser to make your gaze more alluring and breathtaking.
Black Pret Printed & Embroidered Shirts
Black is the color that observes the heat more in the warm season. But people still love to wear black dresses in every season. In the latest summer collection of BeechTree, you will receive ready-to-wear light cotton black shirts in loose-fittings. Have a look at the following printed and embroidered black kurtas and pick the favorite one as per the occasion.
Impressive White Kurtas for Women

If you want to wear something substantial and nicely embellished, then try this impressive white outfit. The white outfit neckline is styled with buttons and the full-length sleeves make the kurta more stunning. You can wear this type of kurta at any formal gathering by pairing it with a plain Capri.  Maria B summer catalog has similar outfits like BeechTree, do not forget to try them as well.
Red and Maroon Party Wear Kurtas
Red and maroon are the most excellent and vibrant colors for the summer season that refresh your look and make it more brilliant and fabulous. Hence, BeechTree offers striking red and maroon kurtas with unique styles, as you can see below.
Ready to Wear Shirts with Pants

Now have a look at the 2PC pret collection of BeechTree that contains the lawn shirts and pants. You can pair these shirts with chiffon or viscose dupatta and make your gaze more attractive and dazzling. For more 2PC pret dresses, you can visit the Warda Summer collection.
Embroidered Pret Shirts And Dupattas Collection

Here you can see the classy shirt and dupatta collection of Beechtree. You can pair these two-piece suits with cotton pants to compliments these dresses. If you are going for your office meeting, at that point, these pret dresses of BeechTree is the best option to wear to add more sparkle and grace to your look. Remember to apply the lightweight makeup and adornments with these dresses for a more decent gaze.
BeechTree's summer collection has a fantastic color combination and patterns. Make your warm-season comfy and reliable by wearing the classy outfit of BeechTree because its summer collection contains fabulous prints of flowers and embroidered patterns. These designs will help you in enhancing your fashion sense and personality. This collection is a combination of light and dark colors so that you can choose according to your preference.