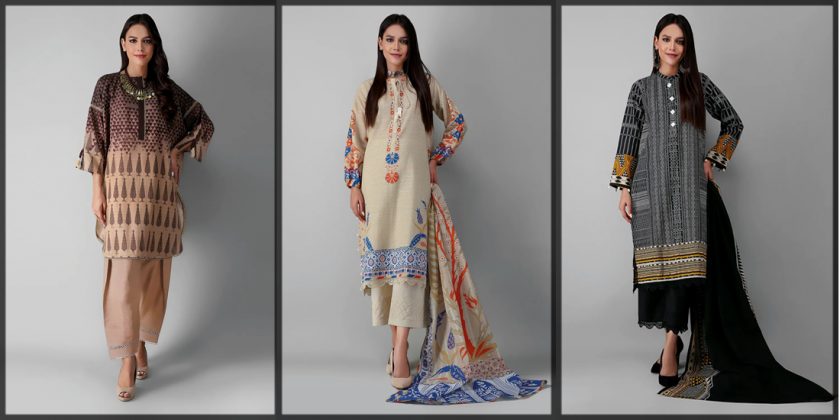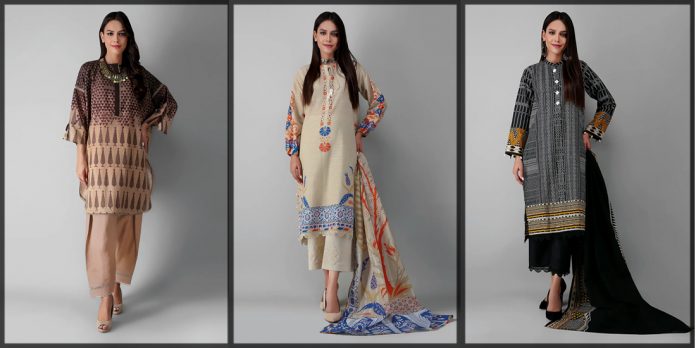 Women of all ages are eager to see the latest collection of Khaadi because it brings elegant attires. Moreover, as the fall has almost arrived, everyone is excited to update their wardrobe. So here, we will showcase the newest khaadi winter collection so that you can quickly grab your favorite article and enhance your winter look well.
Khaadi offers several accessories and shoes as well. But, the brand is famous enough for its versatility in clothing. The immense variety of intricate designs propel the public to opt for its branded clothes. This season Khaadi additionally brings the newest pattern clothes for women in the warmest fabrics and styles.
Are you looking for the best winter dress to update your look? Indeed, you are in the right place. Check out the following article to discover the latest collection of Khaadi. The prices of these dresses are also mentioned for your comfort. Furthermore, some beauty tips are also added for your affluence so you can adorn yourself adequately and make yourself splendid and striking.
Khaadi Introduction..!!
This fashion brand was established in Dec 1998. Shamoon Sultan is the owner of the brand who is a popular Pakistani textile designer and businessman. Shamoon well knows how to play with the colors and patterns. Hence in a brief time, it is becoming the most preferred brand of ladies. Now, it has 52 retail stores in Pakistan and 21 international outlets in Qatar, Bahrain, Canada, UAE, US, Saudi Arabia, and Uk because of its unique crafted attires.
Stylish and Latest Arrivals in Khaadi Winter Collection

Khaadi stands among the leading brands for its exquisite designs and reasonable prices. Also, the designers know how to meet the sensational demands of their customers. Plus, it is famous for the high-quality stuff and durability of the fabric. As several clothing brands in Pakistan are busy crafting seasonal dresses, Khaadi is the leading brand that launched its winter collection first.

With the global infusion and advancement in technology, the brand has many innovative articles in its latest collection. Also, the brand pioneers new trends in fashionistas. It also captures the latest market trends and creates diversity among styles.  Its latest winter collection includes:
Winter cambric collection.

Khaddar dresses.

Light khaddar assortments.

Ready-to-wear dresses.
1- Unstitched Soft Winter Cambric Collection

Cambric has a soft and gentle touch on the skin. With the arrival of fall, people look for a smooth and comfortable material that can guard them against a mild cold. Therefore, khaadi offers a complete assortment of winter cambric fabrics for its valuable customers.
So, enjoy your winters with the exciting collection in stores and online. The innovative designs and striking patterns on clothing will make your season much memorable. Let's have a look at the various cambric articles below.
2PC Winter Cambric Dresses
Do you want to modify your looks this season? Indeed, the unstitched clothing categories have a lot of options to make incredible styles. Therefore, we are showcasing a collection of two-piece printed dresses in cambric fabric at a reasonable cost.
Grab your most favorite outfit from any retail store and get it stitched on your choice. Well, knee-length shirts are in fashion nowadays so that you can opt for them. Explore more cambric collection by So Kamal.
Nowadays, women prefer to wear black for striking looks. Therefore, each Pakistani brand is offering a special black attire in every collection. The beauty of black is that it pairs up nicely with all the colors easily.
Here, we have a graceful nude shaded outfit for women that is adorned with black dots that add more charm to these outfits. You can carry these outfits at any casual gathering for making your look pretty and captivating. Furthermore, style up your outfit with a rounded daman and pair it with tulip pants. And for the smart and gorgeous look, you can also go for a skinny Capri with your knee-length shirt if you like.
2- Unstitched Khaddar Collection for Women

Women always look for refreshing colors that give a reflection of their appealing character. Well, khaadi offers an independent assortment of appealing two-piece unstitched dresses that are made with the khaddar stuff. These stunning khaddar dresses not only normalized your look also keep you warm and relaxed.

Here, we have gathered the excellent printed suits for you. You can modify these dresses with any incredible style you like. Furthermore, to get a more polished look combine your khaddar attire with fantastic jewelry and classical footwear because not only outfit will make you pretty. Want some more chic collection? Bonanza Satrangi winter collection also has the ravishing designs of the khaddar.
Nude Shaded Khaddar Attires
Nude-shaded dresses are always of great attraction. Specially, these shades are perfect for women who have a comparatively short height. Wearing beautiful nude outfits by khadi can add appeal to your character and make it more captivating.

As you know, the well-decorated dress is always eye-catching. Therefore, Khaadi prepared elegant printed dresses that indeed rock their events. Look down at the artistically crafted two-piece khaddar dresses that indeed refresh your winter look and make it more dazzling. Do not forget to visit the Junaid Jamshed winter collection for getting a mesmerizing addition to your winter dresses.

Fresh and Bright Shaded Khaddar Dresses
Young girls always go for the bright and fresh shaded attires. Hence for those ladies, khaadi specially prepared the khaddar attires in the dark shades. Look down at the beautiful khaddar dresses that are made with the best color combinations. You can wear these attires casually and even formally. All you require is to combine your khaddar suit with the minimal gemstones and pop makeup for grabbing the extraordinary and breathtaking look at any seasonal event.
3- Unstitched Light Khaddar Dresses by Khaadi

Light khaddar is slightly lighter in weight and texture as compared to khaddar. Usually, women who do not want to wear heavy stuff, go for the light khaddar. Therefore, Khaadi comes up with an exclusive collection of these dresses. Have a look at the following array to get the most mesmerizing winter outfits.

Simple Printed and Casual 2PC Khaddar Outfits
Indeed, simplicity is the ultimate sophistication of women. The majority of women who keep themselves simple remain dominant for their elegance, we are offering stylish yet simple two-piece dresses for them.
Below are the magical and digitally printed khaddar suits for teen girls. They are paired with lightly embellished bottoms. You can carry these casual outfits to any formal event by combing them with traditional gemstones and classical makeup. So are you ready to rock your winter with these exciting prints??
Classical Three-Piece Light Khaddar Attires

For a colorful season, women need a colorful collection of dresses, especially teens who always opt for vivid styles. Probably, the Sapphire winter collection has enormous variety for you. But, khaadi offers a vibrant collection to meet the demands of its customers.

Have attention to the following striking khaddar dresses that are made with lovely tones and patterns. All you require is to stitch your dress in a way, as shown below, and combine classic footwear to complete your vibes. You can wear these outfits at any formal and social gathering for making your look marvelous and jazzier.

Stitched/Ready to Wear Collection for Girls

Fall has arrived with a variety of collections by all clothing brands. A mesmerizing assortment of Limelight winter collection also has an incredible variety. Similarly, Khaadi has launched its exclusive pret designs.
The fantastic kurtas and two-piece ready to wear dresses are available online and at stores. Generally, pret is costly in comparison with unstitched variety. But, you can save enough of your time by having ready to wear attire.
There is a beautiful assortment of printed and embroidered kurtas below. Plus, the stylish kurta designs are crafted with cambric and khaddar fabric. Each of them is different in style and contrasts with one another. So, get your essential wardrobe by having basic kurta by khaadi winter collection this season.
Amazing Kurta and Dupatta Collection
Women love to wear subtle colors with delicate embroidery. Additionally, they prefer such style for excellent looks. Therefore, they turn toward khaadi as it offers a comfortable and chic variety of ready to wear kurta with chiffon dupatta. For enhancing the outlook of the dress, also select the matching shoes.
So, if you have been looking for refreshing attire, then Maria B winter dresses will also be the best option. The light shade dresses bring pleasant vibes Indeed, you will get a compliment with these styles.
Khaadi X Esra Special Edition for Winters

Khaadi is all set to bring you a glamorous and stunning midnight collection with the famous Esra Bilgic from Turkey. The lady is famous for amazing and hit TV serials. She got fame for portraying the role of Halima Sultan in the famous Turkish serial. Moreover, she was the known leading actress in a crime drama.
Therefore, the brand brings you a tasteful formal and luxury collection with the demonstration of Esra as people were loving her too much. Please take a while to explore the exquisite dresses below. Incredibly, Esra's outfits will propel you to buy stunning attires for your winter. Have a look at the following portfolio.
Semi-Formal Esra Collection
Winter is a season of vibrant colors and magical prints. People celebrate a lot of events in warm and comfortable clothes. Therefore, the Khaadi X Esra edition brings you a wide variety of semi-formal dresses. The following vibrant and snappy colors are the best to wear in the cold weather. Get yourself an astounding attire from the recent Khaadi X Esra's assortment.
Luxurious Khaadi X Esra Edition
You might have seen a lot of formal variety from the Taana Baana winter collection but here is an astonishing collection for you. The exquisite colors and styles look magnificent in winter. Additionally, the vibrant combinations will look perfect to rock the season. Please give a thought to the following mesmerizing collection. Create magical looks and a little illusion in your style and rock the events. Indeed, you will love the Khaadi winter collection.
Khaadi is the favorite and leading brand of Pakistan. Plus, it launches a striking collection with the arrival of every season that attracts the public at large. Usually, teen girls opt for their unstitched collection. These dresses are offered at minimal and affordable prices. Therefore, it lies within the range of everyone. So, get the exceptionally ideal outfits for extravagant winter vibes here. Indeed, this article will help you to choose the best attire for yourself.