Outfitters is the most favorite brand of the public that offers the most stylish and astonishing attires for juniors, women, and men. Each season, everyone, especially women, are incredibly excited to view the seasonal collection of outfitters. Because it brings unique and dazzling crafted attires for women of all ages. But, now their wait is over!! Recently, Outfitters have launched its winter collection.
You will get a wide stunning variety of women's wear in the latest collection of Outfitters. The newest winter launch of Outfitters helps get a stylish and glamorous appearance. So look down and explore the newest winter collection of the Outfitters with the updated prices.
You will get the most beautiful shades of attires in this winter launch. Plus, they used all trendy styles for preparing their winter apparel. Moreover, they used the soft and warm fabric for the ease of its clients so their clients will not only invigorate their look also append more appeal to their looks.
A Brief Introduction of Outfitters
Outfitters is the most popular clothing brand for the youth of Pakistan that was established in 2003. Kamran Khursheed is the CEO & founder of Outfitters. This brand has brought some uniqueness to the fashion industry of Pakistan. Hence it is becoming the most favorite brand of youth in a short time. Today it has 120+ stores in more than 20 cities of Pakistan. One of the accurate things about this brand is that it provides its customers with the latest and international styles, which are the perfect choice for party and formal events. 
Latest Variety for Girls by Outfitters Winter Collection
The latest winter catalog of Outfitters offers a splendid variety of tops, sweatshirts, jeans, trousers, jackets, hoodies, and scarves for women. Their apparel is made with comfy yet cozy fabrics that help you get the relaxed look to enjoy your winter snow parties comfortably. As each season, it offers multiple varieties of attires. This season Outfitter is likewise offering the following categories for women.
Co-ord and Boiler Suits for Girls

Outfitters Winter Top/Shirts Collection

Cozy Winter Jackets Collection

Winter Pants and Trousers by Outfitters

Outfitters Winter Scarf Collection 

Classy Winter Sweatshirts Collection
Moreover, check out the winter dresses from all notable brands of Pakistan. 
1- Co-ord and Boiler Suits for Girls

Wearing the most noteworthy and fabulous attire is the fantasy of each woman. In this cold season, try to wear the co-ord and boiler suits that give great vibes to ladies' looks. You can combine them with any winter boots for a more striking and alluring look.
If you are going for the winter cocktail party, then the first one co-ord is the ideal choice to rock your evening. While if you are going for the snow party, grab the second boiler suit and freely enjoy your party.
2- Outfitters Winter Top/Shirts Collection
Top or short shirts are the most excellent choice that each youngster loves to wear because they help to make their look stylish and astounding. This season, Outfitters are offering various designs or styles of the top and shirts. So, you can adorn yourself wonderfully. The top and jeans is the best combination that remains trendy in all cultures. This winter, get ready with the latest top collection of Outfitters. For more comfy winter attires, explore the So kamal winter dresses.
Do you want to become prominent in public? Then you should try the below tie & dye tee because it is on-trend these days. You can join it with smart jeans for a more splendid look. Plus, make your classy hair bun or keep them open and wear the lightweight hoops for a decent look. Khaadi winter collection also contains majestic tie-dye dresses for women of all ages.

Are you going to the cocktail party? Then wear this great NASA graphic tee. Match it with smart black jeans, a high ponytail, and brownish makeup. Further, wear the sneakers in a black shade to enhancing your fashion style to get the all-black glimpse.
Black and White Animal Print Shirt
Say hello to this black & white animal print shirt this winter. This beautiful shirt will not only look graceful but also add decency to your personality. Combine it with the Breakout jeans or bottom for maintaining a stylish outlook. 

A cotton twill overshirt is the most desirable selection for keeping yourself warm in the cold season. This luxurious and alluring overshirt is the best decision for winter parties. Combine it with the classical hair bun, brownish yet appealing makeup, and comfy winter boots for grabbing the stunning gaze. For more winter dresses, browse the Maria B winter collection.
Have a look at the warm checkered shirt dress is best for those girls who want something new and fresh. For the perfect party night, this shirt dress is the precise choice. It is best to combine with khaki pants or jeans. 
The correct combination of the accessories will further increase the beauty of this shirt. So try to wear the small hoops and classical bracelets for a decent look. Furter tie your hair in a pony style and keep some front strands open to get the extra chic look. 
Cropped Button-Down Shirt 
Most youngsters avoid wearing formal dresses. Instead, they love to wear short shirts with palazzo because it gives them a stylish and charming look. But this season, try something new. The following cropped button-down shirt is the ideal choice for this winter to look classy. Combine it with flare or smart bottoms for an extra chic look. 
Denim shirts are the most comfortable clothing piece of winter that adds more grace to your glimpse and keep you warm and safe from the cold bareeze. So enjoy your winter by wearing the below dazzling denim shirt. Join it with cargo pants and high heels for a more distinguished look. Alkaram Studio winter assortments also offer impressive denim shirts for winter.

Jersey Dress with Pleat Detail
Jersey dress is the newest fashion trend that has been introduced by notable Pakistani fashion designers this year. This following jersey dress is not just for the youngsters, women can also wear them to make their looks awe-inspiring. All you ought is to pair it with plain legging or jeans to compliment it. 
Smocking Detail Button-Down Shirt
Smoking detail button-down shirts are the most elegant and impressive choice to wear at a casual get-together. The below fantastic white is the most charming shirt that adds more attractiveness to your look and makes it more dazzling. Combine it with slim-fitted jeans to complete your stylish look. Moreover, the Junaid Jamshed winter collection is also worth buying.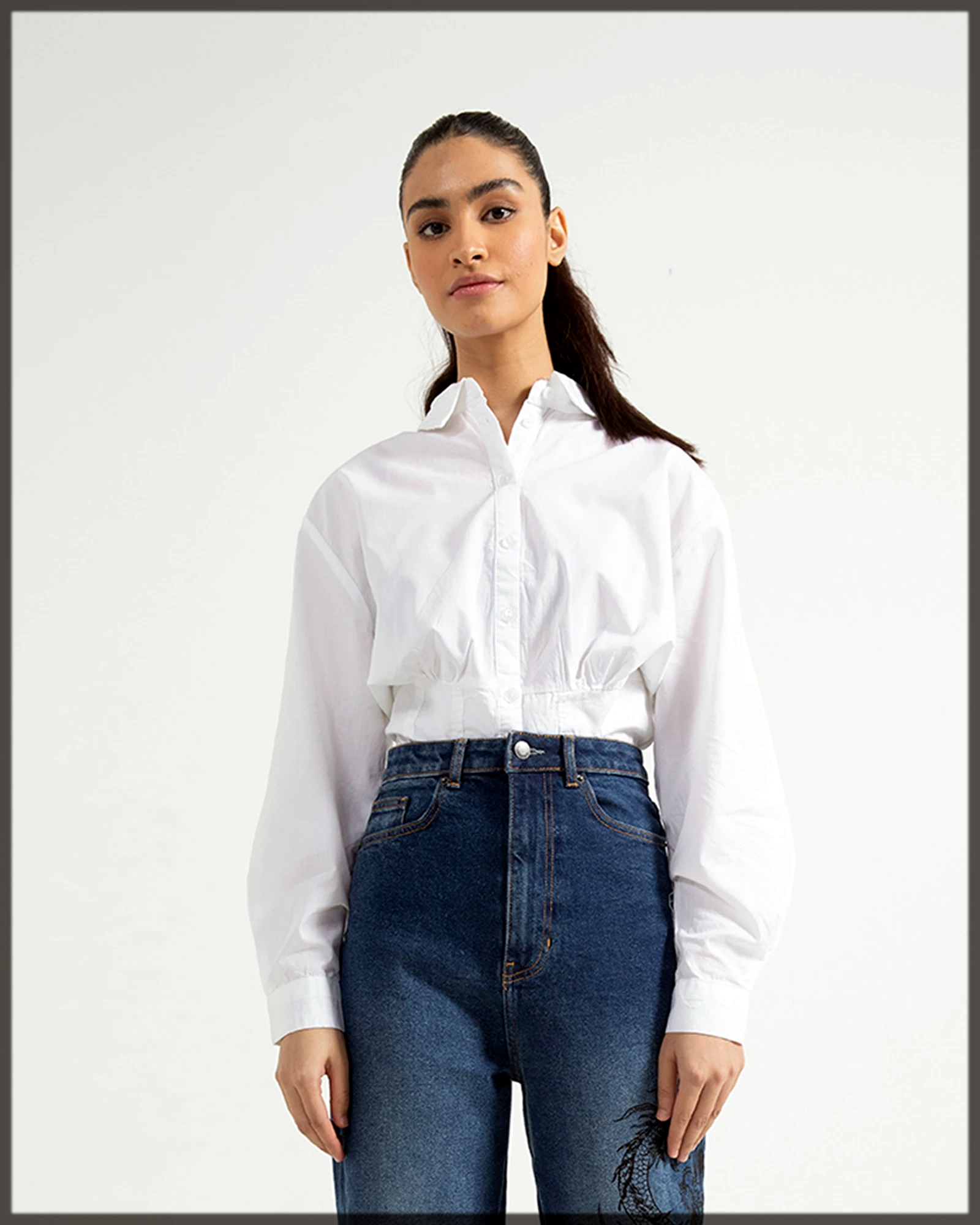 3- Classy Winter Sweatshirts Collection

Do you want to look more dazzling or charming than others?? At that point, try the sweatshirts in the most excellent shade with your jeans for a striking look. The elegant winter attire brightens the outlook of your personality. Therefore, always go for the perfect one for a stunning look.
Regular Fit Tees with Poof Sleeves
As you know, poof sleeves are on-trend these days, and ladies of all ages like to wear the trendy and latest pattern outfit at any event. Hence this season, Outfitters designed the exceptional catalog of poof sleeves outfits for satisfying its clients. 
These underneath fit tees with the poof sleeves are the most incredible choice that helps create your appearance more impressive. For a casual look, pair them with the black flare pants. While for a modest look, pair them with skinny-fit jeans. Moreover, never forget to make the classy bun on the top of your head for grabbing the extra smart and chic look. 
Flexible Sweatshirts with Waist Puller
I am sure you cannot say no to these beautiful flexible sweatshirts enhanced with waist pullers. The fittest thing about this style is that you can contrast it with the bottom of any color. The grace of this style remains intact regardless of any combination. Also, their winter stuff keeps you warm and safe.
4- Cozy Winter Jackets Collection
As Outfitters offers a variety of styles, it also provides the jackets' wide variety. Look down and explore its jackets catalog that brings many newest styles to wrap.
Puffer and hoodies are the best options to wear in winter. Below is the most impressive relax fit quilted puffer jacket that has pockets on both sides. You can carry this stunning puffer jacket with the top and jeans. This cozy puffer is made with polyester fabric that also keeps your body warm and gives you a captivating and relaxed look.
Faux Biker Leather Jacket 
Leather is always the most favorite texture of women and men for the winter. So if you are going to the cocktail party, then wearing this biker leather jacket over your dress is the best option to rock the night.
Sleek Black Puffer Jacket

Have a look at the sleek black puffer jacket that is so decent in appearance. It is prepared with the hair of the animals and provides a good shield against cold. Combine your black puffer jacket with striking makeup, loose hair, lightweight gemstones, skinny fit jeasn, and winter boots for making your look jazzier and breathtaking.
5- Winter Pants and Trousers by Outfitters
Nowadays, you can get a different style in bottoms, like cargo pants, slim-fitted jeans, flare pants, and smart pants. Outfitters is offering various chic bottoms styles this winter to complete your fashionable look.
This black stretchable legging gives you a comfy winter look and gives satisfaction to your legs. You can combine this legging with your top, short shirts, or any style you like.
If you want to make your look modest, then pair your classy winter shirt with slim skinny faded jeans. It is one of the most splendid jeans types that you can also wear in summer.
Flare trouser is the chicest style that is in-trend these days. You can get the flared pant in different hues or patterns in the latest winter collection of Outfitters. Look down at this beautiful flared denim that you can combine with your choker neck tee for getting a comfortable winter look.
This season, Outfitters have brought the chicest bottom styles in the perfect tints. The balloon-fitted jeans are among the most remarkable types of jeans. Moreover, you can pair ballon-fitted jeans with any style of shirt for the perfect look.
Have a look at the most classy smart pants in captivating shades. Consolidate your sleek pant with the dazzling bright, shaded sweatshirt to complete your glamorous winter look.
Straight-leg jeans are in trend these days. They enhance your personality by making it more attractive. Join it with the classic joggers or boots to create your striking casual look.
6- Outfitters Winter Scarf Collection 
Muslim ladies love to cover their head with a scarf. Hence Outfitter's offers the warm scarf in the most beautiful shades and styles. You can also wrap these scarves around your shoulder to protect them from the cold. In the latest scarf collection of Outfitters, you will get the scarf in two types
Printed

Plain

Warm Printed Scarf 
The printed scarf will add more shine to your winter look, wrap your hijab in a most striking style, and add extra appeal to your vogue. All you require is carrying your printed scarf with your button-down shirt, slim-fit denim, and ankle boots to grasp the absolute winter look.  
Soft Plain Scarf for Winter

Everyone has their own choice. Some girls like the printed scarf, while others like the plain scarf. Both scarf patterns have their own grace. Look down at the two beautiful shades of the warm scarf by Outfitters that indeed renew your winter look and make it more enchanting. You can also carry your hijab with jeans and a top for a more stylish look.

I hope you have enjoyed the latest winter collection of the Outfitters. Now it's time to replace your summer wardrobe with winter attires. Moreover, Outfitters have also managed the season-end sale for its clients so that everyone can take the benefit from it and get the most beautiful and stylish attires from the Outfitter's store. So stay tuned for more updates.