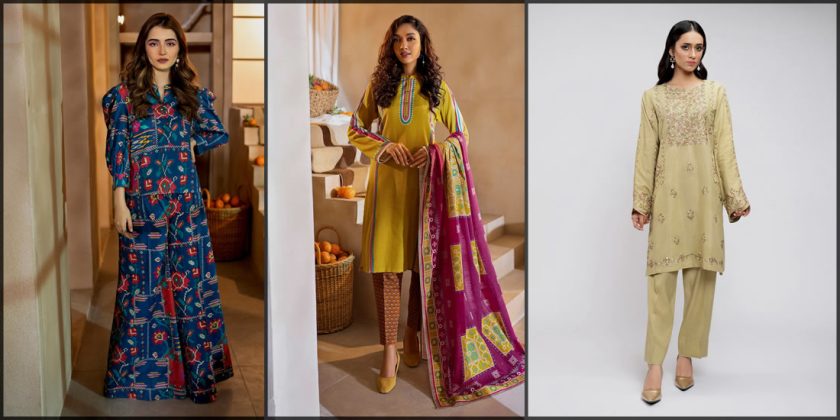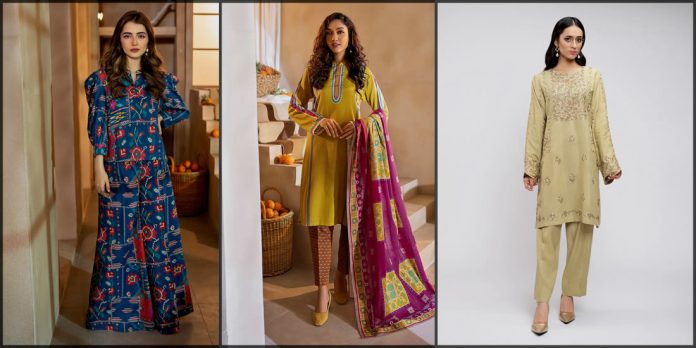 Limelight is the most adoring brand of Pakistan that each season offers striking attires for women of all ages. This season also propelled the stunning winter attires in khaddar, cotton, jacquard, masoori, and cambric textures. Plus they used all bright, dark, and dim hues to make its winter catalog breathtaking. Let's explore the latest limelight winter collection with prices.
Usually, Pakistani women are always in trouble finding perfect dresses for themselves. In such conditions, Limelight strategizes to create beautiful and latest patterns apparel for ladies so they can furnish themselves well by wearing appealing attire.
In the Limelight store, you will get a wide variety of outfits for kids, men, and accessories. But, here we are going to present you with some magical collection of winter. So, let's extract some time to explore the breathtaking variety below. Moreover, the costs of these dresses are also mentioned for your convenience.
About the Brand and Designer
Limelight is known as the one-stop store that fulfills all the fashion needs. It was propelled in 2010. The basic aim of this brand is to surrender people with unique and high-quality attires.
This fashion retail brand of Pakistan offers striking unstitched, pret, western, shoes, and accessories for women of all ages. It has more than 70 stores across Pakistan that offer incredible garments. It also offers an online facility for its buyers.
Beautiful Unstitched and Stitched Limelight Winter Collection



With the arrival of the winter season, several brands of Pakistan have launched their winter collection. Well, the fashionistas of all ages are looking for the fusion of traditional and trendy clothing. Therefore, many people opt for Limelight as it offers a wide variety of clothing. Also, they provide clothing according to the latest fashion trends.
Moreover, the way you style up reflects your aesthetic sense. Also, your expression is tied up with fashion. Hence always pick the right outfit to stand out. Women of all ages prefer graceful and distinctive clothing. In contrast, the working ladies in Pakistan look for a complete outfit in one go. Therefore, you can see a wide variety of all ages here. This winter, Limelight offers the following sorts of clothes for women to dazzle.

Unstitched cambric collection.

Refined winter cotton attires.

Slub Khaddar dresses.

Jacquard winter collection.
For more comfy attires explore our women's winter catalog that offers eminent winter dresses of all notbale brands.
1- Unstitched Winter Cambric Collection
The cambric is a special kind of garment that is best for cold weather. Plus, some women prefer this soft in touch fabric to wear in mid-season. The temporal fashion system of Pakistani culture engages the public to try a variety of tasteful materials. So, here is a beautiful cambric collection for you. To ensure this leading brand's productivity, you can check the Limelight summer collection with the price details.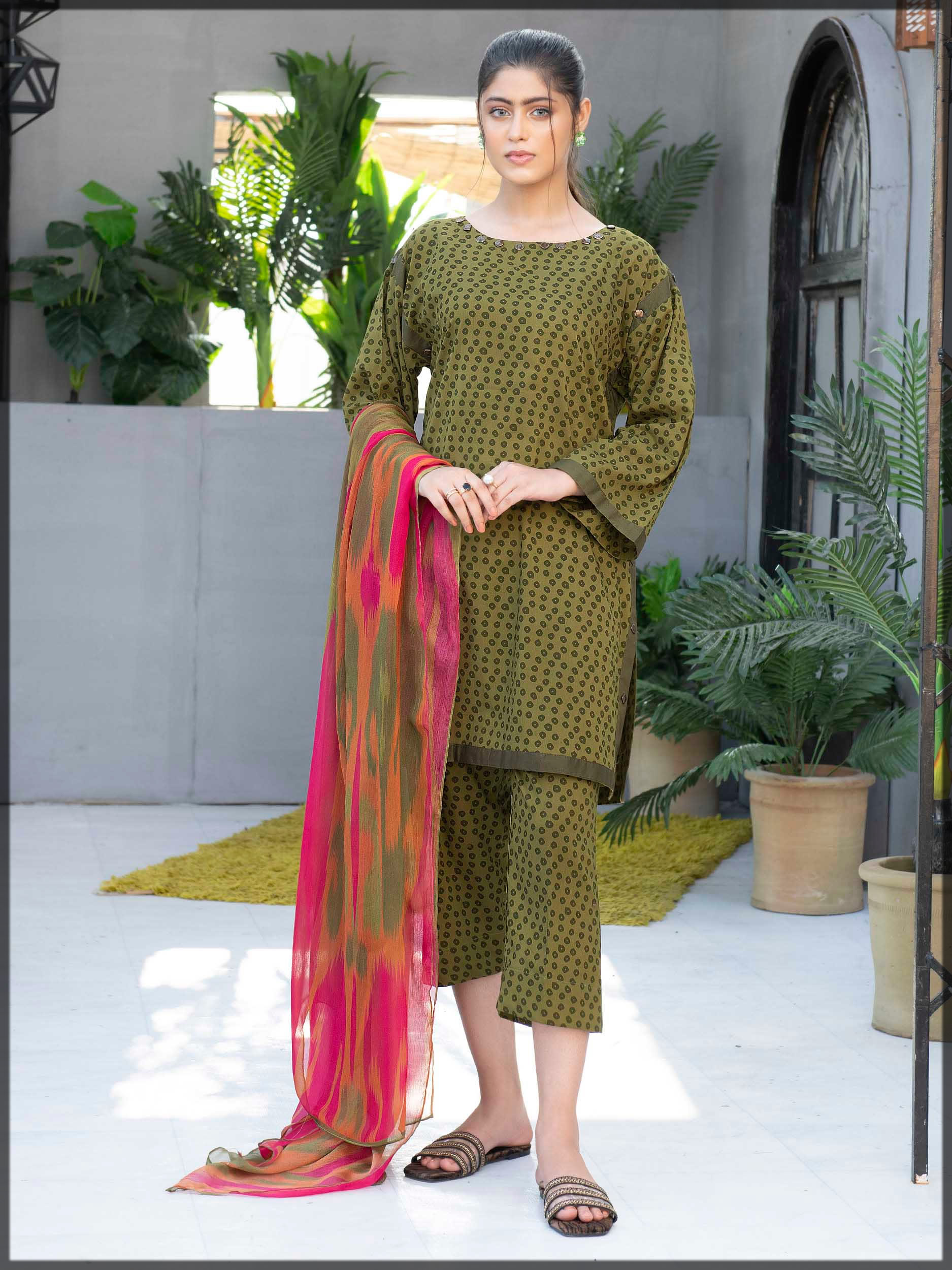 Cambric Single Shirts for Teens

Teens always prefer to wear colorful single shirts for a modest look. Undoubtedly, a dynamic and aesthetic pattern will enhance the grace of the dress and your looks as well. Therefore, Limelight brings an exclusive collection of printed cambric shirts for teens. Please take a while to explore the image gallery below. The portfolio presents modest and energetic winter shirts for you. Please give it a thought and have a blissful winter.

Two-Piece Cambric Suits (Shirt + Dupatta)

Nowadays, the closets of every woman have a couple of shades for a new look every time. Wearing a beautiful dress brings elegance to your personality. Indeed, colorful outfits are best to bring elegance and grace to your character. Therefore, Limelight used all vivid shades to prepare its winter cambric dresses.

Have a look at the following dresses for ultimate sophistication in your character. These two-piece dresses contain cambric shirts and printed chiffon dupattas. You can pair them with khaddar or cambric trousers to get the appealing flash. You can also go for the Beechtree winter collection that offers vibrant combinations of beautiful prints. I hope you will never regret your choice if you opt for any of the dresses by the Limelight winter collection below.

Two-Piece Printed Cambric Suits (Shirts + Trousers)

Probably, women are well aware of winter fabrics. Still, some of them look for an outfit that has a cambric shirt with cambric trousers. Here we have such astounding printed two-piece suits for them. These classical dresses have delicate prints and marks that indeed refresh your look and make it extra charming. You can pair these two-piece cambric suits with winter wool shawls for getting a relaxing look.
Three-Piece Printed Cambric Suits
Women always desire to wear a complete three-piece dress. Certainly, many of our aged women find it difficult to match a contrasting trouser. Therefore, Limelight brings another special collection for them. The following image gallery presents you with artistic and graceful printed cambric three-piece suits. Each style is creatively printed to bring you the desired glam. So feel free and grab any below outfit to renew your winter look.
2- Refined Winter Cotton Collection (Unstitched)

Winter cotton is the most natural and lightweight fabric for stitching. It actively protects you from the mild cold outside. Well, refining may convert the material into another. Sometimes, it turns to polyester or pure cotton after processing. So always pick the right one for yourself to blaze. Also, get yourself a classic wardrobe by the So Kamal winter collection.
Exclusive brands aspire to bring inspirational outfits for people. Of course, Limelight stands among the notable brands in Pakistan. So, you can explore a variety of winter fabrics here. Below is the collection of delicate winter cotton dresses for you. Further, these are categorized among single shirts and simple and embroidered two-piece dresses.
Simple and Delicate Winter Cotton Shirts
Fashion trends change with technology and advancement. Similarly, the vivid colors in shirts are back in the direction. Young girls prefer vibrant and exquisite colors to modify their looks. So, the side is more toward the colorful and magical prints. Therefore, Limelight prepared the voguish and dazzling winter cotton shirts in all brilliant shades for girls.
These youthful colors will appeal to your character. Moreover, you can be beautiful inside and out with the mesmerizing collection below. So grab some cotton shirts from the Limelight winter collection and pair them with the khaddar or cotton trousers to compliment them. Try to apply classical accessories and bold makeup with these cotton shirts to catch the breathtaking gazes at any seasonal celebrations.
Two-Piece Printed Cotton Suits
Women always dream of looking great every day. Therefore, trendsetters explore unique designs each day. Plus, they engage the public to get the most trendy wardrobe to have elegance and grace. Limelight comes up in great versatility with broad segmentation for all ages and groups.
Here, you can see the pleated, strips and floral prints in two-piece sets that indeed give you the magical look. Gul Ahmed is also famous for its colorful winters. Therefore, you can get more dresses from Gul Ahmed winter collection, for instance. Let's get a traditional look with the dreamy collection below. Indeed, the tasteful combination will turn the heads on you.
Two-Piece Embroidered Winter Cotton Collection
A decorative outfit always gets you a compliment. Therefore, women who are conscious of their appearance look for such embroidered dresses. Such alluring outfits are still in fashion and trends. So, explore the modest and most classic two-piece embroidered winter collection below at affordable prices.
Further, go for the hairdo for polished looks. Also, infuse yourself with the gorgeous attires below. The striking dresses are paired with poly-wool shawls for well-defined winter vibes. Rock your cold season with the fantastic articles shown below.
3- Unstitched Warm Slub Khaddar Collection

Intense warm stuff is always required to protect yourself from the intense cold. Sustainability is an urgent and significant issue for all brands. Well, modern trends imply that khaddar is the best material that gives enough warmth and comfort to obscure yourself from the freezy weather outside. Khaddar designs by the Sapphire winter collection are also very popular among women.
Therefore, Limelight has come up with a tremendous variety of khaddar collections. You can see the incredible stuff below. Plus, the captivating styles propel the public to get them urgently. So, grab your favorite khaddar attires online or from the nearest retail stores at reasonable prices.

Slub Khaddar One Piece Collection
The versatile variety of slub khaddar unstitched collection is ready to bring colors to your personality. Slub khaddar is a lightweight winter fabric for crafting winter suits. Generally, young girls prefer this material in mildly cold weather to freely enjoy all parties and celebrations. Here is a beautiful one-piece assortment for you below.
All of these stylish and colorful attires are a beautiful choice for this winter. They have both light and dark colors in them. The beautiful digital and gold paste prints are also enhancing the charm of these dresses. So grab any below shirt and adorn yourself adroitly. Moreover, you can combine these khaddar shirts with khaddar trousers, tulip pants, basic trousers, and any style of bottom you like.
Two-Piece Slub Khaddar Dresses
Crafting the clothing, which is both soft and strong is a unique combination that only a few brands have mastered. Do you want to have such clothing material? Indeed, the following slub-khaddar attires will reflect beautiful and stylish looks with high-quality material. These two-piece dresses are furnished with digital and classical prints. So, grab the beautiful styles below before it's too late. You can carry these outfits on any seasonal occasion to get a relaxing yet heated flash.
Elegant Three-Piece Dresses
Do you want to have an amazing outfit? Well, it is a fact that grace in women has more effect than beauty. Therefore, a graceful three-piece dress is perfect for bringing much elegance to the personality of women. So, rush toward the limelight winter collection to grab the basic slub-khaddar dresses. High-quality khaddar attires can also be found from the Maria B winter clothing range.
4- Unstitched Jacquard Collection
Each day is precious if you want to look dazzling. Significantly, the events in the winter season hit differently. Plus, they need distinctive attires with a little glare to look more stylish. Indeed, the jacquard collection can be the best to wear at the winter season's formal gatherings. Get your formal dresses for a dignified winter look here.

It is an intricate woven design that comes as a result of combining several fabrics. Further, the smooth texture and colors propel the girls to wear them for captivating and eye-catching looks. So, let's give a thought to the image gallery below to discover the latest designs.
Dark-Shaded Single Shirt Pieces
Are you looking for a stylish party wear dress? Indeed, you might be well aware of the collection of Pakistani party wear dresses. But, here is a contemporary collection of jacquard for you. Further, you need to decorate your shirts with unique lace designs. Plus, combine them with beautiful bottoms for a voguish character. So, let's enjoy the breathtaking dresses below.
Unstitched Two-Piece Jacquard Attires
Women prefer to have an embellished outfit. Plus, they always want to leave a memory with correct styles. Therefore, they look for such mesmerizing costumes that can make their day memorable. Here, we are showcasing the alluring and satisfactory two-piece jacquard suits for them. So, let's style up your wardrobe with the voguish collection below.
5- Ready-to-Wear Limelight Winter Collection
Probably, many of you may not have enough time to invest in stitching the unstitched clothes. It consumes more time and sometimes more cost. Therefore, we are presenting you with a ready-to-wear variety here. Indeed, it will save enough of your time and will bring elegant looks to you. Take a look at the pret shirts and ready-to-wear suits below. Plus, for more pret variety, explore the Alkaram Studio winter collection.
Teens who prefer to wear silk dresses shall think about Limelight's short kurta collection below. The brand brings an engaging portfolio featuring exquisitely chic and well-embellished short shirts in silk, slub khaddar, masoori, and jacquard textures. 
These beautiful shirts indeed ought extra appeal and glam to your style by making it extra charming. Combine these incredible shirts with the basic pant for a decent look. In contrast, for a modest look pair your short shit with palazzo or jeans. The choice is yours. 
Elegant Pret Shirts for Winters
You might have seen the beautiful kurta variety in the Khaadi winter collection. But, here is an alluring portfolio for you. The teen girls who are looking forward to a youthful style can have the following dresses. So, head towards Limelight's winter collection to get the chicest and mesmerizing winter clothing this season.
These beautiful kurtas are made with khaddar, jacquard, and masoori textures. Moreover, delicate and minimal embroidery on the front of these shirts makes them more awe-inspiring. You can pair them with plain trousers and a jacquard/wool dupatta to grab the stunning flash. Moreover, with these kurtas applying the nude makuep, wear the high heel shoes and add some curls to your hair to stand out.
Classic Pret Suits for Winters
Are you looking for a two-piece ready-to-wear outfit? Indeed, women always want to look glamorous. Therefore, they are always busy searching for the stunning and latest attires. For instance, we are bringing an outstanding pret collection for them. The following slub-khaddar and thai silk attires by Limelight will add apparel to your personality and make it extra charming. You can carry these attires at any formal and social gathering to grab the prettiest gaze.
So, get the most charming and delightful costumes by the Limelight winter collection here. Everyone may not visit the retail store to shop for their favorite dress. Therefore, an online shopping facility is being provided by the brand to its valuable customers. So, take a glance at the latest collection of the upcoming season for bright and delighted looks. Indeed, this article will help you to get your favorite dresses.