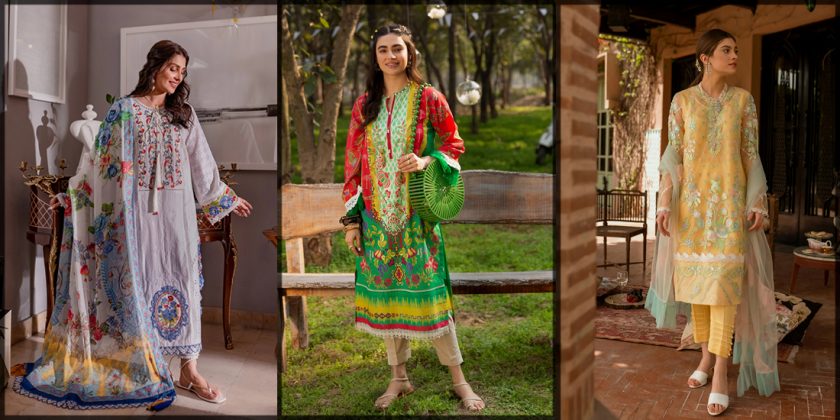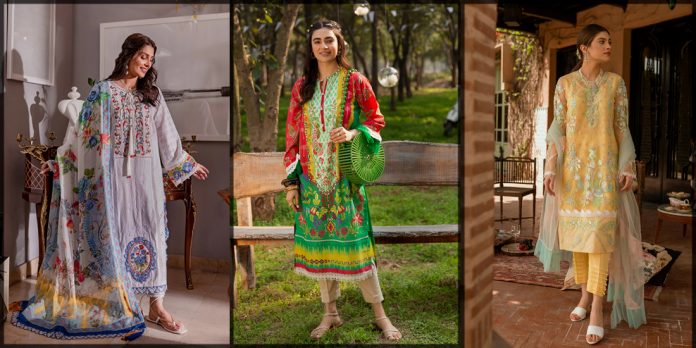 A new brand in a town. Ammara Khan is an afresh fashion house that offers exquisite craftsmanship attire for women of all ages. Nowadays beauty is not about having a pretty face, It's all about your dressing sense. Therefore, always go for the perfect outfit to enhance your character. The newly propelled Ammara Khan summer collection indeed helps you to get the perfect dress to make your personality splendid and graceful.
For women fashion and style are everything. Because style is a reflection of attitude and temper. Hence ladies take a lot of time to buy the perfect dress. For protecting your valuable time, we have gathered the appealing attires of Ammara Khan that are prepared with the innate and classic sense of style. Their prices are also mentioned for your ease. ​
Ammara Khan, not only designs clothes but also designs your dreams. Therefore, many popular celebrities like to carry the Ammara Khan dresses. This season, Ammara Khan collaboration with beautiful television actress "Ayeza Khan" and model "Sadaf Kanwal" to promote the brand. Scroll down and explore the latest summer dresses of Ammara Khan and be royal in your own fashion by choosing the perfect summer ensemble for yourself.
Ammara Khan BG..!!
Ammara khan graduated from New York's Fashion Institute of Technology and established her own brand a few years ago. The main passion of Ammara is to design innovative and classic clothes for women. The main head office of Ammara Khan is in Lahore. Each season, Ammara Khan served their clients with a stunning variety of unstitched, ready-to-wear, luxurious formal, bridal couture and bottoms.
The latest summer collection of Ammara is out now that contains appealing apparel. For Ammara there is only one thing that matters is customer satisfaction. Therefore, It also offers an online facility for the comfort of its customers.
Ammara Khan Summer Collection for Women
A colorful and dazzling shaded dress can make you remember how beautiful life is. Hence make your summer pop with the freshest summer collection of Ammara khan. It contains impressive clothes in a variety of shades and patterns. It used the lawn, cotton, organza, and chiffon texture to make its summer clothes. In its latest catalog, you will find the following styles of clothes.
Unstitched summer dresses of Ammara Khan
Ammara Khan ready-to-wear dresses
Luxury summer formals by Ammara Khan
Pick any attire from its latest collection and live your color lives. Always remember dress to cherishes yourself and your comfort, not for impressing the crowds. Furthermore, pick the right outfit as per your skin tone, body figure, and choice to make all of your jazzier and splendid gazes. Nida Azwar luxury lawn collection also contains appealing yet dazzling attires for women of all ages, check it also.
1- Unstitched Summer Catalog of Ammara Khan
Many women like to buy unstitched dresses because unstitched attires are affordable than pret. Ammara used fresh and bright hues to make its summer dresses extra pop and remarkable. Here you will get the luxury lawn, printed, and embroidered detail dresses in amazing shades. All these dresses are made with the law and chiffon texture that not only improves your look also shields you from the summer heat just like Khaadi summer assortments. You can carry these attires at any summer event by combing them well with classical accessories, hairstyle, and makeup.
Look at the "Labriz" catalog of Ammara Khan that offers stunning printed attires made with pure lawn texture. All Labriz dresses are combined with the printed chiffon dupattas to complement these attires. In Labriz's list, you will find the bright and fresh hues dress prepared with the floral, geometric, strips, and Seaview theme. You can wear these attires at any casual gathering to make your look splendid and gorgeous.
Pop makeup, trendy hairstyle, plain chappal, chic long hoops, and classy hang bag are the best alternative with a printed outfit to slay the gathering. Charizma summer dresses also offer a wide variety of casual attire.
The Muse- Luxury Lawn Collection
Nowadays lawn is the first priority of ladies, Even on any formal and wedding events, ladies like to carry the lawn dresses because of its comfort. Hence all notable brand offers the luxury lawn dresses for the well-being of those women. In Ammara fashion house you also get luxury lawn dresses that are made with pure lawn fabric.
The best color blender and the stunning themes make the "Muse" collection of Ammara breathtaking. You can wear these attires at any formal and wedding event to make all of your jazzier and noteworthy looks. All you have to do is to combine them with lightweight accessories and striking makeup.
Elya- Party/Wedding Wear Dresses
For party/wedding wear dresses explore the "Elya" catalog offers heavily embellished dresses. The thread, stone, pearls, and motifs artwork make these attires extra charming and splendid. If you want to inspire the crowd with your lovely look then pick any outfit from the Elya and adorn yourself adequately.
These dresses are made with chiffon and crinkle chiffon stuff that also gives you the relaxing look. So without any doubt purchase any outfit and make your event extra charming and unforgettable. Mushq summer dresses are also worth buying, check it also.
2- Ammara Khan Ready-To-Wear Dresses
The Ready to Wear dresses of Ammara khan is likewise very awe-inspiring. It contains pop, printed, casual and formal attire for ladies. Ammara used the lovely theme with the best color combination to make its pret dresses extraordinary. In the pret catalog, you will get the one, two, and three-piece attires in lawn and chiffon stuff.
This season, wear classical attire from the Ammara store because life is too short to wear boring clothes. The cost of pret dresses is a little bit costly than unstitched, but trust me these dresses are just mind-blowing. The stitching of these dresses is just superb that indeed adds more glam to your look. Bareeze Pret dresses are also worth buying.
Poppy Dresses for Young Girls
Youngsters always looking for pop dresses to remain young. Hence Ammara offers a separate catalog of poppy dresses for young girls. So they can feel inner peace by wearing a dazzling outfit. You can pair your poppy kurta with the cotton Capri for grabbing the stunning yet modest look. Plus the plain chiffon dupattas are ideal to complement the poppy dress.
You can wear your poppy outfit at any cocktail or casual party to make all of your jazzier and splendid looks. All you need to do is tao combine your outfit with the matched long/round hoops, and lightweight makeup. Sapphire's summer collection also contains a wide variety of summer pop dresses.
For casual wear, ladies always go for plain dresses. This "Leta" catalog indeed helps you to get the perfect dress for your casual wear. Look down at the two beautiful dresses from this catalog. The first one is in a pink shade that is adorned with white laces. And the second one is in sky blue hues. The neckline, base, and sleeves of thIS shirt are adorned with the printed patches that make this kurta more impressive. You can combine these casual kurtas with solid white pants for the perfect look. Round circular hoops, twist hair bun, and the brownish makeup is absolute with a casual dress for the striking look.
Wild Daisy- Printed Attires
For daily wear, ladies need the printed attires. The "Wild Daisy" catalog of Ammara contains brilliantly printed attires. If you don't have any printed outfits in your summer wardrobe, then hurry up and purchase some printed attires from the Wild Daisy list and update your wardrobe.
You can likewise carry these attires at any casual gathering by combining your printed outfit with brownish makeup, lightweight accessories, and flat chappal. For more printed dresses, explore the Rang Ja summer dresses.
Are you looking for a heavily embellished yet modern outfit? then "Lila" catalog is ideal. It offers breathtaking attires in dazzling shades. All these attires are made with a nicely adorned workout. You can carry these attires at any wedding and formal event for getting a captivating look.
Pair your Lilla dress with the beaded necklace and earring for the breathtaking gaze. Further, keep your hair open or tie them in any style you like for an extra charming look. Sana Safina's summer collection also offers formal attires.
3- Luxury Summer Formals by Ammara Khan
For wedding wear, you need the extra embellished outfit that makes you look awe-inspiring. Let's explore the luxury formals by Ammara Khan that contains stunning dresses for women of all ages. You can carry these outfits at your sister/brother's wedding, evening party, and at any formal event to make all of your luxurious looks.
Not only rich outfit makes you beautiful, but you also need to pay special attention to your accessories, makeup, hairstyle, and footwear for the perfect look. Ansab Jahangir summer collection also offers luxury formal attires, check it also.
Pink is the most loving color of ladies, Hence Ammara offers a separate catalog of Pink orchids that contains all pinkish attires. If you are looking for the perfect formal dress that adds more charm and appeal to your look? then grab any outfit from this collection and trust me you will rock any event. Combine your pink outfit with bold makeup, pop gemstones, classical hairstyle, and high heel shoes to make your look splendid and striking.
These stunning dresses are beautifully adorned with stones, dabka, sequins, and adda work. You can also carry these outfits to your sister's nikkah ceremony to making your gaze alluring.
In the "Venus" file you will get the newest pattern attires that are prepared with the fashionable and modern vogue just like Kayseria summer dresses. These breathtaking attires indeed make you look extra charming and engaging. You can wear these attires at any reception, social parties, and formal gathering for butchering the event. If you want to make your look modest yet decent, then all you have to do is:
Pair your modest attire with the side puffed hair bun style.
Wear the small long hoops
Apply the bold makeup
Wear the cone heel shoes and your killer look is completed.
Zergual Catalog by Ammara Khan
If you are looking for a virtual and traditional outfit then you are in the correct spot. Ammara Khan summer collection offers a stunning variety of legendary dresses in casual and formal forms. Look down at the beautiful outfits from the "Zergual" list that are mind-blowing. The first wine-red hues saree is prepared with the dabka and zari artwork that you can carry at any summer event for getting the classical look.
The second sky blue outfit contains the knee-length shirt and sharara which you can wear at any wedding event by combining it with the classical jewels. For more dresses visit the official site of Ammara khan and purchase the best outfit according to your choice and need.
The aptitude of being happy is to be satisfied with what you wear. I am sure by wearing any of the above dresses you feel comfortable and satisfied. Because all these casual, formal, and luxurious formal dresses are made with pure fabrics and extraordinary color combinations. So grabs any dress from the Ammara Khan summer collection and make your mind, heart, and soul happy.