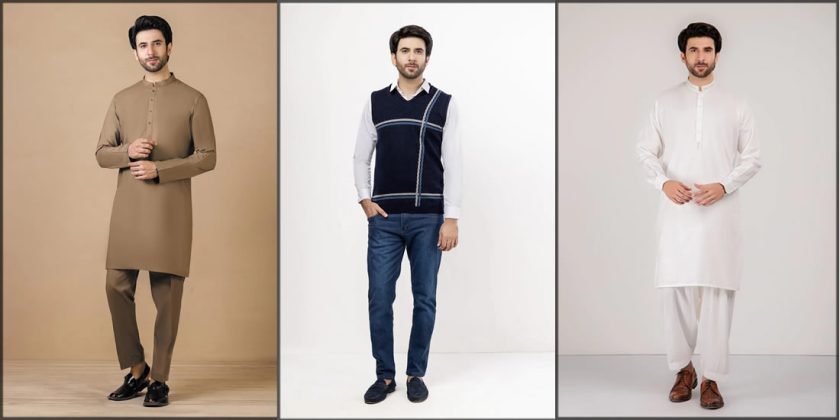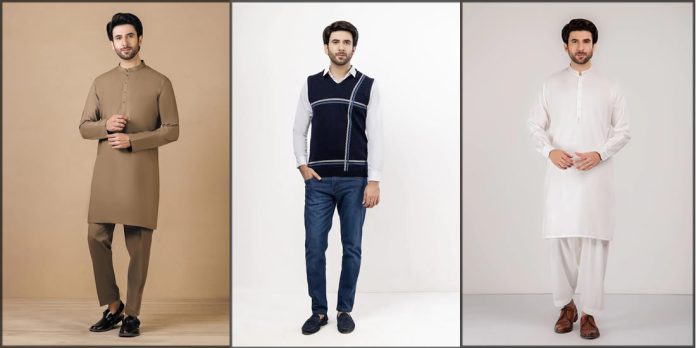 Many people believe that this spirited brand is a great prospect for one-stop clothing for all. The enchanted seasonal variety propels the public to buy flattering outfits. Well, the winter season is here. People will search for winter outfits. So, the Bonanza Satrangi men winter collection comes up with an advanced variety of warm outfits for men. You will get amazed by the recent assortment of this brand.
There is colossal market competition among the clothing brands in Pakistan. Meanwhile, the top designers are directed toward trendy outfits. Each brand comes up with new combinations and designs. However, in such competition, the notable brand ventured into creating exclusive variety. Today, it is offering a wide variety of chic clothes for men and women on a large scale.
Usually, women are fond of fashion and clothing. But, with each passing day, trends are changing. Today men are equally curious about the quality wardrobe as women. Bonanza Satrangi offers an enormous variety for all age groups. Additionally, it offers accessories like fragrances, luggage bags, and beauty products to the public as well. Here is the Bonanza Satrangi men winter collection with the updated prices.
About the Brand..!!
Bonanza Satrangi continues its legacy of providing high-quality premium fabric to its customers. With 40 years of excellence, it has 80 plus retail stores running across Pakistan. The brand launches a seasonal collection for men and women. 
Well, one can not deny the fact that the textile industry of Pakistan is flourishing day by day. After the 1970s, it started working to produce valuable products for people. Indeed, the leading brand is an enormous textile giant today. So, take a while and discover the winter assortment for men below. I hope you will enjoy the variety.
Bonanza Satrangi Stitched and Unstitched Winter Wear Designs for Men
Get yourself a compliment with the mesmerizing collection below. Remember that no season lasts forever. So, be joyous with the weather and classy outfits. Spend indoor and cozy gatherings with warm attires from the Bonanza Satrangi men's collection. Soundlessly, you will love the intricate clothes below. 
The prestigious brand has the following categories for winter outfits for men. I hope these will make your season remarkable enough.
Classic Sweaters for Men

Pret Kurta Collection

Unstitched Winter Collection

Shalwar Kameez Dresses

Essential Waistcoat Collection
1- Classic Sweaters for Men
Never skip your winter without the stylish assortment of sweaters. Indeed, the days are getting colder and colder as each day passes. With every time passing, there comes a new idea in mind. People start thinking about the relevant assortment and the way they should style themselves. Also, a man wants to look different and graceful. So, we have a wonderful collection of winter sweaters for men.
From mild to intense cold, people need different garments. The mildly cold weather propels you to go for a sleeveless sweater or jacket. However, you definitely need a full-sleeved sweater or a coat for extreme winter. Below is a nice variety for men. So, get yourself some enchanted shades of brown. Combine your sweaters with a dark shalwar kameez for an extravagant look.
2- Pret Kurta Shalwar Collection
In winter, one must wear a perfect dress. Also, you must go out to appreciate the beauty of nature and cold weather. All this can be more engaging with a nice outfit. Indeed, it will bring colors to your life and make you look classic. So, get your dreamy winter kurta shalwar from the recent assortment of Bonanza Satrangi men's collections for winter. All of the magical styles will bring glamour to your personality.
Well, you might have seen a variety of Kurta designs for men before. Some people prefer to have simple and elegant styles. However, some opt for decorative items to look different. Each of the designs hits differently on your mind. Be hopeful and careful of what and how you are wearing. Below is a stunning collection of Kurtas for men. Plus, you need to combine fantastic footwear with the embroidered Kurta to look perfect.
3- Bonanza Satrangi Unstitched Collection for Men
The most pleasing and charming season of the year is here. People love to enjoy the dry fruits, hot coffee, and cool breeze outside. Meanwhile, they prefer to sit beside the fire and read a storybook to enjoy the peace of the cold. These activities aren't enough. One must have a good collection of winter dresses in their closets as well. Therefore, the clothing and shoe brands present a wide variety of winter assortments for men and women.
Here is a sophisticated yet gracefully unstitched assortment for you below. Each of blended fabric brings out elegance whenever you will wear it. You can make your looks perfect with a nice pair of shoes and a wristwatch. Style up your winter outfit with the dresses below. I hope you will love the high-quality fabric. Moreover, get them stitched in the style you want. Gul Ahmed men's winter collection also offers a wide variety of unstitched winter dresses for men of all ages. 
4- Ready-to-Wear Shalwar Kameez
Don't you have time to buy clothes and get them stitched? If so, then here is a solution to your problem. A variety of ready-to-wear shalwar kameezes will complete your winter vibes. Besides a hectic routine, extract some time to buy these aesthetic outfits from the nearest outlet of Bonanza Satrangi. These are available in all sizes for you.
Well, the shalwar kameez is a traditional outfit in Pakistan. Both men and women are looking for this style to represent the cultural heritage of their country. Also, you can wear classic racers with this outfit. J. men's winter collection also contains classy dresses for men.
5- Trendy Waistcoat Collection
There are various men's clothing brands in Pakistan. All of them are good at crafting essential attires for people. Usually, people prefer to wear extra warm jackets to obscure themselves from the cold. Meanwhile, a formal gathering requires a formal upper body-garment. Here is a perfect option for you, for instance. A waistcoat is entirely a traditional garment worn by many Pakistani men at weddings or parties, etc.
You can explore the Edenrobe men's waistcoat collection for exquisite styles and designs. The traditional upper-body garment is sleeveless. Well, it has a button-down design for a formal look. Usually, people prefer to wear it over shalwar kameez. Take a look at the following pleasant colors of waistcoats for a charming look. Indeed, the trendy and modest collection below will enhance your grace and charm.
Winter is a season of bold colors. People across the globe search for bold colors instead of bright shades of summer. Therefore, a couple of clothing brands craft dresses according to the demands of customers. You can get numerous variety of stitched and unstitched dresses for men's here. Look above and get all updates dresses with prices.