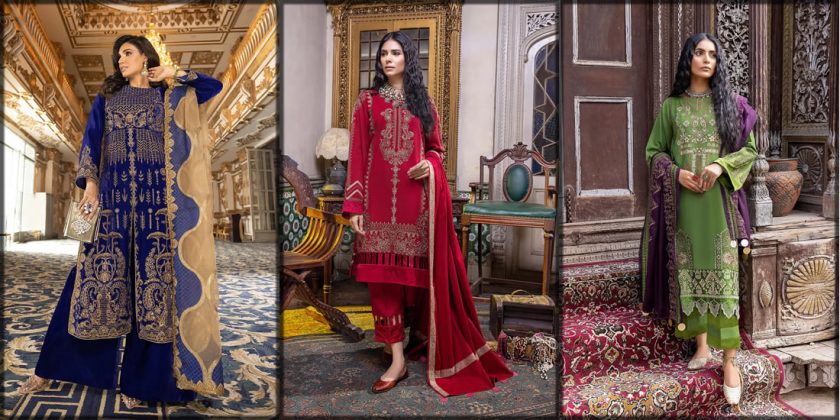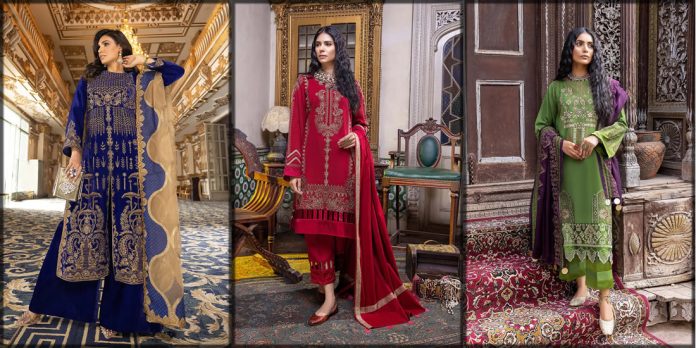 I am sure the latest Charizma winter collection will satisfy you because it offers the most vibrant and bright hues of outfits with the most beautiful designs and patterns. Karandi, khaddar, jacquard, viscose, linen, velvet, and wool textures are used to make the winter catalog of Charizma. All these are considered the comfiest textures for the winter season. Therefore, Charizma used all textures, so you can pick any stuff you like to wear. 
Each season, Charizma brings many innovative designs in outfits with the most dazzling and vibrant hues. This season also offers the most stunning and splendid designs for teens and women. In this collection, you will get outfits in both unstitched and stitched forms. 
All these warm textured dresses help to make all of your looks refreshing and engaging at any gathering, social event, and winter party. So hurry up and get the exceptionally ideal outfit for you. This brand's prices are slightly higher than others, but trust me, it gives you the most splendid attires in superb quality. All your exigency is to combine your winter outfit with matched and striking accessories to add more beauty and allure to your flash.
Latest Charizma Winter Collection for Women[New Arrivals]
The latest winter collection of Charizma propelled the embroidered, waving, tie & dye, and digitally printed clothes for women by using brilliant color schemes. Moreover, the designs of these dresses are likewise according to the latest trend and fashion. So let's traverse this blog and pick the best one for yourself to slay the winter season exquisitely. So, enjoy your winter gathering, events, and parties by wearing the most fashionable and captivating clothes from any winter catalog of Charizma. 
Charizma Intro..!!
Charizma brand was established in 2012. The artful embroideries and appealing shades of Charizma make it a high-end fashion brand. You will get the two things in Charizma clothes, "glamour and comfort." Hence it is becoming the most adoring brand of ladies in a brief time. Each season it also offers contemporary and vintage dresses for the legendary youth. Furthermore, like other notable brands, it also provides an online facility for the satisfaction of its clients.
Shipping Criteria: Free shipping above RS 2000 in Pakistan and 300 USD Internationally.
1- Unstitched Charizma Winter Collection
Charizma is a well-known ladies' favorite brand that offers high-quality dresses at affordable prices each season. This winter likewise brings alluring and stunning attires for women of all ages. So let's explore this blog to the edge and check out the latest Charizma winter collection that brings trendy and uniquely crafted attires.
In winter, always wear bright hues because they give you a chic look by updating your dull and monotonous look. In the unstitched variety, you will get the following categories in the most dazzling and appealing shades:
Charizma Poshima Unstitched Leather Suits With Woven Shawls

Casual C-Print Linen Suits with Pashmina Shawls

Embroidered Peach Leather Suits with Velvet Shawls

Unstitched Embroidered Peach Leather Suits with Woven Shawls 

Winter Warm Embroidered Attires with Wool & Wooven Shawls for Women

Embroidered Linen Jacquard Collection

Unstitched Signature Velvet Collection
Charizma Poshima Unstitched Leather Suits With Woven Shawls
Do you want to catch the attention of others in a formal gathering? Do you want to look more stunning and lovely than other girls? Then try these newest poshima dresses paired with the woven embroidered shawls.
Nowadays, women prefer to carry the shawl to enhance their beauty by making it more dazzling. Therefore, Charizma orders a wide variety of embroidered woven shawls for women in its latest winter launch. Look at the poshima catalog containing the leather suits paired with warm woven shawls. You can carry these suits for any winter night party to get a relaxed and comfy look. 
Casual C-Print Linen Suits with Pashmina Shawls
For home or daily wear, you need comfy winter attire. Hence, linen stuff is the best for home wear to do work effectively and confidently. Therefore, in the linen collection of the Charizma, you will get the most appealing and attractive designs for home and casual wear. 
These stunning slub linen dresses are paired with pashmina shawls, which you can also comfortably carry. You can also wear these attires at any casual gathering by pairing them with striking accessories and bold makeup. Further, browse the Warda winter collection for more linen attires.
Unstitched Embroidered Leather Suits with Woven Shawls 
If you want to enjoy all your winter events freely and happily, at that point, you need classy leather suits. This softest and warm texture is the same as khaddar, but it's slightly different. The leather collection of the Charizma is very chic, with unique designs and tints, as you can see below. 
These stunning dresses are modified with thread and sequins embroidery. You can carry these suits at any winter ceremony to grab the appealing gaze. Wear the Rajhastani accessories and apply minimal makeup to get the legendary glimpse. 
Embroidered Peach Leather Suits with Velvet Shawls
Velvet is the favorite fabric of ladies and men because it's the warmest and jazzier fabric for the winter season that keeps you warm during the cold days. But, as you know, every season women want to wear unique styles of clothes. Hence this year, Charizma matched the winter suits with the embroidered velvet shawls to bring some uniqueness to the winter suits. 
Embroidered Linen Jacquard Collection

Linen Jacquard is the softest fabric that is mainly worn in the cold months. However, the warmest texture helps keep you warm in the northern areas, so if you plan to go there, purchase some linen jacquard attire from the Charizma store. The jacquard suits of the Charizma are paired with the linen jacquard shawl that makes your looks more dazzling and splendid. You can make yourself look stylish by wrapping your shawl in any style. Moreover, try to wear stylish beaded accessories and block heel shoes with your linen jacquard suit for grabbing the breathtaking gaze at any winter ceremony. For more stunning winter attires, explore the Kayseria winter outfits.
Winter Warm Embroidered Attires with Wool & Wooven Shawls for Women
Swiss voil is usually the formal fabric used to prepare party wear dresses. However, in the luxury collection by Charizma, you will get alluring and extraordinary attires designed with brilliant and vivid shades. Look at the warm embroidered collection of Charizma, which contains beautiful dresses decorated with dabka and thread artwork that refreshes your winter look and makes it more dazzling. These classical dresses are paired with plain trousers, embroidered wool, and woven shawls. 
Beauty Tips:  If you want to make your look killer at your formal event, pair your classy suit with natural makeup and lightweight gemstones. Moreover, keep your hair open by adding some loose curls and get a fantastic yet breathtaking gaze at any get-together. 
Unstitched Signature Velvet Collection
Look at the below-displayed 3PC nicely embroidered winter velvet suit paired with the embroidered velvet shawls and plain trousers. You can carry these attires at any of your formal and social events to make all of your noteworthy glimpses. You can also wear these suits at your family wedding occasion to look extra decent and appealing. For more velvet dresses, visit the J. winter attires and make all of your looks beautiful and elegant.
2- Classical Pret/Ready-to-Wear Collection
Ready-to-wear attires are specially formulated for teenagers who like to carry fashionable and chic clothes. The pret dresses also save you from the stress of dress stitching. Hence many of us always go for the pret section. In the pret list of the Charizma, you will get the most fantastic and alluring designs in the most splendid hues in kurtas, 2PC, or three-piece configurations that are very well intended and stitched. The pret collection of Charizma offers you the following variety. 
Teens winter collection

Mi-Amor semi-formal pret collection

Plain winter attires
Nowadays, teen girls favor wearing plain dresses, hence for those ladies, we have gathered plain dresses from the Charizma winter collection. These classy casual attires are in the linen and crab leather texture that indeed increases your beauty by keeping you warm. In the plain collection, Charizma offers splendid and striking dresses that indeed add more glamour to your winter look and make it extra smart. You can carry these attires on any seasonal adventure to make all of your engaging and lovely gazes.
These dresses are available in all bright and splendid hues, look down and grab the best one for yourself. Assay to join your plain outfit with pep toe winter boots for completing your dazzling formal look. Moreover, splendid designs of casual attires can also be found at the So kamal winter clothing range. 
Teens girls always go for stylish attires to slay the winter. Hence all brands must be prepared a separate fashionable catalog for teen girls. Look at the most charming teens collection below. Here you will get the most alluring tops and kurta designs in the most vibrant hues that can enable you to complete your pretty teen look. 
This captivating catalog is made with khaddar, viscose, and karandi textures, so the teens can deliberately enjoy their cocktail and snow parties. Furthermore, you can combine jeans with your top or short kurta for opting a stylish yet chic look.
Mi-Amor Semi-formal Pret Collection
Mi-Amor contains semi-formal outfits for women of all ages. This stunning catalog consists of a long shirt with sharara, a long shirt with capri, Peshwas with capri, and many new styles which you can carry at any family wedding to grab the appealing gaze.
These fantastic dresses are adorned with thread and sequins artwork. Moreover, organza, silk, and chiffon fabrics are utilized to prepare this catalog. So feel free and pick any dress from the Mi-Amor list and adorn yourself well.
For formal and social gatherings women always look for modest and appealing attire to slaughter the evening. Have a look at the print-melody catalog of Charizma which contains stunning & stylish formal attires. All you necessitate is to consolidate your lavish outfit with the classy hair bun, long circular hoops, bold makeup, and block heel shoes to get the fabulous gaze.

3- Winter Formal/Wedding Wear by Charizma
For the wedding occasion, women like to carry richly yet nicely embellished dresses to look graceful and alluring. According to this concern, all notable brands of Pakistan each season offers a stunning variety of wedding wear for women of all ages. Charizma also offers a diverse variety of wedding and party wear for girls. This season it offers the:
Embroidered and hand working premium chiffon collection

Unstitched chiffon shimmer collection

Winter saree collection

Pret luxury collection
Moreover, It used sequins, crystal, thread, adda, dabka, kora, and shimmery artwork to make its wedding catalog breathtaking. Zahra Ahmed luxury collection also offers appealing wedding dresses for women, check it also for more variety.
Unstitched Chiffon Shimmer Collection
You require alluring attires to add more attraction to your wedding look. I hope the following chiffon shimmer collection will help you to complete your feminine look and add more appeal to it. This breathtaking catalog of Charizma contains classical yet appealing attires in chiffon textures.
Moreover, Charizma designers used thread and sequins artistry to make this chiffon collection extra charming. You can wear these stunning attires at any family wedding to make all of your jazzier and dazzling gazes. Try to pair your chiffon dress with traditional jewelry for a more awe-inspiring appearance.
Embroidered and Handworking Premium Chiffon Collection

Mostly newlywed and aged women like to wear heavily embellished attires to look extra captivating. So for those ladies, this unstitched catalog is the fittest. Here you will get the appealing premium chiffon dresses made with hand embroidery and appealing exaggerations that surely increase your beauty and make it more charming. You can carry these outfits at any seasonal wedding to get a royal and classy glimpse. 
Beauty Tips: Try to combine your heavily furnished dress with lightweight gemstones &  bronzer makeup to catch the extraordinary gaze. 
For saving your time and effort, pick the pret attire to make your wedding function more animated. In this luxury pret section, you will get the long maxi, short shirt with sharara, long shirt with gharara, and lehenga choli at the most affordable price. So rush up to your nearby outlet and grab your wedding outfit from the luxury pret collection of Charizma.  
Saree is the most adoring style of garments that many young girls like to carry. Hence all brands must be included the sarees in their formal catalog. Look down at the beautiful black and red sarees by Charizma. These two are made with the organza stuff that only gives you comfort also adds more shine and attraction to your gaze. You can wear them on any formal and wedding occasion to make you look extra splendid and enchanting. All you entail is to combine your saree with bold makeup, beaded gemstones, and high heel shoes to stand out.
Velvet is the comfiest and reliable texture for the winter season. Hence all brands must use this stuff to prepare their winter apparel. You can also get a versatile variety of velvet dresses in your favorite Charizma store. They used sequins, tilla, and thread artwork to manufacture their velvet dresses. Plus, they used all the latest and trendy styles like a gown, long shirts, plain short shirts, jacket and cape style dresses to satisfy their clients. Moreover, the color combination of these velvet dresses is just mind-blowing that indeed append more elegance and grace to your look by making it extra dazzling. Look down and select the finest one for yourself to slay your winter function or celebration.
Beauty Tips: With your velvet dress, try to apply bronzer makeup to catch the attention of the crowd.
Winter is here, so it's time to update your wardrobe with the latest warm clothes so you can freely enjoy the season by wearing warm clothes. In winter, Karandi, khaddar, velvet, and linen are usually utilized for warm clothes. Therefore, Charizma used these comfy textures this season for preparing its winter attires that can keep you heated and solace. So look above and get the extraordinary variety of charizma for the winter season with prices.