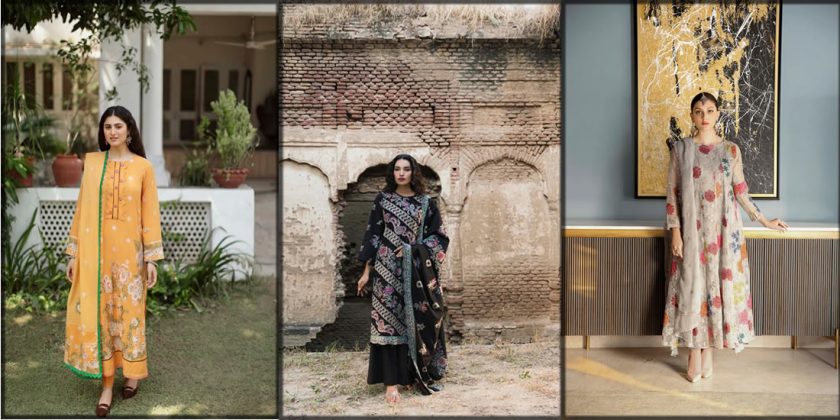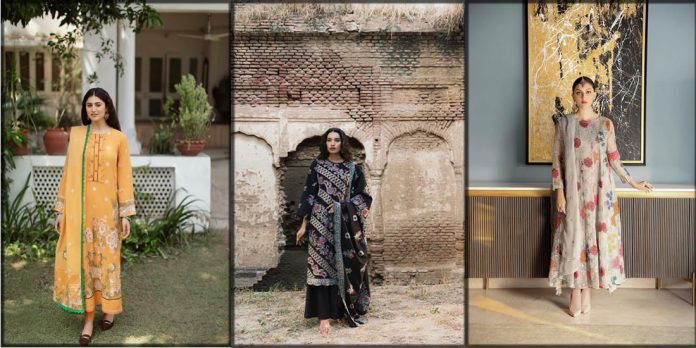 A fabulous dress and a nice pair of shoes are the two necessary things women have in their closets. Plus, some opt for jewelry to have a complete feminine outlook. A perfect outfit reflects the quality of being stylish and graceful. Therefore, we are showcasing a remarkable variety of dresses from the Taana Baana winter collection that will add sleekness to your personality.
The artistically crafted dresses are much more appealing. Plus, the intricate classic embroidery on premium quality fabric is mouth-watering. Moreover, colorful and artful dresses depict the ethnicity of the brand. Therefore, it propels the public to head towards fantastic designs. They are generally costly as compared to other clothing brands. But trust me, they are worth buying.
You can see several captivating designs below. Moreover, the beauty lies in how you carry the dress, so style it up perfectly. Head towards your nearest retail outlet to grab a glamorous outfit for this winter season. I hope the lovely voguish dresses will make your winter more memorable.
About the Creative Designer and Brand History
Taana Baana is a leading fashion brand in the industry of Pakistan. High-end fashion retailers are famous for providing premium quality clothing for women. Additionally, people pour love for the intricately embroidered and well-embellished dresses. The renowned brand offers splendid variety for women with a range of formal dresses for parties too.
Well, the quality of dresses depicts the ethnicity of the brand and rich artisans as well. So if you are looking for a high-quality fabric, you must think about Taana Baana's dresses. Here we have a variety of delightful winter ensembles by the leading brand. Would you mind having a tour of the engaging portfolio of the Taana Baana winter collection?
Latest Taana Baana Winter Collection for Women[New Designs]
Taana Baana stands among the leading clothing brands in Pakistan. The notable brand has hundreds of retail stores in different cities of Pakistan. Primarily, Taana Baana is famous for its formal collection. But here, we are going to present you with the Taana Baana winter collection. The portfolio comprises an incredible variety of exquisitely chic ensembles.
Women always need versatility in colors and styles. Therefore, they head towards a brand that offers all the desired stuff of their choice. Taana Baana has an exclusive variety of clothing that ranges from simple and embroidered to luxury outfits. Plus, the high-quality fabrics, premium patterns, and designs will bloom your cozy winter event.
"Signature Series" from Taana Baana Winter Collection

In today's world, grooming needs a little hard work. You also need to select a style that suits your personality. Well, some girls find it hard to decide what and how to wear them. Bonanza Satrangi winter collection has also brought wonderful designs for its customers. Eventually, you will like the dress below, which is very much graceful and decent. Please give it a thought and combine stylish footwear for a proper look. 
Probably, you might be looking for an elegant outfit. Indeed, style is the secret of elegance. But, you need to bring out your elegance to stand confidently among the bunch of people. However, the following khaddar and karandi ensemble has colorful patterns on the front to enhance its beauty. The crinkle chiffon dupatta completes the entire grace of the dress and vibe. Beechtree winter collection has also acquired the confidence of women through its classic designs.
"Classic Series" Karandi Winter Collection
Sometimes, you may not be able to change the situation, but you can change your appearance. So, bring yourself a modest and gleaming look by wearing the alluring sunshine karandi colors below. Indeed, it will draw more attention to you with a positive vibe and compliment.
The lightweight embroidery on these attires propels many women to buy outfits from the "Classic Series." So, style up your wardrobe with the fascinating mix below. Keep your hair open and apply minimal makeup to elevate your looks. I hope it will enhance your beauty and grace perfectly.
Sunshine Yellow and Black Taana Baana Winter Collection
Get yourself a fantastic black dress for a pure winter look. Generally, black is considered a dry and matte color. Therefore, most people prefer to wear this color on the cozy nights of the winter season. Here we have a delicately embroidered black slub karandi dress below.
The following sunshine black and yellow dress has vertical embroidered patterns on the front. Combine a pair of beautiful shoes for an entire look. Also, keep your hair open or tie them in a beautiful style to rock your event. 
Dark-Green Karandi Ensemble
Green is the most demanding color nowadays. Therefore, every brand offers a particular corner for green lovers. Such decent combinations are present abundantly in the Limelight winter collection. Well, here is a fantastic dark green embroidered outfit for you. 
The beauty of green and silver is that they are versatile enough to combine with any other color. So, have an optimum combination below to get graceful and delicate looks. Then, pair up nice dazzling flats and delicate jewelry to upgrade your looks with the following dress.
Striking Purple Taana Baana Winter Collection
Go for the striking purple outfit to add a spark to your personality. Plus, it will add more fuel to the fire to enhance your looks. The chic and tremendous dress below is wonderfully decorated with hand embroidery. Plus, it has a very embroidered crinkle dupatta that brings a semi-formal look. So, go and grab the enchanted outfit from any nearest retail store.
"Mem Saab" Flex Khaddar Winter Dresses
Taana Baana has always been the favorite brand of women because of its stylish and beautiful designs. Also, the high quality and the soft fabric add to its quality. In the recent launch of this brand, you may find various stylish and beautiful khaddar dresses which are appropriate for everyday routine. Moreover, I hope you will love the exclusively dynamic styles.
So, be your kind of beautiful with the mesmerizing collection below. The fabulously fashioned and beautifully detailed dresses represent a unique piece of art. So, let's experience the exclusive portfolio below to make your season memorable. The latest Khaadi winter collection is also best for casual and formal dresses.
Deep Red Flex Khaddar Dress
Usually, teen girls prefer to wear red color. However, the fantastic and voguish shades come in various styles for women. Here, we have fabulous deep red khaddar outfits for you. The following ensembles have a beautifully embroidered front. 
Furthermore, the dresses are coordinated with contrasting yarn-dyed dupattas. However, it is paired with plain basic karandi trousers for a graceful look. Do you want some more likewise variety? Check out the So Kamal winter collection for more karandi outfits.
Eminent Black Winter Outfit
Are you looking for an impeccable combination? Do you want to wear something unique this season? Then, indeed, you are in the right place. Discover the most fascinating and incredible variety from the Sapphire winter collection and have a blissful winter season. Undoubtedly, the following eminent black color has beautiful combinations with golden. Many people love to wear the graceful combination in winter to exude elegance.
Classic Mustard Winter Khaddar Suit
Do you want to build up self-confidence? Indeed, a stylish dress and shoes will help you make a better appearance. Plus, those who dress up well always stand confidently among the public. So, try the tremendous outfits below if you want to exude elegance. 
The delicate detail designs on the dresses will enhance your beauty. Indeed, the dark green, emerald green, and golden ensembles will make your day. Maria B's winter collection offers similar delicate designs. For instance, have a look at the dress below.
"Nani ka Ghar, Bano" Karandi Three-Piece Winter Collection

A Karandi outfit is always admired and loved by the public at large. Women especially show love and desire for the soft, flexible fabric that adds grace to their looks. Indeed, a gracious and ethnic style brings a lot of elegance to a woman's personality. Therefore, the Taana Baana winter collection brings you a portfolio of three-piece Karandi dresses.
Please take a while to discover the winter karandi dresses. The gracious styles come with an embroidered shirt. You can see the prettifying horizontal and vertical patterns on the flexible shirts that are coordinated with plain trousers. The dresses are coordinated with crinkle chiffon and net embroidered dupattas for an entire voguish and refined look.
Formal/Evening-Wear Taana Baana Winter Collection
Pakistan is a country where people consider weddings to be a part of winter. Several formal gatherings are arranged in winter due to the moderate weather conditions. Therefore, women search for a traditional outfit. Indeed, you will get surprised by the portfolio of formal Pakistani dresses that offer you all the styles. You will love the limited edition of Taana Baana's formal collection. It offers exquisite designs with intricate artwork. Plus, the fantastic patterns of embroidery and beading make the dress sufficient enough to fulfill your standard requirements. So, extract some time to discover the mesmerizing collection below.
Do you want to bring a calm yet, refreshing winter look? Lift your heads with a fabulous portfolio of net, organza, cotton silk, and crinkle chiffon dresses below. If you need some change in your personality, opt for the beautiful dresses by the Taana Baana winter collection. Plus, focus all your energy and build a new style with gorgeous formal dresses. You can get more striking outfits from Maria B's eveningwear collection for more outdoor party dresses.
A wonderful creation by mixing several hues generates youthful combinations for youth. Usually, women prefer bright shades for any formal gathering. Therefore, we are presenting you with a wide portfolio of luxurious formal dresses. For exploring more such beautiful dresses, you also need to visit the J. winter collection. So, the style and color are perfect for rocking your winter evenings. Have a look at the breathtaking dresses below.
As fall has arrived, almost all the clothing brands have launched their pre-winter and winter collection. Therefore, Taana Baana has come up with a magnificent display for you. In the following blog, you will be able to seek a variety of slub karandi, khaddar, and linen embroidered dresses. Indeed, you can opt for any outfit for a formal event too. Have a look at the article above.