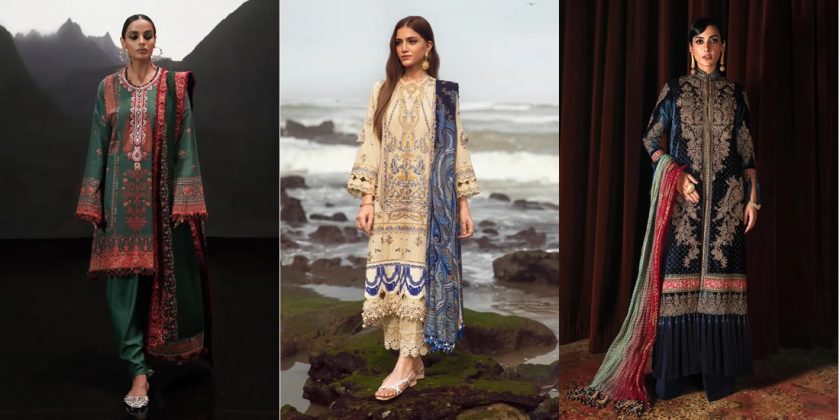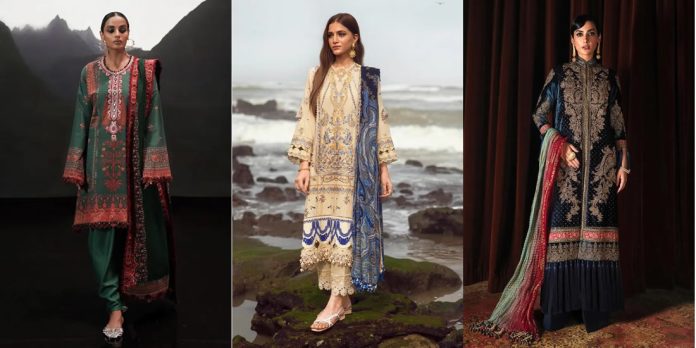 Sana Safinaz winter collection contains a variety of basic styles. So, here is the most tasteful winter assortment for you. Go and grab the latest collection from any retail outlet or online. Also, make your winter vibes complete and excellent with charming dresses. I hope it will bring all the colors back into your life.
There is an immense variety of winter clothing for women. You can have the most captivating collection of this famous brand. Sana Safinaz was established in 1989 and operated by two young ladies Sana and Safinaz. Plus, this prestigious brand took over the market due to its high-quality and innovative products.
Further, Sana Safinaz stands among the top Pakistani fashion designers. Indeed, they have set bars for the business of fashion in Pakistan. The leading brand opened its chains across the country in 2013. The wide variety of contemporary designs propels the public to opt for a wardrobe by the leading brand.
About the Creative Designers and Brand History
Sana Safinaz is a true trailblazer for its innovative products. The creative artists Sana Hashwani and Safina Munir collaborated to bring the brand named Sana Safinaz in 1989. Undoubtedly, creative designers have set the bar high for competitive fashion designers in Pakistan. Also, the creative artists stand among the best Pakistani lawn designers as well. But, the brand offers chic seasonal outerwear and bridal collection too.
You will find a lot of contemporary designs that the designers meticulously create for an attractive look. The brand specializes in pret-a-porter and casual dresses for women. However, you can see a limited kid collection in the apparel as well. Creating a style knowing the customer's demands is the best that an artist can do for the public. The tastefully printed and embroidered for women in the following blog will surprise you.
Sana Safinaz Beautiful Printed and Embroidered Winter Collection
As the winter season has arrived, hundreds of people are rushing toward clothing brands. Meanwhile, clothing brands and fashion designers are busy launching their fall collections. You need to select a cheerful outfit to enhance your looks. Plus, the right choice of color, a combination of hues, and a unique style will add more grace to your outfit.
There are delicate and straightforward styles below. Pick the right one to look jazzier. Let's have a look at the breathtaking variety below. I hope this article will provide you with all the desired styles for making your winter season rocking.
Unstitched Pre-Fall Woven Collection for Women
A personality that speaks to others and yourself is proof of absolute elegance and beauty. Undoubtedly, women who dress up shabbily look impeccably unique and classy. To bring such uniqueness, a woman shall opt for a different outfit. Winter is the season that brings you so many choices to wear and tear. Therefore, it is a delight to wear a pre-fall attire that brings you elegance. Sana Safinaz's winter collection brings you the pre-fall dresses.
Would you mind having a look at the image gallery below? If you want to bring an ethereal and refreshing look, opt for the delightful jacquard dresses below. Indeed, the alluring creation of breathtaking designs will get you a positive compliment from the surroundings. The heavily embroidered dresses will be an ideal option to wear at winter parties or formal gatherings. Please take some time to discover the mesmerizing pre-fall jacquard dresses.
Latest Sana Safinaz Muzlin Winter Collection
Sana Safinaz's Muzlin collection contains vibrant and chic hues winter dresses that will fetch elegance to your personality. People prefer to wear voguish colors and vibrant combinations in the dry and frizzy season to make it colorful. Indeed, you can add colors to your dull winter days by wearing the classy and warm attire from the latest Sana Safinaz's Muzlin collection that offers striking attires for women of all ages.
In this Muzlin portfolio, you will get linen and dyed slub dresses in all vivid shades. These ensembles are a beautiful mix of traditional and contemporary clothing designs, as you can see below. Indeed, you can get a youthful and sleeking look if you prefer any of the dresses from the following image gallery. The artistry designs are created with a lot of love and effort that indeed bring a smile to your face. So please have a look at the breathtaking winter dresses below.
Digitally Printed Linen Dresses for Women
Digitally printed ensembles are always welcomed and immensely loved by the public at large. Undoubtedly, the digital world has enormously revolutionized modern and contemporary designs. Sana Safinaz always brings youthful and energetic ensembles for the people. This time, it has evolutionary digital printed three-piece linen dresses for you.
Please take some time to overview the attractive and well-printed linen dresses below. Contemporary styles are available at an affordable price. Almost every outfit has separately embroidered organza patches for the neckline and sleeves. So, you can elevate and upgrade your modern looks with the beguiling linen attire. Moreover, these impressive attires are paired with the linen and jacquard duppatts that increase the overall beauty of these dresses. Get more warm ensembles from Salitex's winter collection.
Luxurious Slub Embroidered Winter Dresses
Well, the joy of getting ready in a fabulous way is an art and human beings are very renowned artists. A creative human can brings loads and tons of attraction in their style with a great outfit. So, get yourself some creative outfit inspiration from our fashion tips and modestly elevate your looks. Undoubtedly, wearing a luxurious and embroidered dress will turn heads on you. Would you mind being in the limelight of the show?
MAHAY Unstitched Winter Linen & Khaddar Dresses for Women
The notable brand Sana Safinaz has a range of clothing designs for every segmented group. Despite the competition with the rivals, the creative designer always has the most aesthetic ensembles for the public. You might have seen the previously launched cambric and cotton collection. Here is the daily wear MAHAY unstitched winter linen & khaddar collection for you below.
Please extract a little time to explore the basic printed and embroidered dresses below. The portfolio includes a range of dresses having simple and tiny patterns to enlarged prints. Indeed, you will be able to stand out dominantly among the audience if you opt for any of the following dresses. Please give it a thought and have an evening full of laughter and joy.
Classic Cotton Satin Winter Ensembles
Nothing makes a woman more beautiful than a classy and chic outfit. It is a sign of innocence when a woman tries to pick a dreamy and attractive ensemble. Are you picky about colors and combinations for winter? If so, then we are presenting you with an extensive category of winter collection for this year's cozy weather. Exude elegance and grace with the following alluring cotton satin dresses by the Sana Safinaz winter collection.
Black Cotton-Satin Printed Outfit
Do you want to wear a black dress this winter? Check out the following fantastic dress. The tremendous black satin shirt is beautifully decorated with a grey ombre. Plus, it is followed by intricate french lace and floral patterns that are making it exquisite.
Further, it has an embroidered neckline decorated with motifs. Step into winters with this chic ensemble of black ombre silk silver dupatta. Want some more winter variety? Check out the Bareeze winter collection for extravagant winter styles.
Rosewood Coral Three-Piece Outfit
Probably, rose shade is the favorite of all women. Are you looking for a rosy ensemble? If so, check out the breathtaking rosewood dress below. It is a coral three-piece exquisite dress with gold imprinting. Plus, it has embroidered bunches in the cord with floral motifs. Khaadi winter collection is also offering wonderful three-piece attires.

Further, the neckline is elegantly embroidered in floral motifs. It has a beautiful rose gold organza base for a beautiful appearance. Additionally, it has cotton pants and a geometric printed chiffon dupatta. These stunning rose hues with elegant finishing will make a statement look for this season. Try the gorgeous dress below for dignified looks.
Are you looking for an ocean mint shirt? Have a look at the dazzling style below. Indeed, the right kind will add sleekness to your personality. Plus, the captivating color and pattern will turn heads on you. The Beechtree winter collection has also managed to create classic and soothing shades in winter attires.

Check out the linen ocean and mint-colored digitally printed shirt. Further, it has embroidered patterns inspired by tropical-themed motifs. There is an embellished lace over the organza base. Plus, the shades of green on the chiffon dupatta bring a statement look entirely.
Wearing vibrant colors always makes you attractive. Specific tints have a variety of beautiful shades. Each hue has a captivating beauty that brings out the ultimate elegance whenever you wear it. Bonanza Satrangi winter collection has also got immense liking by people because of its vibrant and beautiful shades.

Here is a carmine dress with cream and charcoal black combination for you. Plus, the slub printed shirt is inspired by the fusion of paisleys and motifs. Additionally, it has floral creations for the neckline. The shirt comes with cotton pants and a Kani shawl with bleed chevrons. Hence, it is a perfect outfit for your evening wear.
Classic Yale Blue Winter Outfit
Paste printed shirts have their own elegance. Usually, teen girls prefer to wear extravagant styles of bright-paste printed shirts. The beautiful combinations, along with embroidery, look chic and rocking. Chinyere winter collection has also kept in mind the favorite shades of the women.

Here is a Yale blue shirt with grey and cyber grape color combinations. It has a beautiful fusion of intricate paisleys and motifs. Further, the front of the shirt is fully embroidered with floral creations. The stunning cotton pants complement the Kani shawl. Indeed, it brings a sparkle to your personality if you wear this style.
Purple Linen Sana Safinaz Winter Collection
Purple is an actual color that shows femininity. The purple combines beautifully with light colors and brings distinctive looks. Usually, women look for an off-white combination with purple for a striking display. Here is a beautiful piece of dress for them.
Here is a dazzling linen shirt in ivory with antique brown combinations. It has printed motifs infused with delicate lace patterns. Further, the captivating floral embroidered motifs in sage green sequins give an entire formal look. So, let's go for this appealing ensemble and make your winter look fabulous.
Oxford Blue Sana Safinaz Winter Collection
Oxford blue is a beautiful shade of blue color. Generally, this timeless hue is beautifully decorated with light colors for elegance. You can also see a wide variety of blue colors in the Warda winter clothing range. But, here is a dreamy blue ensemble for you. Take a look at the gorgeous well-decorated dress below.
The inspirational prints come with geometric patterns on the slub shirt. Plus, the front is fully embroidered with embedded motifs and pearls. Additionally, it has a fantastic pashmina shawl with different blended hues of blue. So, let's exude the final layer of elegance in a dreamy blue shade by wearing the stunning dress below.
Elegant Pine Green Winter Attire
Pine green is a delicate color for women. Usually, it comes with white combinations. Most people prefer the sheer color to wear in summers. But, some look for such decent colors in winters too. Check the likewise color combinations in the Orient Textiles winter collection for amazing vibes.
Check the geometric patterns and embroidered lace in the dress below. The embroidered panel extends over the entire shirt. Plus, the rose-purple pashmina shawl looks stunning. It has embroidered motifs embedded inside the shawl for a beautiful look. Have a look at the mesmerizing attire below.
Persian Blue Contrasted Outfit
Dazzling Persian blue color comes beautifully with dark magenta shade. Take a look at the slub shirt below. The intricate floral patterns result in a striking outlook. Plus, the vibrant hue is self-sufficient to bring the glamour. Beautiful color contrasts have also been presented in So Kamal's winter collection for women.

Probably, most of the teen girls will opt for this youthful style. It has a sublime printed chiffon dupatta in contrast. Plus, there are some hints of cream shade in the entire ensemble. Take a look at the chic and refined color for yourself below.
Sana Safinaz Winter Luxury Collection(Unstitched)
Indeed, the versatility of a brand reflects the hard work of fashion designers. Innovative approaches always lead to beautiful destinations. Therefore, Sana Safinaz presents you with the chicest velvet and raw silk embroidered dresses for this season. Look at the stunning image gallery below to explore the fascinating and breathtaking winter ensembles. Well, Taana Baana's winter collection also has mesmerizing and classy styles.
There is an immense variety of chic hues for the winter season. Indeed, the season propels us to opt for vibrant hues. Wearing a vivid dress of delicate design always catches the public's attention. For a wide variety of colorful ensembles, you should also visit the Sapphire winter clothing range. Are you looking for a luxury winter dress for yourself? If so, then check the alluring attires below. 
Sana Safinaz Pret Collection for Winter
Modesty is a virtue that shows love to others. Therefore, a woman must wear a modest outfit to show affection and style. Below are some unobtrusive ready-to-wear ensembles for women to carry these winters.
Undoubtedly, it will save much of your time if you pick pret instead of unstitched clothes. After seeing the unstitched variety above, check out the mesmerizing pret type below that presents you with:
Basic pret collection.

Embroidered winter dresses.

Elegant silk tunics collection.

Luxury pret for women
Stylish Silk Tunics For Teens
Do you want to look versatile, airy, and elegant simultaneously? Perfect clothes with an excellent attitude and grace will reflect a classy look. Take a look at the breathtaking silk tunics below. The poly satin fabric will bring exquisite beauty to your style. Make your winter wardrobe perfect with the following collection.
Embroidered Ready-To-Wear Single Shirts
You can buy fashion but not style. Instead, you have to build and possess the style. This can not be done with perfection without having stunning embroidered dresses. Undoubtedly, the intricate embroidered patterns show the next level of class and style in your personality. Therefore, we are presenting you with the winter embroidered assortment below.
Basic & Printed Pret Variety For Girls
Be a girl with a mind, a woman with an attitude, and a lady with a smile. The former three features will make you more classy if you choose an essential outfit for yourself. Take a look at the following blended winter shirts. The intricate patterns and basic style will undoubtedly bring enough grace and charm to complete your winter vibes.
Embellishment is necessary when you are looking for a formal dress. Plus, the blended hues will create a subtle yet impactful look as a whole. Therefore, Sana Safinaz presents you with a tasteful luxury pret collection for winter below. Each dress is critically embellished enough to attract the public. I hope you will love the charming hues and patterns.
The latest portfolio of the Sana Safinaz winter collection is out. The engaging portfolio offers the most striking outfits in beautiful combinations for women. Plus, the beguiling styles are sufficient enough to bring elegant looks to your personality. Additionally, the premium quality dresses are of fine and smooth stuff and they are comfortable to wear.