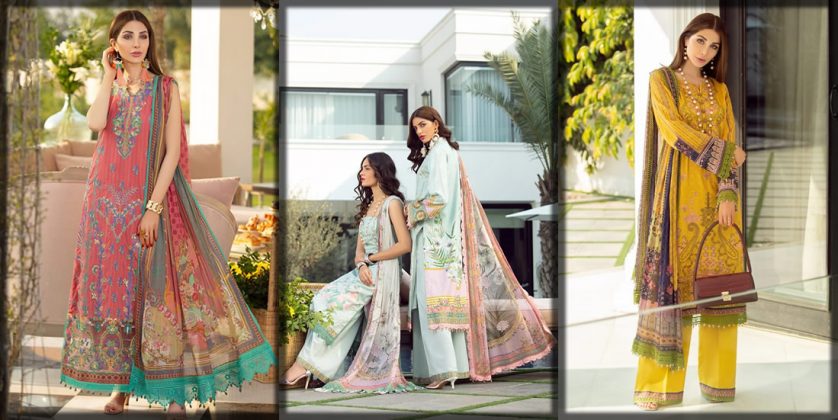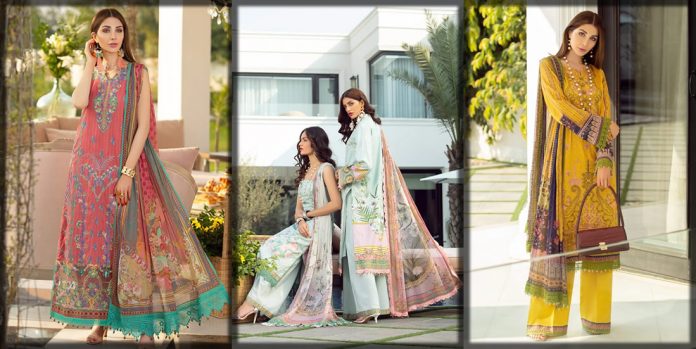 Rang Rasiya is one of the famous clothing brands in Pakistan with its factory outlet in the Faisalabad region. However, it has many retail stores in different cities of Pakistan. Just like other clothing brands, Rang Rasiya facilitates its quality customers by providing an online shopping facility. Rang Rasiya summer collection is available online and in stores.
Rang Rasiya is working for a long time on various clothing designs, including casual and luxury seasonal dresses. Therefore, it also launched a spring collection recently, which is unique compared to other clothing brands. Let's have a look at the stylish Rang Rasiya summer collection in the following blog. Indeed, you will never regret your choice.
Rang Rasiya has stylish and brilliant designs on the lawn, and it also focuses on luxury and formal outfits. Therefore, you will be able to grab all the kinds of attires in a wide variety. A big shout out to the marvelous Rang Rasiya summer collection below that offers fascinating summer dresses for women. Please extract some time to explore the collection below.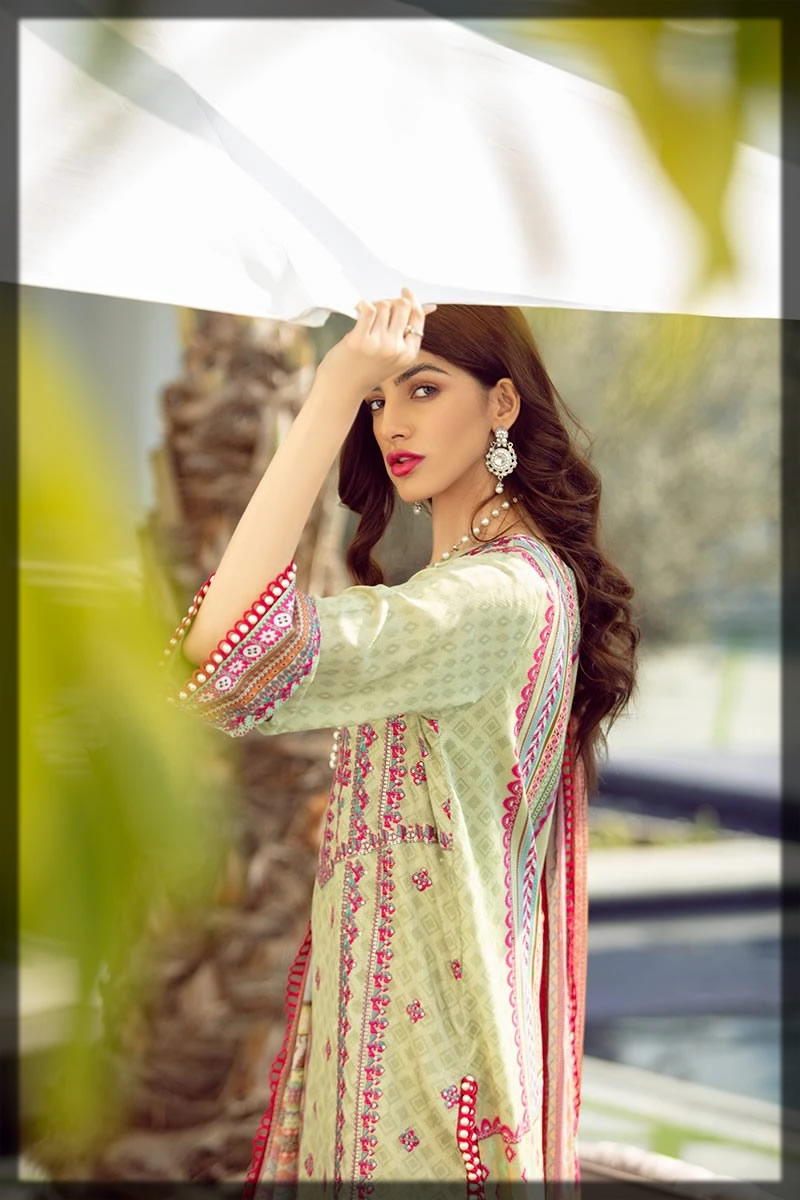 Rang Rasiya Embroidered Unstitched Three-Piece Summer Collection

The spring season is one of the four temperate seasons in Pakistan. This season starts typically from 20th March and ends in the mid of June. The spring season succeeds winter and precedes summer. Therefore, there is a particular fabric to wear in this season. Rang Rasiya facilitates its customers by providing high-quality material for the spring/summer season. There is a variety of collections for this season, varying from colors to designs. Digital prints with delicate embroidery are, however, standard in this collection.
Rang Rasiya summer unstitched collection has a variety of colorful and versatile designs. I am financing some of my precious time presenting the sort of lawn collections by Rang Rasiya. It has mainly three-piece dresses having chiffon dupatta. Most of the ladies nowadays prefer to wear dresses having embroidery. Therefore, Rang Rasiya presents you with a variety of three-piece unstitched dresses with embroidery.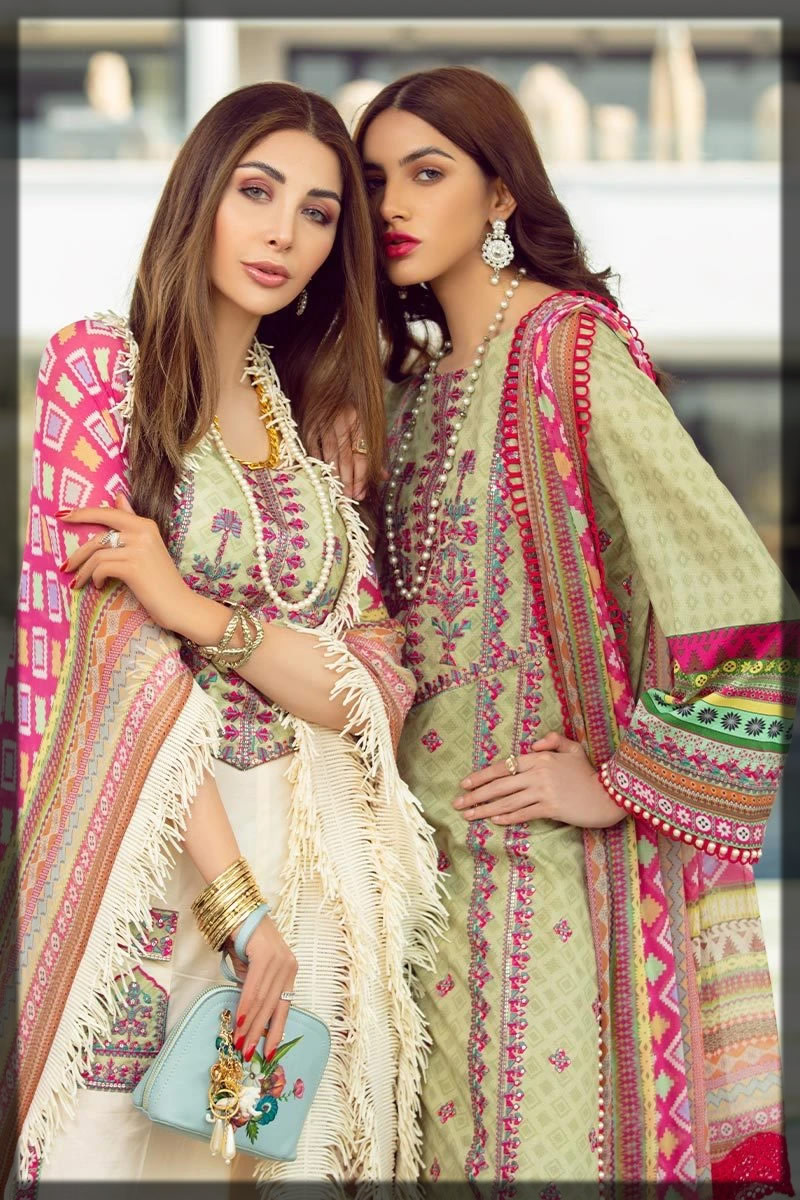 Florence Luxe Summer Collection Volume 1

The term Florence implies that the entire collection will indeed be blossoming. Rang Rasiya's flowery prints add magic to the attire wholly. Floral designs are standard yet look delicate. You can analyze the quality of its fabric by wearing it once in your life. Most of the dresses are of Masoori lawn that is unique in cloth and has outstanding quality.
Embroidered Rotery Lawn Suit

Digital prints are always eye-catching and in high demand for customers. Undoubtedly, the following parrot green dress will add beauty to your character. Women who search for a light summer color shall go for the beautifully decorated apparel below. Indeed, you can turn heads on yourself and can get a compliment if you own the dress significantly.
Here is a digitally printed and embroidered rotery lawn dress with embroidery on its front. It has a plain, printed back and sleeves with dyed cotton trousers. The dress is unique because of its contrasting blue Bamber chiffon dupatta that sparkles the whole outfit. Firdous summer collection has a wide variety of similar dresses that you can wear this summer.
Unique Yellow Outfit for Women

Some people consider summers to wear a striking yellow dress purely. It is a vibrant yellow dress with unique digital prints with front embroidery and printed back and sleeves. Further, it has a gorgeous contrasting pink dupatta that doubles its grace. You can go for this pure and unique combination to seek this summer. Plus, wearing delicate jewelry with this beautiful dress brings out the elegance in attire.
Fashion Tip: Wear a matching khussa to elevate your overall look with this beautiful dress.
Glamorous Pink Summer Attire
The bright pink color has its charm and grace. People like to wear such bright colors to bring glam to their looks. For instance, take a look at the beautiful pink dress below beautifully contrasted with an off-white trouser. The adorable combination is all set to get you a well-defined look in summers. Plus, the striking hue is an ideal choice for teens in summer. Get brilliant combinations likewise from the latest Ittehad textiles summer collection.
Fashion tip: Wear fantastic antique jewelry for a complete voguish look.
Slaying Ice-Blue Attire for Summer
The ice-blue color is unique among all the shades. Therefore, it always looks refined whenever you wear it. Women who want to slay while wearing a simple dress shall go for the following attire. Indeed, it will bring all the essential grace and glam to a woman.
The beautiful dress is fully embroidered from the front while having a printed back. It is nicely paired with a printed pink dupatta and plain trousers. Get yourself the following dress for a dignified summer look before it gets late or out of stock.
Fashion tip: You can elevate your look by matching tassels on the shirt and dupatta.
Decent Summer-Yellow Outfit
The yellow and lemon color always looks pretty and charming whenever paired with purplish-blue color in contrast. Here is an epic yellow attire for you to look pretty amazing. It is a graceful dress with embroidery on its front and back. Indeed, it will be the right choice for everyone who wanna slay in the mid-year season. The Bamber chiffon dupatta is adding a magnificent look to the ultimate outfit. For similar outfits, try Zellbury summer lawn suits.
Fashion tip: Straighten your hair well and leave them loosely for a well-defined look.
Beautiful Contrasting White Spring-Summer Outfit
The white color is always refreshing in summer due to its sunlight resistance feature. People who are having heat or sweat issues usually prefer to wear white colors in summer. The spring outfits are mostly vibrant and colorful. Therefore, people who wear white look always unique among the galaxy of individuals around. This white attire is beautiful, with embroidery on the shirt and a patch on trousers; hence it looks impressive. Check out Charizma summer lawn for more such beautiful embroidered and contrasted dresses.
Fashion tip: Combine fantastic sunglasses for a whole summer vibe.
Charming Pink Outfit for Spring-Summer
The young and fashionable girls always favor pink color to look dazzling. Here is a fabulous pink dress with a tissue net border having embroidery on it and the same patch for its trouser. Further, the sequined decoration and delicate embroidery make the dress much blazing for young girls. Additionally, the contrasting digital printed chiffon dupatta is adding a much magnificent look to the overall outfit.
Fashion tip: Wear matching jewelry with it to magnify the overall grace.
Some of you may like a light and refreshing blue color to wear. Undoubtedly, the coolest shades bring many enchanting looks in the mid-year season. Plus, it can be an ideal choice to refresh your soul with the pleasant and charming shade below.
The following beautiful dress comes with a fully embroidered front. However, the back is plain and lightly printed. The fantastic cutting-edge technique is bringing charismatic looks. Therefore, it is a highly-recommended shade and dress for women in summer. Bareeze summer lawn is also worth buying like Rang Rasiya.
Fashion tip: Attach precious pearls and tassels to the daman to enhance its look.
Stimulative Orange Attire
On the spectrum of visible light, the orange color is in between yellow and red colors. It comes in a bright shade mostly and looks very stylish. Therefore, we are presenting you with a pleasing orange attire. It has a digital print with contrasting white embroidery on its shirt. The combination and style is an ideal option for teens. However, women who love to wear vibrant hues can also wear voguish shades. Get similar striking combinations from the recent Limelight's summer collection and fill your season with colors.
Fashion tip: Wear rustic golden heels for a contemporary look.
Fascinating Dark Green Outfit
The vibrant green color is unique among other shades. Especially, it looks much unique when it comes in contrast with the purple dupatta. Such a loud shade and combination suits the best on teens. Further, a Bamber chiffon dupatta complements the overall look. Please take a look at the following image gallery to explore the magnificent dress.
Fashion tip:  Wearing delicate earrings with it will magnify your look.
Pastel Green Spring-Summer Attire
The pastel green and blue combination is always slaying and one of the best combinations for summer. Take a look at the following variety. The shirt is beautifully decorated with delicate embroidery and sequins. Further, it has a contrasting printed Bamber chiffon dupatta for a whole vibe. Indeed, wearing this attire brings out sophistication in style. For more similar attires, check out the Bonanza Satrangi summer collection.
Fashion tip:  Wear contrasting sunglasses and prefer bright makeup to elevate your look.
Vibrant Pink Luxury Lawn outfit

The term 'luxury' refers to a state of comfort and elegance at the same time when spending a lot of money on something. Therefore, the luxury lawn is an attire with high cost and quality that brings out a dazzling and elegant outfit. The beautiful color palettes will astonish you with the intricate patterns and aesthetics. Well, the hot pink color always shows heat and passion. Therefore, this dazzling pink dress is perfect for its contrast with the printed chiffon dupatta. You can get similar designs from the recent Sana Safinaz summer collection.
Fashion tip: Wearing heavy earrings with this attire increases the beauty of this dress.
Light pink color always looks charming and brings out purely a feminine look. Therefore, every young girl finds a unique and purely feminine shade to complete her summer look. Rang Rasiya fulfills the desires of its customers and offers an incredible variety of breathtaking dresses. Below is a pleasant peach fancy summer attire for you.
This beautiful dress has embroidery on its front and sleeves. Further, the beautiful chiffon dupatta is decorated with embroidery and sequins to give you an enchanting summer look. For more variety, check out the Gul Ahmed summer collection and enjoy your season.
Fashion tip: Wear contrasting jhumkas to elevate your contemporary look.
Charming Off-White Contrasting Outfit
The off-white color has exquisite beauty. It is pretty whenever it is paired with a maroon color. A unique combination is an ideal option for every age group. However, it looks much decent for women as teens look stylish in vibrant hues. For instance, take a look at the following image gallery to discover the most decent dress from Rang Rasiya's summer collection. The graceful palette looks very pleasing to the eyes.
Fashion tip: Wearing delicate jewelry with this attire brings out elegance.
Sizzling Brown/Black Attire
The jet black color is the most demanding color because of its grace. It pairs efficiently with a golden color and has fame for ages. This alluring black dress is having a sequins lawn shirt, plain back, and chiffon sleeves. The net organza dupatta with embroidered pallu is adding much finesse to the ultimate attire.
The following dress is eye-catching whenever you wear it. Especially, women who love to wear black even in the summer shall go for the blended shade below. Indeed, the magnificent combination will add glam to your personality. Get similar dresses from the Kayseria summer collection and fill your wardrobe with amazing dresses.
Fashion tip: Wear golden jewelry in contrast to the following combination for a perfect look.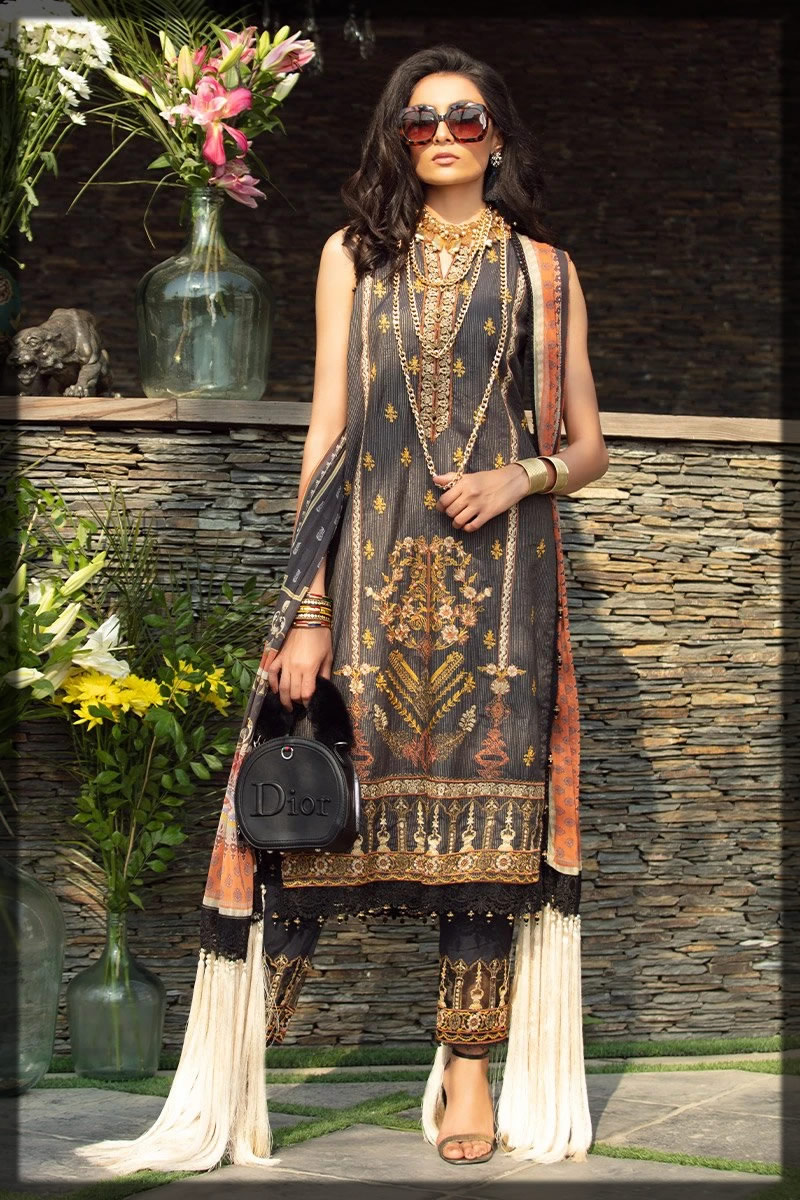 Florence Luxe Festive Collection for Women
Admittedly, women always desire to see new and beautiful clothing designs for every season. However, the prolonged summers require blissful and versatile outfits for a pleasant vibe. Therefore, the fashion designers tend to bring additional volumes for their people. Rang Rasiya has launched its "Florence Luxe Festive collection" for women below. Please have a quick look the portfolio below to discover engaging and magical embroidered designs.
Rang Rasiya Premium Lawn Collection for Women
Almost every clothing brand launches its premium collection for women. You might have seen splendid outfits from the latest Taana Baana summer collection. Here is the premium lawn collection by Rang Rasiya for you. Undoubtedly, the premium quality fabric and smooth texture will bring out the ultimate elegance.
This premium collection follows the identical unique design and style as tassels. For instance, take a glance at the image gallery below to discover tasteful attires. A woman is always noticed whenever she goes out. Therefore, she must dress up classically to be remembered in good golden words. I hope the following premium assortment will get you a compliment.
Florence Luxe Summer Collection Volume 2
Do you think that you can survive with a single volume of any brand? Many women desire to get new and trendy styles for themselves. Therefore, the clothing brands tend to bring several volumes of every seasonal campaign for domestic and international customers.
Here is the latest Rang Rasiya's Florence luxe summer volume 2 for you below. Indeed, the captivating styles will bring you the desired spring vibe. Get yourself a dramatic and flamy outfit from the portfolio below. Combine classy contrasting footwear for a whole look.
Rang Rasiya MAHI Lawn Collection for Women
The long summer is the time to wander that you can not spend the whole season with one collection. Instead, it would help if you had a lot of varieties with exceptions to make your season blissful and memorable. In honor of serving the customers with the most delicate details, Rang Rasiya has launched a new MAAHI lawn collection. The exquisite portfolio is presenting you with some soft lawn prints with delicate embroidery for a pure modest look. So Kamal's summer collection has also launched its volume 2 for women. You can explore their collection for awe-inspiring hues and statement styles this summer season for glam. I hope that the astounding collection with magical prints will meet your desires.

If you want to maintain your glam, please give a thought to the portfolio below. The apparel collection includes an essential variety of unstitched three-piece awn suits. Further, the outfits are coordinated with blended chiffon dupattas for a pure summer vibe. Undoubtedly, the following ensembles will serve some striking looks if you opt them for a vacation mode. Indeed, a summer break requires a comfortable fabric to enjoy the season with ease. I want to give a big shoutout to Rang Rasiya summer collection for its new variety. Finally, it's time to appreciate the efforts of designers. Buy yourself a flaunting attire from the MAAHI lawn collection below and enjoy your scorching season.
Printed Series by Rang Rasiya
The creative designer has a lot of dynamic dresses for lovely customers at affordable prices. Usually, many people look for casual and digitally printed lawn dresses for a chic and easy-breezy look. Here we are presenting you with the effortlessly chic ensembles by Rang Rasiya below. Please give a thought to the following dresses to have a blissful season.
Conclusion:
People who are fond of clothing will definitely love Rang Rasiya for its fabulous collection. Rang Rasiya summer collection has a variety of vibrant and light dresses for the public. Therefore, you can easily select your favorite designs. Plus, the stunning outfits with incredible fabrics add elegance to the ultimate attire. Above mentioned prices of every dress will help you in making your decision according to your budget.