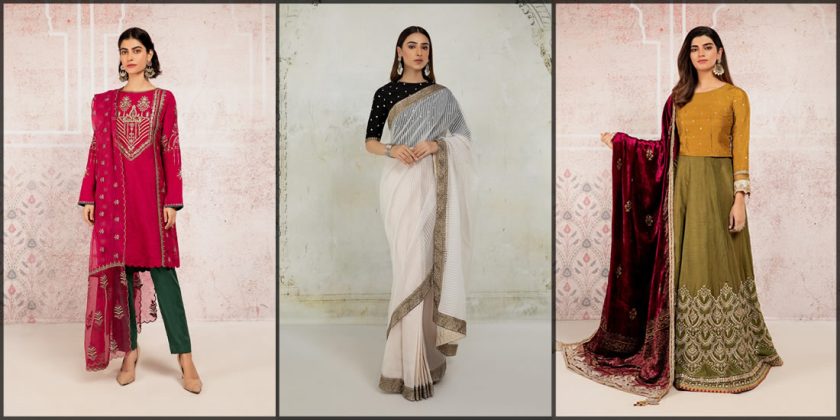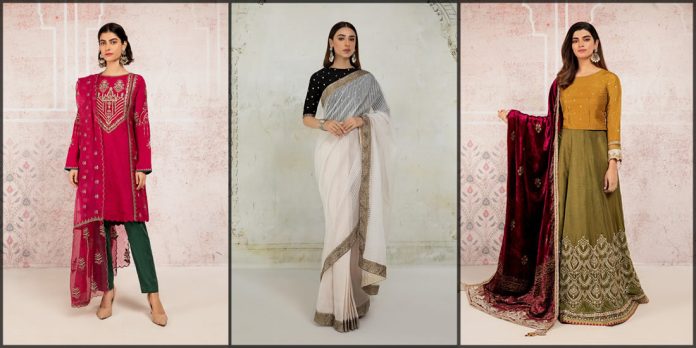 In the fashion industry of Pakistan, Maria B has significant pride for its exclusive clothing designs. Hence it is known as the most prestigious Pakistani brand. Here we are presenting you with the freshest Maria B evening wear collection that offers striking attire for women of all ages.
Pakistani girls are always looking for innovative and well-designed outfits for themselves. Therefore, Maria tries their best to design incredible garments for ladies. So they can adorn themselves well by wearing a unique and high-quality outfit. For extraordinary attire, you can see the overall Maria B. evening wear variety that has been launched. All the attires have exquisite beauty with distinctive patterns of art.
However, the prices of these dresses are generally high but trust me they are worth buying. You can wear these dresses at birthday gatherings and at wedding ceremonies to add extra appeal and attractiveness to your look. Moreover, you can also carry these attires on any formal and social occasion to dazzle.
About the Brand and Designer
Maria B is the most renowned brand that is recognized as the fabulous lifestyles brand that offers all sorts of clothes and accessories for women of all ages. It was established in 1999 by Maria Butt who is the most talented Pakistani designer. Each season she designed the most ravishing and stunning apparel for ladies of all eras.
In Maria's store, you will get a stunning variety of formal, casual, basic, evening, bridal, and wedding wear made with high quality and pure fabrics. Plus the colors and shades of these dresses are just mind-blowing that indeed help you to catch the breathtaking flash at any gathering and celebration. Moreover, it also offers jewelry and perfume aptitude for its buyers.
Latest and Beautiful Maria B Evening Dresses – Ready to Wear Collection with Price

A season is incomplete without evening parties. Women are always ready to attend formal parties. Such gatherings require a stunning ensemble with a little bit of decoration. However, a heavily embroidered dress is also ideal if you are looking for a magnificent style. There is a wide variety of phenomenal dresses by the famous clothing brand here.
Wearing an outfit of Maria B will surely match your standards. Therefore, we are presenting you with some of the brilliant costumes with prices that are perfect Pakistani wedding guest dresses. Moreover, you can match extravagant jewelry for a stunning look. Furthermore, use the best makeup for the ultimate outlook. Let's take a look at the incredible evening collection in the portfolio below with prices. I hope you will collect here what you desire.
Knee-Length Embroidered Kurta with Capri

The ultimate grace of a woman completes with a perfect ensemble. There is nothing wrong if you are curious about your looks. You can make your evening gathering much radiant and dignified if you are dressed up shabbily. Therefore, we will suggest you pick a graceful three-piece embroidered dress from Maria B's evening wear collection.
Indeed, every girl wants to look pretty and fantastic. You can elevate your looks with the following marvelous three-piece ensembles. The knee-length embroidered shirts have their exquisite grace. Moreover, they come up with a graceful Capri that adds much vibrance to the overall evening party wear outfit. A well-decorated organza embroidered dupatta completes the entire formal look of the dress. Please give it a thought and enjoy your party.
Ethnic Sari from Maria B Evening Wear

The tiniest details are a matter of elegance and modesty. Undoubtedly, you can obtain endless grace if you have luxurious 9 yards attire. Never stick to the same desi menu every time whenever you are going to a party. Undoubtedly, you will glow differently if you embrace a classy and ethnic pure raw silk sari by Maria B's evening wear. However, you can get a couple of options for saree from the Manish Malhotra sari collection.
Here is one of the refined and finest ensembles for you below. The pure raw silk black blouse has well-embroidered sleeves with delicate motives. Further, the off-white and light brown shades make the outfit much exquisite and ideal for evening wear. There is a stopped cotton Khaadi fabric to design the flare and pallu of the saree. Indeed, you will stand differently among the gathering if you opt for the fantastic dress below. Pair it with classical accessories and straight hair to stand out.
Plain Long Frock with Embroidered Shawl

Black color has a deep association with power and elegance. Moreover, wearing an outfit in black brings an entirely formal look. Look at the following plain long frock that is paired with the embroidered shawl and basic pants. Undoubtedly, it can be an ideal choice for you to look spectacular at evening parties in summer/winter.
If you don't like to wear the plain and simple frock. At that point, tassels are very much in fashion so, you can add some on the sleeves and daman for a dramatic appearance, but this is entirely optional. Keep your hair open and add some curls to your hair with this dress to attain the desired looks. For more stunning frocks, explore the Pakistani party wear frocks.
Long & Side Open Frock for Teens

Among the clothing designs, girls prefer long-length frocks. So for those ladies, the below long frock is the best. The floral designs on the zari net fabric bring a lasting gleam to your outfit. Moreover, the side open feature will give blazingly unique looks to your personality.
So give a chance to this cool outfit that has unique patterns and embroidered edges that will make your look incredible. All you have to do is to combine your long and side open frock with striking makeup and appealing gemstones to make all of your awe-inspiring and pretty gazes.
Raw Silk Lehenga Choli with Velvet Shawl

People who wear vibrant shades look more innovative than the others. There are a variety of burgundy shades available in the latest Maria B evening wear collection. Here is a little glimpse for you below.
Look at this beautiful bright shaded lehenga choli that indeed renews your evening look. Moreover, it is paired with the embroidered velvet shawl that will give you a feeling of warmth. So this outfit is the ideal choice for the winter season to attract. You can also carry this beautiful ensemble to your sister/brother Mehendi/mayoun for getting the charming and beautiful flash. Pair this sleek outfit with the classical jhumkas, nude makeup, high heel shoes, and loose curl hair to catch the appealing look. Nishat Linen's winter collection also offers striking velvet shawls.
Dori Work Sleek Black Velvet Kaftan



Absolute people will always opt for a better choice among a couple of designs. Also, those who choose black from millions of shades are the smartest. Therefore, we are bringing you this dori work black velvet kaftan that is an absolute choice to wear at evening gatherings to get the prettiest yet modest flash. You can also carry this beautiful kaftan at a social gathering to make all of your alluring and striking gazes. For more velvet dresses, browse the Kayseria winter catalog.
Beauty Tips: Try to pair this chic kaftan with bold makeup, block heel shoe, long hoops, and straight open hair to get the extra charming and dazzling flash.
The fashion industry of Pakistan aims at crafting youthful dresses for men and women. Here is one of the refined forms of gharara dress. The embellished bambar raw silk embroidered bottle green short shirt comes with matches gharara. Further, it is coordinated with a Gotti work organza dupatta for a whole charming look. It would be best if you wear contrasting pointed heels and long hoops with this cute outfit to complete your looks.
Here is a three-piece outfit in pure raw silk fabric. The embellished frock has elaborated details in a decent manner. Moreover, it has embroidered panels with separate embroidered sleeves. Furthermore, it is nicely paired with pure raw silk sharara and embroidered zari net dupatta. Wear delicate jewelry with the following dress to complete your looks. Plus, keep your hair open and wear pointed high heels for a fashionable look.
Straight Panelled Shirt with Crushed Screen Printed Sharara

If you are looking for the latest pattern outfit then grab this below lilac outfit. It is an embellished cotton net embroidered shirt with a crushed screen printed sharara. The front of the shirt is having lovely sequins and zari embroidery that make this cool outfit extra stunning.  It is paired with the floral printed organza dupatta that showcases the beauty in your outfit whenever you wear this stunning attire. Combine this dashing outfit with nude makeup, classy gemstones, and high heel shoes to dazzle the night.
Khaddi Silk Shirt with Tulip Pants

Are you in search of a more elaborated and dignified ensemble? Undoubtedly, a passionate woman is always obsessed with her clothes and footwear. Therefore, we take good care, of our lovely customers, by offering versatile clothing designs. The tulip pant is a distinctive style in clothing. Young girls are fond of wearing such phenomenal outfits. Therefore, Maria B's evening collection presents you with alluring tulip pants dresses.
Look down at this beautiful cotton net shirt paired with the matched tulip pant that undoubtedly makes your look splendid and striking. It is enhanced with the maroon organza dupatta that is lightly embellished with polka dots. Grab this outfit for your evening night to add extra appeal to your style. Moreover, you can also carry this appealing outfit at any formal and social gathering to get the prettiest yet decent flash.
Heavily Embellished Velvet Suit with Zari Net Dupatta

If you are in search of real beauty, go for the blooming purple ensemble below. The soft hue brings dreamy and eye-catching looks to your personality. Therefore, we recommend the viewers to opt for the magnificent light purple dress by Maria B's evening wear below.
The enchanting color is heavily furnished with golden embroidered patterns. Moreover, it is paired with the self-printed jacquard trouser. Also, the lightly adorned zari net dupatta doubles the grace of the dress. So if you want to get the royal look on evening night, then never temporize, simply wear this striking outfit, apply the bold makeup, wear the traditional tikka & hoops,  wear block heel shoes and keep your straight hair open to get the charming gaze.
Tilla Embroidered Kaftan with Straight Pants and Undershirt
Look at the extraordinary dress with refined embroidery. The beautiful tilla embodied kaftan paired with the straight pants and undershirt. One of the sleekest and appealing attire to blaze the evening.  With this striking outfit, the bronzer makeup, peep-toe footwear, loose curly hair, and classical jewelry are the best mixtures that will add grace to your entire personality and looks. Zahra Ahmed dresses are also worth wearing for evening events.
Make your evenings much momentous with the fantastic Maria B evening collection. It has a wide variety for you that covers all the latest designs. The above unique and high-quality dresses look very beautiful that indeed renew your look and make it extra charming. Furthermore, you can wear delicate jewelry with it for a charming look. Additionally, the fantastic footwear can also add up gleam to your attire. So pair your outfit with the perfect accessory to make all of your noteworthy gazes.