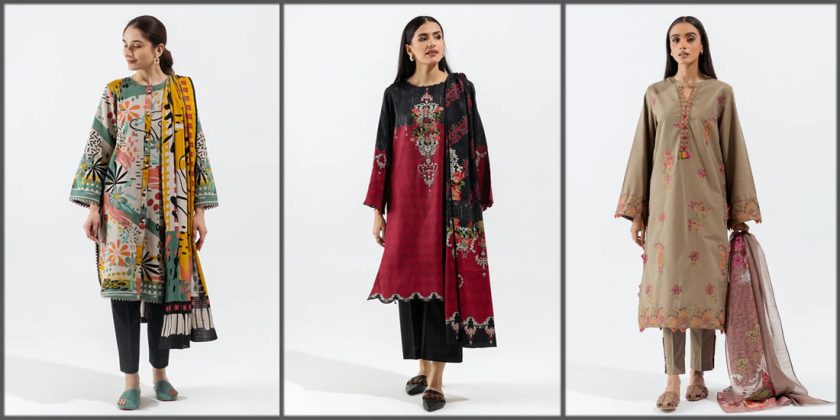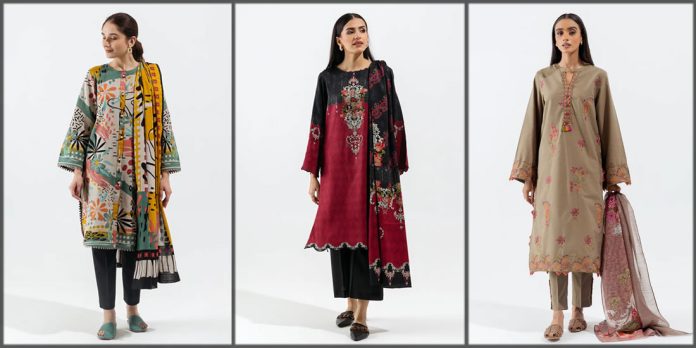 Beechtree winter collection honors Pakistan's rich cultural legacy as well. Traditional clothing is combined with modern design elements to create a fusion that appeals to a wide variety of tastes. Traditional shirts with magnificent embellishments are included in the collection, creating a great blend of old-world charm and modern sensibility.
Beechtree winter collection features the right traditional dress to make you stand out with grace and style, whether you are celebrating a family gathering or attending a formal function. Beechtree winter collection includes unstitched and stitched dresses in 2-piece, 3-piece, and shirt styles. This collection combines history and fashion in a way that allows you to embrace the winter season with elegance and flare.
Beechtree has you covered for all your winter wardrobe needs, whether you choose timeless classics or modern fashion. Beechtree's much-anticipated Winter Collection for the year is finally here, with a magnificent selection of unstitched and stitched dresses to suit every taste and occasion. Beechtree's collection includes something for everyone, whether you're seeking for traditional Pakistani clothing or modern chic.
About BeechTree
Beechtree launched its business in march 2010. After a few years, it was extended to the big cities of Pakistan. The brand got much fame in a short period as it contains high-quality stuff and various dresses for every generation. Plus, the brand reflects high levels of grace and sophistication. Therefore, modern women of today look for their attires because Beechtree always meets the demands of its customers with jazzier designs.
Warm and Stylish Beechtree Winter Collection for Women and Young Girls
Beechtree is one of the prestigious brands in the fashion industry of Pakistan. It is famous for its wide variety of chic colors and styles. Plus, there is a broad category of clothing having high quality and smooth texture. Here, we are showcasing some of the fascinating designs of the Beechtree winter collection to you.
Looking the prettiest and most appealing is the fantasy of each lady. Hence they scroll through many brands to get the perfect outfit for themselves. Because the outfit is the only way that refreshes and renews your look and makes it more dazzling, so, this season, show your trust in Beechtree by purchasing their clothes and making your winter look captivating.
Some women prefer to have unstitched garments. While some girls prefer pret over others. For instance, Beechtree incorporates two main types. These are:
Simple and embroidered unstitched dresses.

Reliable and essential pret dresses.
1- Unstitched Collection for Winters
In the unstitched collection of Beechtree, you will get stunning printed, weaved, and embroidered dresses that are made with warm kinds of stuff. One of the best things about unstitched attires is that you can customize them in any style you like or according to the latest trend. You will find stunning two and three-piece dresses in khaddar, karandi, linen, yarn-dyed, and jacquard fabrics in the unstitched catalog.
Unstitched Winter Linen Collection
You may be suffering from a skin rash or other allergic issues. People who face such problems must wear soft materials in winter. For instance, we have a unique linen variety for them. The fantastic floral prints with thread embroidery below will engage you to buy them urgently. So, do not get late and buy your favorite dress from our recent assortment. Also, check out the Alkaram Studio winter dresses for getting to know about the latest trends.  
Are you looking for a smooth texture in winter? Try the following comfortable linen dresses, for instance. Plus, they will surely appeal to your character. All you require is to pair your classy linen suit with the short hoops and open hair for making your look extra charming. Get more similar variety from the Bareeze winter collection and enjoy your season.
Unstitched Two-Piece Yarn-Dyed Collection
Sometimes in winter, the scorching sun is not bearable. Therefore, women look for mid-season stuff to wear in those days. Beechtree showcases unique yarn-dyed dresses to wear on mildly hot days. The individual basic and floral prints of winter twill attires will get you a compliment For exploring the other beautiful designs, also check out the Sapphire winter dresses.
Have a look at the chic variety of yarn-dyed dresses below. You can stitch these dresses in a  kurta style that is best for casual use. These dresses are available in two pieces (shirt and trousers). In addition, you can pair your yarn-dyed suit with the cambric or twill trousers to add more charm to your winter look. Plus, style up your hair for extra impressive looks. 
Unstitched 2PC Khaddar Collection
Teen girls are always anxious to get gorgeous outfits of fabulous styles for them. Preferably, they look for voguish colors that can add glare to their looks. Therefore, Beechtree is presenting you with vibrant two-piece dresses at minimal prices in khaddar stuff. The fantastic floral prints with thread embroidery of these dresses will propel you to buy them.
The beguiling styles are always available in stores and online. However, this brand works entirely on customer demand. Therefore, it still presents you with bewildering attires. So, this season, style up your looks with the fantastic khaddar dresses of Beechtree. Furthermore, get more winter dresses from all notable brands. 
Three-Piece Collection in Khaddar Fabric
Women who are looking for three-piece dresses can have this exclusive khaddar collection. There is a whole variety of khaddar dresses with a wide range. Plus, this warm fabric will comfy your winters. Moreover, these chic styles are offered at reasonable prices and outstanding color combinations. For more chic variety, discover the recent assortment of the Limelight winter collection.
The khaddar assortments are available in stores now. Beechtree summer collection has won the hearts of people. Therefore, women are looking for similar unique attires for winter too. So for those ladies, here is a chic variety of khaddar three-piece suits. So please hurry up and grab your favorite attire before it's too late.
Three-Piece Unstitch Jacquard Collection
The Beechtree winter collection comes with excellent jacquard textured unstitch collection. In addition, there is an excellent specialty of Beechtree that presents you with semi-formal winter clothes. Well, you can explore the marvelous collection of Pakistani formal dresses here.
The accompanying jacquard shirts are paired with cambric pants. Plus, they have lovely jacquard dupattas that bring a complete chic look. Finally, grab your favorite dresses from the below collection and add more sparkle to your party look. You can wear these dresses at any seasonal event to make your look splendid and striking.
Three-Piece Karandi Winter Collection
You might have seen a variety of karandi dresses in the recent Orient Textiles winter collection. Still, many of you may be looking for new styles and colors. Below is a versatile variety of three-piece karandi outfits for you. So style up your dresses in your desired way. 
Women of a certain age look for complete three-piece attire. Therefore, Beechtree brings unique designs to them. Look down at the beautiful three-piece karandi dresses by Beechtree. The conventional texture of karandi is always appealing. Moreover, it brings a glamorous look entirely. Therefore, have a look at the beautiful three-piece karandi dresses below and grab some items to update your wardrobe.
2- Winter Ready-to-Wear Collection



Well, there is a wide variety of unstitched collections here. But, some girls opt for ready-to-wear dresses. They prefer to pret to others to save their time. Therefore, Beechtree comes up with an exclusive collection of ready-to-wear dresses at affordable prices. In the pret section, you will get tops, peplum, fusion, single shirts, and two-piece suits made with excellent designs and patterns.
Tops and Fusions Collection for Teenagers
Are you looking for a subtle outfit to slay? Do you want to style up distinctively this season? If so, then look at the top and fusions collection below. This mesmerizing winter tops collection of Beechtree will bring a sparkle to your personality. Additionally, the captivating patterns and combinations will slick differently. You can pair them with denim for an extra modest and striking look. For more chic variety, explore the Chinyere winter collection.
Take a look at the stunning single shirts variety below. Indeed, the fantastic karandi shirts will rock your winters. The majority of young teen girls prefer to have exclusive karandi shirts. So, here is a piece of good news for them. Check out the latest ready-to-wear shirts here and grab the best ones. For more variety of winter dresses, check out the Gul Ahmed winter collection.
Two-Piece Stitched Shirt and Pants
Parties take place every season. So, women look for modest styles for party wear dresses. Hence, Beechtree presents you with comfortable and admirable stuff so that you can freely enjoy your winter events. On the other hand, women look for chic and vibrant combinations for jazzier looks. Therefore, Beechtree brings fantastic colorful clothes for them to make their look extra splendid and breathtaking. So, let's have some time to explore the extraordinary and colorful 2PC winter dresses below that you can wear at any casual and formal gathering.
3- Beechtree Pre Fall Absolute Collection for Modern Girls
Beechtree designed a separate catalog for modern girls, "Absolute," where they offer stunning yet modest attires for teens girls to maintain their style. You will get an appealing variety of tops, tracksuits, coord, and tops for women of all ages in the absolute collection of Beechtree.
Moreover, these elegant dresses are also temperate enough to keep you safe and warm during the cold days of winter. So let's explore and take the best one for yourself to slay your winter event. 
In the top collection, you will get the loose-fitted shirts and tops designed with cuffed sleeves, high/low hem, pleating, and bow tie details. Furthermore, the flannel, chambray, and soft twill fabrics make these tops extraordinary and reliable. You can pair them with any denim pants and flare pants as you like. For more tops, explore the Breakout winter collection.
Ready to Wear Coord and Track Suit for Winter
Girls always want to sustain their beauty by wearing chic outfits. Hence they are always searching for modest attires to get the most alluring gaze. Look down at the beautiful tracksuits and coord of Beechtree that indeed update your winter look and make it more charming. All you necessitate is to pair them with minimal makeup and lightweight gemstones to grab the appealing yet pretty gaze.
Pre-Fall Pants Collection
Now have a glimpse at the pants collection of Beechtree that indeed gives you a graceful look. These cozy pants will give a high level of comfort to your legs, so you can efficiently run or walk. In addition, you can pair them with a top, sweatshirt, and even with hoodies for the perfect winter look.
4- Mor Bagh by Beechtree
Mor Bagh is a true essence of femininity and a top Pakistani fashion designer who offers an exquisite range of high-quality clothing for women of all ages. Also, Mor Bagh crafts modern yet traditional dresses to satisfying its clients. I assure you will love the distinctive styles and designs of Mor Bagh after reviewing its newest winter collection.
Here is the latest Mor Bagh by Beechtree winter collection for you. This portfolio showcases a variety of appealing attires made with the khaddar texture. Moreover, You will get the printed and lightly embroidered two and three-piece dresses in its inventory. The three-piece dresses of this collection are matched with a well-decorative dupatta to make your look elevated. You can carry these outfits at any casual and formal event by pairing them with minimal makeup and lightweight gemstones. So look down and get the ablest one for yourself and add more glamour to your winter look. 
In its latest collection, you will find a wide variety of unstitched and stitched dresses made with khaddar, linen, cotton, and twill texture. Plus, the color combination of these warm dresses is also very awe-inspiring. So, let's have some time to explore the winter dresses with prices here.