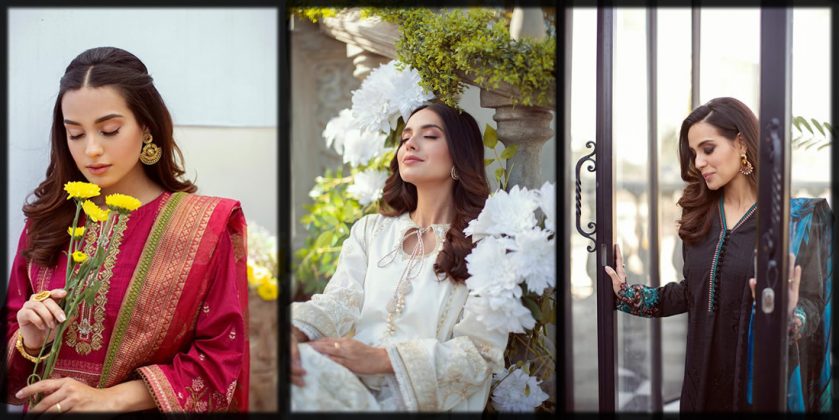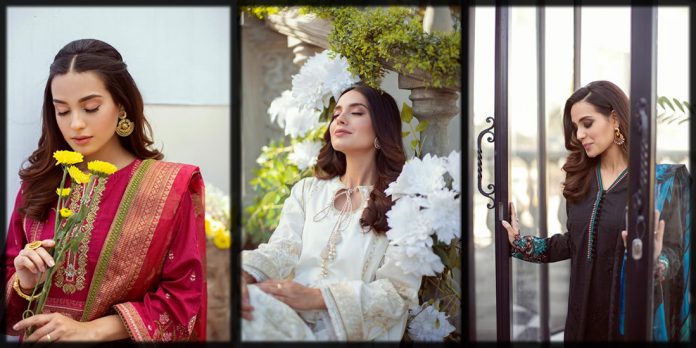 Almost every clothing brand has launched its Eid collection with a variety of styles. Women are always in search of a better outfit and wait for the other collections. Finally, your wait is over if you have been searching for a dynamic style. Rang Rasiya Eid collection brings you the essential colors and styles that will blazingly make your looks beautiful.
The fashion industry of Pakistan is flourishing rapidly with the advancement of technology. Such technological innovations have raised the textile department. Therefore, the designers are now able to create magical and engaging styles for the public. Rang Rasiya urges to provide premium quality fabric at relatively higher costs as compared to the other brands.
However, it always meets the demands of its customers and tends to bring more ravishing styles in the coming season. Eid is a special occasion that requires flaunting an attractive outfit for a memorable day. Therefore, we are here to bring you the magnificent collection of the year. Please take a while to discover mesmerizing Eid outfits below.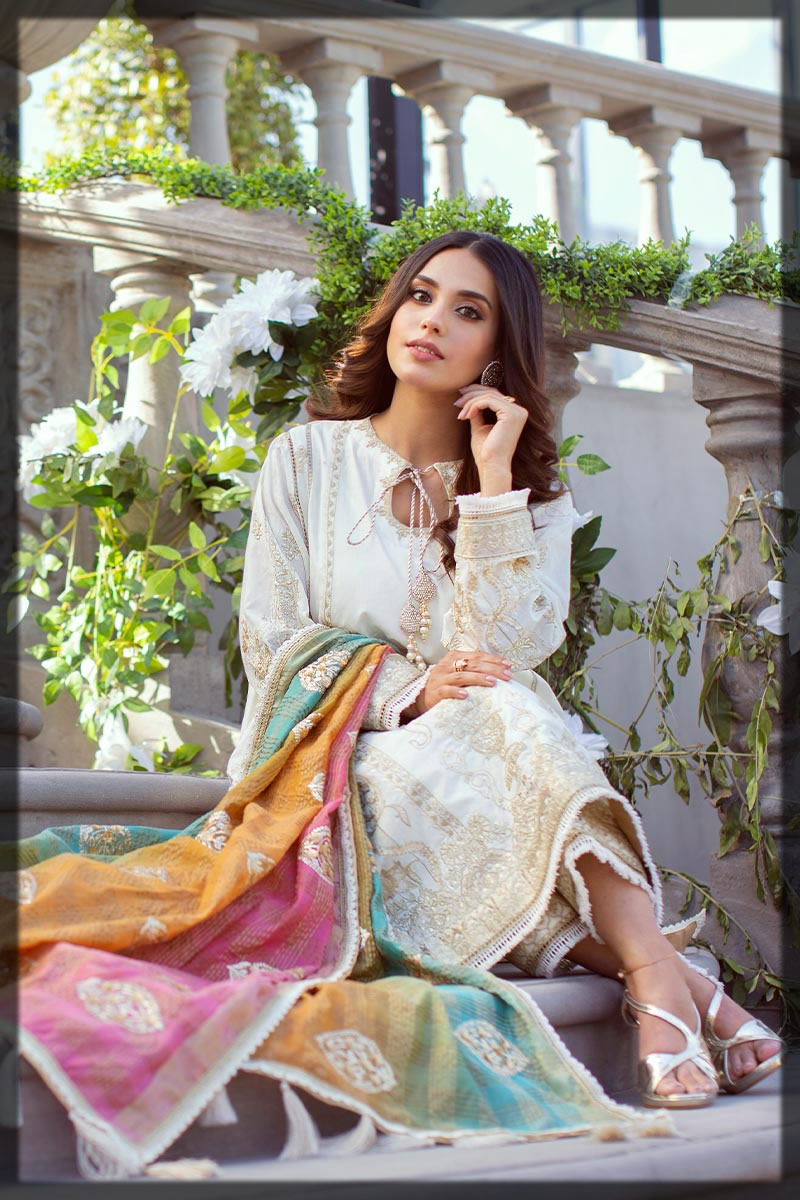 Rang Rasiya Eid Collection for Women Featuring Iconic Iqra Aziz (Catalog)

The ultimate elegance ends up being graceful and stylish in an appropriate manner. Eid is not just about making sweet dishes and sending good wishes to your loved ones. Instead, it requires the family members to reunite at lunch or dinner to enjoy gossip. Therefore, women need a stylish and graceful dress to bring positive and attractive vibes.
Several clothing brands are working to create attractive designs for women. You might have seen flaunting ensembles by Zara Shahjahan eid collection, but here is a different assortment for you. Rang Rasiya eid collection is a brilliant mix of luxury embroidered lawn dresses. Please take a while to have a quick glance at the following portfolio.
Unstitched Luxury Embroidered Three-Piece Suits (New Arrivals)

Sometimes, people are beautiful not in their features but in their looks. One must create her looks with a bit of effort. Undoubtedly, it is completely fine to follow fashion and trends. It aids in bringing you the ultimate glam and shine. To continue it, you must explore the latest Rang Raisiya eid collection this year for a pure and modest look.
There are a variety of embroidered and luxury lawn outfits waiting for you below. Indeed, the engaging portfolio below will propel you to get an attire that is suitable in every situation. You can get similar designs from the Nimsay eid collection too. But, the following dresses will be an ultimate choice for you to look blazingly unique on Eid.
Sequin Embroidered Dobby Lawn Suit
To a stranger, you always look different and attractive. Well, the actual attraction lies in the way you carry your outfit. Also, a wise decision for both outfits and footwear is significant. You can look divine and gorgeous on this year's Eid if you opt for the following white embroidered dobby lawn dress. Indeed, it is unexplainable that how beautiful white dress loos on the holy festival. Many women feel the privilege to wear this shade for courage and respect. You can explore the Khaadi eid collection for more likewise dresses too. Indeed, you will get more affordable dresses from Khaadi as compared to the other brands.
The following beautiful dress has a sequin embroidered lawn front on dobby fabric. Further, it has a likewise embroidered back and sleeves. There is an additional organza embroidered patch for the neckline. Moreover, there is a dual-tone gold tissue embroidered border of 30 inches for the front. There is a 40 inches additional tow-toned border for sleeves. Further, it has an embroidered trouser with an additional embroidered organza patch. Yarn-dyed embroidered dupatta completes the entire look of the dress. However, you can buy and attach contrasting tassels to the dupatta for elevating the whole look of the dress.
Light Blue Cotton Dobby Suit
Enjoy the scenery of nature with the lovely light blue dress below. Always go for an outfit that makes you look beautiful. People who prefer style over fashion always slay differently. Undoubtedly, a style can bring you more dazzle instead of fashion. Rightly, fashion does not suit everyone. But, the style you own is the reflection of your personality. No one can copy or snatch your personality. Therefore, you need to be yourself and stand confidently in whatever you wear. The following light blue dress will amp up your style to infinity.
Please take a while to explore the following dobby cotton embroidered outfit. It has vertical embroidered patterns on the front, stretching from the shoulders to the edges. Further, it has similar vertical patterns on the back and sleeves. It has an additional with a floral embroidered organza patch for the sleeves. Moreover, it has a lace embroidered neckline patch for elegance. The outfit has dyed cotton trousers with an organza embroidered motif for edges. The fully embroidered textured glass cotton dupatta completes the entire look of the dress. Get similar designs from Saadia Asad eid collection and have a blissful Eid.
Light Pink Embroidered Lawn Suit
Family time is the best quality time for everyone. Besides enjoying a buffet, a cup of tea, and gup shup, a woman desires to wear a stylish dress on Eid. Happy times can be memorable for a lifetime if everyone appreciates your cooking and dressing. Despite making spicy dinner or lunch, a woman tends to dress up well to avoid netizens. Rang Rasiya Eid collection is all set to bring you the most magnificent styles that everyone will appreciate your efforts. Go for the classy light pink embroidered dress below on Eid.
The graceful pink dress has a fully embroidered cotton dobby front. Further, it has heavily embroidered likewise back and sleeves. There is an additional organza embroidered patch for sleeves. Further, there is a dual-tone tissue embroidered lace for the front and back of the shirt. The dyed cotton trouser has an additional antique tissue border of 60 inches for the edges. Further, it has a magnificent gold zari organza jacquard dupatta for a whole flaunting look. Explore dresses likewise from the Beechtree eid collection too.
Voguish Maroon Ensemble for Eid
Being yourself is the best thing that you can ever do for satisfaction. It is not a pretty face that makes you beautiful every time. Sometimes, you need to think wisely about your appearance. Improving your appearance with a little effort is something worth doing for oneself. Luckily, women have a lot of options to recreate their looks. It is important to kill and vanish your dullness and replace it with shine and sparkle. The following voguish maroon embroidered dress will do the same for you to stay enchanted on Eid.
The dignified ensemble below has a fully embroidered cotton dobby front. You can see the magical patterns in an off-white shade, giving a beautiful coverage to the dress. There is an additional organza embroidered border for the front. Further, there are lace embroidered patches for the neckline. It has dyed cotton trousers with 60 inches antique tissue border. The flaunting gold zari organza dupatta is completing the entire look of the dress. Get a royal combination from the latest Mushq eid collection for women likewise.
Dignified Embroidered Lawn Suit for Eid
Drink in the wild air effortlessly with the dignified black dress below. It is a myth that wearing a black color will never bring you happiness. Similarly, many people believe that black is the unlucky shade and might be the cause of any misfortune. But, I will suggest you adhere to these rumors. These are just some superstitious beliefs that have nothing to do with your real life. Instead, black is a magical color that shows courage and empathy. Therefore, Rang Rasiya brings you a well-refined embroidered black dress.
The sequin embroidered lawn front has beautiful patterns that will attract you. It follows a boring technique for creating an illusion in the dress. Further, it has similar embroidered patterns on sleeves with a stylish floral motif at its edge. There are additional embroidered organza patch borders for the front. Further, there is a stylish neckline Patti to enhance the entire look of the dress. The outfit coordinates with dyed cotton trousers with a lace embroidered organza patch. Moreover, it has classic jacquard contrasting dupatta.
Must-Follow Fashion Tips To Stay Modest On Eid Day

Well, just a dress can not make your looks appropriate on Eid. Instead, everyone needs to follow some fashion tips and guidelines to stay classy. Here we are going to share some expert advice with you. I hope that the following precious words will help you to remain modest and elegant on Eid. Please have a quick look at the following points.
Always choose a color according to your complexion.

I prefer minimal makeup in day time if you are invited to lunch. On the contrary, go for smokey makeup on dinner.
Hairstyle is one of the critical points of your entire look. Follow eid hairstyles to create a dramatic look for your personality.

Do not forget to spray a few drops of perfume for a refreshing scent.

Last but not least, combine exquisite pair of contrasting footwear to complete your Eid look.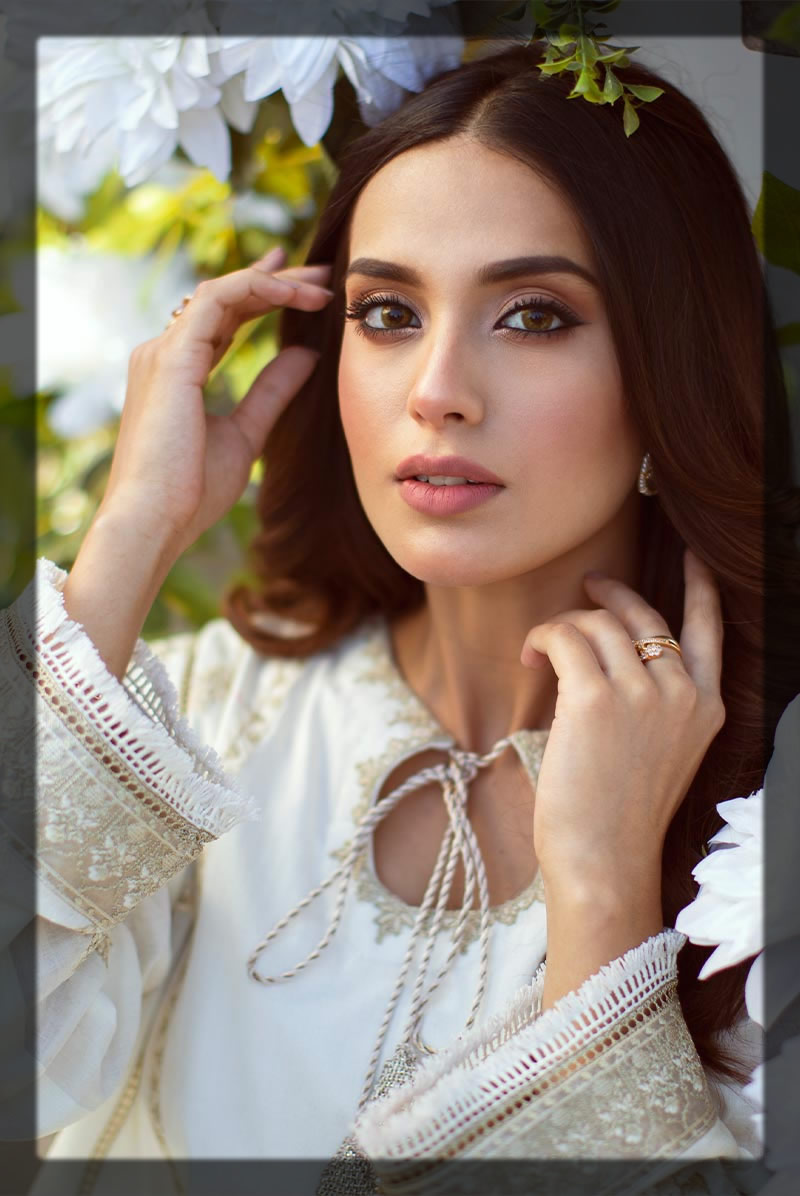 Be naturally yourself, and you will be the most beautiful woman in the world. Do not vanish your originality in search of a stylish outfit. Instead, you need to pick a shade and design that can make yourself the original one and modest. Indeed, Rang Rasiya eid collection has elegant and dignified dresses for you. The right selection will complement your whole look. Please give a chance to any of the outfits above on this year's Eid.