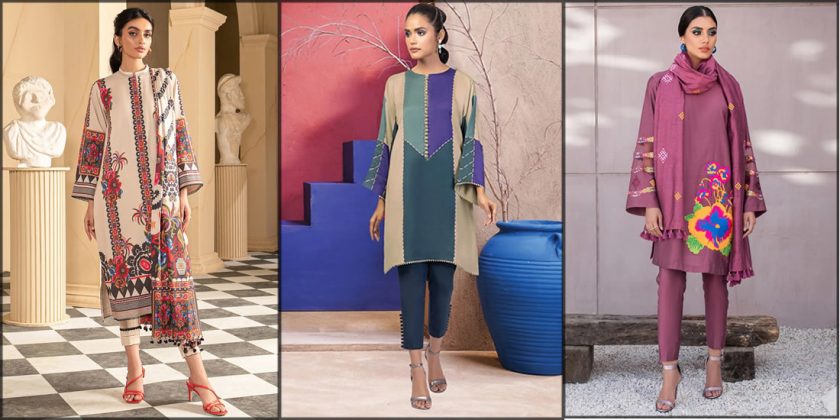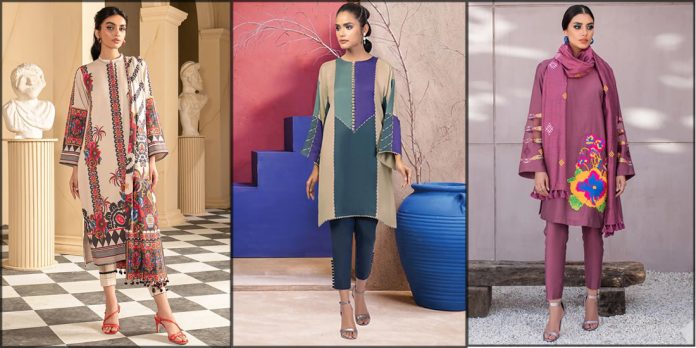 Here is the exclusive Alkaram Studio winter collection of this year. We are going to present all the latest dresses and styles. Moreover, reasonable and affordable prices will propel you to grab them. The alluring designs and styles of these dresses will make your winter beautiful. So, rush toward the stores to get these classy dresses.
Alkaram presents a wide variety of clothing, ranging from simple and unstitched to the festive ready-to-wear collection. The majority of women prefer this brand for its comfortable and high-quality fabric. Also, the persistent new designs and styles propel the public to opt for them.
This season, Alkaram used the khaddar, karandi, dobby, cotton net, and jacquard texture to manufacture its winter dresses. These textures are very reliable and comfy enough to normalize your look by retaining you warm and trustworthy. Plus, they used a brilliant color combination for making its winter attires exceptional. Let's have a look and explore the entire collection below.
Brief Introduction of Alkaram Studio
Alkaram is one of the most famous clothing brands in the fashion industry of Pakistan. This brand was launched in 2011, and the main headquarter of Alkaram is in Karachi. Within a short period, it got famous because of the exclusive variety of clothing. Today it has more than 50 stores in the major cities of Pakistan. Its fundamental aim is to serve its clients with the newest and unique patterned clothes. Hence everyone is always excited to review its latest seasonal collection.
Classical Stitched and Unstitched Alkaram Studio Winter Collection
As we all know that winters are just a few days away. Therefore, designers are under pressure to launch winter collections. Similarly, Alkaram Studio has introduced the winter collection with minimal prices and extraordinary designs.
Are you looking for some winter assortment? Don't worry, this blog will provide you with the latest winter collection by the top brand – 'Alkaram.' Select your favorite dress at affordable prices on the go. Let's have a look at the fantastic winter collection below. This season Alkaram used multiple fabrics for crafting winter clothes. These are:
Dobby

Karandi 

Khaddar

Viscose

Yard-dyed

Jacquard

Cotton Net
Stylesnic also presents a wide variety of warm and beautiful dresses in its winter catalog. In addition, you can explore all the famous clothing brands on our site with prices mentioned for your ease.
1- Alkaram Studio Unstitched Winter Collection
Below is the collection of unstitched winter dresses for you. The incredible artwork and styles will add sleekness to your personality. You can stitch them as long or short shirts, according to your choice. These fantastic suits are made with jacquard, viscose, and khaddar dresses that indeed keep your warm and refreshing. Moreover, the beguiling colors of these dresses add more appeal to your look and make it further extraordinary.
Single Winter Shirts Collection for Fall
Youth always look for simple shirts to wear because it makes them look young and jazzier. However, many university and college-going girls prefer to have stylish shirts to renew their looks. Look down at the printed warm shirt by Alkaram that is designed with the newest patterns. You can pair these shirts with classic pants or tights. Well, you can also try incredible tulip pants with these shirts for a stunning look. This combo will make you look distinctive among the public.
Embroidered and Printed Two-Piece Collection
In winter, everyone looks for warm stuff. Mostly, aged women need comfortable and warm things to obscure from the cold. Therefore, the brand offers a khaddar collection at minimal prices. Plus, the delicate embroidery and digital prints on the dresses make them look quite graceful and unique.
Are you looking for a vibrant assortment with delicate weaving? Indeed, you are in the right place. Here is a marvelous collection of winter 2PC dresses that will make you look jazzier and more classic. The following bright-colored dresses are the best choices to enhance the charm of your winter. You can also explore Gul Ahmed's new winter collection for more variety.
Three-Piece Warm Winter Dresses for Winters
Winter assortments are over-flooded with immense variety. Plus, women also look for a completely unstitched three-piece dress. Therefore, below are some magical printed and embroidered dresses for you to bring nice looks. All of the dresses are comfortable and beautiful. You can also wear them as formal dresses. Also, they are available at minimal prices which everyone can easily buy.
Moreover, these spectacular designs are best for women. These ideal and chic styles will flicker your seasonal event. So, let's give it a thought and grab your favorite outfits online and at stores and intensify your look. You can carry these 3PC suits at any seasonal, casual, and birthday party for looks trendy and appealing. All you ough is to combine your dress with straight loose hair, brownish makeup, and lightweight accessories to make all of your captivating and dazzling gazes.
Winter Embroidered Section for Women
Viscose is the winter formal texture that many notable brands and fashion designers of Pakistan used to prepare their winter assortments. Alkaram Studio likewise used this texture to prepare its winter dresses. Have a look at the below portfolio that extends striking embroidered viscose and khaddar dresses paired with the khaddar trousers.
Alkaram used brilliant artistry to furnish these days. Furthermore, you can carry these attires at any casual and formal gathering by pairing them with suitable gemstones and makeup.
 2- Mak Winter Catalogue by Alkaram Studio
Young girls always want to look effortlessly stunning. For all those girls who want a sparkling outfit, the latest Mak collection of Alkaram is the best choice. The incredible collection contains voguish styles for youth to wear. Moreover, the extravagant prints and artwork will bring exquisite beauty to their personality. For more variations of the classic artwork, you should go for the Beechtree winter attires.
Here, we have luxury dresses, which are the hot sellers of the season. The following lavish blush pink dress is made with the khaddar stuff indeed updates your look and makes it more striking at any casual event. Also, keep your hair open and do the beautiful winter makeup for an extra classy look. Further, pair stylish jewelry and footwear for complete finishing. 
Classic Cocktail Single Shirts

The winter collection is always propelled with unique and elegant prints. Plus, there is a beautiful category for specific occasions. For example, young and teen girls are looking for cocktail attires to look jazzier. Therefore, here is an exclusive variety for them. For more cocktail dresses, visit the Breakout winter collection.
Here, we have a charming single shirts collection for you. Rock your winters by wearing the following dresses. Mostly young girls like to wear the top and jeans in winter. So for those girls, the below fantastic dresses are the best options. You can customize your shirt in any design they look. So style up yourself with an updated look. Have a look at the following magical shirts made with the khaddar and dobby textures and pick the best one.
Warm Two-Piece Khaddar Dresses for Girls

Are you looking for a delicate texture? In the blistering days of winter, women keep looking for a light texture. So, Alkaram comes up with soft and stylish khaddar fabric to rock our winters. Indeed, these beguiling and artistic designs will bring a glare to your entire look.
Here is the synthetic collection from the Alkaram Studio winter collection for you. The incredible khaddar dresses in ideal shades and wonderful floral patterns will rock your event. Just like the sapphire winter collection, the new collection of this brand is also marvelous. Let's extract some time to explore the fascinating Mak khaddar collection by Alkaram below.
3- Embroidered Unstitched Formal Suits for Wedding Events



Pakistani culture is over-flooded with weddings and other formal gatherings. Well, there is an immense variety of formal Pakistani dresses. Still, the winter season propels us to create warm dresses for such events. Therefore, we have a splendid collection of formal ready-to-wear dresses below. The high-quality fabric will bring fascinating looks to your personality. 
Well-dressed women create an impression. Hence, everyone is conscious of her outlook and style on any wedding event. Here is a magical collection of embroidered formal dresses that will create an illusion. These cotton net dresses are prettified with the heavy thread and sequins work that refreshes your look and gives you the luxury yet graceful look at any wedding event. So, style up your winters by wearing the magical outfit below and add more appeal to your style.
4- Festive Winter Collection
For formal and wedding wear, you need a luxurious dress to dazzle. Look down at this beautiful festive winter collection by Alkaram that contains richly and nicely embroidered dresses made with silk net, jacquard, and cotton net textures. These are the most comfortable fabrics for the winter season that keep you heated and add extra charm to your look. You can carry these attires at any wedding and seasonal celebrations to make all of your jazzier and dazzling gazes.
Moreover, these beautiful attires are paired with yarn-dyed, tissue silk, and embroidered chiffon dupattas that add more to these attires. Plus, the thread, sequins, adda, and crystal work are done on these attires to make them extra stunning. You must pair these suits with lightweight gemstones, striking makeup, loose curly hair, and high heel shoes to add extra glam to your look.
5- Fall Formals by Alkaram Studio Winter Collection
Winter is not just about wearing warm and casual attire for comfort and ease. Sometimes, you need to uplift your style with a beautiful addition of accessories like bags and jewelry, etc. Also, you can try a formal dress for a modern vibe. Winters bring you many chances to wear exquisitely chic attires. Here is an exclusive variety of fall formals by Alkaram. There is a lot of variety of fall formals in Zara Shahjahan's winter collection too.
Please have a look at the engaging and attractive portfolio of formal dresses by Alkaram studio's winter collection below. The image gallery will take you to another level of fashion and charm. Indeed, you can bring a charismatic and refreshing look by wearing the following dresses. Restart your life with the aesthetically crafted chiffon, net, and jacquard embellished dresses. Undoubtedly, you will stand dominantly with a positive vibe among the public.
6- Alkaram Studio Ready-to-Wear Winter Collection
Women look for pret and unstitched variety side by side. So they invest their time and money more in dresses, which they like at first sight. Well, Alkaram's dresses are always eye-catching and attractive at first sight. You can explore the latest ready-to-wear dresses here to save your time. 
However, you have to bear the slightly high cost of getting a pret. Further, a woman needs all the fabrics to try in winter. Some are appropriate for mildly cold weather, while some are for intense cold. Therefore, the Alkaram Studio winter collection offers you various textured clothes in the pret catalog. You can discover an extensive collection below that contains:
Dyed embroidered dobby Kurti

Khaddar Kurti collection

2 & 3 Pieces enchanted khaddar pret

Viscose Shirts

Karandi Kurtis
Warm Khaddar Kurti Collection
Are you looking for a dress that contains intricate patterns? Indeed, khaddar is the best choice for such beauty. Prettify your looks by wearing ready-to-wear khaddar shirts this season. Certainly, fantastic artwork will make you dominant in the galaxy of individuals. You can pair them with any cambric and khaddar trousers. For other classic pret designs, you may also visit the Khaadi winter dresses.
Dyed Embroidered Dobby Kurtis
Dobby is a finely woven fabric that gives a smooth texture. Plus, it contains unique geometric patterns that bring a distinctive look. You can combine denim with excellent pants or jeans for a graceful look. So, rush towards Alkaram's nearest retail store to buy the fantastic dyed embroidered dobby, Kurtis. Plus, get more fabulous styles from the Junaid Jamshed Kurti collection.
The natural sources generate a unique fabric of dobby. This material is ideal for crafting winter outfits. Therefore, we are showcasing a rare collection of ready-to-wear dobby shirts. The striking floral pattern shirt with digital patterns will rock your evenings. So, let's have a look at the styles below.
Do you want to captivate everyone's attention? If so, then go for a cozy karandi shirt in the winter season. Progressively, they will upraise your entire look. In addition, these flattering shirts will add a slight glare to your character. So, coordinate your attires with your style for appealing looks.
Moreover, these comfy shirts are available at affordable prices. So, anyone can buy them for a pleasant appearance. Let's grab some edgy kurtas for a stylish look. Have a look at the mesmerizing shirts below that are adorned with brilliant artwork. These dresses have kurta-style shirts, which are the best for the everyday routine.
Viscose Pret Shirts Collection by Alkaram
Are you looking for a durable outfit? Usually, women are famous for keeping one dress for a couple of years. Meanwhile, teen girls are more enthusiastic about the latest designs. Here is a perfect choice for them. Indeed, this elegant viscose collection will bring innovative and refined looks to your personality. Have a look at the portfolio below to get your favorite design. You can carry these attires at any formal party and gathering to make your look splendid and striking. 
2 & 3 Pieces Enchanted Khaddar Pret
Khaddar is always the topmost priority in the winter season. It prevents you from intense cold weather outside. Well, below is the dazzling khaddar collection of two and three pieces dresses which are beautifully adorned with classical prints and nicely embroidery artwork.
You can carry these suits at any casual and formal event to make your look splendid and alluring. All you ought is to combine your khaddar suit with brownish makeup, loose curly hair, and trendy footwear to look extra jazzier and appealing.
Women are always ready to update their wardrobes because everyone prefers to have seasonal assortments. Therefore, they rush toward the clothing brands to grab the best attire for themselves. Here, we have showcased the latest Alkaram Studio winter collection with prices. Look above and explore all the latest collections.