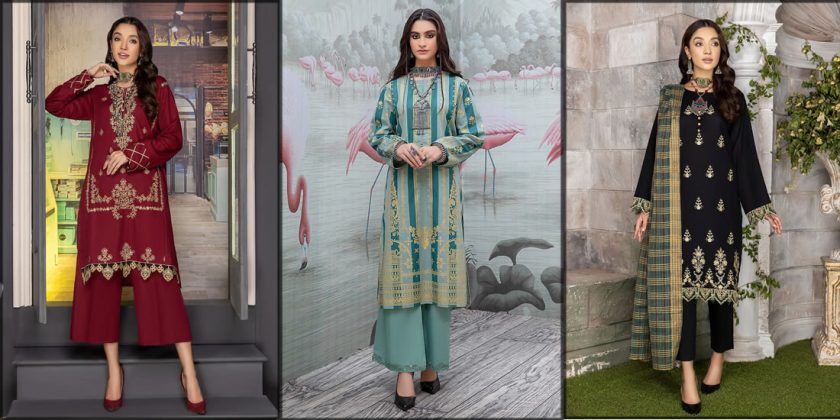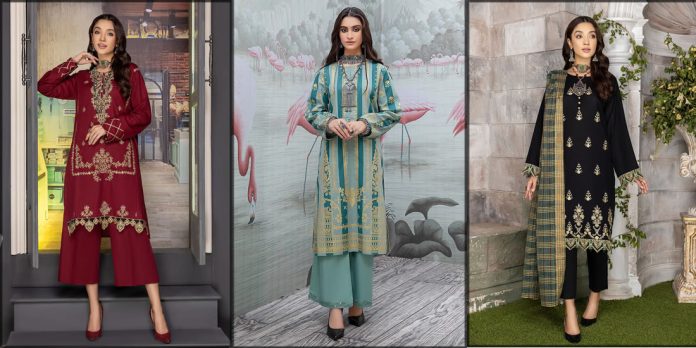 The arrival of the new season puts pressure on the brands to launch their new collection. So, the top Pakistani fashion designers have started to launch the winter collection. There is considerable market competition among several brands. Plus, all the notable brands try to craft their best artistic designs to attract the public. Let's explore the So kamal winter collection that offers striking attires in all vivid shades.
You can see a variety of designs in the following article. The highly aesthetic styles are according to the demands of women. Plus, the extraordinarily captivating and striking designs are available at reasonable prices. Moreover, the used khaddar, linen, cambric, velvet, jacquard, and tissue fabric to manufacture its winter attires.
Well, there are many different clothing brands in the fashion industry of Pakistan. But, here we have the latest collection of So Kamal for you. So Kamal satisfies its customers well by providing high-quality stuff. So, go and grab your favorite designs at your nearest retail store. Also, you can shop online anytime. Let's make these winters magical and comfortable with this So Kamal winter collection that has a variety of designs.
Latest So Kamal Winter Collection for Women [New Elegant Designs]
So Kamal is famous for its high-quality fabric and minimal prices. This fashion brand was launched in 2012. But, it got immense fame for its elegant collection and variety of dresses. Plus, the magical and artistic designs propel everyone to opt for them. There are around 25 retail stores of So Kamal, which are operating in big cities of Pakistan. Also, it provides free shipping to quality customers in every corner of the country. Let's have a look at the latest winter collection of the prestigious brand. The most common categories of the So Kamal winter collection in unstitched clothes are as follows:
Digital printed cambric attires.

Paste printed suits.

Embroidered dresses.

khaddar and linen collection
To review the other brand's collections, explore our winter catalog.
1- Winter Cambric Dresses

Cambric is lightweight winter stuff that has a very smooth appearance. Plus, the texture is too soft that it gives much comfort to people. Mostly, women who have sensitive skin can opt for this soft and smooth fabric. It has its origins in France, but most of Pakistan's clothing brands are crafting winter dresses in this fabric.
Moreover, the brands use this fabric in a variety of designs. This fabric gives neat coverage and perfect finishing. Therefore, many people prefer to wear this stuff. Here we have a variety of cambric dresses for you at reasonable prices. These categories include:
Digital printed cambric suits.

Paste printed attire.

Two-piece unstitched cambric collection.
Digital Printed

Cambric Shirt+Dupatta

Pakistani designers use the modern technology of digital textile printing for crafting magical styles. The process results in a digital pattern on the fabric. So, teen girls can opt for this youthful style for a perfect and modern look. Plus, you can combine excellent footwear and hairstyle for a beautiful look.
So, decorate yourself by trying the unique digital prints below. Wherever you are going out, these dresses will bring a tasteful look to you. Have a look at the beautifully decorated unstitched winter cambric collection below that contains the cambric shirts and dupattas. Pick up your favorite style and add more charm to your look. Plus, pair incredible bottoms to enhance your personality well. Also, visit the Alkaram Studio winter collection to brighten the dullness of winter.

Two-Piece Printed Shirt+Trouser Collection
Well, there may be some women who look for a traditional and stylish two-piece dress. Just like So Kamal's summer dresses, this brand has always focused on demanding products from its public. Check the fantastic two-piece unstitched cambric collection below that offers printed shirts and trousers. Indeed, these floral patterns with artistic designs will rock your winter gatherings and events. Try to combine graceful accessories with your outfit to dazzle.
Alluring Paste Printed Cambric Suits

Girls, are you looking for a chic and fantastic outfit for winter? Head over to the latest mesmerizing winter collection of So Kamal. You can explore a variety of styles and new designs here. Plus, explore the Gul Ahmed winter collection for getting ideas about various designs. Well, below are the chic paste-printed cambric shirts for you.
Probably, you can get appealing looks while wearing these stunning shirts. These styles are common in fashion for a long time. Therefore, teen girls opt for these shirts for a formal look. Choose the following collection for an exceptional appearance. Also, the progressively unique shirts will turn heads on you.
The majority of women look for decorative outfits in winter. Plus, any formal gathering requires a stylish dress. There is an immense variety of dresses that can be worn at certain events. But, winters require some warm and comfortable yet, stylish attires for parties. Take a look at the following embroidered cambric collection below. These sleeking styles will add a spark to your looks.
2- Essential Warm Khaddar Collection by So Kamal
Khaddar is one of the most demanded fabrics in winter as it keeps the body sufficiently warm to prevent the body from cold. The cozy winter nights will not allow you to opt for a lightweight cotton or cambric dress. Instead, it propels you to think about a warm fabric. Therefore, Pakistani clothing brands launch their special khaddar assortment with an individual variety. Here is a colorful collection for women below. You will get a variety of basic printed and embroidered shirts, two-piece, and three-piece khaddar dresses here.
Basic Printed and Embroidered Khaddar Shirts
Nothing can stop teens from picking a striking and well-printed shirt. Teens find it easy to wear a single shirt and combine it with matching pants or jeans to create a modest look. So Kamal allows the girls to style their looks in their own way. The following printed and embroidered shirts will bring you the desired youthful look and enchanted look.
Two-Piece Printed Embroidered Shirts and Trousers Collection
Are you looking for a vibrant and chic combination for winter? If so, then you can explore Salitex's winter collection as it has a lot of voguish designs. Here we have some colorful two-piece printed khaddar suits that comprise a shirt and a trouser. Head over to the nearest retail outlet of So Kamal to grab the fascinating attires before it gets too late.
Women of all ages opt for complete two-piece attire. They might find it hard to match and combine the relevant bottoms with pleasant shirts. Therefore, this prestigious brand has launched an elegant collection for such people. For party wear dresses, these attires are the best option to have. Indeed, the following printed embroidered display will add colors to the cold season of the winter. So, hurry up to grab the mesmerizing collection below. Be the first one to buy these striking clothes.
Two-Piece Shirts and Dupatta Collection
Khaadi winter collection brings a wide variety of shirts and dupatta collections every year. But, you will find more impressive prints and designs in So Kamal's winter collection. Here is a collection of well-printed two-piece khaddar dresses with a warm khaddar dupatta. The combinations and contrasts will bring you a refined and youthful look in the dull winters.
Cozy Three-Piece Winter Khaddar Dresses
There is a much more variety of graceful and delightful three-piece suits in the Orient Textiles winter collection. But, you will be pleased with the charming and mesmerizing combinations of dresses by So Kamal. This year, fill up your closets with the jazzier and more attractive khaddar dresses from the portfolio below and exude the right amount of grace.
3- So Kamal Premium Shawl Collection
Indeed, ladies always prefer to wear unique and stylish three-piece dresses. This preference propels the brands to launch a unique and comprehensive collection for them. Therefore, So Kamal has launched engaging prints for women of all ages. Such easy-going dresses are also available in the Taana Baana winter dresses.
So, grab any below magical dress for exceptional looks. The dresses below are well accommodating and comfortable for women because all these dresses are made with the khaddar stuff. Moreover, these khaddar dresses are paired with the khaddar shawls and plain trousers. So this winter, arrange yourself in these dresses for a chic look. Moreover, combine lightweight jewelry like earrings, watches, etc., with your outfit to have an entire elegant personality.
4- Marvelous Linen Collection for Winters



Women prefer a warm and comfortable fabric for winter. Therefore, they opt for a lightweight linen dress to obscure themselves from the immense cold outside. There are many more fabrics for crafting winter dresses. The linen dresses by the Beechtree winter collection are in high demand as well. So, there is a vast collection of winter dresses proposed by this brand. You can find both simple and embroidered dresses for yourself here. Plus, you can choose between a two-piece or three-piece dress of your choice. Take a look at the following linen collection here.
The unique blended fabric gives a soft feel to women. So, the prestigious brand projects to bring well-designed and soft materials for women. Plus, all the particular styles are available at reasonable prices. You can pick your favorite dresses from the Sapphire winter collection. Additionally, they will be sleeking for your personality and character.
5- Luxury Unstitched Collection for Evening Wear
Evening parties are common in winter for the love of the weather. The suitable environmental conditions push the public to arrange so many get together and tea parties, etc. Such friends and family reunions require striking attire with the right amount of glam and grace. Here is the breathtaking portfolio of luxury collections by So Kamal for you below. You can also get similar outfits from Maria B's evening wear collection.
Please have a look at the artistic yet majestic formal dresses below. The creative designer has all the essential fabrics, from grip to velvet, for the ease of the public. So, you need to pick the most appropriate outfit for yourself. Plus, accessorize yourself with contrasting jewelry and the right amount of makeup. So, ooze elegance and be a sight for sore eyes by wearing the mesmerizing dresses below. Indeed, you will love your new look.
6- So Kamal X Ali Xeeshan Premium Winter Collection
Ali Xeeshan is one of the top fashion designers in the industry of Pakistan. Recently, the brand decided to collaborate with So Kamal for winter outfits. Here is the premium collection by So Kamal winter collection for you below. Let's have a look at the dresses below.
The portfolio presents heavily embroidered khaddar dresses. You can see the heavy details on the front, back, and sleeves of the shirt. Further, they have plain basic trousers and embroidered dupattas for a whole positive vibe. Indeed, it would be the most appropriate collection of the year for you.
7- So Kamal Pret Winter Collection for Women

There are some people who can not bear the tantrums of tailors in the rush of clients. Therefore, such people prefer to wear ready-to-wear attire for an instant look. There are no more worries about stitching and styling once you get a ready-made outfit to wear.
So Kamal Winter collection brings a youthful collection of pret shirts, two-piece, and three-piece printed dresses for women. This year, you can style your wardrobe with So Kamal's ready-to-wear collection. Please have a look at the engaging portfolio of pret suits below.
Pret Winter Shirts for Teens
Teens always prefer to wear a basic style to maintain their glam and grace. You can radiate sparkle if you opt for an appropriate and well-established outfit. This year, adorn yourself with the basic fusion tops and digitally printed pret shirts by So Kamal's winter collection.
Please have a look at the colorful portfolio of pret shirts below. The beautiful combinations of hues have generated mesmerizing styles that are ideal for teens. You can combine contrasting trousers or flared pants with the shirts for a whole delightful vibe.
Two-Piece and Three-Piece Khaddar Dresses for Girls
Do you find difficulty in matching perfect trousers with a shirt? Do you think that it might waste your time in choosing and picking the most possible shade of bottom with your dress? If so, then here is a collection of pret suits with shirts and trousers/dupattas for you. The following dresses have well-printed shirts that are coordinated with contrasting bottoms. Get similar dresses from Limelight's winter collection for women as well.
Women who search for a three-piece pret suit shall think about the following pret dresses. So Kamal never fails to meet the desires of every segmented group. Therefore, the brand has an exceptional yet graceful collection of two and three-piece pret suits for women. Please take a while to explore the fundamental khaddar dresses below. The warm khaddar shirts are coordinated with plain basic trousers and a printed khaddar dupatta. The portfolio has sufficient variety for women to enjoy their winters with joyous outfits.
The new season always engages the brands to bring new collections for the public. As the winter season is arriving, people are looking for clothes for the cold season. Here we have gathered some latest dresses from the So Kamal winter collection. Look above and get all updated dresses with prices.