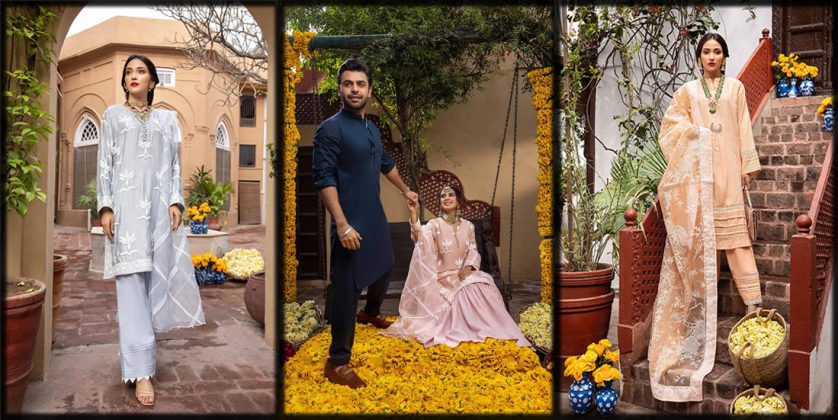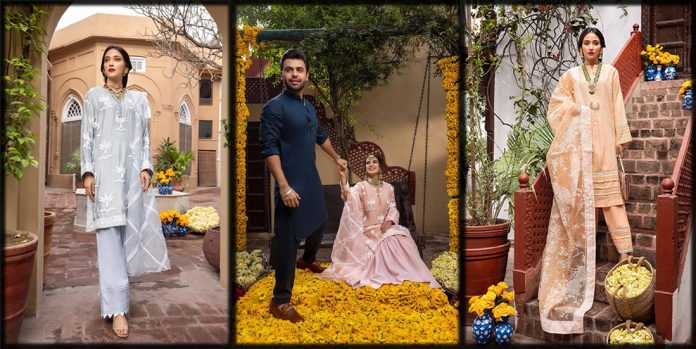 Eid is the most significant occasion for Muslims around the world. Indeed, everyone wants to celebrate this event with peace and harmony. Besides lots of prayers and good wishes, everyone looks for a nice outfit and pair of shoes to double the charm of this religious event. Here is the latest So Kamal eid collection with joyous prints for you.
I know that everyone can not satisfy their desires in a single moment. Eventually, everyone turns out to create a mess whenever they can not get the things they are looking forward to. Fortunately, I am glad to announce that So Kamal presents you with a versatile and extensive assortment of eid dresses. I hope you will get everything here that you desire.
A crazy fusion of vibrant and chic hues with a little bit of magic can create an illusion in your style. Wearing a dramatic outfit will definitely bring you a magical and glamorous look. So, are you ready for the astounding eid ensembles at affordable prices? If so, then take a deep breath and discover mesmerizing and decorative eid dresses in the portfolio below.
Latest So Kamal Eid Collection Catalogue (New Arrivals)

Do you know what is the most significant part of eid? Let me tell you if you are not aware of it till now. Women are crazy about fashion and trends. Even they look for a stylish outfit for their baby girls too. You might have seen several Pakistani actresses that were twinning with their daughters in eid outfits. Many people admired the twin outfit of Ayeza Khan with her daughter Hoorain Taimoor on last year's eid wearing Maria B.
Even after searching a lot of clothing brands, women still desire another modest outfit for themselves. Therefore, So Kamal launched its ethereal eid collection that is a brilliant mix of staggering designs. You might have seen other clothing brands that hired top-rated actresses for their debut. For instance, you can explore Faiza Saqlain's eid collection that is featuring Sajal Aly.
Explore our latest eid collection and get all the famous designer brands in one place. Your hustle is over and now you can search for your desired eid dress through our collection of all eid catalogs.
Printed & Embroidered Unstitched Dresses for Women and Teens

Unstitched outfits are always the top priority of desi women. I am not making a joke but it's true that many of our traditional ladies love to get unstitched dresses. The reason is that they want to style their outfits in the way they desire. For instance, you can explore the glamorous and modest lawn stitching designs to get an precise idea for yourself.
Here is the most awaited and breathtaking portfolio for you below. You can grab your favorite outfit online from the website of So Kamal. Also, you can visit a nearby retail outlet if you are the kind of person who never relies on online shopping. I hope that the following printed and embroidered Pakistani eid dresses will make your religious event memorable.
Printed Lawn Shirts for Teens
Are you a teen? Are you looking for a vibrant yet sophisticated ensemble on your Eid day? If so, then we have an exceptional assortment for you. Head over to the image gallery below and pick up the shirt piece that can coordinate with your complexion and personality.
The floral and digital printed lawn shirts are available at a minimal cost. You need to pair a contrasting trouser and dupatta to complete your dress. Further, wear delicate jewelry and combine a nice pair of shoes to compliment your looks. Please give it a thought.
Paste Printed Lawn Shirts for Teens
Have you ever seen paste printed lawn shirts? If so, then explore the recent Bonanza Satrangi's eid collection that is offering an extensive variety of such paste printed shirts. Also, you can explore the following image gallery to get tasteful and engaging designs.
Please take a look at the following vibrant and chic lawn shirts. You can buy contrasting tassels and attach them to the border and cuffs. Further, combine basic plain trousers in contrast to the shirt for a complete look. Also, wear delicate jewelry to elevate your look.
Embroidered Lawn Shirts for Eid
A little decoration always makes an outfit elegant and ideal for eid. Teens always look gorgeous whenever they wear a stylish outfit. Therefore, So Kamal's eid collection brings you a variety of delicately embroidered lawn shirts to wear on this year's Eid.
Please take a look at the following image gallery. The contrasting light and dark embroidered shirts will bring dazzle to your personality. Go for contrasting trousers and nice footwear to complete your eid look. Plus, do not forget to make a perfect hairstyle.
Embroidered Two-Piece Dresses (Shirt+Trousers)
Looking for an embroidered shirt and trouser collection? If so, then head over to the following image gallery to explore the basic designs. Undoubtedly, you will love the intricate designs and artistic artwork. The phenomenal combinations are ideal for teens.
Following two vibrant and chic hues are available now at So Kamal. Both of the dresses have a delicately embroidered neckline. Further, they are coordinated with printed pants for a dazzling look. Combine contrasting chiffon or lawn dupatta to complete your look.
Printed Shirt and Trousers Collection
There is an ultimate sophistication in simplicity and no one can deny the fact. Similarly, it is not essential to wear an embroidered outfit on Eid. You can wear beautiful floral and digital printed suits in a unique way to bring the inside elegance out.
Here is a portfolio for you that offers an extensive assortment of printed two-piece lawn dresses. The adorable shirts and trousers collection is ideal for every segmented group. You can elevate the looks by attaching fancy tassels and motifs on the neckline and border.
Two-Piece Printed Shirt and Dupatta Collection
Sometimes, it is difficult to find an exact matching dupatta for a two-piece dress. In such circumstances, you should not feel deprived. Instead, you need to explore more to find a better outfit. Here is a solution for you to buy the shirt and dupatta collection.
Following are the beautiful digital printed lawn shirts and dupatta collection for you. The vibrant and flaunting hues will add sparkle to your looks. Plus, you can combine a flared trousers or a straight Capri to complete the entire graceful look of the dress.
Printed Three-Piece Dresses for Women
Women always look for a complete printed three-piece attire for themselves. Therefore, So Kamal's eid collection is presenting you with flaunting and impressive printed outfits. Check out the following dresses and pick the one that can coordinate with your complexion.
A fantastic pair of shoes will obviously enhance your grace. If you are too funky, you can combine elegant jewelry to stay modest among the public. Apply minimal makeup and keep your hair open for a whole vibe. I hope it will get you a beautiful compliment.
Unstitched Embroidered Three-Piece Suits
Modern women look for an enchanted and well-decorative outfit. Keeping it a little simple, So Kamal presents an astonishing portfolio of delicately embroidered lawn three-piece suits. Please take a look at the image gallery below to pick one outfit for yourself. Indeed, you will appreciate and love the flattering colors and delicate designs.
Festive Unstitched So Kamal X Ali Zeeshan Eid Collection
Ali Zeeshan is a famous and top Pakistani fashion designer in the industry. Primarily, he is known for his marvelous and dazzling bridal dresses. Also, he crafts modest styles for both men and women. You can explore Ali Zeeshan's bridal collection to buy a fascinating outfit for your big day. I can assure you that you will love the phenomenal styles and designs.
Here is the latest festive So Kamal X Ali Zeeshan eid collection for you. The portfolio showcases a variety of dazzling styles. The heavily embroidered three-piece dresses come with a well-decorative dupatta for an elevated look. However, you can further enhance your looks with makeup and jewelry. Please take a look at the breathtaking ensembles below.
Ready to Wear Eid Collection for Girls by So Kamal
There is always an emblem of ready-to-wear dresses for teens. Besides the high cost, the pret collection is always fascinating and attractive. Therefore, So Kamal's eid collection is presenting you with a pleasant portfolio of ready-made dresses. The collection includes embroidered raw silk shirts and splendid outfits that are attractive due to embellishments. Please extract some time to have a glance at the following collection.
Embroidered Raw Silk Shirts
The following embellished raw silk shirts can be ideal for Eid. A classic Haute red and pistachio green pure raw silk shirt come with an intricate hand embroidery technique. Further, it is enhanced with pearl white Resham, ornamented with crystals, and pearls. Also, it has alluring cutwork framed around the hem and sleeves, ideal for Eid.
Flowy Cotton Peshawas for Girls
The following beautiful flowing Peshwas is a mix of both festive and classic in traditional undertones.  Elaborated woven cotton in cerulean color is enhanced with embroidered hand-embellished pearls, crystals, and stone sleeves. Further, it is paired with a tonal traditional woven lawn flock printed dupatta to take on the day in style.
Pure Grip Embellished Suits
Style your chic Eid look with this outstanding chiffon outfit. The fully embroidered dresses are made with a special technique, blended with stitching details and dazzling mirror work to give a very contemporary sense. Further, the dresses are coordinated with contrasting dupattas to make them perfect for any enchanting evening. Check some more variety of designer evening dresses here.
Exclusive Pret Collection Featuring the Iconic 'Iqra Aziz'
Almost every clothing brand has launched its eid collections featuring top-rated actresses. You might have seen Ayeza Khan in Ansab Jahangir's eid collection. Similarly, several other celebrities were spotted including Sonya Hussayn for the debut of Maria B's eid collection. Maintaining the trends, So Kamal is featuring the versatile Iqra Aziz for their exclusive and festive pret collection. Below is the magnificent portfolio for you.
Iqra Aziz is a well-known Pakistani actress who got fame after her blockbuster drama serial Suno Chanda opposite Farhan Saeed. People admired the on-screen couple and showed immense love to see them together again. Currently, she is playing the lead role in the famous drama Khuda Aur Muhabbat3 as Mahi. She won the Lux award for being the best actress on Ranjha Ranjha Kardi. Please have a look at the iconic Iqra Aziz below.
So, this is all about the latest collection by so kamal. Get your desired dress from the outlet or online before the stock ends. The prices are reasonable and the quality is outstanding. Please take a while and choose your eid attire from unstitched variety, So Kamal X Ali Xeeshan catalog, or from the Pret collection featuring gorgeous Iqra Aziz.