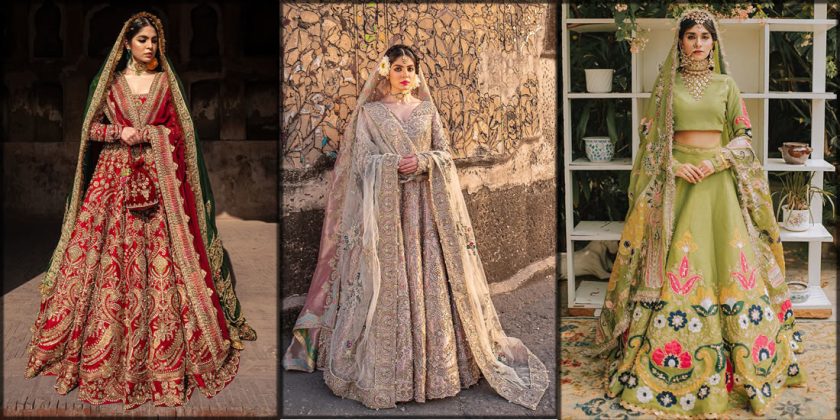 Ali Xeeshan is famous for his creative and artistic designs. No matter the season, the designer will always surprise you with a thrill of emotions and fun. The latest Ali Xeeshan bridal dresses collection is indeed a roller coaster of emotions. You can adorn yourself in any of the following outfits to get a pure vibe of elegance and grace. So, what else do you want?
The below-displayed dresses are furnished with beautiful artwork that indeed renews and refreshes your bridal look and makes you look more stunning and elegant. A wide range of vibrant colors is available for mehndi. On the other hand, Barat dresses have fancy work all over them, while Walima dresses are mostly in lighter shades. So all these bridal dresses of Ali Xeeshan are according to the occasion and trend. So grab your favorite article and enhance yourself well on your momentous day. Ali Xeeshan also manages the online facility for the comfort of its clients.
This bridal collection by Ali Xeeshan is appropriate for all wedding events because all events hold equal importance. You will discover the impressive mehndi, Barat, Walima, and nikkah dresses manufactured with charming hues and patterns in the latest AX bridal collection. Let's find out the gorgeous dresses from the collection.
Latest Ali Xeeshan Bridal Dresses Collection for Women
Ali Xeeshan is known for its uniquely crafted attires. Ali Xeeshan's bridal dresses indicate his expertise and are also the reason for his global popularity. He started his struggle when he was just a student. He graduated from Pakistan's fashion design school and received an award for the best couture collection PSFD.
The brand participated in PSFD L'Oreal Paris and Sunsilk bridal week and received awards for three consecutive years. The brand claims to use the traditional way of designing, whereas this brand also creates unique attires. You will find a wide variety of bridal dresses that bestow Pakistan's ethnicity.
So, Keep your heads, heels, and standards high by wearing the glamorous bridal ensembles by your favorite designer below. You will get a range of designs from corp tops to full-flared dresses. Combine delicate jewelry and the right amount of makeup for a whole vibe. Get similar designs from the Aisha Imran bridal collection as well, and rock your event.
Exclusive Roshan Bridal Collection by Ali Xeeshan
Ali Xeeshan always brings the newest and most modest clothing designs for women. Moreover, he creates a unique look to remain different among the public. Recently, the designer was in the news for his Roshan collection that portrayed the concept of dowry and conveyed that it shall be prohibited. Recently, you might have seen him in an entirely new look at Lux Style Award's red carpet event. Similarly, he has a challenging Roshan collection for the brides to stand out on their wedding day.
Keep slaying the gorgeous and intriguing bridal dresses by Ali Xeeshan's Roshan collection below. The designer has different color palettes that are infused to create an illusion in style. Moreover, you can create a magical look with some appropriate makeup and jewelry. The Mirusah Bridal collection has likewise embellished and decorative attires for the brides. But, you can challenge your individuality with the voguish and distinctive ensembles by Ali Xeehshan's "Roshan" collection. Please give it a thought!!
1- Colorful Bridal Mehndi Dresses by Ali Xeeshan
Mehndi is a colorful event. Furthermore, it requires colorful dresses. Ali Xeeshan tries its best to present elegant and vivid attires for mehndi brides. Nowadays, Brides widely like lehenga choli on mehndi. According to this concern, AX offers the lehenga choli with the best color combinations, as you can see below. 
You can carry these stunning mehndi dresses to your mehndi event and make your mehndi night more classy and glamorous. Here you will get the following styles of bridal mehndi outfits. 
Green embellished bridal wear

Ravishing lehenga choli for mehndi night

Mehndi's outfit in vibrant shades

Classical creation by Ali Xeeshan for mehndi's brides

Multicolored lehenga choli for mehndi
Green Embellished Bridal Wear
Green is a beautiful and traditional color. Most of the brides go for this color. If you also wish to wear yellow on your mehndi night, at that point, the below green outfit is the most trustworthy. The lehenga is adorned with golden flowers that make the outfit more awe-inspiring.
You can pair this fabulous outfit with golden-shaded adornments and striking makeup to get a pretty and adorable look. It is paired with the plain green choli. Further, the green embroidered dupatta adds more grace to this outfit.
Ravishing Lehenga Choli for Mehndi Night
Lehenga cholis look beautiful at the mehndi event. Bridal mehndi dresses are usually colorful. Therefore, AX offers a multicolored lehenga for the Mehndi brides with full embellishment, dabka, and Sitara work. It is paired with the blue choli that is prettifying with the flower patterns. If you want to look different from others and want to wear a novel dress, this outfit is definitely for you.  
Mehndi Outfit in Vibrant Shades
Colorful clothes on mehndi are always in trend. The vibrant combination of green, golden, pink, navy, and sky blue is so vibrant. Look down at the pretties outfit by Ali Xeeshan that will make your mehndi look jazzier and breathtaking. The shimmery and sitara work all over the lehenga choli, making this outfit more dazzling.
Grab this outfit for your mehndi night and add more sparkle and attractiveness to your look. Wear this colorful dress with lightweight accessories and impressive makeup to make your mehndi look more adorable and elegant. Remember to combine this striking outfit with the Tikki mehndi design to make your mehndi look extra captivating.
Classical Creation by Ali Xeeshan for Mehndi Brides
Ali Xeeshan has always focused on the creation of classical work. I mean, look at the below outfit and how beautifully AX adorned the white outfit. The lehenga also has a floral design that makes this outfit more classical. You can likewise wear this dashing outfit at your barat ceremony to look more jazzier.
If you wear this slaying outfit on your mehndi, combine it with golden-shaded accessories, nude-shaded makeup, trendy hairstyle, and traditional mehndi designs to make your mehndi look more awe-inspiring and breathtaking.
White and Pink Lehenga Choli for Mehndi
The following dress is in pink, yellow, and white colors that indeed add more magic to your mehndi look. Golden embroidery on the whole lehenga is also looking very beautiful. It has a sitara and zari work on the entire flare. It is paired with the heavily enriched pink choli that has fancy sleeves. Pair this elegant outfit with blue-shaded adornments and makeup to make you look more splendid and dazzling. 
2- Newest Bridal Barat Dresses
Red is the favorite color of brides for Barat day. Therefore all brands and designers offer a wide variety of bridal Barat dresses in red hues. On Barat day, usually, girls prefer the lehenga choli, while many others like to wear the frock choli, shalwar kameez, and maxi. 
Ali Xeeshan is the only artist who always satisfies their clients by providing all styles of dresses. In its bridal collection, you will find all styles of dresses in striking shades. Check out the Zara Shahjahan bridal collection that likewise contains a wide variety of bridal Barat dresses in red tones. In the newest collection of Ali Xeeshan bridal dresses, you will find the Barat dresses in the following styles. 
Front-Open Peshwas as Barat wear.

Beautiful Barat dress with double dupattas

Beautiful lehenga choli for the wedding day.

Heavily embellished traditional lehenga.

Raw Silk Pishwas with Red Velvet Lehnga f
Front-Open Pishwas as Barat Wear
Peshwas is also traditional attire that indeed makes your bridal look more dazzling and striking. This one is fully decorated with Dabka and stonework all over the flare. It also has an open front with an embroidered net dupatta. Carry this adorable dress on your Barat day and make your look more splendid and rich. 
Beautiful Lehenga Choli for the Wedding Day
Lehnga choli is the most dazzling style of garment that makes any character more impressive. Look at the beautiful lehenga choli bridal dress that is heavily embellished with golden Zarodzi work. The beautiful floral designs are also mesmerizing. Motifs have been used for ornamentation of the dupatta that makes this outfit breathtaking. Combine this luxurious dress with traditional accessories and striking makeup to make your looks appealing and jazzier. 
Heavily Embellished Traditional Outfit
One of the most appealing and best outfits for your Barat day indeed makes you look pretty and adorable. Nowadays, ladies prefer the heavily embellished dresses on Barat to look rich and smart. If you also want to make your look extra dazzling, pick the heavily embellished dress below. Zahra Ahmed's bridal collection also contains gorgeous wedding dresses. If you want to make your bridal look awe-inspiring, then all you need is to:
Wear this dashing outfit.

Apply striking makeup.

Wear traditional adornments.

Wear high heels in maroon hues.

Set your dupattas with the latest style.
And your pretty and captivating look is prepared. 
Beautiful Barat Dress with Double Dupattas
Look down at the fresh red hues dress that is perfect for Barat. Red is the traditional color that brides like to wear on Barat. It is paired with red gold and royal blue net dupattas that are beautifully furnished with multicolored 3D flowers. It has zardozi work with floral vines. 
With this alluring outfit, try to apply brownish eyeshadows and bold red lipstick to make your look more splendid. Skip the shimmer and only apply the blush to make your look decent and engaging. The bridal dupatta setting is also an essential factor that elevates the dress design. So set your dupattas well and add more charm and appeal to your look. 
Raw Silk Pishwas with Red Velvet Lehnga for Barat Brides
Suppose you want to look different than others and have the desire to try something new. Then try this craw silk pishwas and make your look prettiest and dazzling. It is paired with the red velvet lehenga that is also fully embellished with the zari work. Apply the lightweight makeup with this heavily embellished dress and make all your engaging and enchanting looks. Check out more dresses from HSY bridal wear as well.
3- Classic Walima Dresses for Bridals
On Walima, usually, light shades are consumed. Considering this inclination, AX proffers elegant Walima attires in soft and light shades such as tea pink, ivory, beige, and white. These dresses are nicely decorated, making you look pretty and dazzling. The bridal Walima catalog of Ali Xeeshan's bridal collection contains the following:
Styling of powder pink dress for Walima.

Beautiful ivory and beige Walima dress by Ali Xeeshan.

Rose-Gold Walima attire.

Short shirt with gharara for walima by Ali Xeeshan.

Floral embroidered outfits by Ali Xeeshan.
Styling of Powder Pink Dress for Walima
Walima night lightens up with pink bridal attire. The choli adds to the bride's grace following the powder pink lehenga. A golden color has been used to decorate it. Plus, the lehenga is fully embroidered with vertical vines, making this black outfit more enchanting. It is paired with the sleek criss-cross choli adding more charm and shine to this outfit. Moreover, you can wear this cool outfit at your mehndi or nikkah ceremony if you like.
With your powder pink bridal outfit, apply the brownish yet classical makeup, wear the exquisite bridal jhumka earrings and skip the necklaces, tie your hair in a buy style, and make your reception look more beautiful and pretty. Further, hold the classy bag, wear the block heel shoes, and add more elegance and sparkle to your special night.
Beautiful Ivory and Beige Walima Dress by Ali Xeeshan
On Walima, mostly prefer the nude shaded attire to look decent and dazzling. Check out the lavish beige-shaded clothing from the Ali Xeeshan bridal collection that indeed improves your personality and makes it brighter. This beige-shaded lehenga choli is adorned with heavy embellishment that is just outstanding, as you can see below.
You can also carry this dress as your nikkah dress. You only need to pair your beige and ivory-shaded attire with awe-inspiring makeup and customary adornments to make your bridal look more breathtaking and appealing.
Beautiful Rose Gold Walima Attire
The below rose gold outfit by Ali Xeeshan is the best for maxi lovers. The light-shaded dress is in the frock style and is paired with the lehenga. It has dark green, silver, gold, and purple embellishments, Zari, and stonework all over the frock, giving you a princess look. The long maxi is adorned with a nature theme that makes this maxi lehenga more dazzling and captivating. 
If you want to catch a decent look, then pair your heavily decorated outfit with lightweight makeup, a classical hairstyle, impressive footwear, and a piece of decent jewelry. It is paired with the net dupatta that is further improved with the floral embellishments. You also grab this outfit for your engagement ceremony to make you look more splendid and breathtaking. 
Short Shirt with Gharara for Walima by Ali Xeeshan
Suppose you are looking for something traditional and classical. Then, pick this classic short shirt and gharara for your Walima. This white outfit with a green contrast dress is adorned with golden Dabka and Gota work that enhances this dress's beauty. Moreover, Vertical floral lines and traditional themes make this outfit more dazzling. You can also wear this excellent equipment at your sister's brother's wedding to look more enchanting and charming.
Floral Embroidered Outfits by Ali Xeeshan
The females widely like floral patterns. The below ice-blue shaded dress has a shining material and floral self-decoration. The sky blue and pink flowers are also looking very enchanting. Choli has a silver glitter effect as well. Moreover, the lehenga has gold shining ornamentation all over the flare. Furthermore, the outfit is fancy enough for Walima's night to sparkle the event.
The latest Ali Xeeshan bridal dresses collection is out now. The brand's designers have kept in mind all the current trends and endeavor to create elegant and stunning attires for brides. Moreover, the selection of colors is very versatile, which makes the attires more lavish and rich. Furthermore, their design reflects the background of our regions. Hence, it's the main reason every lady prefers to wear Ali Xeehsan clothes on their big day to grab a classical and breathtaking glimpse.