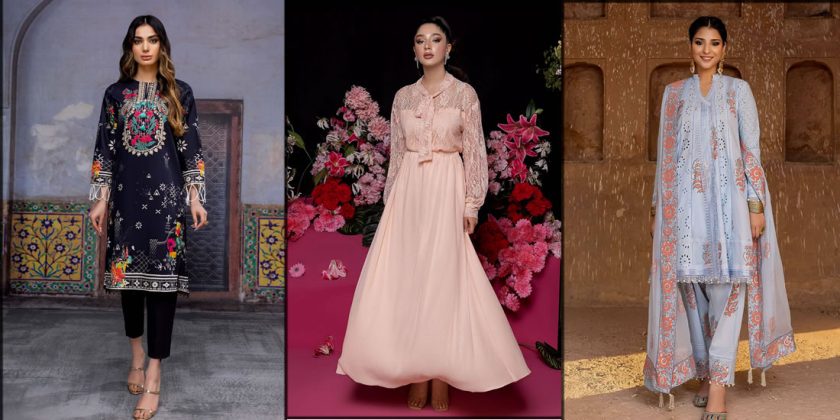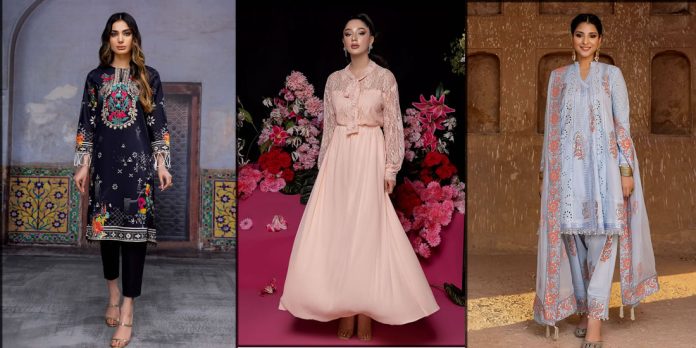 With the arrival of spring, several clothing brands have started working on their summer collection. You might have seen versatile summer colors by the top Pakistani brands. Here is the latest So Kamal summer collection for you. Undoubtedly, the inspiring hues will bring you a statement and refined look. Plus, the versatile designs will elevate your summer look.
Spring is a season of pleasant and delightful hues. Undoubtedly, the beautiful and up-to-date summer designs enhance the beauty of the dress. So Kamal gives its range in the categories of the stitched and the unstitched dresses. Women can buy suits according to their preferences and choices. Admittedly, you will get every style you have been waiting for.

Other than that, it also has a luxury range of dresses that people can wear on special occasions like Eid and parties.  It has a collection of digital prints, painted designs, embroidery, and simple dresses. This wide range of dress designs enables females to select from a wide variety. So, please read the following blog to discover the latest spring dresses.

Latest So Kamal Summer Collection for Women [Trendy Designs]

The new collection of So Kamal has been launched in the market for customers. Fashion designers always follow the market niche and product mix strategy to create youthful content. Unluckily, many people are left unsatisfied even after too much struggle of designers. I am glad to say that So Kamal's summer collection will satisfy your desires.
The beautiful contrast of the colors is so perfect that every available dress is worth buying. Additionally, the engaging designs and delicate artwork will propel you to buy your favorite design. Are you ready to explore the spring assortment by the notable brand? Let's discover the beautiful collection by So Kamal in this blog that represents:

Unstitched summer collection.

Ready to wear summer collection.

1- Unstitched Printed Lawn Suits for Women
So Kamal offers the best variety of unstitched clothes. As I mentioned before, that product mix strategy works well for the customers. Therefore, So Kamal is showcasing a youthful collection of two/three and single suits for teens. The collection has various contrasts and color combinations that are best to wear in summers.
Plus, the dresses are so gorgeous, and the color contrast is so classy that these colors are in high demand by women in the scorching hot season. Check out the recent Limelight's summer collection for more engaging prints and designs among single shirts.
Digital & Paste Printed Lawn Shirts

Digitally printed shirts are trendy among women, especially in the summers. Well, many people believe that unique prints always give a fresh impression to the eyes. Plus, the engaging patterns look very beautiful in contrasting shades.  You can explore a variety of horizontal and vertical patterns in the portfolio below. Plus, there is a sufficient assortment of floral patterns for teens. Have a blissful spring with the mesmerizing printed shirts below. For more similar patterns and styles, you can check out the Firdous summer lawn.

2-Piece Printed Lawn Suits

So Kamal has a  variety of exquisite and delicate two-piece outfits. Do you know that a two-piece printed suits can be further enhanced? Yes, you can double the grace of following suits by attaching fancy buttons over the neckline. Additionally, you can buy contrasting and decorative lace for a contemporary look. The following gorgeous suits have a finely detailed texture for a flawless summer look. Book your favorite shirt soon before it gets out of stock.

Three-Piece Printed Lawn Collection

Digital prints makes the dress beautiful, and it adds to the excellence of the women. Most of the girls prefer to have an printed outfit to dazzle. Therefore, So Kamal comes up with a flattering assortment of printed shirts. Check out the following image gallery to explore the enchanting combinations and brilliant mix of hues to create an illusion.
Undoubtedly, the artistic designs and delicate prints will add glam to your entire look. If you don't like any of the following designs, do not get depressed. Instead, check out the Bonanza Satrangi summer collection. I hope you will get what you desire. Stay happy and enjoy your season to the fullest.
2- Unstitched Premium Lawn Collection by So Kamal

Are you the kind of person who will never go for a single shirt? Well, you will find the majority of women around you who exceptionally hate the single shirts. The women believe that ultimate grace comes with a complete outfit. Here we have a splendid assortment for you. However, you can get dresses likewise from the latest Nishat Linen's summer collection too.
Solid Embroidered Lawn Shirts by So Kamal Summer Collection
Luckily, So Kamal presents you with the finest and modest styles so that you can look elegant. No one urges to refuse elegance. Instead, it comes from within whenever you struggle hard for it. Everything is possible under the condition that you are up-to-date and well-dressed. Therefore, we are presenting you with the solid embroidered shirts below. Indeed, wearing any of the following shades will make you look progressively stunning. Get yourself a warm outfit at an affordable price from the collection below.
Two-Piece Shirt and Dupatta Collection
Women never prefer single shirt pieces for themselves. Instead, they like to wear a graceful two-piece or three-piece dress. Here we have a refined collection for you. Get yourself a dramatic unstitched printed lawn shirt with a lawn dupatta. Plus, match contrasting plain trousers to enhance your summer look. Do you want some more likewise dresses? Check out the latest Khaadi summer collection that is presenting a dramatic variety for women.
Three-Piece Embroidered Dresses for Women
Nothing can beat the grace of a printed three-piece dress. You can buy a impressive three-piece from the latest So Kamal's summer collection. Please have a quick glance at the engaging printed attires below. The artistically crafted ensembles are all set to bring you the desired grace. Plus, these dresses are combined with a  lawn, organza, or georgette dupatta to complete the entire look.
3- So Kamal Unstitched Luxury Summer Collection
Are you looking forward to a dramatic and enthusiastic premium festive outfit? If so, roll up your sleeves and tie back your bandanas to the most extensive collection of the season. Yes, So Kamal presents you with the finest and most chic premium collection of the year. Before this, you might have an immense Sana Safinaz premium lawn collection.
Here you will get the stunning varety of chiffon, organza, raw silk, tissue, and net dresses made with the jazzier patterns and mind-blowing shades. You can wear these classical attires at any formal and informal event to make all of your appealing and stunning flashes. 
4- So Kamal Stitched Luxury Collection

Do not worry if you don't like any unstitched outfits from the collection above. So Kamal comes up with engaging stitched attires for women. It will take you beyond expectations when you explore the dresses. Look at the beautiful stitched portfolio that offers elegant dresses in all trend styles.
There is always a royal elegance whenever to lay a lightweight dupatta on your shoulders. Also, many people prefer such fabric for ease and comfort. Therefore, So Kamal comes up with an exceptional collection of three-piece suits with lightweight dupattas. These below attires are combined with the lightweight chiffon, organza, net, and silk dupattas that double the grace of these attires.
5- Ready to Wear Dresses in Vibrant Colors

The majority of girls nowadays prefer to buy ready-made dresses as well. These dresses save the time of stitching. These ready-made dresses are also stitched in stylish designs. So Kamal has designed the dresses according to eastern culture and demand. Please take a look at the following categories that include:

Printed fusion tops.
Digital printed lawn shirts.
Paste printed shirts.
Embroidered shirts.
Three-piece embroidered suits.

Digital Printed Fusion Tops with Contrasting Shades

Digital prints are always warmly welcomed by teens and youth. The majority of the young girls look for a splendid top for concerts and trips. For instance, we have an epic collection for you below. Combine your favorite top with contrasting jeans or trousers to complete your look. Plus, wear exquisite jewelry for a little formal look and have fun. Also, you can find more tops from the breakout summer collection.
So Kamal Western Collection for Teens
Now it's the time to explore the engaging pret assortment. Here is a pleasant collection of ready-to-wear western shirts for you. You can wear these stylish attires at any summer cocktail, beach, and casual friend gatherings to add more charm to your look. You only need to apply the pop makeup and wear the lightweight gems with your western outfit to allure.
Embroidered Pret Collection for Party Wear
The following dresses are full of ornamentation. They can make an excellent choice to wear for official use.  The beautiful dresses are comes in a fantastic contrast as you can see below. Plus, the vertical patterns along with the floral designs look flaunting. Bareeze summer shirts are equally amazing and chic. So, pick up your desired summer shirt quickly and have fun.
So Kamal has also launched its summer collection with a variety of pret suits. Below is a beautiful demonstration of three-piece pret outfits. Indeed, the following dresses are so beautiful and outclass that they are usually worn on special events like Eid and parties. You can explore more chic designs from the latest Junaid Jamshed summer collection for a memorable spring. However, the following articles will also satisfy your desires.

So Kamal has launched its new summer collection in a variety of designs and colors. This collection has taken into account the choice and liking of women. Both stitched and unstitched clothes are available in the collection. All of these designs are unique and extremely beautiful. So, do not wait and grab your favorite outfit before the stock ends.