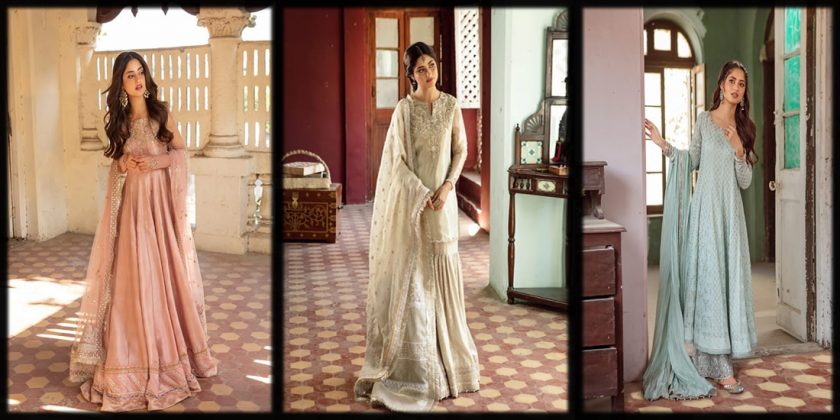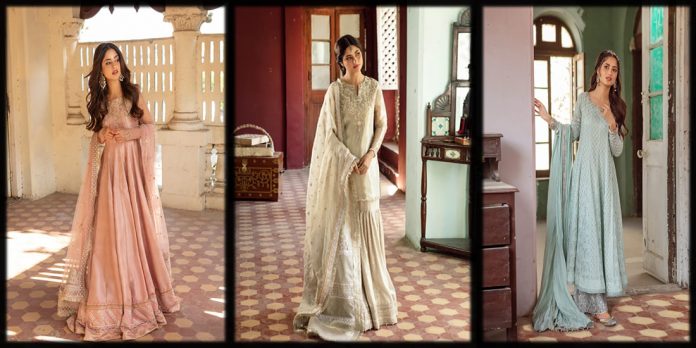 Faiza Saqlain is ruling Pakistani luxury fashion with its endearingly intricate designs. The brand came into existence in 2012 in Lahore. The fashion powerhouse gained success because of its modern silhouettes. The designer infused chic designs with elegant yet traditional embellishments. Faiza Saqlain spring festive eid collection is an actual demonstration of her success. You can see the portfolio below with modest designs.

The brand ensures to provide both couture and a luxury Pret-a-porter line, which is highly anticipated. In every season, the brand brings signature floral patterns and exquisite aesthetics that reveal femininity. It is a globally acclaimed fashion brand. Many people spotted the famous Indian celebrity Priyanka Chopra wearing this label.
The creative designer has a lot of embellishments to attract you. Well, here you will be able to explore its Noor-e-Chashm collection. The portfolio is featuring very beautiful dresses. Indeed, you will be overwhelmed with classy and signature outfits. Please take a while to discover the chicest summer assortment with exquisite styles below.
Faiza Saqlain Noor-e-Chashm Eid Collection Catalog for Women

What's on your mind? Are you ready to embrace the first blossom of spring? Yes, spring is almost here, and you need to dress-up impeccably for it. You need to replace all your dull and warm winter outfits with colorful and enchanted spring ones. Do not worry if you are not having adequate dresses as we are here to sort out your untimely problems.
There are certain clothing brands that are offering a versatile summer collection to you. Here is the latest Faiza Saqlain's luxury summer collection for you to wear this season. Get limitless and intricate designs that are full of hand embroidery and embellishments. Indeed, you will be able to rock the mid-year season with the glamorous outfits below.
About the Creative Designer and Brand History

Faiza Saqlain is the creative and innovative director of her much-celebrated eponymous label. She graduated with distinction from the prestigious Pakistan Institute of Fashion and Design. Later, in 2011 Faiza attended a fashion workshop at La Chambre De La Syndicale, Paris. Faiza Saqlain's designs capture the essence of refined luxury and inspirit femininity, fascination, and charm. Faiza is famous for her congenital sense of style and attention.
Her fashion sense is prevalent throughout her Bridal and Luxe Formals collections. The creative team has expanded her brand in a short span of 8 years. She has made a prominent place for her label in the fashion industry by using exquisite craftsmanship. There has been no stopping for the brand since then. World-renowned celebrities were spotted wearing this label, which is a testament to its global acclaim.
Faiza Saqlain Spring Festive Collection Featuring Sajal Aly 
Faiza Saqlain's name is connected with refinement and elegance. Imbued with a time-honoured style and distinct creativity, the brand is a reimagining of our wonderfully royal past via a kaleidoscope of colour, cut, and craft. The fashion giant has built a position for itself over a decade of excellence by consistently reinvigorating the top skill of both bridal and haute couture. So, your wait is finally over. We are presenting you with the most awaited festive assortment of the year below. We are here to present you with a breathtaking eid collection.
Ice-Blue Embellished Eid Outfit
The tans will fade, but the memories will last forever. It's the magic that only summer can bring to you. Therefore, you need to make the charming season more pleasant with an exquisite outfit and footwear. You might have seen a fine collection from the recent Hussain Rehar's luxury lawn featuring Ayeza Khan. But, here is a bit fancy collection. The following three-piece kali dar design is out of a sumptuously embroidered fabric.
Below is a fascinating chikan Kari chiffon outfit. The Anarkali frock style looks pleasant in the cool ice-blue shade. You need to choose a shade that brings a cooling effect to your eyes in summers. Undoubtedly, the ice-blue shade does it all. The outfit comes with a crushed Tussar silk. However, the trouser is crafted with sheesha embroidery on Korean silk fabric. The entire dress is featuring mosaic-like silver embellishments on the overall dress.
Tea Pink Trouser Shirt for Eid Festival

Nothing can beat the beauty and perfection of a flowy Peshwas. Many designers come up with flaunting shades to create a brilliant style for teens. Significantly, the public shows love for a peachy or coral pink shade to add dignified looks to their personality. You can see a creative likewise design from Asim Jofa's RABT collection too. Here is an engaging yet delicate peach Peshwas for you to wear in this summer season.
Below is the hand-embellished Korean raw silk dress. Further, it has fancy net embroidered sleeves and back. The handmade embellished net dupatta looks fantastic for a whole look. Additionally, it comes with a silk pajama. The pink kali dar outfit features traditional handwork on a bed of starry sequin spray. Indeed, you will look different in the galaxy of people around you if you opt for this staggering dress.
Faiza Saqlain Spring Festive Outfit in Silk Fabric

How can a spring end without a pure sunshine yellow outfit? Do you want to wrap up yourself in a fantastic sharara dress? Are you looking for an exceptionally unique clothing style for summer? If so, then we have a pretty much ideal outfit for you. You can get similar colors from the Fahad Hussayn eid collection too. But, the following fancy ensemble will turn heads on you an will get you a compliment.
Please have a look at the Tussar silk embroidered shirt below. The outfit is beautifully decorated with silver stones and embroidery. Plus, it comes with a crushed share design to create an illusion in your style. However, the embroidered cotton net dupatta looks fantastic to complete the whole fancy look. Undoubtedly, the mirror work and diamond patches along with gotta work will make you look dramatic.
Ivory Tissue Embroidered Fancy Ensemble
When the days get longer in summer, you need to wear an attractive outfit to kick out the boredom. Indeed, spring has the power to make you feel satisfied with the colors of nature. However, it isn't mandatory to wear vibrant outfits. Instead, you may go for a graceful ivory ensemble to stay modest and graceful simultaneously. We have a splendid option for you to wear. The following embellished ivory outfit is glamorous and perfect for teens.
Take a glance at the innovative gharara outfit below. The shirt is fully embellished with mirror work and diamond patches. The fancy neckline looks ravishing with the graceful shirt pattern. Undoubtedly, the shimmer gharara and embroidered organza dupatta are co-ordinating perfectly to create a unique look. I hope you will love the sparkling outfit. Get a similar luxury outfit from the latest Nilofer Shahid's summer collection.
Organza Chikan Kari Anarkali Style Outfit



Anarkali frocks look perfectly unique and dramatic if you wear them correctly. Therefore, Faiza Saqlain's spring festive collection is presenting you with a mesmerizing style. The exquisite white Chikan Kari outfits are all set to bring dazzle your looks. Undoubtedly, the inspiring outfit and sensational design will get you a compliment. You can discover more versatile styles from the Qalamkar luxury collection.
The Kaali Daar outfit below has rich embroidered patterns from top to bottom. Plus, the glistening embellishment is attractive enough to catch compliments. The outfit has cotton silk churidar pajama with an embroidered organza dupatta. Undoubtedly, the colorful dupatta co-ordinated well to gain the colorful vibes. You need to wear a fancy and ethnic khussa with the dress to complete your look. Go for a braided bun to elevate your look.
Lime Green Faiza Saqlain Spring Festive Attire

Do you have a fresh lime ensemble in your closet? If no, then get yourself one from the latest Faiza Saqlain's Spring festive collection. If you do not like the combination of designs, we have an alternate solution for you. You can get exemplary summer dresses from the recent Sable Vogue's luxury collection. You will love the anticipating designs.
Well, the following Badla karandi silk shirt comes with an embroidered organza dupatta. Further, it has embroidered raw silk trousers for a complete look. You can wear this outfit at any summer wedding to stand exquisitely among the public. Indeed, the floral trellises and shimmer stripes will propel you to buy the outfit. Apply minimal makeup and keep your hair tied to create the same look as Sajal Aly. Please give it a thought!
Choose a hassle-free outfit for yourself in summer to stay classy. Undoubtedly, Faiza Saqlain's spring collection is a beautiful portfolio of ravishing outfits. Let the wind blow through the flickery palms and twirl around with the embellished outfits. Indeed, the gotta details will sparkle the mind wanders to recall the sweet memories when the spring will end. So, relive all the laughter and joy with the flaunting collection above. I hope you will get your desired outfits satisfactorily. Please give it a thought.