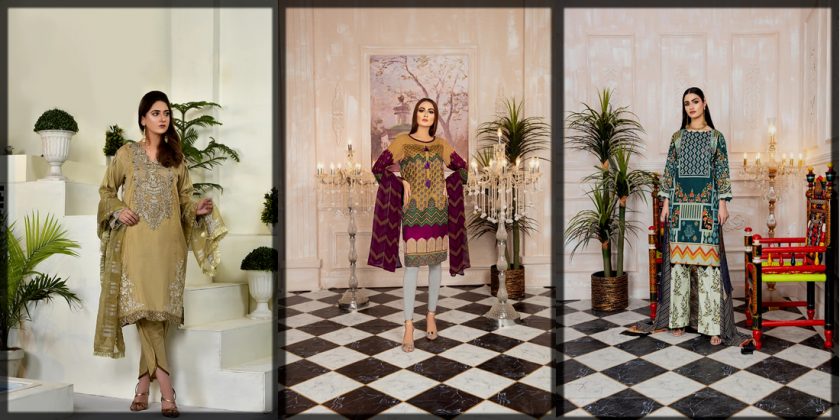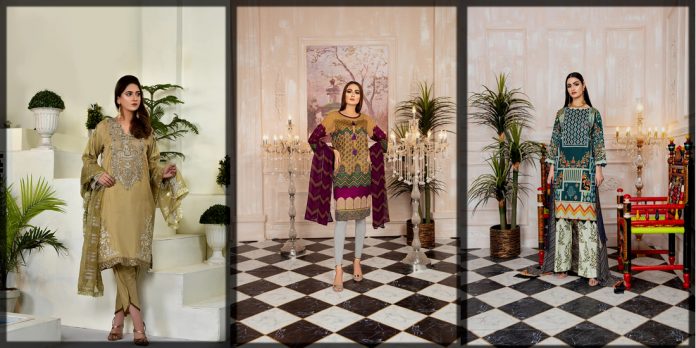 Attraction By Kamal was established in 1960. It is one of the most well-known brands of Pakistan that serve ladies for more than 50 years. The notable brand always brings the newest and luxury collection to satisfy its customers. The Attraction by Kamal summer collection will give you a chance to add color to your life by wearing a comfy yet modest outfit.
Lead your inner sparkle with a unique blend of embroidered and weaved suits made with refreshing hues. You can wear these attires at any casual and formal gathering to add more grace and refinement to your look. All you need is to pair your classy suit with the right style of adornments and footwear to make all of your jazzier and dazzling looks.
You will get the stunning unstitched attires in the one, two, and three-piece forms. The two-piece collection of Attraction contains the printed lawn shirts and chiffon dupattas. It is considered the most affordable brand in Pakistan because the Attractions suits' prices are a little bit lower than other's. Have a look!
Latest Attraction by Kamal Summer Collection Catalogue (New Arrivals)

Nowadays fashion is everything for ladies. Wearing the right outfit for any occasion is an element of good manners. Hence always go for the classy outfit to give the great and appealing vibes. Attraction by Kamal help to make your fashion style chicer. It offers the most excellent attires in the lawn fabric. The lawn is the comfiest texture that helps keep yourself safe and secure from the sun's hot rays during the summer season. The unstitched summer collection of Attraction contains:
One-piece collection by Attraction

Two-piece printed lawn shirts with chiffon dupatta

Attraction by Kamal three-piece collection
Nowadays, everyone prefers high-quality attires to look more graceful and stunning. Hence, everyone likes the branded clothes because all notable brands of Pakistan do their best to offer high-quality fabric clothes with the most amazing shades to satisfy the customers' needs and satisfaction. Attraction by kamal likewise brings the chicest summer attires for the ladies so they can look cuter and pretty at any casual and formal events. Further, visit the Nishat Linen summer collection that has launched the prettiest summer attires for women of all ages.
1- Single Shirts One-Piece Collection by Attraction
A new day is a chance to change your life. You can't change the whole world, but you can change yourself by wearing a classy outfit. The right outfit encourages you to walk with confidence to spur the globe and add more sparkle to your personality. For teens, fashion is forever. Hence they love to wear jeans and pants in the summer too! Because it gives them a unique and modest look.
You can pair your jeans with these colorful summer Kurtis by Attraction that will make your summer look more alluring and splendid. These are available in all bright and charming hues that will make all of your jazzier and noteworthy looks. You can likewise wear these Kurtis with the cambric or cotton pants as you like. For more summer Kurtis, explore the Junaid Jamshed Kurti collection that likewise contains a wide variety of kurta/Kurtis for teens.
2- Two-Piece Printed Lawn Shirts with Chiffon Dupatta

The Attraction also offers the pretty 2 PC summer suits that contain digitally printed shirts and chiffon dupattas. In summer, ladies prefer to carry the chiffon dupatta because it is very lightweight. You can wear these chic two-piece suits at any casual gathering to add more harmony to your look. These suits contain:
1.31y Digital print front lawn

1.31y digital print back lawn

0.67y digital print sleeves lawn 

2.75y digital print dopatta chiffon 
Customize these unstitched suits in any style which you like and comfortable to wear. Pair your two-piece suit with cotton trousers to complement your outfit. For more 2PC printed attires, explore the Nimsay summer assortments. 
3- Attraction by Kamal Unstitched Three-Piece Collection
Let's explore the impressive three-piece summer collection of Attraction that is made with pure fabric that will shield you from the sun and make all of your jazzier and breathtaking looks like the Khaadi summer collection do. You can wear these three-piece attires at any casual meetings, formal gatherings, birthday parties, bridal showers, and even at wedding ceremonies to get a modest and decent look.
Most of us prefer unstitched clothes rather than ready-made. Because sometimes we can't get our ideal style dress. So we go for the loose fabric to modify the dress according to our preference and need. Like other brands, Attraction gives high-quality flexible material in the most amazing and vibrant tones and shades. The three-piece collection of Attraction offers the following categories:
Summer Flash Back Collection
The flashback collection of Attraction brings some modification in old patterns. As you can see below, the beautiful three-piece dresses are adorned with thread, motifs, pearls, chicken Kari and patches. You can wear these attires at any festive to add more charm to your look.
With these stunning three-piece suits, try to keep your makeup minimal to get the jazzier look. If you want to get the traditional look, pair your chic outfit with the khussa and jhumkas. Further, Keep your hair open by straightening to make all of your striking and awe-inspiring looks. Moreover, explore the Limelight summer assortments for more summer suits.
Attraction by Kamal Printed Collection
These comfy printed attires are ideal for home wear. You can likewise wear these casual outfits at friends' gatherings. All you need is to pick the right shade as per your skin tone and choice. For everyday wear, ladies prefer to wear dark shade attires. Hence, Attraction brings casual wear in all dark shades like black, blue, green, purple, and so on to fulfill its customers' wishes. These casual suits are paired with the lawn and chiffon dupattas for your satisfaction. You can also wear these casual suits at formal gatherings by adding some pearls and motifs at the damn of the shirt. Almirah summer collection also offers casual attires in all dark hues, check it also.
Attraction Embroidery Collection

For formal wear, the below-embroidered collection is best. You need to pair them with the right style of adornment and footwear. If you want a decent display, pair your fancy dress with nude makeup and high heel shoes. The embroidered dresses of Attraction include:
1.31y Embroidered Print Front Lawn 

1.31y Print Back Lawn

0.67y Print Sleeves

2.75 print dupatta

2.5 Dyed Plain Trouser Cambric 
You can style your dress in any style you like or according to the fashion to get a lovely and captivating look.
Attraction by Kamal Embroidery Printed Collection 
Are you looking for something new and trendy this season? Then give a chance to the embroidery printed suits of Attraction and enhance yourself well. You can wear these attires at your business meetings and even at your annual festive to make all your classy and dazzling looks.
These classy attires are paired with chiffon dupattas that add more grace and elegance to these outfits. Also, visit the Kayseria summer collection for similar outfits.  With these stunning attires, all you need is to:
Apply lightweight and nude makeup to make your gaze more attractive and splendid.

Wear the traditional gems to catch the attention of crowds.

Wear peep-toe style footwear to walk with confidence.

Remember to knot your hair in a chic style.
Printed Chikan Kari Summer Collection by Attraction
Chikan Kari is a thread embroidery that is artfully done by hand. It is done on fabrics like silk, chiffon, organza, net, lawn, etc. In the Attraction summer collection, you will receive a wide variety of Chikan Kari suits that utilize fresh and natural hues that will make your summer season more awesome.
You can pair these three-piece suits with classy footwear to increase your beauty. Need some more chikan Kari suits? Explore the Mushq luxury lawn collection that additionally offers a wide variety of similar suits in the most amazing and vibrant shades.
Luxury Digital Embroidery Attraction By Kamal Summer Collection
Party wear dresses are a little bit more diverse than casual. For party or wedding wear, you need digitally embroidered suits that make your look more dazzling. Look down to get some fancy attires from the Attraction by Kamal summer collection that refreshes your party looks and makes it appear stunning. You can stitch these fancy suits in an off-the-shoulder design or any pattern you like the most. With these suits, you need to do bold makeup, and wear classy cone heels shoes to look more modest and dazzling.
Some Tips to Keep your Dress Brand New

Here are some points you must know to keep your dress always new and high quality. Below, I will tell you exactly how to keep clothes looking good.
Wash the dress with luke warm water.

Iron the clothing in the low medium.

Avoid the Sun drying.

Choose a suitable detergent.

Buy some mesh laundry bags to keep your clothes safe.

Always use cold water for rinsing.

Allow your clothes to air dry. 

Avoid perfume.
Remember the following information in your mind because all these valuable tips help keep your clothes brand-new. 
That's all about Attraction By Kamal summer collection. I hope this weblog will help you to choose the right outfit. Moreover, these outfits are available at very affordable prices. Always grab the right outfit to add elegance and attractiveness to your personality. Never forget to give your valuable feedback in the comment section.