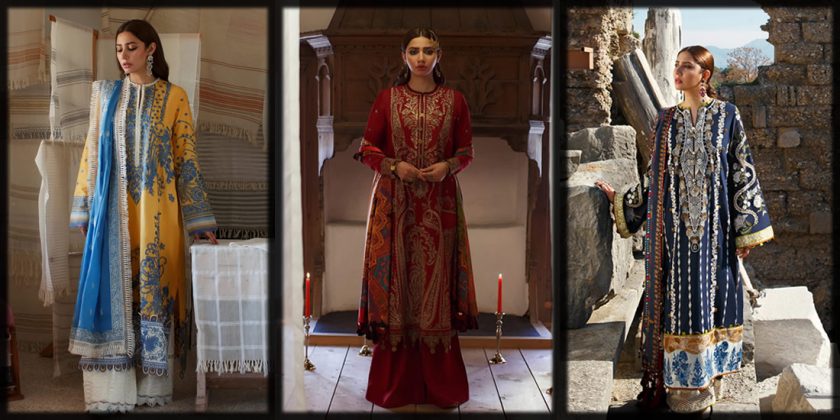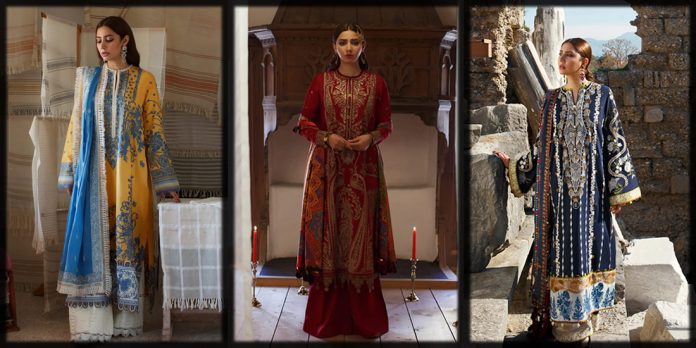 Hot summer has the power to make us think about a bit of change. Indeed, instant change is always pleasant and attractive. Such charms can be doubled when you see a lot of varieties for yourself to wear and carry. Clothing is a form of change that women always love to bring and enjoy. You can have a blissful hot season with the exquisite dress by Elan premium lawn collection for women. The assortment has been launched for you now.
Showing off is a particular nature of weather. Breezy winds show that you need a cup of coffee and a novel to spend some quality time. Similarly, the scorching sun shows that you must fill up your wardrobes with comfortable soft fabric. We all know that Pakistani designers have a lot of variety for both men and women. I am glad to say that this time, Khadija Shah has brought some engaging and thoughtful summer dresses for you.
Summer just wraps its arms around you and propels you to go for a soft and easy-going attire. In such hotness when you can not go outside for shopping, Elan offers an online shopping facility to you. Now, you can easily decide your favorites online and add them to your cart. However, a deep exploration is essential before purchasing. The following blog is presenting a detailed explanation of the latest premium lawn dresses by Elan.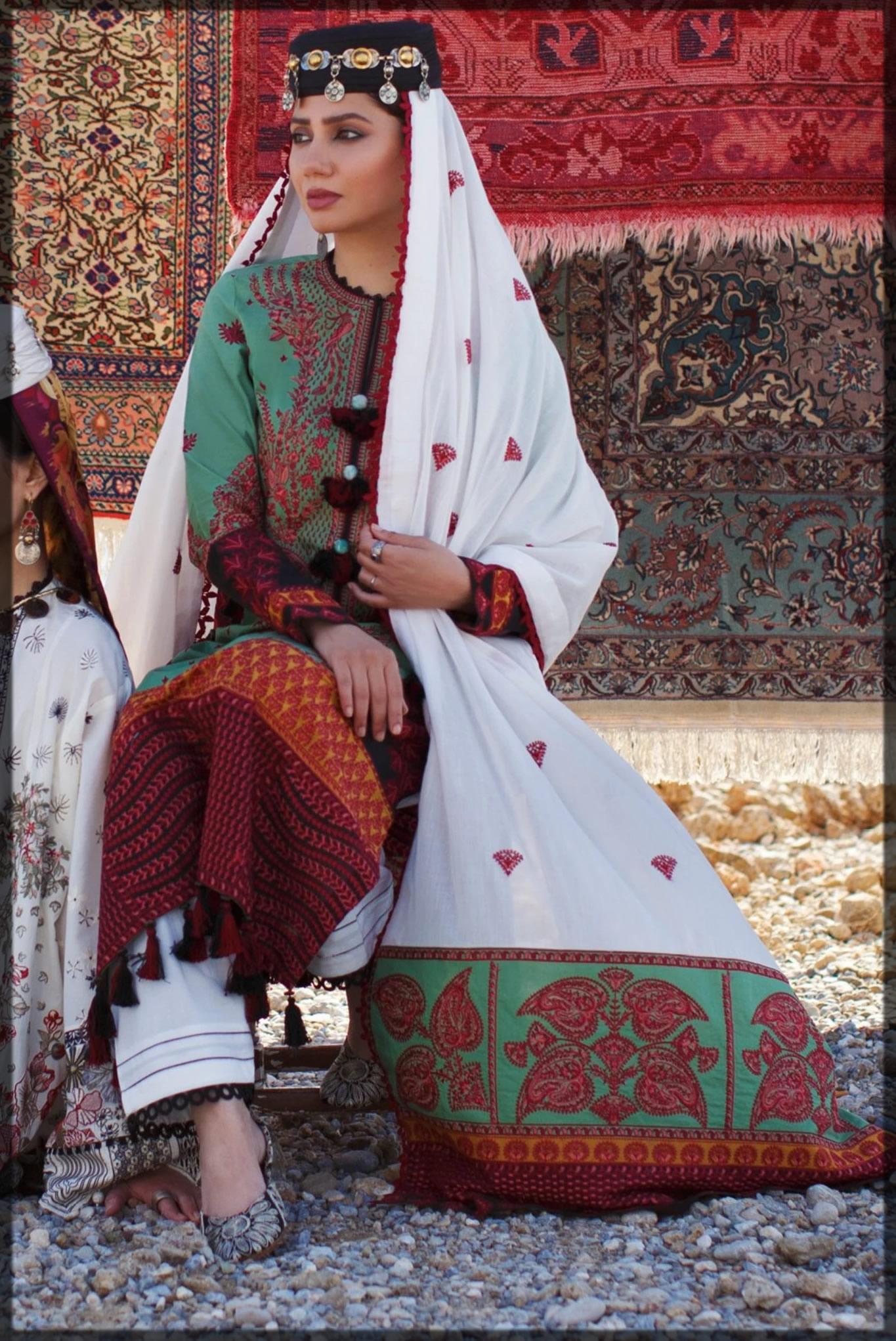 Elan Summer Lawn Collection Catalogue for Women
The powerful and intense season of the year has arrived. The long and hot summers require a couple of dresses to spend the season with comfort and ease. Therefore, the clothing brands craft a number of summer volumes with a variety of colors and designs. You will find it pleasant to explore the thoughtful dresses by Elan in the article below.
A quick glance and powerful decision will lead you to a triumphant look. Get yourself a dynamic dress from Elan's summer collection for women below. The creative designer Khadija Shah has created youthful and attractive styles for you. However, if you want some more dresses from the same designer, explore the Zaha by Khadija Shah.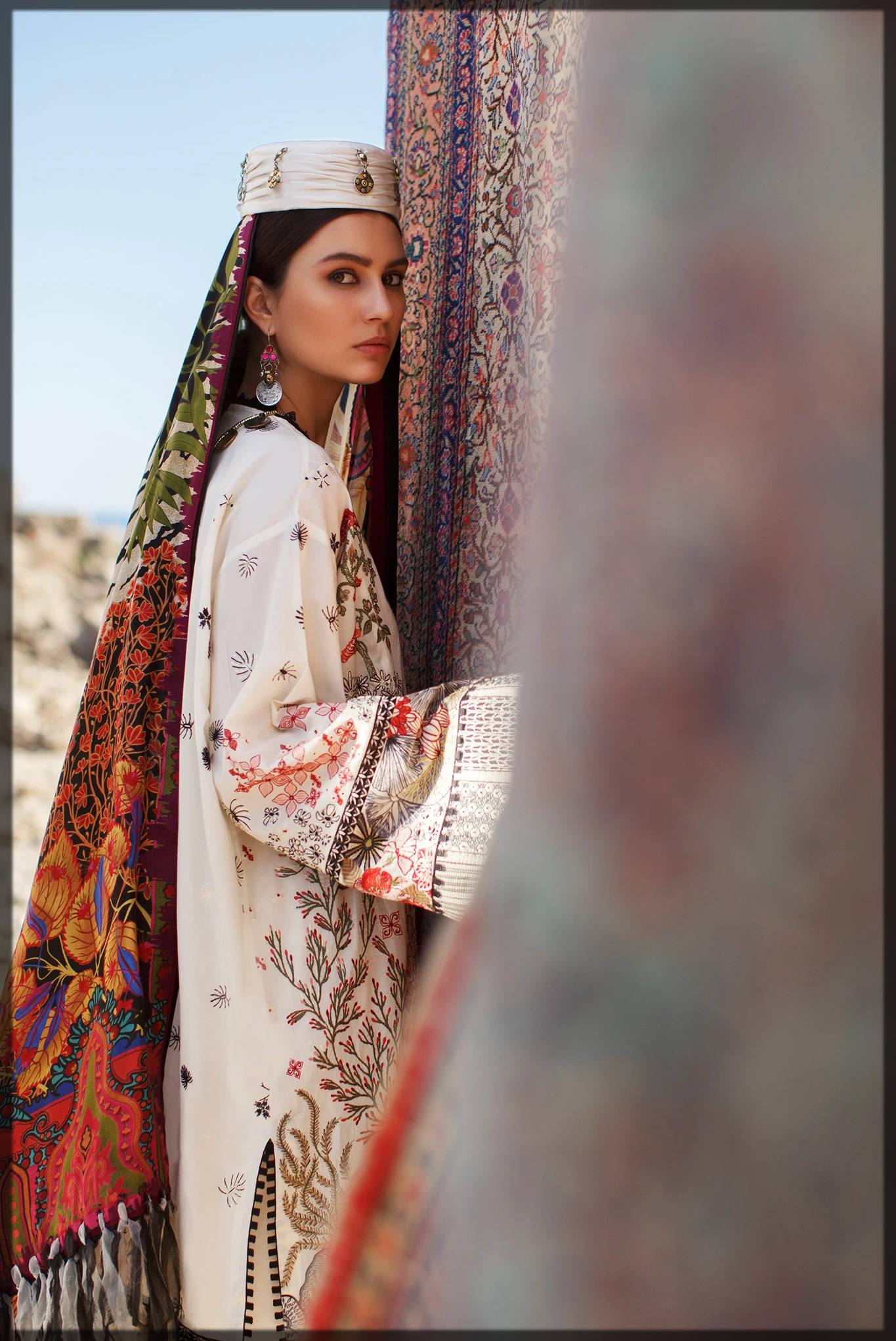 About the Creative Designer and Brand History
The powerhouse of fashion is famous for elegance and intricately designed dresses. Undoubtedly, the leading brand has much-anticipated designs for its lovely customers.  The leading brand is owned by a famous designer in a town known as Khadija Shah. People admire her a lot for their exquisite aesthetics and the finest patterns that are entirely unique. Indeed, her articles are always effective and influential enough to satisfy the public.
The brand always works to bring updated styles for women. Well, the apparel collection includes a variety of ensembles, including unstitched and ready-to-wear dresses. Moreover, it crafts an unusual coveted pret-a-porter line with highly anticipated designs every month. You can see an overwhelming bridal collection by Elan too. Well, in the following blog, you will get Elan's latest premium lawn dresses to wear in this scorching season.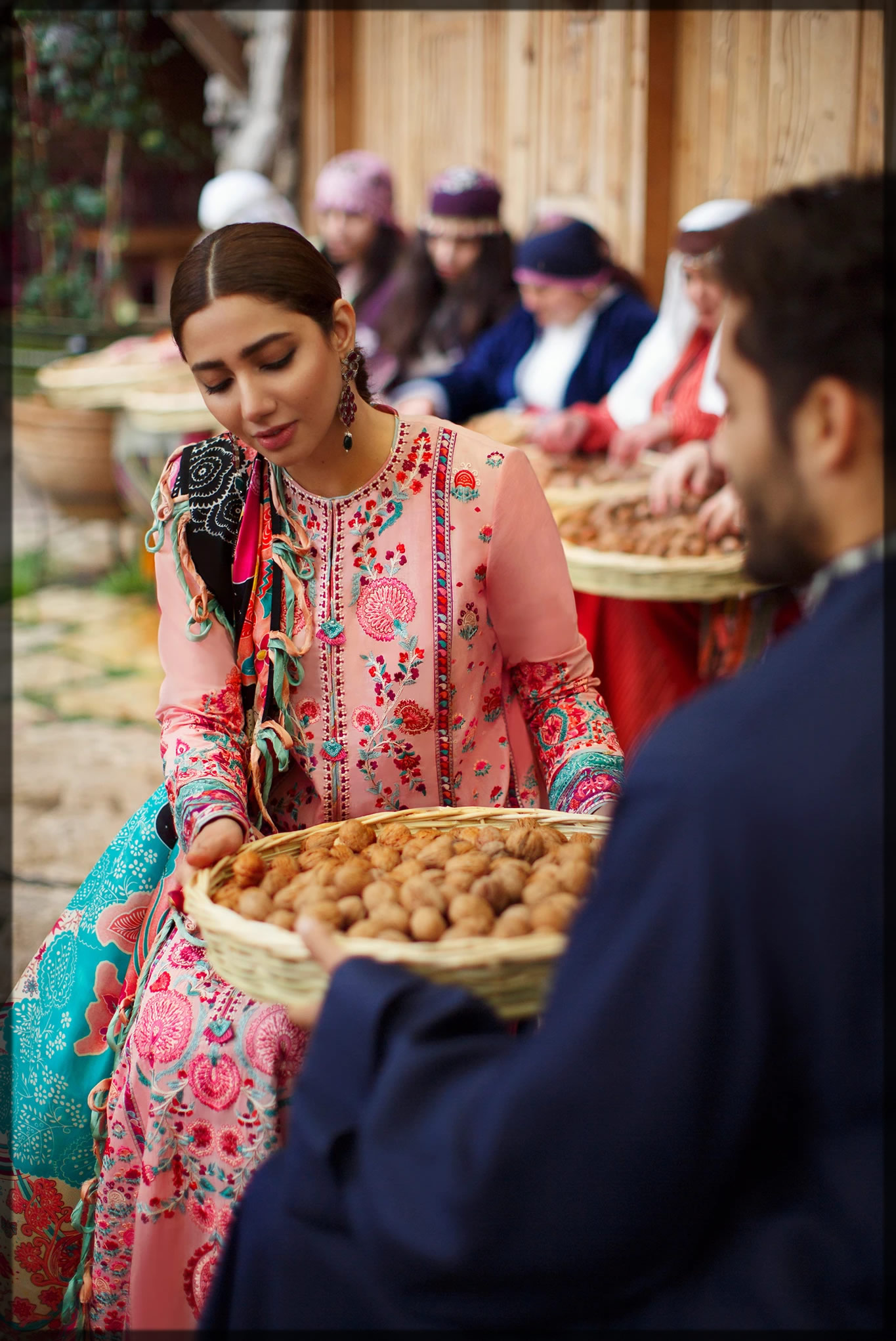 Three-Piece Unstitched Embroidered Lawn Suits

Your summer look can never be much graceful until you wear a full three-piece dress. Therefore, Elan's premium collection comes up with a massive variety of unstitched three-piece embroidered dresses. Every outfit has its own exquisite elegance and charm.
Further, ethnicity has revived the cultural heritage of the country. You will see abundant Kashmiri styles in the following blog. Please show some courage and love for the assortment below. I hope it will bring you the desired elegance and grace this summer.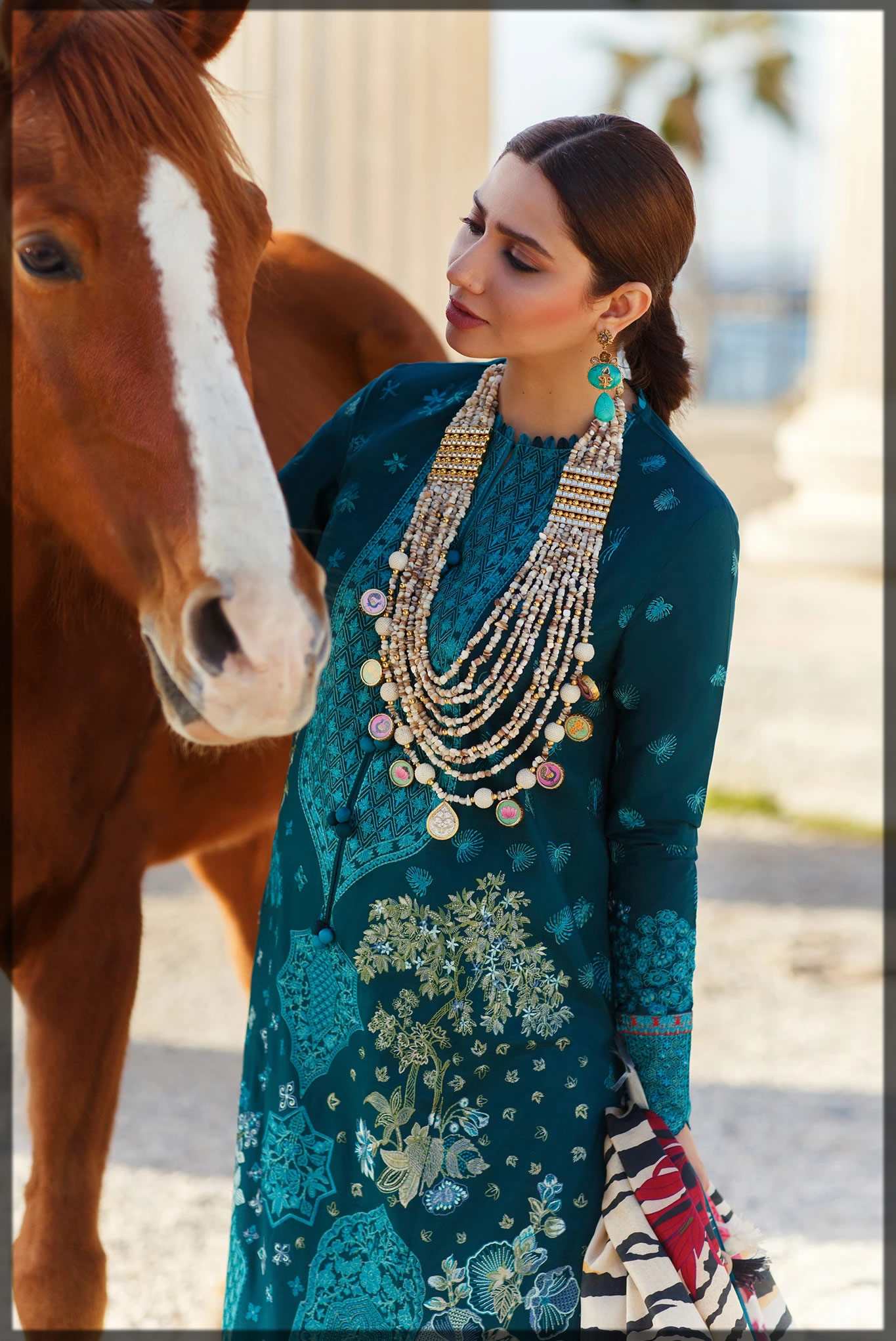 Royal Elegant Embroidered Lawn Suit
Do you want to bring royal elegance to your summer looks? If so, then go for the classic white embroidered outfit below. The great chic ensemble is very well-crafted from ivory Pima lawn. Further, it is enhanced silver and gold embroideries that feature Egyptian iconography. The layered patterns will engage you enough to purchase the lovely dress.
There is a well-decorative embroidered central panel. Further, there are additional side panels having different embroidered patterns. Moreover, it has an extensive elaborated border that has beautiful patterns of silver and gold for an entire look. The outfit is coordinated with a contrasting pink silk dupatta and a dyed cambric trouser. Sana Safinaz summer collection is also a vision to behold, explore it now.
Wedgwood Blue Embroidered Lawn Suit
Let your soul and spirit fly this season with the Wedgwood blue ensemble by Elan. The prettiest color will be an ideal option for teens and young girls just like you have seen before in the Hussain Rehar luxury lawn collection. On the long hot day of summer, the Wedgwood blue color will bring you the coolest looks. Please give a quick thought to the following pretty ensemble this year for an attractive look.
You can see beautiful botanical patterns all over the front. The beautiful blend of periwinkle and cream shades is creating an illusion in style. Further, there is a wide eclectic border for the hem and neckline. The outfit is combined with a gorgeous swiss voil dupatta with an embroidered center and decorative pallu. Hence, it is the most elegant design for you.
Captivating Maroon Lawn Suit
An artfully decorated dress can make you look quite dazzling and attractive. Especially, women having fair complexion shall opt for such vibrant colors to elevate their looks. Here we have a purely vintage design for you by the Elan premium lawn collection. However, you can get similar dresses from Sobia Nazir's summer collection too.
The following ensemble is enhanced with motifs and vintage coins. Further, you can observe folk art patterns on the front. There is a dual-toned tilla work for an attractive look. The vibrant outfit is rendered in the warm cherry shade with embroidered central and side panels. Further, there is an embroidered organza border for the front on a deep peach shade. You can look effortlessly glam in the glorious outfit below.
Glorious Lime Green Premium Lawn Suit
A glorious outfit can double the grace of your charming looks if you wear it perfectly. Undoubtedly, perfection can make you complete and graceful. No one is perfect, and that is completely fine. All that we can do is to wear and carry a dress in the right way to ensure elegance. Admittedly, the following lime green ensemble will work for you. For more similar dresses, explore the Taana Baana summer collection and have a blissful season.
The Dori embroidered patterns on the front have rich Moroccon designs that will remind you about European culture. Further, there are separate embroidered borders for decoration. The outfit is enhanced with threadwork and motifs for pure embellishment. Indeed, the rich colors will bring you royal elegance. Go for the fantastic dress below if you want to make a splash in this season. I hope you will love the devastating designs.
Sapphire Blue Lawn Embroidered Suit
Admittedly, a statement style can bring you the most dazzling looks. This could never be done without an ideal color and style. Indeed, Sapphire blue color is the most royal and elegant hue among the family of blues. Therefore, the Elan premium lawn collection presents you with the finest and textured sapphire blue dress. You can see similar dresses in Maria B's summer collection too. Please have a look at the following design.
The beguiling dress has beautiful floral patterns in yellow, powder blue, and cream shades. The five-paneled Kalidaar dress is created to bring you the most impressive looks. Further, the outfit comes with a gorgeous Swiss voile dupatta with beautiful embroidered patterns. The regal design is all set to gain enough attraction and grace. Please give a thought to the versatile dress and have an enjoyable summer with a statement outfit.
More Dresses from Elan's Premium Lawn Collection

Elan never disappoints its customers with just a few dresses. Instead, it brings a versatile collection in numerous styles with few variations. Head over to the nearest retail outlet of Elan to buy your favorites. Also, you can avail yourself of the online shopping facility to make your summers much memorable. The image gallery below shows animated embroidered lawn dresses for you. Please take a quick glance and appreciate the efforts of the designer. Also, if you want more variety then check out Zainab Chottani unstitched summer collection.
Exclusive Elan Premium Lawn Collection Featuring Mahira Khan
From plain and western tunics to festive full-length dresses, Mahira Khan always makes a statement look. She is a well-known drama actress and film star in Pakistan's showbiz industry. The actress got fame after her blockbuster drama serial Humsafar across Fawad Khan. This massive hit paved the way for her future characters, and ultimately she succeeded in working in Bollywood. People remember her popular film Raees in which she was seen with the king of acting Shah Rukh Khan, which was a massive hit.
Please take a look at the image gallery below to explore the exclusive collection by Elan. The incredible cultural dresses will revive the traditional looks of your country. Additionally, the gorgeous and iconic actress teaches you how to wear and carry an embroidered ensemble for chic looks. Please give a thought to the glamorous dresses this year for a whole vibe. For more similar dresses, explore Mushq's summer collection for women featuring Ayeza Khan. I hope you will get everything you desire to wear in summer.
Get yourself an easy-breezy ensemble from Elan's premium lawn collection for comfy summers. Undoubtedly, the soft and premium quality fabric will bring you pleasant looks. Enjoy the sunshine with the freedom of dresses. The portfolio above has numerous styles for you to wear. I hope you will never get disappointed with the efforts of designers.