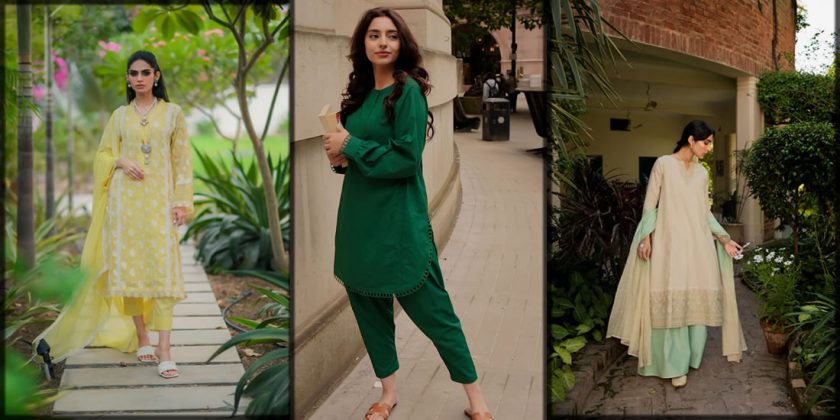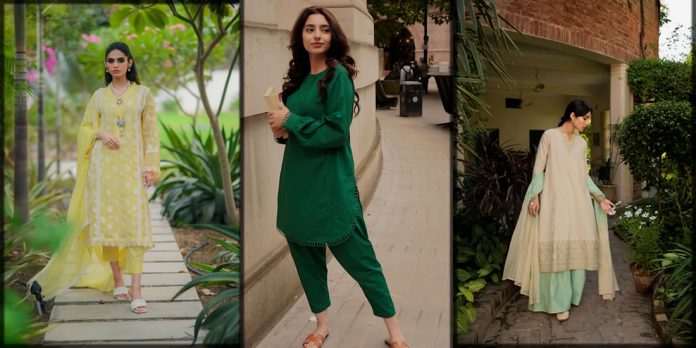 The Faisalabad-based brand was established in 2007. Every season, it offers premium quality dresses for ladies of all ages. You can get a wide variety of different fabrics in its latest collection like cotton, net, organza, silk, lawn, lawn karandi, and so on. Let's explore the latest Nimsay summer collection.
Most of the unstitched assortments of Nimsay lawn are available as Kurtas, two and three-piece suits. The two-piece suits are available in shirt dupatta and shirt pant combos. Further, the outfits are beautifully highlighted with a blend of great light and soft hues, pinks, blues, yellows, reds, blacks, purples, and pastel shades. In addition, the Nimsay brand offers one of the most original prints and designs, as you can see below.
All you need is to pair your classy summer suit with impressive footwear and accessories to make all of your breathtaking and attractive flashes. The prices of these suits are also mentioned for your ease, so you can rapidly buy any attire as per your budget and choice.
Latest Nimsay Spring Summer Lawn Collection for Women (Latest Designs)

Nimsay offers a large number of patterns and textures. This season, it is providing collections into different categories. From ready-to-wear outfits to unstitched, Nimsay has everything for everyone in its latest summer collection. The brand is known for its uniquely crafted clothes. Nimsay's summer collection comprises two, three-piece suits and Kurtas, which are accessible in various colors and designs.
In addition, you will get printed lawn suits and likewise embroidered suits with fresh hues in its latest collection, just like the Sapphire summer collection.Nimsay values its customers and always tries to develop trust within its communitarians. As you know, this brand delivers the most attractive suits for every season. This year likewise, it offers eastern garments in different sections. So you can make your summer chic and jazzier with contemporary eastern prints and beautiful patterns by Nimsay.
1- Nimsay Ready to Wear Summer Dresses for Girls

There is a fantastic "Back to Basics" catalog in the new arrival of Nimsay. Here you can see the beautiful three-piece, two-piece, and kurta collection in vibrant tones. Nimsay used the comfy yet reliable texture clothes from shied its customers from the sun's hot rays. You can wear these ready-to-wear attires of Nimsay at any casual and even formal parties to add more grace to your personality. For more designs like Nimsay, visit Almirah summer dresses for girls.
In the pret collection of Nimsay, you will receive the printed and embroidered dresses in exclusive color themes. Also, it grants you the best patterns, structures in ready-to-wear dresses. Everyone has their preferences, so discover your taste and grab your desired outfit. Moreover, if you are sitting tight for the new assortments of kurta, two-piece, and three-piece suits at that point, Nimsay is the right place for you. Here we have the exclusive variety of ready-to-wear attires with the prices mentioned. 
Three-Piece Cotton Net Dress with Silk Laced Dupatta

If you are looking for some formal summer attire? Look at the below cotton net attire. This cotton net outfit is beautifully embroidered with white thread work, giving you a stunning look. Moreover, this attire is not too expensive and wearable at any event. For more outfits like this, try checking the Firdous lawn dresses collection.
This stunning outfit is paired with silk dupattas that are very lightweight and easy to carry. Combine your chic three-piece suit with silver adornments, nude makeup, and flat white chappal to make all of your jazzier and impressive flashes. 
Two-Piece Emerald Green Summer Lawn Suit
Summer karandi is the comfiest and most secure texture that keeps you safe and gives you a magnificent look. So if you are moving to the beach party and you need a classy yet comfy outfit at that point, wear the summer karandi suit from the Nimsay store and get the incredible and splendid look.
This emerald green karandi suit is made with summer karandi fabric decorated with lightweight lace, making this collection more impressive. The tassel earring will look more graceful with these karandi suits. Try to combine your cool karandi outfit with tassel earrings and high heel shoes to make all of your decent and splendid looks. For more summer attires, explore the So kamal summer assortments.
Casual Aqua Blue Summer Kurta by Nimsay

Teens prefer to buy kurtas to add more shine to their summer gaze. In the long melting days of summer, the loosely fitted kurtas help to do your work efficiently. Here are the beautiful lawn kurtas by Nimsay, furnished with stunning embroidery. The limelight summer tops collection is also very inspiring, you can go through it as well.
Pair your loose-fitted kurta with cotton trousers, sharara, and even with the Capri as you like. With this cool kurta, keep your straight hair free and wear bold makeup to get an impressive look. By consolidating this appealing kurta with lightweight earrings, you can wear this kurta at any casual and formal gathering.
Beige Embroidered Kalidar Shirt with Jacquard Silk Dip-Dyed Duapatta and Wide Hem Trouser.

When you are proceeding to attend any function, then you need the organza, silk, and net dresses. The luxury collection of Nimsay is likewise very appealing. This stunning three-piece suit contains a cotton net kalidar shirt, wide hem trousers, and dip dye dupatta. You can wear this classy attire at weddings to make your look more beautiful and charming.
The shirts are beautifully adorned with thread detailing that will give you a gorgeous look at any formal party. With this chic dress, try to wear the traditional jhumkas to add more grace to your look. This dress is lightly adorned, so keep your makeup glow to get a decent flash. Remember to pair your luxury party wear suit with the high heel shoes to add more elegance and attractiveness to your personality.
2- Nimsay Unstitched Lawn Collection for Women

Nimsay unstitched category is expected for all-season, including linen, lawn, and karandi dresses. This variety has been arranged at a reasonable price with the best-textured fabric. Also, the unstitched assortment is accessible in various beautiful shades, print, and weaved dresses. For more classy unstitched attires, explore the Manara unstitched summer collection.
Nimsay used dark and bright hues to make its summer collection more awe-inspiring and dazzling. Because they know, in summer, ladies love to wear the dark shades attires to make their summer flash fresher and jazzier. You can check out the vibes of unstitched suits of Nimsay below!
Taffy Pink Embroidered Suit with Chiffon Summer Friendly Dupatta

Are you looking for fancy pink suits to make your summer flash more appealing? At that point, look at the embroidered lawn three-piece unstitched taffy pink suit available in the Nimsay collection. Make your warm-season comfier with this three-piece unstitched suit. The exterior of this shirt is embroidered with floral motifs. Moreover, It comes with an embroidered back and is paired with plain cotton trousers. The chiffon dupatta is enhancing the beauty of this dress.
Grab this outfit for your evening party to add more shine to your gaze. With this outfit, keep your dyed hair open by adding some waves and apply nude makeup. Further, wear the peep-toe shoes and get the stunner look. Never neglect to apply the highlighter to make your evening event more glammy and sparkly. For more impressive evening suits, visit the Maria B evening wear collection that likewise offers the chic variety.
River Blue Vertical Striped Printed Suit
In the embroidered luxury collection, there are luxurious three-piece articles available in river blue color. This three-piece lawn suit consists of a fully embellished shirt with floral leitmotifs at the front and comes with a plain back. It is matched with a cotton net dupatta and dyed cotton trousers. You can also find similar outfits in the Nishat summer lawn collection.
The lawn is the preferable fabric in the summer season. You can wear this type of dress in casual, semi-formal gatherings and even on Eid with impressive makeup to compliment this dress.
Classy Baby Pink ChikanKari Lawn Outfit With Silk Dupatta

Personally, pink is my favorite color, like every other girl. Here you can see a beautiful baby pink lawn embroidered shirt that comes with an elegantly embroidered back, sleeves and cotton trouser. This chic suit is paired with an embroidered silk dupatta that makes this appealing outfit more elegant. 
Embroidered patches for the front and back are also included for increasing the beauty of this outfit. You can wear this chic suit at any formal gathering to make all of your stunning and attractive flashes. Pair this outfit with brownish makeup and curly hairs to get the impressive gaze. For more three-piece dresses, see Warda summer collection.
3- Some Formal Articles from Nimsay Lawn Collection

Get more Nimsay unstitched formal summer attires below made with cotton net, chiffon, organza, and lawn fabrics that will keep you cold and calm. These classy outfits not only add more elegance to your gaze but also gives you confidence. Hence always try to wear the right outfit to walk with reliance and inspire others.
Nimsay used floral, historical, cultural, and leaves patterns to make its formal collection chicer. These classy three-piece summer suits are paired with the net, chiffon, and silk dupattas that attract these attires. You can wear these classical attires at any formal and wedding occasion to get the sparkling flash. Further, browse the Taana Baana luxury summer suits for more variety.
I tried my best to deliver to you with all the stunning suits of Nimsay from its latest summer collection. I hope this weblog will be helpful for you in choosing the right outfit. Now it's your turn to search online stores or visit any outlet to buy dresses from the Nimsay summer collection and update your wardrobe.