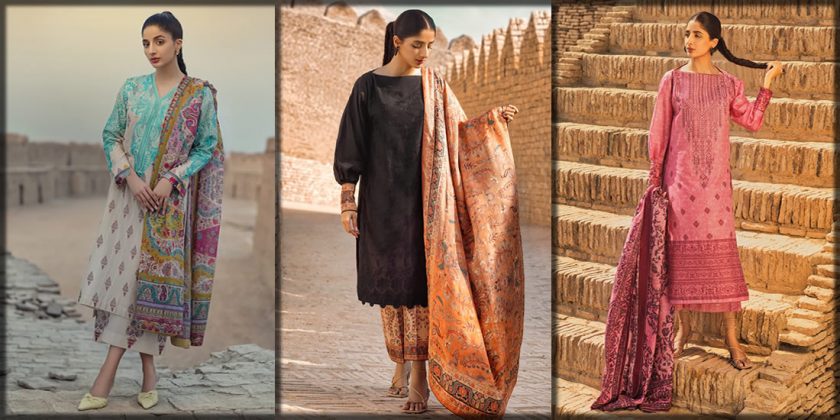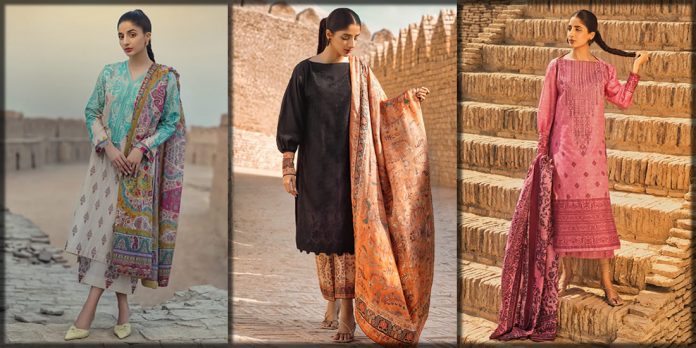 Tena Durrani is one of the most exceptional fashion designers in the industry of Pakistan. Primarily, people recognize her for her exquisite bridal dresses. However, the designer is famous for pret, signature series, and seasonal dresses too. Here is the latest Tena Durrani premium lawn collection for you to wear this season with elegance and courage.
Almost all the clothing brands have launched their seasonal collections. Modern women depend a lot on clothing brands to acquire the best outfit. Undoubtedly, those who pick their dresses wisely will always look glamorous. Indeed, wearing the right kind of attire will speak about your personality and character. It's all about perspective.
Don't worry about your spring look, as we have a variety of clothing styles for you. The chic and vibrant hues with striking combinations will make your day. Secondly, wearing the outfit rightly will make you look progressively stunning. Do you want to stay classy? If so, then take a look at our following blog to chase the magnificent styles for summer. The prices of all the dresses are also mentioned for your ease.
New Arrivals: Tena Durrani X Mawra Hocane Premium Lawn Collection

Tena Durrani is the super-talented and passionate designer of Pakistan. She is the best example of empowering women in Pakistan's fashion industry. Well, the brand established itself in early 2005. With the day and night struggle and passion, she proved herself as the topmost designer. The brand deals with luxury, casual, and formal dresses for women. However, Tena Durrani's bridal collection got much fame for the intricate designs.
The designer drives her muse from the Mughal era of art and architecture. Further, she infused the ideas with needles and threads to give birth to the masterpieces. The designer works with true dedication and hard work. Undoubtedly, you can see perfection and novelty in her every piece of the collection. The designer beautifully illustrates the homeland's culture and tradition along with hue and embellishment using contemporary relevance.
Unstitched Catalogue of Luxury Lawn Collection (Three-Piece Suits)

The creative designer has launched her luxury and premium lawn collection featuring the gorgeous Mawra Hocane. It is the common practice of hiring top-rated artists for the demonstration of clothes. You might have seen Ayeza Khan in many of the spring collections. Well, here is Tena Durrani's premium collection below.
The portfolio is showcasing dynamic and versatile designs for women. Well, the cost of the dresses is comparatively high and out of range for some people. Those who are looking for an affordable outfit shall explore the Khaadi summer collection. Well, the awaiting eyes shall take a while to discover the mesmerizing and enchanting spring outfits below.
Dark Maroon Summer Dresses for Women
Women always desire to wear a style that makes them vigilant and unique. You may call it a human psyche that propels them to buy the most distinctive item. Well, the designers are much familiar with human nature and crafts the designs accordingly. You will be glad about the intense and glamorous maroon embroidered spring/summer outfits below.
The image gallery shows the two striking embroidered lawn dresses. Undoubtedly, the designer has created an innovative and engaging style for you. So, you need to pick any of the enthusiastic summer dresses from the latest Tena's collection. Plus, go for a stylish and ethnic khussa to complete your vibe. I hope you will appreciate our efforts and tips.
Ethnic White Attires for Summer
If you wanna add purity and decency to your style, go for the white outfit. The best thing about white is that it beautifully combines with any shade. Thus, you may call it a versatile and delicate hue. Since many of you might wanna wear a white dress, here is the beautiful collection below. Get styles likewise from the latest Gul Ahmed's summer collection.
Take a while to discover the engaging white dresses by Tena Durrani below. The exquisitely embroidered dresses are combined with peach and dark maroon dupattas. However, the trousers stay basic and plain for a contemporary look. Apply minimal makeup and wear delicate jewelry.
Splendid Roseline Attires for Teens
Roseline dresses are ideal for teens and young girls. Indeed, acquiring such youthful dresses make you look exceptionally outstanding. Therefore, several clothing brands offer such combinations and contrasts for young college-going girls. You may explore the latest Alkaram studio's summer collection to discover combinations and contrasts likewise.
Here are the two splendid Roseline summer suits by Tena Durrani for you. Undoubtedly, you can create an illusion in your outlook if you go for any of the following dresses. However, you need to pick the right kind according to your complexion and texture. I hope you will stay unique and chic among the galaxy of individuals in any event.
Elegant Peachy Outfits for Summer
The peach color looks very elegant if it comes in contrast with a slightly darker shade. For instance, you can check the latest Mushq's luxury lawn collection for demonstration. Almost every brand brings peachy attires for teens and youth. Therefore, Tena Durrani's summer collection is presenting you with glamorous peachy embroidered lawn dresses.
Please take a glance to discover the tasteful dresses below. The soft and gentle hues will bring all the essential grace to your personality. Plus, the heavily embroidered dresses could be an ideal option for any formal or evening party. Head over to the retail outlet or buy your favorites online from Tena's website. Have a blissful and joyous spring.
Graceful Creamy Outfit for Women
Are you looking for a delicate combination for summer? Do you wanna slay and stay cool among the people around? If so, then nothing can be more appropriate than the following creamy outfit. However, you can explore more from Zaha by Khadijah Shah lawn collection.
Take a look at the image gallery below to seek an adorable combination. The creamy off-white dress looks splendid with floral decorations. Plus, the multi-colored creative style can surely turn heads on you if you opt for it. Please give it a thought and have fun.
Buttercream Beautiful Lawn Dress
Let me tell you that buttercream color is a lovely blend that is ideal for this season. For instance, take a look at the image gallery below to seek the style. Plus, the dull and blended shade looks perfect in the summertime for its ethnicity and grace. Undoubtedly, you can bring out the ultimate elegance if you wear the following premium embroidered dress. For more variety, check out the latest Manara luxury lawn collection for your summers.
Tea Pink Embroidered Summer Dresses
Do you prefer pink tea over ordinary black chai? If so, then coordinate your cup with the fantastic dress of the same color. Undoubtedly, the shade is ideal for young and teen girls to wear on any summer occasion.
For instance, take a look at the following dresses. The beautifully embroidered lawn shirts are co-ordinated with printed lawn dupattas for a whole vibe. Plus, you can combine ethnic footwear to complete your summer look with modest and wise choices.
Skylight Embroidered Lawn Suit

If you want to be the spotlight of any event, opt for the delighted skylight luxury outfit below. There is a similar style you may have seen in the recent Noor by Saadia Asad's collection. But, the following design slightly varies from the other likewise dresses.
Have a look at the gorgeous dress below. The striking outfit is delightfully embroidered from the front. Also, it comes with an embroidered pants for staggering looks. Book your lovely dress online and buy it soon before it gets out of stock.
Sunshine Yellow Premium Lawn Dress
Embrace sunshine directly by wearing the exquisite outfit below. Be in the spotlight and wear a unique dress to stay dominant among the people. Undoubtedly, women who have comparatively fair complexions look stunning in yellow. Get more vibrant attires from the recent Taana Baana's summer collection and enjoy your spring with joy.
Vibrant Green Tena Durrani Premium Lawn Suit

The vibrant green is always the topmost priority of teens. Therefore, several clothing brands bring special green outfits for lovely customers. Here is the latest Tena Durrani's premium lawn collection presenting you with a chic green dress.
You might have seen a similar combination in the latest Erum Khan's luxury lawn collection. Undoubtedly, that collection is comparatively cheaper than the following. Well, those who can bear high costs shall go for the striking luxury dress below.
Classy Black Premium Lawn Dress
Wearing a black dress is the utmost desire of every girl. There is an exclusive variety of black dresses in the latest Sana Safinaz summer collection. But, we are presenting you with the rich black dress featuring the very talented Mawra Hocane below.
Please extract some time to view the voguish black dress below. It comes with an essential combination of maroon embroidery that makes it dominant. However, you need to wear flat footwear to minimize the entire staggering look.
Tena Durrani Premium Lawn Dresses in Light Shades

Premium quality texture always makes you look flaunting and stunning. Therefore, you need to book your desired styles urgently before they get out of stock. However, you can utilize Sable Vogue's luxury lawn dresses if you may not find any of the following dresses.
Please take a while to discover the fundamental, dynamic, and innovative summer dresses below. I can assure you that you will look different among the people around you. Just apply minimal makeup and wear delicate jewelry for a dramatic summer look.
The latest Tena Durrani premium lawn collection presents you with iconic hues. Undoubtedly, the inspiring designs and graceful color palettes will satisfy your demands. Plus, you can stand differently among the galaxy of individuals if you wear any of the dresses above. Please encourage our efforts and buy yourself a splendid outfit from the portfolio above. Have a blissful summer and enjoy the colors of nature.